Sponsorship continues to be an integral part of how cricket clubs, of all shapes and sizes, fund all that they do.
You only have to scan social media to see that there are a variety of methods employed to try to persuade companies and brands to support the grassroots game.
One such tactic caught my eye on Twitter. Rufforth Cricket Club, a village club on the B1224 striking West from York, is flipping the conventional model on its head.
Typically, you tap up companies for advertising boards, kit sponsorship and the like. However, thinking outside the box can be fun. As Dave Shanks explains:
"We always do things a little different at Rufforth, I always try to be quirky with videos to advertise big games, squad announcements and last season's playing shirt reveal. This year, I wanted to try something new to find a sponsor and help us in our rebuild."
An alternative approach to club cricket sponsorship
A cricket club is usually in a constant state of fundraising. There are the running costs, freak emergencies, allied with wear and tear that gets to a point where something must be done.
"We have so much dated equipment (the priority) and in need of a new scoreboard (the dream). I also understand the importance of running the club as a business and making sure we still have cash flow should an emergency requirement occur – machine break downs AGAIN! We have a tractor so old it's going up in value!!"
The result has been something innovative. Rufforth Cricket Club are essentially crowdfunding their sponsorship requirements for 2020.
For only £10, someone could be shirt sponsor this season. It's opening up an offering, making it more accessible to more people at a lower price.
Yes, you need to ensure more than five people enter the raffle and get an absolute bargain – but that's where the marketing and social media drive kicks in.
The proposition is pretty tempting: Have your name or business logo prominently displayed….think 'shirtymcshirtface' if needs be, as Dave says.
Each entry gets you one chance to win. Obviously, the more you invest, you more chances to be pulled from the proverbial hat.
With over 90 chances to win some sponsorship from the below prizes, it's a novel take and generous too.
1st Place – Season-long playing shirt sponsorship (your logo or chosen wording on the shirt for both teams), you also get a playing shirt for yourself.
2nd place – Match day sponsorship (22 available)
3rd place – match ball sponsorship (22 available)
4th – match day tea sponsorship (22 available)
5th place – player sponsorship (25 players available)
All of these prizes include season-long social media mentions where appropriate; something that clubs should be regularly doing (and tagging the business to provide that extra credit and association).
If the winner of 1st prize is a business, you can even display your banner on the clubhouse for the season.
A word of warning
Cricket clubs must be transparent and clued-up, having done their research beforehand. There are laws around gambling and lotteries.
As Rufforth CC themselves found out, there are online platforms like GoFundMe who won't allow any raffle or giveaway.
You need to be clear beforehand whether your fundraising is classed as a lottery or what else it might fall under for tax and gambling legislation.
It might be a sports club's fundraising is viewed as a small society lottery. Get advice from the Gambling Commission so everything's above board and legal.
Cricket Yorkshire doesn't get into sponsorship of clubs/teams, other than supporting the Leeds Bradford MCCU scheme.
I also don't tend to share requests on social media from clubs to promote their need for sponsorship.
Not because I'm mean but I'd have to do it for everyone and it's not really news-worthy (beyond a small geographic area).
As a discussion point, however, what Rufforth CC are trying is a credit to them and might get other cricket clubs thinking.
I am tempted to chuck a tenner into the pot with a view to scooping a matchday tea sponsorship.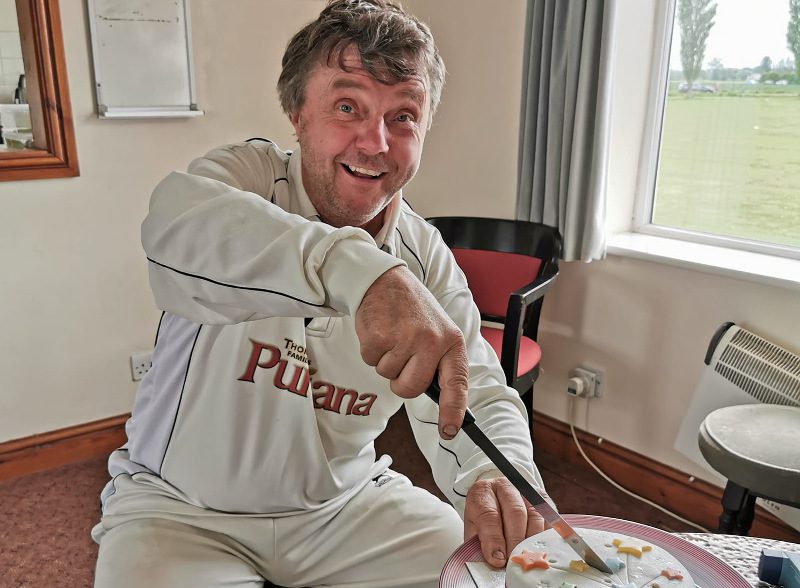 Has it worked?
It certainly has. Ultimately, the proof is whether it's raising the same and hopefully more this route than a more conventional path of cold-calling/emailing corporates.
Clubs can do both, of course.
In the case of Rufforth, they've raised £800 and counting from this initiative. It highlights how anyone can be a sponsor and removes that barrier to someone who'd like to chip in but can't stump up £100-£500+.
Trying a number of methods (as long as you fully commit to each) is a smart strategy.
At this time of year, cricket clubs are doing all they can to boost those coffers. The brutal weather is a reminder that along with the mower deserving its own UNESCO World Heritage status, mother nature has the potential to wreak havoc too.
Rufforth are hoping this major raffle, along with an annual quiz night (20 March this year) will make sure that things like scoreboard, new mower and the rest of the list don't have to wait another year.
Want to get involved?
Anyone interested has until the end of February to enter the Great Rufforth Raffle of 2020.
The link above is to Paypal where you can donate securely. Just make sure to leave your name and/or business in the comments.
The draw will take place Sunday 1st March – there is talk of live video, a la FA Cup-style, on their Rufforth CC Facebook Page.
Leave a comment below!
What did you think of the article? Are you another cricket club – what are the challenges or successes you've found?
Latest posts by John Fuller
(see all)