Welcome to Cricket Yorkshire's league round-up of women's hard ball cricket from across the region. It's a snapshot of the 2022 season so far with plenty of clubs, competitions and performances mentioned.
This year has seen really exciting growth in the number of women's teams playing the game across Yorkshire.
For this round-up, we'll focus on hard ball cricket but I'm well aware that there are many cricketers of all ages playing their first season (or returning to cricket) where soft ball games have been great fun.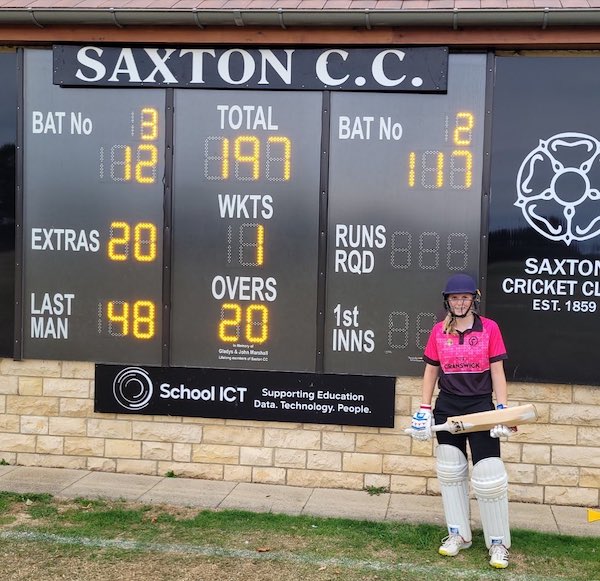 Yorkshire Women & Girls Cricket League
The Yorkshire Women & Girls Cricket League features 25 clubs with a Premier League, Division 1, Division 2 and Super 8s.

The 2022 season began with T20 Division 1 and T20 Division 2 from early May.

Saxton (95) topped Division 1 from Clifton Alliance (88.5) with Sessay fielding two sides, Gold (81) & Emerald (51).

Erin Thomas (Clifton Park Cobras, above) was the stand-out performer averaging 178 with the bat and scoring 357 runs. Rhia Sedha (170 runs) gets a notable mention for averaging not much less at 170!

In T20 Division 2, there were 6 clubs from right across Yorkshire taking part: Yapham, Doncaster Town, Rockingham Colliery, Sheffield Collegiate, Cottingham & Anston.

Yapham (88) claimed first from Doncaster Town (73.5) then Rockingham Colliery (67.5).
---

Eliza Goode (Sheffield Collegiate) has a healthy average of 93 from just three appearances. Kelly Harding, Anston's opening batter and wicketkeeper, tops the T20 Div 2 averages with 204 runs and the averages were notable for a number of players scorching over 50.

---

The Division 2 bowling honours were led by Kat Young whose 8 wickets came at the commendably miserly average of just 9.

At the same time, Super 8s, a 16-over-a-side contest aimed at transitioning women and girls to hard ball cricket also kicked off.

North Leeds Women & Girls (25) were comfortable winners and ended undefeated. Tickhill (15) & Bradford Park Avenue Ladies (10) finished second and third respectively in a league that also featured Sheffield Transport, Whiston Parish Church & Millhouses Works.

Jacky Thomas (North Leeds) hit 92 runs to top the charts with the bat while Bradford Park Avenue Ladies' Nabila Qayum claimed 5 wickets at an average of 6.4.

From the end of July, the Premier League began its 40-over contest with Clifton Park Cobras, a York-based side that's in its first season, competing with Saxton, Sessay Emeralds and Wrenthorpe Women's 1st XI.

Division 1 of the Yorkshire Women & Girls Cricket League sees some sides facing each other for the first time this season with Doncaster Town, Rockingham Colliery, Bradford Park Avenue Ladies, Sessay Emeralds, Cottingham Women's 1st XI and Anston Ladies all competing.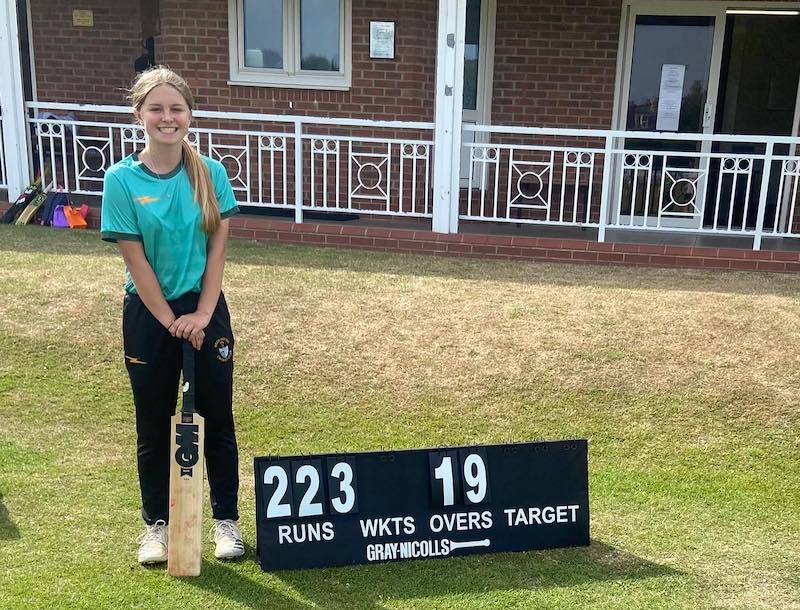 East Yorkshire Women's Hard Ball League

The eight-team league ran until the end of July featuring Bridlington, Google Town, University of York, Driffield Town, Cottingham, Hessle, Kirkella and Clifton Alliance Cobras.
A tightly-contested league went down to the wire with Bridlington winning the title from Goole Town & University of York.
---

At the time of writing, there were some eye-catching performances, particularly with the bat, where Bridlington's Scarlet Brooks (photo, above) had hit 254 runs from just 4 games with an average of, wait for it, 254!

---


Hessle's Karla Durham hit 103 not out against Kirkella with her 211 runs coming at a very decent average of 70.

With the ball, Debbie Farrington's eight wickets for Brid meant she's the leading bowler although a shoutout for Cottingham's Rebecca Auston who aces the economy (2.4) and average of just 2.4!

The plan now is for a hard ball cup in August with the top four sides along with soft ball teams taking part on the day too.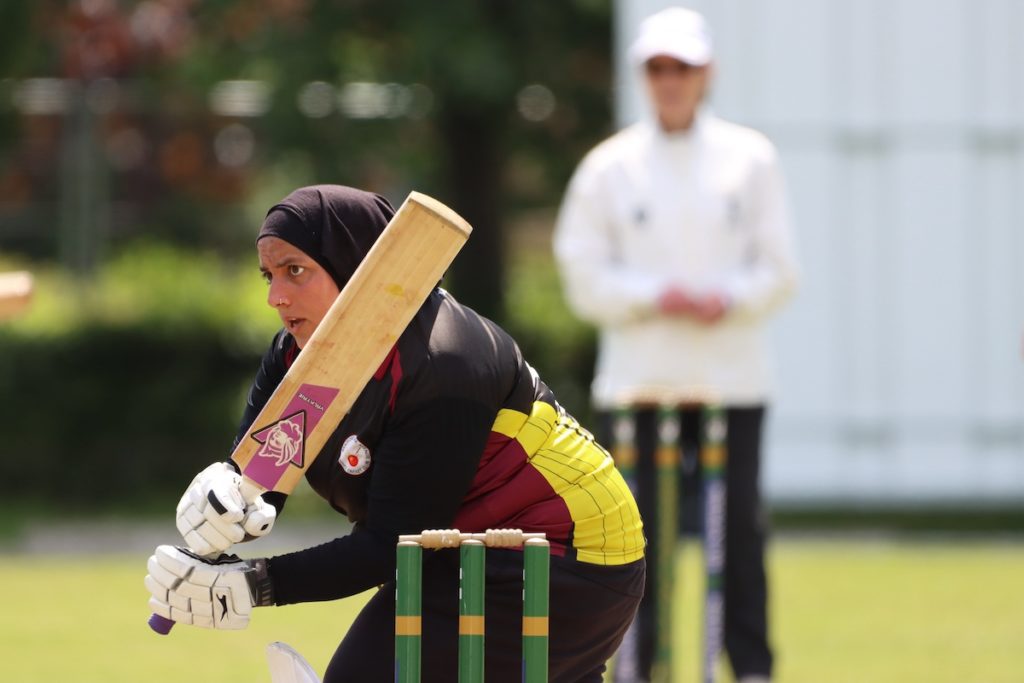 West Yorkshire Women & Girls Cricket League

The West Yorkshire Women & Girls Cricket League is off to a flier in its inaugural season with Division 1 for hard ball cricket along with soft ball alternatives in Bradford, Leeds, Aire Valley, Huddersfield & Calderdale/Pennine.

The home-and-away format for the six-team Division 1 runs until Sunday 18 September when Crossflatts host Bradford Park Avenue Ladies.
The other teams playing this season are Pudsey St Lawrence (who head the division), Menston, Lightcliffe & St Chads Broomfield.

A scan of Play-Cricket show there's been some high scores this season (Pudsey St Lawrence 252 & Crossflatts 210) but tight games too.

Sarah Wood (Pudsey St Lawrence) has 357 runs in the league so far with three 50s and a hundred. Crossflatts teen Qanita Inayat is next up in the averages with 223 runs from 6 games.

A one-day cup knockout/festival of cricket is planned for Sunday 4th September at Northowram.

All the best to players, coaches, clubs and leagues for the rest of the season and I hope this has been a useful round-up across Yorkshire.
If clubs or players are interested in contributing to Cricket Yorkshire about women and girls cricket before the end of 2022 season then you can email me here; you'd be very welcome.
To keep in touch with all things grassroots cricket in Yorkshire – including future competitions, exclusives and partner offers, join our newsletter community below.
Latest posts by John Fuller
(see all)