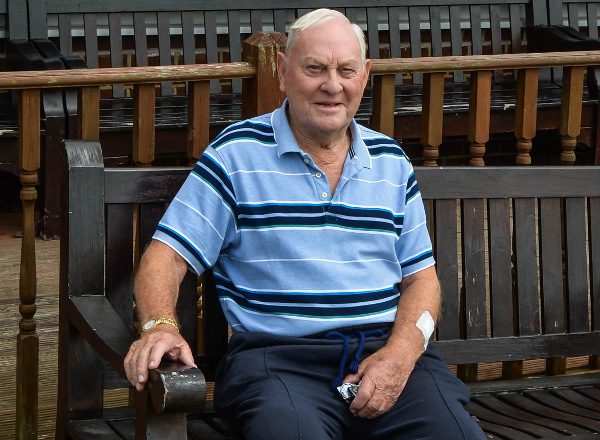 For an assignment on behalf of The Cricket Paper, I found myself puffing up Red Lane to Bradford League outfit, Farsley Cricket Club.
On a day with only the occasional whisper of wind and a crackling heat, getting myself thoroughly lost amid the myriad of streets from New Pudsey station proved thirsty work.
Farsley turned out to be everything a visitor wants from a cricket club with a modern clubhouse, a cricket ground that had been handsomely prepared and everyone willing to spare the time to talk.
You can read all about the match in the current issue of The Cricket Paper (in newsagents until Friday) but suffice it to say it was a shock result as 2017 Champions Hanging Heaton were put to the sword by four wickets to shake things up at the top of the table.
I interviewed Hanging Heaton captain Gary Fellows, had a chat with Farsley skipper Ryan Cooper and sat down for a natter with Farsley's President Ray Illingworth when not taking 4,567 photos in the baking sun.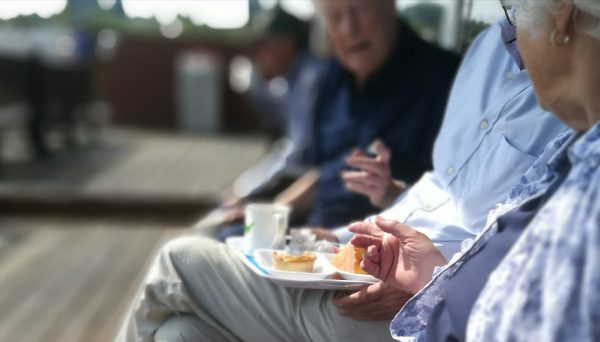 If I was to summarise, I'd say the lime cheesecake in a shot glass for guests was a classy touch, Farsley's overseas Patrick Kruger looks a very astute signing (good 'wheels' as they say) and there was an appreciative crowd who left well satisfied by Premier League cricket that had delivered on all accounts.
Farsley's left-arm spinner James Logan (4-44) was a handful and his momentum since stacks of wickets for Yorkshire Academy shows no sign of slowing.
Don't forget to listen to the Podcast below and also check out the match photos…
Ray Illingworth, Farsley through and through…
If you know your Yorkshire CCC and England cricket history, Ray Illingworth will need little introduction but here's a snapshot CV all the same. Just shy of 25,000 first-class runs and 2000+ wickets to his name, seven County Championship titles with Yorkshire and he captained his country 21 times.
You may know less about his time at Farsley. It's not common to see a county cricketer, let alone a Test player, return to grassroots cricket and serve club cricket for decades. A little like with Yorkshire and England, he has held pretty much every job title going at Farsley Cricket Club.
In the 1949 Priestley Cup Final, ties took place on midweek evenings and Illingworth began a knock of 148 not out against Pudsey St Lawrence as a 16-year-old and finished it on his 17th birthday.
It was the beginnings of a career for club and country that would see him rise to England Coach and Selector too. Meanwhile, his lifetime at Farsley has been bookended working on the ground and he spent Saturday in his navy cricket hat and striped polo shirt, doing laps of the ground chatting to everyone.
When we sat down to record an interview for the Podcast, Illingworth's passion for his hometown club was there in every breath and he:
Had sharp words for Yorkshire CCC and the downside to life in the Premier League

Warned of the Bradford League becoming dominated by wealthy South Yorkshire clubs

Feels Farsley's efforts are undermined by non-availability of younger talent on the county pathway


Can't praise the groundstaff at Farsley highly enough
The match itself lived up to expectations and Farsley will be heartened by showing their credentials as Hanging Heaton are a tough nut to crack.
However, consistency remains their issue as they subsequently lost to New Farnley and then Pudsey St Lawrence over the Bank Holiday weekend.
There was a very poignant moment when I learnt about Farsley cricketer Joe Greaves who was injured several weeks ago and was in an induced coma. He has since recovered enough to be able to breath on his own but there is a long road ahead.
When I had left the ground on Saturday after the Hanging Heaton match, he had just touched gloves with Patrick Kruger on reaching his fifty that would win the match for the home side.
My thoughts are with Joe, his family and friends and everyone associated with Farsley Cricket Club at what must be an incredibly difficult time.
LISTEN: Ray Illingworth on the Cricket Yorkshire Podcast
FARSLEY VS HANGING HEATON – MATCH PHOTOS
Under GDPR, it's not clear if I'm permitted to ask for an email address in exchange for viewing the photos so you are very welcome to view them to your heart's content here.
What I would say is that in order to keep this website going and free to readers, I need to build an audience and so if you're interested in exclusives, competitions and the inside track from CYHQ:
Thanks for reading and listening to the podcast….
Latest posts by John Fuller
(see all)