The dust had barely settled on Somerset's crushing ten-wicket win over Yorkshire in the County Championship when the pinnacle of club cricket came to Headingley.
Bradford League champions Pudsey St Lawrence faced Great Ayton, the highest-placed Yorkshire side from the North Yorkshire South Durham ECB Premier League.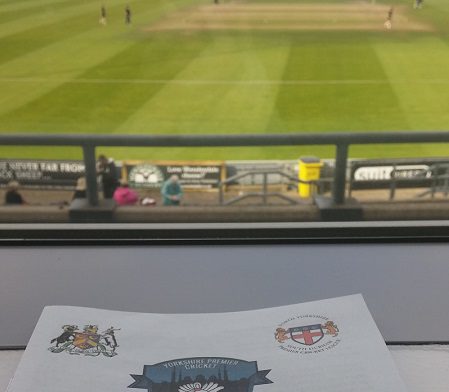 This was one of two semi-finals of the inaugural Yorkshire Premier League Championship playoffs to determine who is the premier club in the county.
As supporters of both squads settled into their seats at Yorkshire County Cricket Club's HQ to watch, over on the North Yorkshire coast, Scarborough Cricket Club was hosting the other semi with Harrogate taking on Wakefield Thornes.
It's a new concept, built around the reorganisation of Yorkshire league cricket with the four ECB Premier Leagues as the upper echelons, and we were about to see how the top sides from across the leagues truly matched up.
The stakes were significant…not just club and league pride but an epic trip to Abu Dhabi to play the final under floodlights in October.
Covering the match on behalf of The Cricket Paper (photos and article should be in next Friday's issue), I was drawn in by the grit shown out in the middle with fortunes fluctuating as Mark Robertshaw's 93 spearheaded Pudsey St Lawrence's 200-8.
It was tight, competitive league cricket where mini duels between batsmen and bowlers encapsulated how neither side fully and confidently basked in the ascendancy.
Those on the Yorkshire Premier League Board and Yorkshire County Cricket Club played their part in arranging the spectacle with the latter throwing open the county ground and all of its amenities to give it the same feel as a county match.
Then, there was the epic cricket tea laid on by Sue, a bit of legend in the North Yorkshire South Durham Premier League. Jeez.
Weighed down by several tonnes of meringue and more pies than I've bowled all season, I endeavoured to photograph the second chapter that proved a mirror of the first – this time with Great Ayton's Chris Batchelor digging in for his cause.
There was a spin masterclass, a crucial runout and a catastrophic LBW decision for Great Ayton as Pudsey St Lawrence just held on.
Check out Cricket Yorkshire's match photos from Headingley for all-action drama and heroics.
Enjoyed this read? Join thousands of cricket fans who get the Cricket Yorkshire Newsletter – exclusives, competitions, partner offers and much more straight to your inbox!
Latest posts by John Fuller
(see all)