"You must get along to Pateley…" said quite a few of you over the years.

So, we finally did – back in May.

Pateley Bridge Cricket Club has been on my radar and the deliberately convoluted drive over from our neck of the woods was a sensational one.

We chose to head up from Skipton to Grassington along the B6265, in part because it takes us through the villages of Rylstone and Cracoe for classic Dales views.

By the way, I realise I now refer to road names rather than railway stations as Cricket Yorkshire is on four wheels, rather than relying on public transport. I do savour a leisurely trip by rail but a car has opened up so many cricket clubs that were tricky or impossible to get to.

At the centre of Grassington, you could turn left onto Wood Lane for Upper Wharfedale CC but we kept on the waggling B road past Linton Falls and along one of the most scenic roads I think I've ever been on.

But, after Hebden, we begin to climb and climb. The land opens as if a map of Nidderdale is rolled out in front of us. This is prime cycling territory, a past route for the Tour de Yorkshire and I can see forever up here.
---

The entrance to Stump Cross Caverns, a network of underground limestone passages, is gone in a blink, mental note, worth a trip back. Past Greenhow village is the considerable descent of Greenhow Hill into Pateley Bridge.

---

It's not (yet) a sudden vertical drop but a long and gradual combination of flat straights and inclines past Coldstones Cut; the landmark overlooking the quarry and down into the town with the cricket club on the right.

A dozen or so bikers (in leathers, not cycling shorts) are astride their machines, shades prevalent, we will see them later scoot through the centre towards Harrogate in a flurry of growls.

Lunch beckons and The Pancake House on the High Street was suitably decadent. Light, airy with generous mountains of pancakes that oozed warm apple. It was very good indeed.

Sated and ready for cricket, we re-traced our steps to the car park and headed to the gate. As first impressions go, Pateley Bridge is picture-postcard beautiful.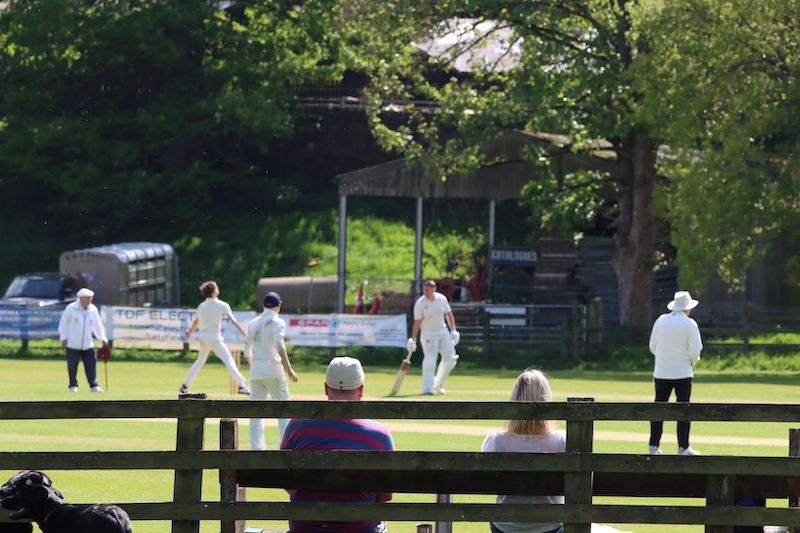 Today, a few camper vans are dotted about on the grass. The enclosed circular cricket club ground has the verdant Bewerley Park as its backdrop. It's where Pateley Show, the agricultural show with sheep dog trials, terrier racing and much more, is an annual event that draws the crowds.

This year, it'll be Sunday 23 September if prize sheep, dry stone walling, vintage tractors and a cricket match are your thing.

It is quieter today except for the insistent lowing of cows from the auction mart pens along from the pavilion. While we're on the subject of animals, you'll see lots of references in Pateley to badgers. It's in the cricket club logo and they're by no means alone.

If the belief that the name for the town derives from old Yorkshire word for badger has since been disproved, it hardly matters now as it's infused into the character of the place.

In fairness, you probably see a few badgers in Pateley, of the cricket or black and white variety.

All in all, it's a very pleasant place to catch a few overs or stay for the day. I do a few laps, chat to a Goldsborough fielder and just absorb it all, if I can put it like that.

For the record, Goldsborough (148-4) defeated Pateley Bridge (147) by six wickets with 63 not out by Jarrod McPhee anchoring the reply.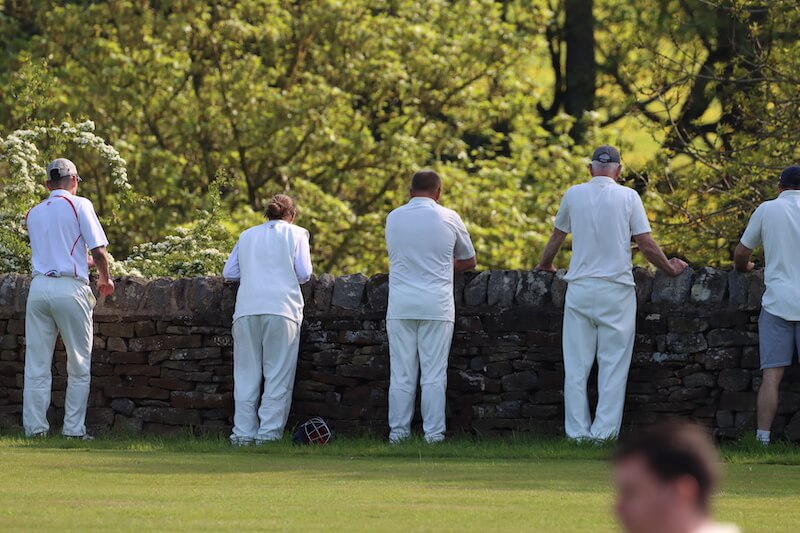 It was time to hop back in the car and head to Glasshouses Cricket Club. The path off Harewell Close is not immediately obvious but I'd been there before and the sound of a wicket falling alerted us that we were literally on the right path.

You park up, step out and just breathe.

It felt good to be back. After the news that Glasshouses might fold before the season began through a lack of players, I was determined to get there.

Visually, nothing had changed since I was last here in 2015 – and why should it when the location is just right? Glasshouses were in the autumn of their batting efforts which rapidly became deepest winter with a clatter of dismissals.

There was swinging and missing and Helperby's bowlers snaffled four wickets for 1 run, as opening bowler Dan Thompson claimed 5-34.

We spent a contented half hour talking to Charles, who has written for this very website before on the art of attracting more spectators to clubs. In the case of Glasshouses, touring teams are missing out on their North Yorkshire tours by not having a game there.

A donation might help the kitty, though what Glasshouses really need is more members. I heard that they found a couple of cricketers who lived in the village and didn't know about the cricket club, which beggars belief but had a happy outcome.

Mrs F and I waved Charles off and pootled round to see Ken, groundsman here for decades and the star of All Wickets Great and Small. He still does the ground, still has the same mischief and glint in his eye and we put the world to rights as the shadows lengthened.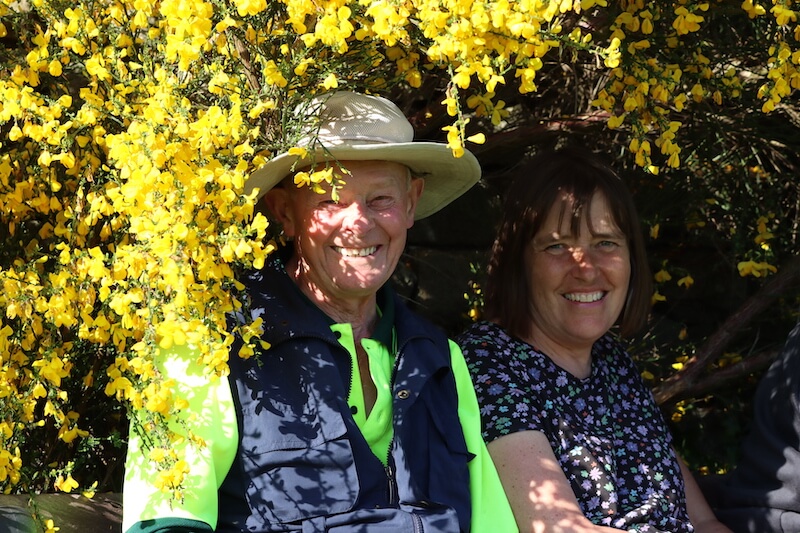 Ken brought out the finest china in our honour and made us a brew, accompanied by his posh biscuits. Five-star treatment.
---

He made all the nationals back in April when he became the face of Glasshouses' recruitment appeal. At 86 years young, having played for the club since 1958, Ken has accumulated 65 years at Glasshouses with 40 of those as groundsman.
---

Ken was painting the lines in his lime-coloured high-vis jacket at the innings break today. He confided in me that he's keen on another game but not currently getting picked.

Glasshouses is a peaceful place, one where my own memories of playing village cricket in Somerset flood back as a tearaway teen. It feels untouched here, a simplicity to the game but also a warmth that comes naturally.

Here, the ball is semi-frequently tonked over the far wall and down the bank. The ladder is still there that cricketers clamber up and over to go while others watch and offer directions.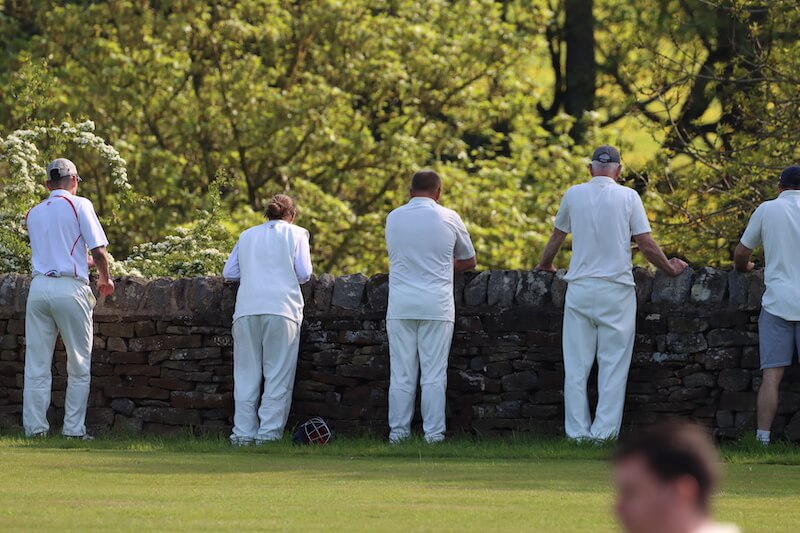 On a sunny day such as this, there is nowhere that beats it. Quite the statement I know given all of the cricket I've ever seen but there we go.

The drive back over the top to Grassington is quiet and just spectacular. Ken has recommended a few walks and we'll certainly be back to this part of Nidderdale.

On the field, Helperby won at a canter by 9 wickets and are now neck and neck with Arthington at the top of Division 5 in the Theakston Nidderdale Cricket League. Loads of cricket still to come but Glasshouses sit in fifth after 8 games.
***
Click around and enjoy the photos below – if you want to donate a cuppa for my next club visit, there's the option to do that below via my Ko-fi page. Let me know if you'd like print-quality photos for your club or if you're a player featured here.
Match Photos – Pateley Bridge vs Goldsborough
Match Photos – Glasshouses vs Helperby
Latest posts by John Fuller
(see all)