There is a very short and sweet answer to that question but in the spirit of cricket debate, let's kick this topic around.
The reason for the article in the first place has been rumblings from the Ridings about Aaron Finch – now sadly off back to Oz after a broken foot ended his unsuccessful stint at Yorkshire.
Australia's Twenty20 captain and one of the most destructive batsmen in the modern game had endured an injury-ridden and unproductive period whilst playing county cricket in 2015.
First, he picked up a hamstring injury in the Indian premier League (IPL) which meant his debut for Yorkshire was stalled as he recovered.
Next, Finch took a blow to the chest in a second-eleven match at Barnt Green CC and was taken to hospital having been coughing up blood.
The twenty-eight year old from Victoria must seriously have regretted whatever day where he walked under a ladder, just as a black cat crossed his path, before tripping over and breaking a mirror.
Thankfully, nothing too serious (bruised lung aside) emerged from that mistimed pull shot against Worcestershire Second XI but a fracture in his fifth metatarsal in his right foot is the latest and final injury toll.
Breaking his foot in the NatWest T20 Blast win over Durham, the twenty-eight year old will feel he wasn't given the chance to get his teeth into a county contract with many significant performances.
Injuries can disrupt momentum and stymie form which might partly – but not fully explain – an indifferent run with the bat in the NatWest T20 Blast.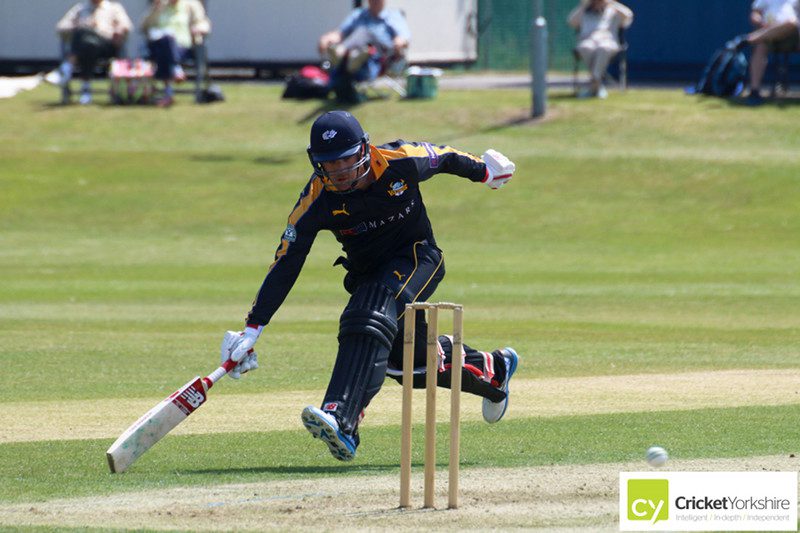 Since watching him on the comeback trail at Barnsley Cricket Club in a Yorkshire second-team T20 against Northamptonshire, Finch's batting performances have resembled low-scoring bingo numbers.
Innings of 5,6, 30, 19*, 2, 10, 33, 28, 73* and 0 speak of a bloke scratching for form, not having had enough cricket and perhaps struggling to flick gears between Championship and Twenty20.
There has been little sympathy with fans too quick to suggest Finch was not worthy of a place in the Vikings' XI, even if fit. Really?!
So, do we need overseas players in county cricket?
The quick-fire answer is a resounding yes, with the caveat that however big the star name, they won't guarantee the impact expected of them.
There's also the context of a player signing beyond the nuts and bolts of runs, wickets or catches.
Younger players being coached; given tips to improve and soaking up top-calibre international experience is the kind of difficult-to-quantify commodity that's still valid.
I know, that sounds like a cop out…wickets and runs remain the currency to judge.
These overseas names put bums on seats, sell merchandise and stoke up interest in the domestic game in a way that home-grown players can't do all on their own, particularly when England's players are rarely available.
Whether they represent the value their counties and fans expect is a little trickier to assess, a trophy at the end of the season notwithstanding.
But, I hear you cry, Kent are riding high in the South T20 Blast group and have a squad of talented cricketers without any need for an overseas.
It's a fair point given Kent seem to have turned the corner financially but are backing English cricketers rather than parachuting in star-spangled names.
But in terms of cohesion, the Canterbury-based squad don't lose key players for Test duty with England but have a number of players available like Tredwell, Northeast and Billings.
There is surely room for both approaches.
Crowds expect – yearn for, even – marque overseas players (particularly for T20) while Kane Williamson's presence at the business end of Yorkshire's Championship season will not be unwelcome.
Having watched Kent finish Somerset's hopes in the NatWest T20 Blast competition on Sky, the club with no overseas shoved aside the club splashing out for the likes of Chris Gayle.
Jamie Clifford, Kent's Chief Executive, spoke previously of a home-grown approach that 'creates a sustainable culture around player development.'
Clearly, Yorkshire are masters of bringing on English cricketers across all formats but they have played way below their expectations, by their own admission, in Twenty20 cricket – beyond the remit of just Finch and Maxwell.
Glenn Maxwell is now staying with Yorkshire to cover Aaron Finch's absence and will miss the Australia A tour and he adds dynamism, despite the grizzlings of fans who like to see their value for money.
Maxwell may yet earn his corn by scorching to 1,000 runs in the Royal London One Day Cup en route to a Lord's final. Glass half full and all that…
Like Finch, there have only been glimpses with the bat of what Maxwell can do and he will be feeling the pressure to explode into life.
Apart from Maxwell's 92* against Nott Outlaws in June, there's not been nearly enough in the runs column and his knack of removing opposition opening batsmen, though welcome, isn't what people will remember.
Yorkshire have done their best to provide overseas cover throughout their season across all three formats because it augments their squad, plain and simple.
Yet this season, perhaps more than most, they've had the slings and arrows of outrageous fortune to contend with.
It's the necessary evil of patching together overseas players for short stints.
Beginning with, to cast your mind back to April, Younus Khan dropping out at short notice – though replacement Cheteshwar Pujara averaged 52 in Championship cricket in the month he played.
To return to T20, watching Yorkshire lose to Worcestershire Rapids in the T20 Blast was to see how their component parts are all there but at certain key times, composure evaporated in such a fast-flowing game.
Bemoaning missing players through England players is ok to a point but Liam Plunkett was there bending his back, bowling at 90mph, but being smashed everywhere during Ross Whiteley's 91 off 35 balls.

Maxwell's sweet connection straight to the fielder in the deep for a duck during a disastrous cluster of wickets in the failed run chase summed up the Vikings' lack of execution, ironically what Maxwell himself had bemoaned, as the player miked up for Sky.
On the overseas front, Yorkshire can't be blamed for the signings they've made but after the latest defeat that all but dumps the Vikings out of the NatWest T20 Blast, the autopsy stretches beyond the Australian superstars.
The backlash on Twitter wasn't short in coming but there will be questions around the extent to which the youngest, most inexperienced bowlers seemed to be frequently bowling at the death.
The bowling in the last four overs has been incredibly expensive and it deflates a team, sucking all the positivity from them, just as they get ready to bat.
Right now, Yorkshire fans would be happy for Mitchell Starc's yorkers, even on one leg….
Yorkshire were probably looking to defend 140 to 150 against the Rapids and their shellshocked faces betrayed the mountain that had just been built unexpectedly in front of them.
So, what was a stated priority for Yorkshire County Cricket Club looks like a frustrating, premature end.
Not enough runs from the top six; early wickets and a strike rate not steep enough; the observations could continue but it's the easiest job in the world to be an armchair critic.
Yorkshire will be bitterly disappointed with how this has turned out but how will they respond?
Even their much-vaunted squad has been stretched and tested across the two formats with fifty-overs cricket still to come.
Death bowler extraordinaire Ryan Sidebottom is being kept in a cryogenic chamber so that he can nip out from time to time to bag eleven Championship wickets in a match – and it's hard to fault that logic.
Tim Bresnan has not bowled much in the Blast, which seems odd, and time will tell if Fisher, Shaw and Gibson benefit from the experience of first-team cricket.
Yorkshire are dominating the County Championship; that will always be a significant tick from supporters; but after another T20 flop in front of the Sky cameras, the Royal London One Day Cup has just been bumped up the wishlist.
Latest posts by John Fuller
(see all)