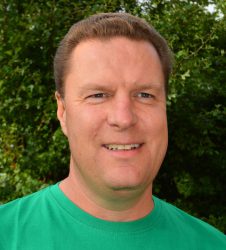 Latest posts by Andrew Gallon
(see all)
According to club president Ken Home, Great Ayton Cricket & Football Club (to use the full and correct name, after a 1976 amalgamation) "punches well above its peers".
Ken's eminently justifiable claim features on the second line of his welcome piece in the 2022 edition of the annual club brochure, an impressive 28-pager, available – free – to visitors who ask nicely at the Leven Park clubhouse bar.
Sidestepping a debate about whether the Middlesbrough suburb of Marton still counts as a village, Great Ayton are the only village club playing (and sustaining) ECB Premier League cricket in a vast area, encompassing the north end of the Vale of York and North Tyneside. Their peers are based in cities or towns.
As you might guess, this hasn't happened by accident. In the late 1980s, with an ageing First XI, Great Ayton's cricket committee decided to set in motion a youth development drive.
Keith Brett was appointed junior coach, new practice nets and an all-weather wicket installed, and a junior section (under 11s to under 17s, initially) established.
---
Since then, a steady flow of talent – many of them Ayton lads – has transformed the quality of the First XI, renowned for some time now as a potent force in the Premier Division of the North Yorkshire & South Durham Premier League.
---
Graduates of the West Cleveland League, Great Ayton joined the NYSD in 1934. They are one of few clubs at ECB Premier League level still issuing match programmes (a four-pager, handed out to spectators). The cover of this season's issue lists no fewer than 13 honours accrued since 2006. Highlight is 'Yorkshire Leagues Finalist, 2018'.
Cricketers may bring the Leven-side village of Great Ayton to widest notice, but the footballers are doing their bit. The first team play in the North Riding League's Division One East. Ken writes that the junior football section, with 140 registered members, is "by far the most vibrant" of the amalgamated club's constituent elements.
Lower down his welcome, Ken salutes the "largely unseen volunteers without whom the club would grind to a halt". He describes cricket as the "most high profile" of the club's activities. It "attracts the most non-playing supporters to the ground, and the bar".
Cricket and football grounds are laid out, back-to-back, off Easby Lane, on the south side of Great Ayton. A smart clubhouse (opened in 1976) and dressing rooms face the cricket pitch and are positioned at the south end. From here, the spire of Christ Church is prominent.
'Canny Yatton' locals advise the east side is the warmest place at Leven Park from which to spectate. Visitors, however, might prefer to take a pew opposite.
From a perch in front of bungalows' back gardens, one has a fine view of two well-known North Yorkshire landmarks: Roseberry Topping (a distinctively profiled, 1,050ft hill, now in the National Trust's custody) and, crowning the heathery heights of Easby Moor, Cook's Monument (an 1827 obelisk erected in tribute to Captain James Cook, the Marton-born explorer who grew up on a farm above Great Ayton and was schooled in the village).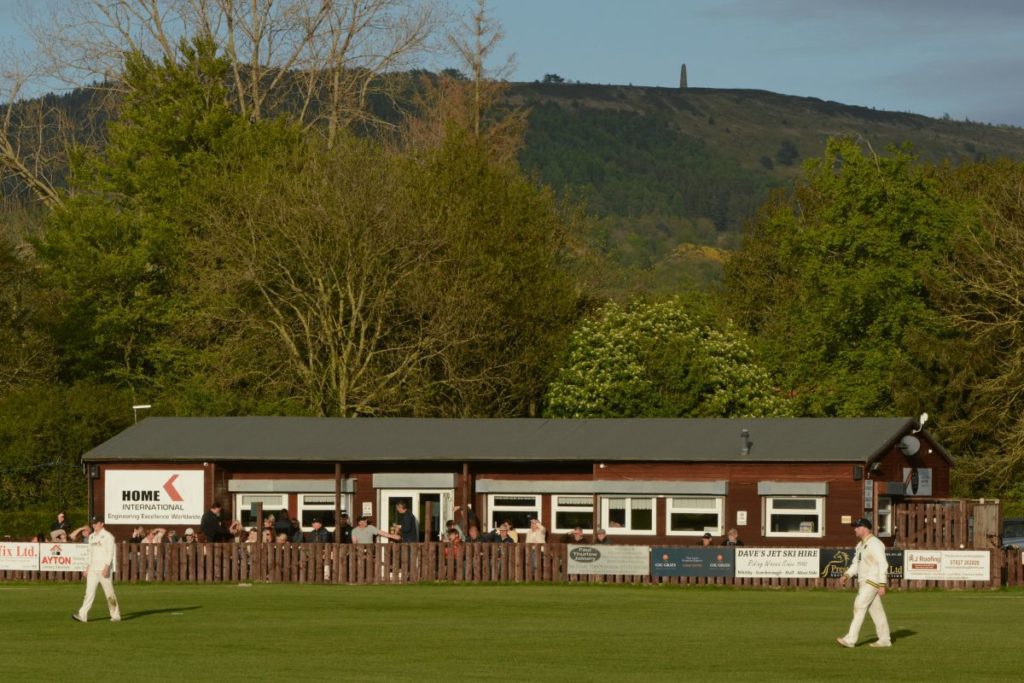 I took childish pleasure in using my binoculars to pick out walkers gathering around the trig point denoting Roseberry's summit. It is a climb I have done many times (indeed, a classic walk links both features). For a comparatively modest altitude, the panorama is remarkable.
As at the ground of neighbouring Stokesley Cricket Club, whom I visited on the opening day of the NYSD's 2022 season, the Cleveland Hills are an imposing presence to the south.
Leven Park looks and feels rural. Birdsong rings out from mature trees fringing the ground. The only thing (apart from cricket) disturbing the peace is the occasional clatter of a train (heard but not seen) negotiating the scenic Esk Valley line down to Whitby. Witness the randomness of the 1963 Beeching Report: Great Ayton kept its station; Mansfield did not.
Today's visitors to Great Ayton, fifth, are second-placed Thornaby, who have won two and drawn the other of their opening three league matches. Ayton are won two, lost one.
Thornaby win the toss and elect to bowl in a match to yield two century-makers, one from each team. "They probably thought the wicket looked a bit green," the groundsman suggests. In total, there are 10 football pitches. It takes five hours, he says, to mow them.
Before the match starts, I get chatting to three occupants of a car parked – bravely, I'm thinking – just to the left of the south end sight screen. Turns out they are the mum and grandparents of Dale and Luke Metcalfe, identical twins in the Thornaby side.
Given I am a twin, and have also identical twin younger brothers, we spend a pleasant 10 minutes or so discussing the pros and cons of twins, identical or otherwise.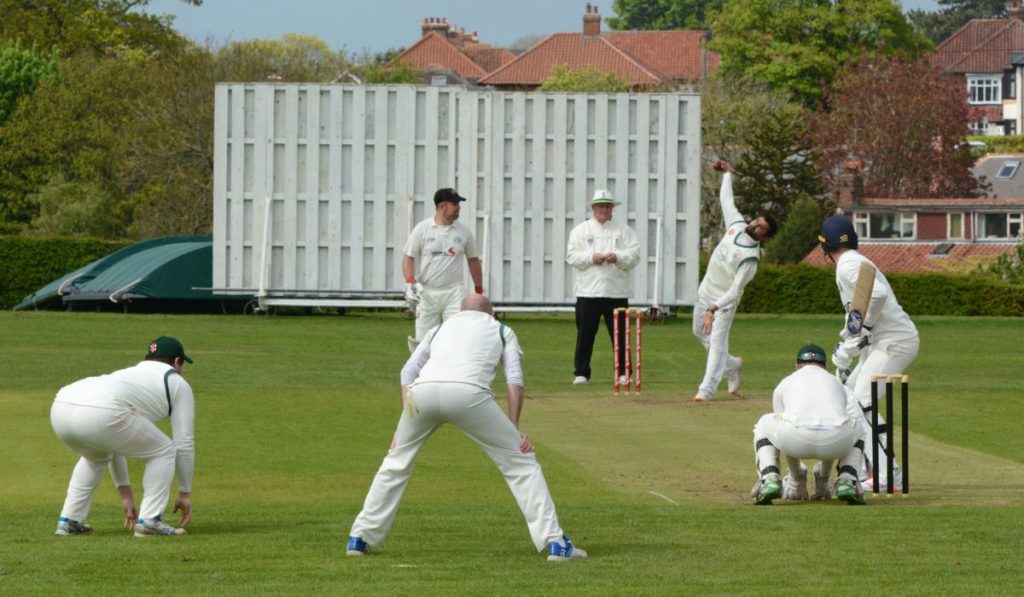 Jon Grainge (109, including 14 fours) and South African Wian Van Zyl (22) give Great Ayton a solid start, putting on 68 for the first wicket. Van Zyl, later, in the field, to be well 'jumpered' against a chilly breeze, is the hosts' overseas amateur. Visa problems, I'm told, mean the overseas professional has yet to arrive.
---
Soon, Great Ayton, wearing black caps enlivened with red piping, are 88-3 then lose two wickets at 115. The steadfast Grainge keeps the score moving along, however, and a reasonable 221-9 is attained after the allotted 50 overs.
---
Arslan Riaz (7-29-2), Husnain Bukhari (14-57-2) and Lewis Harper (10-62-2) share the bulk of the wickets.
Towards the end of the Great Ayton innings, the digital scoreboard goes on the blink. It will provide further problems and consternation in the hours to come!
A plaque on the scorebox reveals it was opened in 1968, to commemorate "many years of outstanding service" to the cricket club by Dr and Mrs J. T. Waldie.
During the tea interval, I fall into conversation with a woman, owner of a bungalow next to the west side boundary. We chat over her garden fence, which has a gate for access to the cricket ground. I note protective netting has been erected in front of her conservatory.
Some fans, of course, would like nothing better than to live next door to a cricket ground. I've often wondered how residents feel. Do good fences make good neighbours?
It is nice to hear she has a harmonious relationship with the cricket club. "They look after us," she says. "They were here first. We knew what we were getting." Cricket has been played at Leven Park since 1921; the neighbour tells me her bungalow was built in 1983.
Broken roof tiles are commonplace. "We don't charge the club for those," the woman says, pointing to a stack of ready replacements. She tells of a neighbour whose new BMW, shortly after purchase, copped a 'corky' ball, smack in the centre of its roof. Ouch.
She hails a club official as he passes then later comes through the gate for a chat with a batter-in-waiting, sitting outside the dressing rooms. All very companionable.
At 74-4, despite a patient 26 from opener John Watson (does he have a mate called Sherlock?), the early stages of Thornaby's reply point to a Great Ayton victory.
But No 5 Harper (104, including seven massive sixes, one of which lands in the aforementioned bungalow owner's back garden) and captain Steven Purcifer (16), in at No 6, add 73 for the fifth wicket.
---
"One wicket changes it," urges a fielder. Purcifer is the one to depart. He is not happy to be given out, caught. "Never touched it, man," he tells team-mates, several times, on returning to the gallery outside the dressing rooms.
---
The chap next to me, a Great Ayton resident, is from Oldham, originally. He, too, has a keen interest in rugby league. I commiserate over the fall from grace of the Roughyeds, the semi-professional Oldham club, and we share experiences of their characterful former Watersheddings ground. We discuss the merits and demerits of modern rugby league.
Eventually, it gets too cold for him. He leaves for home, with a cheery: "I'll get the fire on!"
As the scoreboard 'freezes' (no pun intended!), time and again, following the denouement (even with the benefit of digital live scoring) becomes increasingly tricky.
At one stage during his knock, Purcifer strides over to the scorebox to query the figures. It appears he's been adding up runs, in his head, as he and Harper go along. "Just play the game," mutters a fielder. It's good to see players caring so much about the result.
Thornaby lose two wickets at 147. Emboldened, Great Ayton pile on the pressure, and the visitors' last four wickets add not a lot.
With the sky clearing, bathing Roseberry Topping's rocky peak in mellow light, Great Ayton take the final Thornaby wicket, with 22 balls to spare and 206 runs conceded. Victory, by 15 runs, is celebrated with gusto. My second close encounter in seven days. Very pleasing.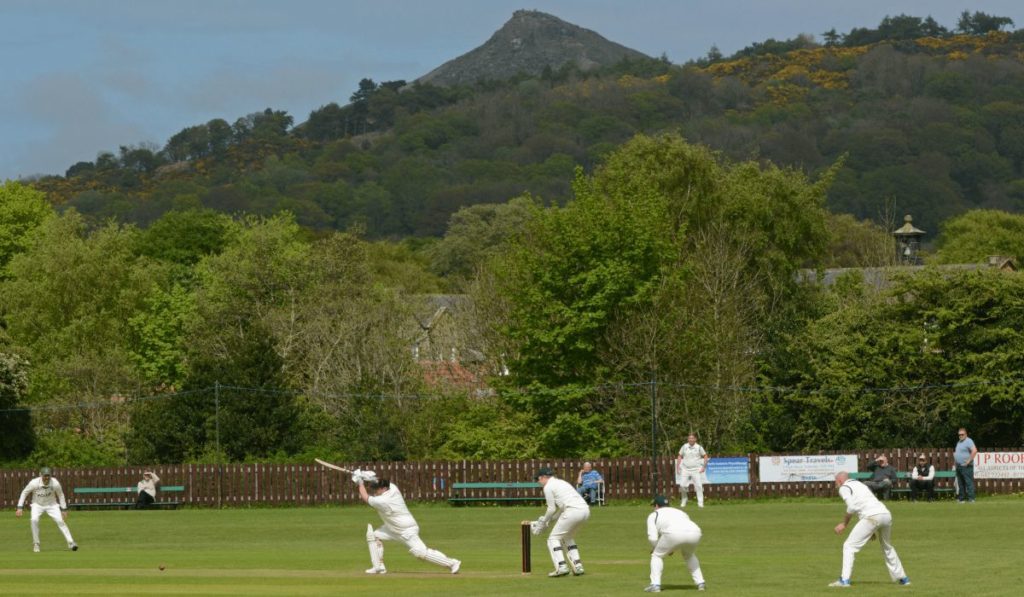 Some excellent bowling. Left-arm pacer Alfie Taylor-Clarke finishes with 3-10 from eight. He is well supported by Dougie Mulholland (3-67 off the full 15) and Martin Philpot (2-23).
Great Ayton climb to third place in the table, leapfrogging Thornaby, who drop to fourth. Another memorable season on the cards for those Ayton lads?

Many thanks to Andrew whose club cricket series, Miles per Gallon, is on cricketyorkshire.com throughout the summer.