We all know a cricket coach that has proved pivotal whether for a team we support, our own relationship with the game or who has been instrumental for someone we know.
For Leeds-based community coach Maryam Ali, her journey in cricket is only really starting but yet for those girls whom she's encouraging to connect with the game, her impact as a mentor is already being felt.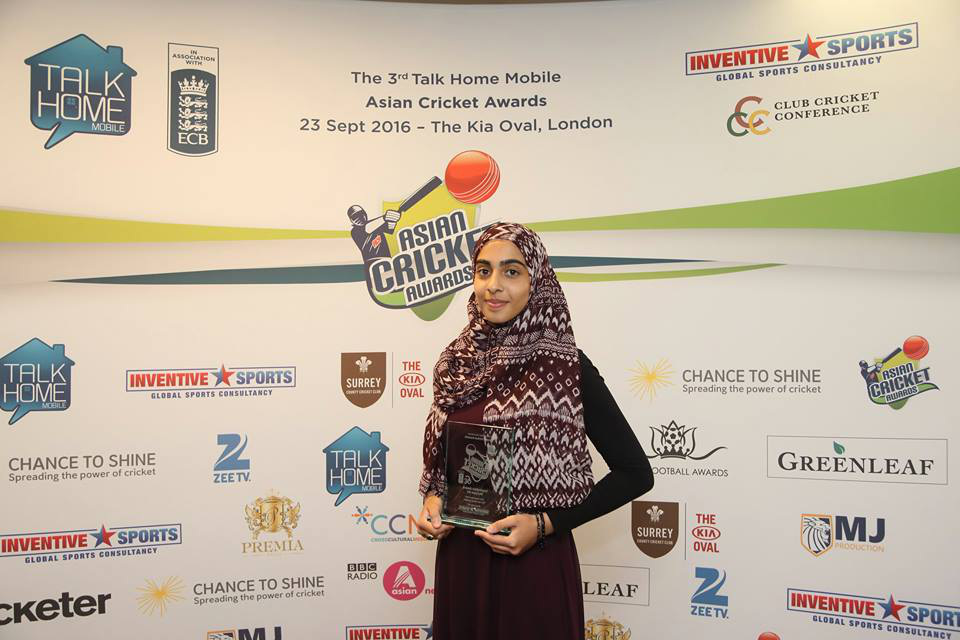 Maryam is an ECB level 2 cricket coach following an alternative path of her own choosing compared to many coaches you may of heard about who are typically involved in clubs or schools volunteering.
Wanting to run girls-only sessions in community centres such as Zara Centre in Bradford and Hamara Centre in the Leeds suburb of Beeston is admirable and we initially catch up by phone as Maryam walks to Leeds Beckett University where she's doing her degree in education.
But the fates and the fickle nature of technology combine to rob me of that particular audio clip when I get round to writing this up (a rarity but it happens) so I get back on the blower and Maryam, despite being laid up with a cold and croaky voice, is generous enough to discuss girls cricket for a second time.
The objective is to assist other girls gain confidence, socialise, get fit and improve their self-esteem. Maryam talks animatedly about the need for a 'safe space' to allow those that go along to express themselves.
This is also where the cricket coach's role can reflect a wider mentoring remit:
"I want to be a role model for the girls and someone who they can come and talk to…have a chit-chat as well as being active and mingle with other girls."
There has been growth of the availability of girls cricket and girls teams across the UK in a way that some of the current Yorkshire Women county squad I've interviewed like England opening batter Lauren Winfield never had when she first got involved.
First the positives…since 2005, over 1,400,000 girls in state schools have played cricket because of the Chance to Shine programme – but there is still so much to do.
I suspect, away from the structure of the cricket club environment and schools, opportunities are much more sporadic and ad-hoc in communities based on limited resources, venues, time and coaches.
It's a delicate subject to discuss but I want to know to what extent there are barriers to girls playing cricket – namely family objecting and maybe seeing cricket as a sport not to be played by girls.
Just as I'm tiptoeing around the best way to frame the question, Maryam answers it for me:
"Where I live, it's hard for young girls to go out and their parents trust them with what they're doing and what they're getting up to. I've built that trust with some of the girls' parents to let their daughters come out and play cricket."
Reading around the subject of girls cricket and it's future challenges, it resonated that Clare Connor, former international captain and now head of England Women's cricket at the England and Wales Cricket Board (ECB) addressed the need for a rethink on shattering some lazy sterotypes of who cricket is for, in a past interview with The Guardian:
"There are conservative attitudes in all sports but especially in sports like cricket that were perceived to be the domain of male teams. But you can't just appeal to half the population. You have to promote the game to everyone."
Meanwhile, Maryam has been getting feedback from the girls going to her cricket sessions via video interviews and the results point to positive change that goes way beyond the simple mechanics of batting, bowling and fielding.
Most of those going along have only played a bit of cricket in school but while cricket is the wrapper, it's really about mixing, making friends and having a laugh. One girl revealed the sessions had significantly boosted her confidence to be around others and have fun. How can that not be a wonderful outcome?
Though not the motivation, it has led to a clutch of awards for Maryam including the Yorkshire Cricket Board's Young Coach of the Year for 2016 and the Inspiration Award at the National Asian Cricket Awards.
It's another tale of those doing their bit to make the world a better place and with all the doom and gloom saturating the news on a daily basis, I hope you'll consider sharing this article (at the top of the page) via Twitter or Facebook to spread a bit of cheer.
Once her university studies are done and dusted, Maryam wants to start her own Fitness Academy and on this evidence, there'll surely be no stopping her.
Until then, there's more cricket on the horizon to bring her local community together and it's a reminder of the tireless work of so many volunteers around the county and country that quietly set about making a difference.
Latest posts by John Fuller
(see all)