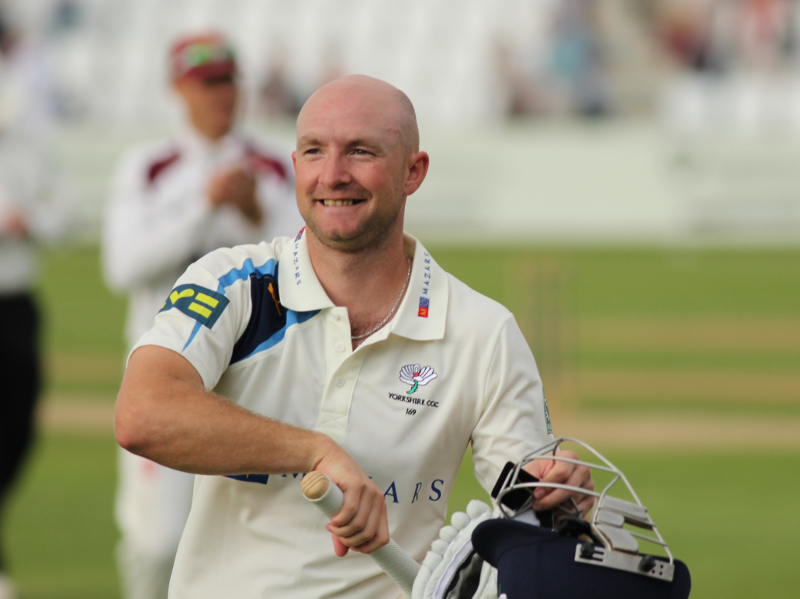 Jeremy Lonsdale shares his photos and county memories from when Adam Lyth and Alex Lees scored 375 at Northampton in 2014.
With little prospect of county cricket for a while, now is a good time to look back at a few recent memorable moments for Yorkshire County Cricket Club.
This piece remembers one of the club's largest ever batting partnerships.
Yorkshire has a long history of great opening batsmen. Holmes and Sutcliffe in 1932 and Brown and Tunnicliffe in 1898 both scored over 550 for the first wicket. The second of these pairs also made it to 378 a year earlier.
Only Boycott and Moxon (1985), and Moxon and Vaughan (1996) in recent times had got anywhere close to these records.
That was before Adam Lyth and Alex Lees recorded the fourth highest partnership of all time for any Yorkshire wicket and the highest ever in a second innings – 375 – in the match at Northampton in May and June 2014.
The 2014 county season had opened with a mixed set of results for Yorkshire. Two innings victories were offset by the defeat at Lord's, where stand-in captain Joe Root set Middlesex an 'impossible' target of 471, which they proceeded to get.
Yorkshire arrived at the County Ground with a weakened side, but with the Australian Aaron Finch making his debut in English county cricket.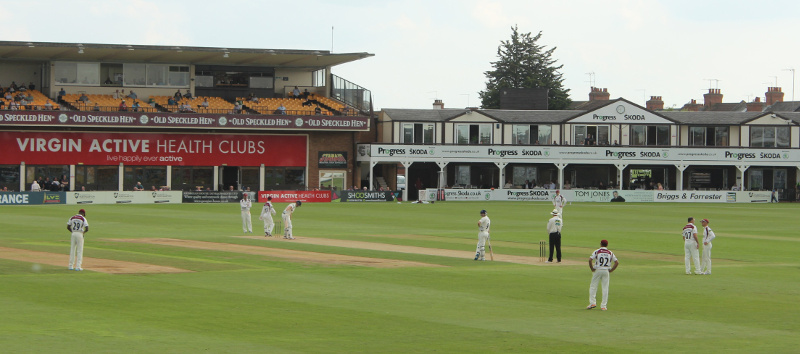 A grey, overcast morning was helpful for the Northamptonshire bowlers and Yorkshire struggled, with only Finch (34) and, late on, Plunkett (25) getting them to 136.
Northants started well but Brooks (4-78), playing against his old county, kept the home side's lead to 115. The first evening's play was extended because of rain and ended in strong sunlight.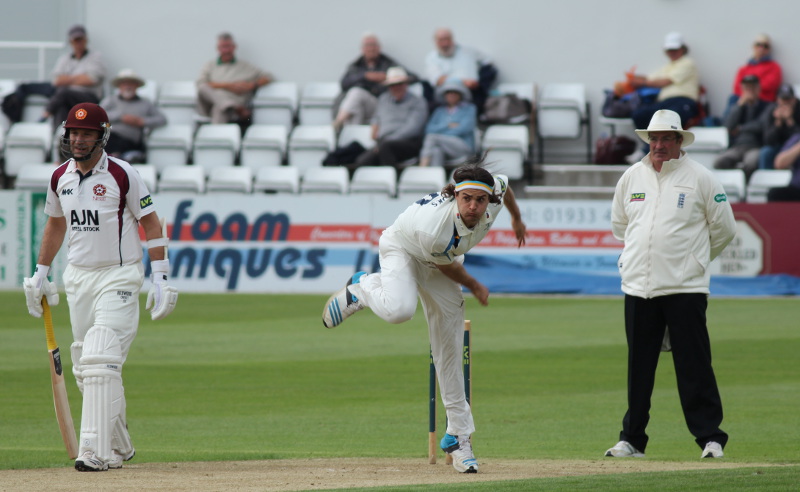 By 70 minutes into the second day, a total of 20 wickets had fallen in the match, and starting their second innings before lunch, Yorkshire were at risk of defeat by a side which had already lost five of its first six matches back in Division 1 after a gap of 10 years.
Yorkshire desperately needed a period of concentrated batting, and this was what we got. Apparently unfazed by the deficit, Adam Lyth and Alex Lees batted for 7 hours and 20 minutes to break numerous batting records.
The Yorkshire County Yearbook 2015 commented that this was 'Lyth at his fluent best, driving through his favourite extra-cover, hitting powerfully square on the off side, pulling to the boundary.'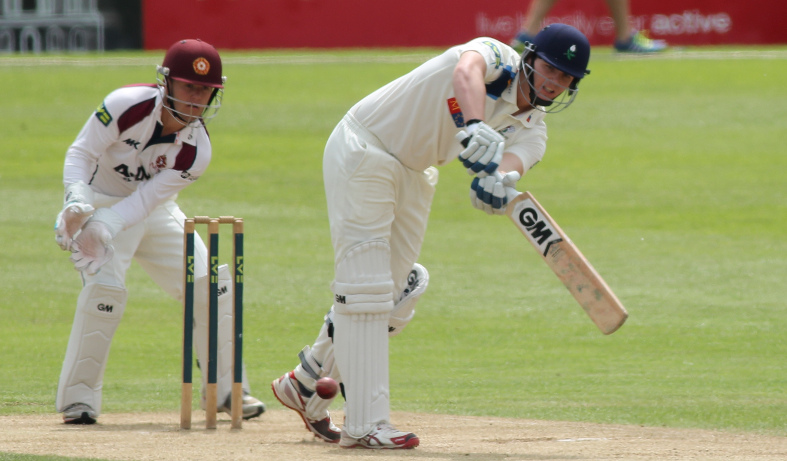 Throughout the afternoon, the pair dominated the Northamptonshire bowling. By close of play, Yorkshire were 237-0 with Lees on 105*, Lyth 116*, a huge turnaround from where they had been only five hours earlier.
Lyth took the leading role, with Lees playing what was described as 'a compact, responsible innings', but one which according to The Guardian included few memorable shots.
The same paper praised the 'simplicity' of Lyth's game, with his 'cutting and angling firm' and his 'pulling quite withering.'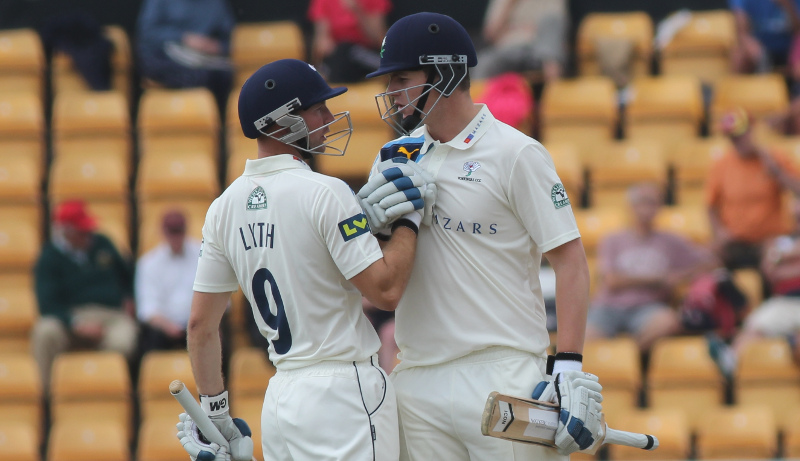 Next morning, Adam Lyth continued to dominate but Alex Lees struggled for fluency. He made 33 runs in 32 overs before being caught by Chambers off Spriegel's off-spin, coming down the wicket for the first time for a while and mistiming an on-drive.
The partnership of 375 runs had lasted for 118.3 overs, and the disappointment was clear as Alex Lees 'dragged himself off', having made 138 in 349 balls.
Lyth was then joined by Aaron Finch, who helped take the score to 424 with 69 runs in nine overs. At this point, Adam Lyth was finally caught by Duckett off Hall for 230, having batted for 8 hours and faced 398 balls. He scored one six and 31 fours.
Later, Wisden reported that Lyth put his fluency down to holing 213 consecutive two-foot putts in a golf exercise devised by the team psychologist.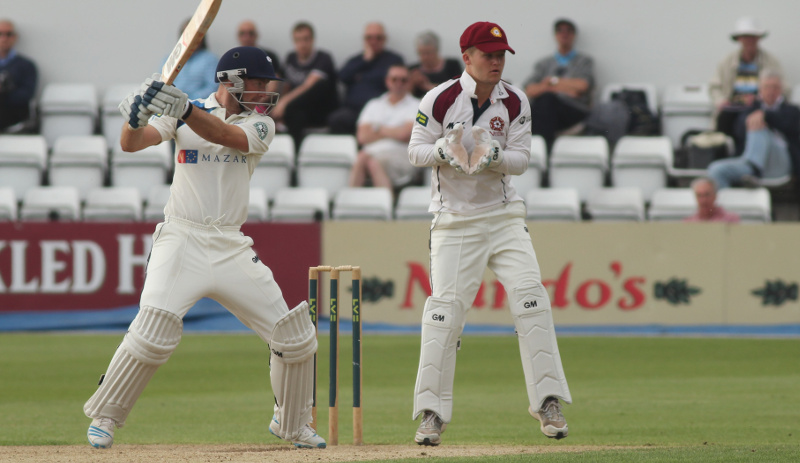 Having followed on more than 100 behind, Yorkshire were able to declare at 546-3 in 145 overs. Needing a massive 432 to win, Northamptonshire lost three wickets by the close for just 66, Tim Bresnan taking wickets in successive overs.
Next morning, four wickets for Plunkett, as well as hostile bowling from Jack Brooks and Tim Bresnan, were the main contributors to a 271 run win, achieved an hour after lunch.
Lees and Lyth were English county cricket's most successful opening partnership that season, and the confidence that they provided in averaging 75 together was a key factor in the Championship win.
Writing in the Daily Telegraph at the end of the summer, Scyld Berry suggested this was an opening pair 'to match Sutcliffe and Hutton' and said England had three clues about who Alastair Cook's next batting partner should be – his surname consisted of four letters beginning with L, he bats left-handed, and he comes from Yorkshire.
The partnership at Northampton was one of the finest contributions made together by Adam Lyth and Alex Lees, who that year were named the Professional Cricketers' Association Player of the Year and Young Player of the Year respectively.
It was the 4th highest partnership ever for any Yorkshire wicket. And remarkably, it was the highest-ever second innings partnership for the county in any game, the three higher ones all coming in games in which Yorkshire only needed to bat once.
It was also the highest first-wicket partnership against Northamptonshire and on the Northampton ground. Truly, one for the record books.
Words and pictures by Jeremy Lonsdale. You can follow @lonsdale_jeremy on Twitter.
Was this article of interest? Stay in Touch!
Thanks for reading! Sign up for the Cricket Yorkshire Newsletter and get the free download: '6 Ways to Get Your Cricket While The Season's On Pause'.
You'll get inside news from CYHQ, partner offers and exclusive competitions.
Latest posts by John Fuller
(see all)