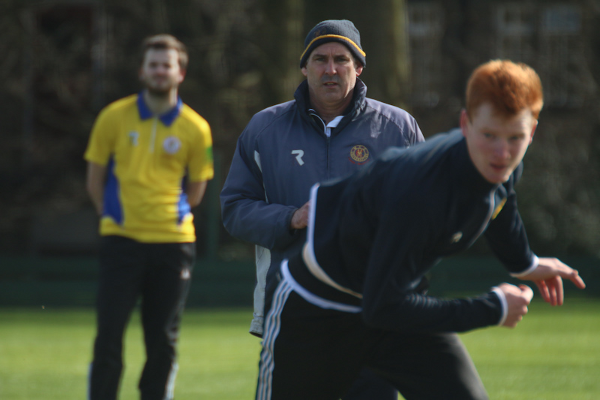 Meeting up with Leeds Bradford MCCU Head Coach Andrew Lawson to hear about the 2020 season and future of the scheme proved enlightening – but briefly faltered at Leeds.
The city has a shiny new rail station (tick), there are fewer trains constructed of bus parts in service (insert gag about medium-Pacers here) but the 10.29 train to Burley Park was running 30 minutes behind.
When it arrived, Burley Park became a station lost in the rail equivalent of the Bermuda Triangle. It just stopped showing up as a destination. Almost as if I imagined the whole thing.
Anyhow, the long and the short of it was that I was still fashionably early, as a little like Dickie Bird back when he umpired internationals, I like turning up to work commitments about 6 hours beforehand. Just in case. 
It was good to see Andrew in his smart new Leeds Bradford MCCU bobble hat. As a proud sponsor, I got my own one that has the MCC crest on it. I'll admit to cutting off the bobble but it is comfy, warm and will be supremely tested by the Weetwood winds in April.
As we sat and slurped our hot drinks happily putting the cricket world to rights, I noticed Carnegie Cafe has been re-named the Extentia Group Cafe. 
Mental note. Stop agreeing to meet people at Carnegie Cafe this year, it has the potential to go awry.
I arrived hoping for a Cricket Yorkshire exclusive about the future of the MCCU scheme. If you're up on these things, you'll know this is the last year it is in the MCC's custody. 
The ECB takes over the scheme for 2021 and much has been written and speculated on as to what happens then.
There was to be no Daily Plant splash. Details are being worked out but the ECB understands that universities need reassurance, or at least detail, for prospective parents looking to send their kids to Yorkshire (for 3 or 4 years) to play for Leeds Bradford ECB Northern Hub. 
I just made that name up in case you're wondering but it may not be far off. Clearly, if you're a young woman or man who can bowl 90mph or switch-hit it into another postcode then knowing if a university pathway to professional cricket is open or not matters.
So, what can I tell you?

The Leeds Bradford MCCU men's squad for 2020 has been cut down to 22 players and they'll be captained by Angus Dahl.
There's been some new additions to beef up the bowling including Hugh Teesdale, who's played with Middlesex 2s as has all-rounder Max John while Reiko Parker-Cole's left-arm fast-medium will add another option. 
Nic Keast (Leicestershire 2s and Lincolnshire off-spinner/batter) is also in the squad for 2020. In fact, Leeds-Bradford MCCU have a number of Lincolnshire Minor Counties players. With keeper Jack Timby also included and Tom Wyatt, the students now have four wicketkeepers to choose from.
In the middle of March, there are two matches planned against county opposition, weather permitting. Leicestershire (Wed 25th March) host the students in a 1-day game then there is a two-day match at Nottinghamshire on Thursday 26th and Friday 27th March.
When players return for winter training, some are up to the mark and others are found wanting after a Christmas of excess.
There is a fitness test that sorts the wheat from the chaff. Just the recollection of the brutal BLEEP test is enough to make me flinch. Believe it's a little more advanced now but not much.
The nature of a cricket squad picked from a number of universities means that it's constantly changing. That present both challenges and opportunities for Andrew as coach:
"It looks a strong squad, there's plenty of guys back from last year where we won the Championship. We want to back that up and the only way you do that is the strength-in-depth of your squad. I think the new guys will put pressure on."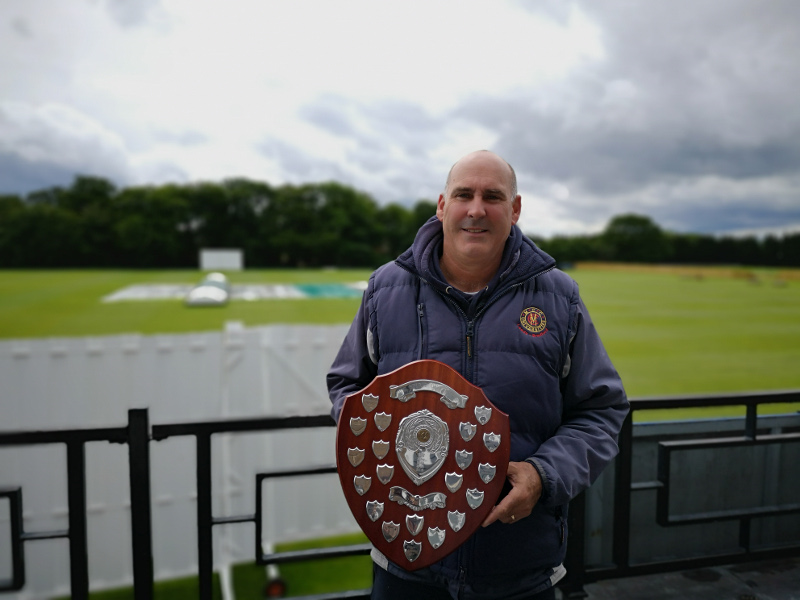 No doubt aware that Cricket Yorkshire is avidly read webpage to webpage by cricketers both amateur and professional, there is a softly-stern Lawson reminder, amid the optimism:
"There's definitely areas and scope where we can improve and compete in those county games. I'd be disappointed if any of the players took it for granted that they will be selected or are a guarantee. It's part of the journey."
"I'm hoping we take another step forward, compete in the county games then dominate the MCCU competitions. We looked a solid one-day side last year but slipped up at the last hurdle."

For Lawson, it's much more than a solitary eye-catching fifty or a five-wicket burst. Although I suspect he'd like a few of those when his side take on Yorkshire CCC at Headingley 2-4 April.
It's about putting in a shift time and again. Building scores, converting, going big, however you want to phrase it. Just hanging with the big boys is not going to lead to a raft of 1st XI county appearances.
"If they want to move on and go to the next level, they've got to become consistent. The guys who've gone on to get contracts have all had that consistency. They've all put in some good performances against the counties and then back that up through the MCCU and into the summer."
Latest posts by John Fuller
(see all)