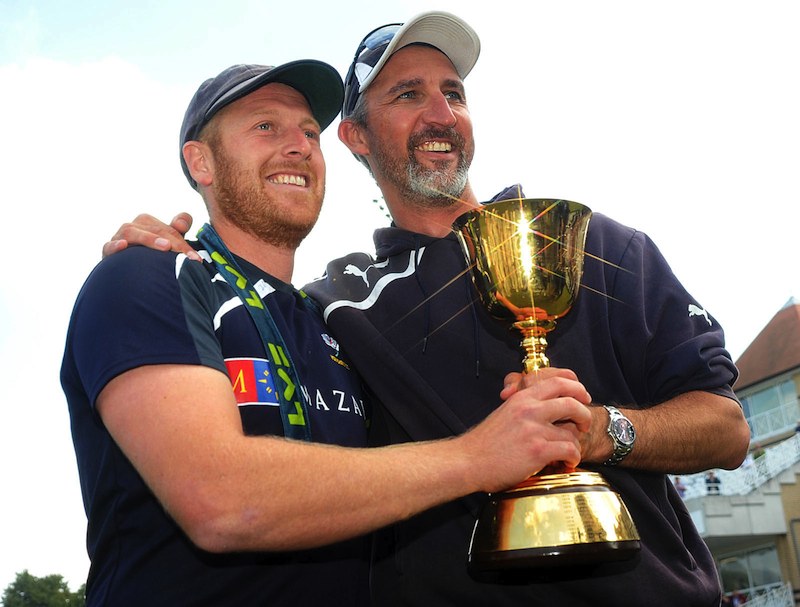 Yorkshire's historic championship in 2014 may have been sealed with an emphatic victory over Nottinghamshire at Trent Bridge in September, but the seeds for that triumph were sown in the dark despair of 12 months earlier in a dejected dressing room at the Oval.
Having led the table for most of the 2013 season, the aftermath of that final game at the Oval – by then Yorkshire already knew that Durham were champions – was where a determination took hold to be better when the following summer began.
Jason Gillespie, Yorkshire's first team coach, used the disappointment to make a telling point to the squad.
Yorkshire had been favourites for the title, but the tide turned when Durham completed a seven wickets victory at Scarborough.
"The reason that game against Durham at Scarborough slipped away from us, in my opinion, was because it was the only occasion in my time at the club where I was hearing the odd word in the dressing room 'if we draw this, then we'll be in this position'," explained Gillespie.
"It's the only time it wasn't all out to try and win the game, no matter what position we're in. That was the only time in my three seasons as coach that I've heard the odd word about trying to save the game.
"It was just the odd comment, and I kept reiterating that we've got to be nice and positive and how can we get into a position to try and win? But there were probably a couple of lads who, in their own mind, had thought 'we can't win this game."
Gillespie goes on to add:
They were thinking too far ahead instead of challenging on what was there right in front of them. That can be a danger. It certainly wasn't everyone, just the odd comment that makes you think the lads aren't as switched on as we'd like."
Motivated by that experience, Yorkshire's mantra during those early days of pre-season was how, as a team and individually, could they improve? How could they enhance their performances by tiny percentages so they won more consistently?
They also handed greater responsibility to the players. As a former Australian international bowler, with 259 Test wickets during his career, Gillespie knows players.
His management style is not as a ranter or a raver, but more watchful. He encourages, teaches good habits, is always willing to talk cricket and believes strongly in players working out their own solutions.
"We gave a lot of ownership to the lads in pre-season about how do they want to prepare?" he explained. "We set our nets up in the East Stand at Headingley and basically, it would be one net in the middle, which is bat v ball, bowlers bowling to batsmen. Then the other nets either side are for doing what you want.
"We'd constantly chat about it with the players in every session and find out how we could help. That middle net is all about the contest between the lads, and we set a couple of little challenges around that. It really is player-led, and I think that's important because they know what they need to do to challenge them to be better."
The other major difference was their pre-season routine. Yorkshire had previously visiting Barbados alongside other county teams as part of their preparation, but changed their plans after Paul Farbrace, their highly rated second team coach, was appointed as Sri Lanka's head coach shortly before Christmas.
As part of the compensation package, Yorkshire negotiated a pre-season trip out there to play games against local opposition.
"What we really liked about that was that it was just us there, whereas when we've been to Barbados there are four or five other counties," explained Gillespie.
"If you let it, that can be a bit of a boys trip. You should always have a bit of fun, it's important to galvanise ahead of the season, but I just felt Sri Lanka was a better fit. It was tough conditions, stinking hot, and we had to work smart out there. We worked hard, no question, but we had to be smart."
"There were a lot of senior players spending time with young lads, taking them out for a meal or a beer. It was a really tight knit group. There was some really good fitness work and good cricket in tough conditions and that really gave us a fantastic lead in to the season."
BY MYLES HODGSON (@hodmyl).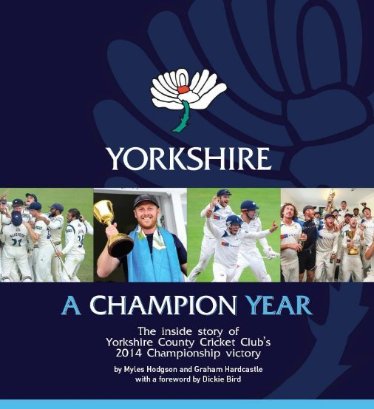 Adapted from 'Yorkshire – A Champion Year' – by Myles Hodgson and Graham Hardcastle, available from http://shop.yorkshireccc.com/collections/2014-champions-range/products/yorkshire-a-champion-year-the-official-publication-of-the-yorkshire-county-cricket-club-s-championship-winning-campaign Priced £30.
Latest posts by John Fuller
(see all)