Ex-Yorkshire County Cricket Club seam bowler James Lee recalls a second chance with Leeds Bradford MCCU and a five-wicket haul before lunch against his old county in the 2013 season-opener.
*This article originally appeared in Cricket Yorkshire's Best of 2013 Magazine.**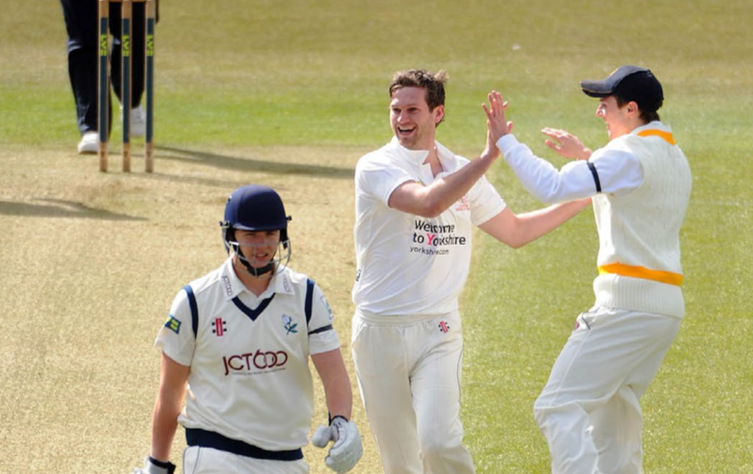 Growing up through the junior ranks with Yorkshire County Cricket Club, it was clear to me that my ambition was to have a career playing cricket for the White Rose county.
In 2007 (aged 18), I was offered my first professional contract and progressed nicely, during the latter part of 2009 managed to break into the first team, and consistently found myself in the first eleven squad.
However, during 2010, I struggled and had a couple of injuries and never found any sort of form, this slump of form continued into 2011 and mid-way through that season I personally knew that I wasn't doing enough to warrant a place on the staff and began to re-evaluate my career path.
Only wanting to represent my home county at that point, I decided the time was right to pursue a new career. After many conversations with friends and family, I became interested in business and finance.
My Dad (who works for Lloyds Banking Group) gave me a lot of information and I quickly realised that to be successful in that type of area I would need a good university degree.
My early cricket success had caused me to lose focus on my education and I did not complete my A levels at school, so despite having good GCSEs, I knew I would need to work hard to get back on track.
I spent a year at Leeds City College doing a Business Access to Higher Education course, with the knowledge that a pass with distinctions would be necessary if I was going to get into a top university.
After a year's hard work on the Access course, I was accepted on to Accounting and Finance BSc at the University of Leeds.
After finding out that I had been accepted at Leeds, many people started to make me aware of the MCCU scheme there. At this point, I was very sceptical and in my head, I wanted to put cricket behind me and focus fully on my new direction; but after a phone call from Nick Davis (Leeds/Bradford MCCU Manager) persuading me to come along, I decided to give it a go.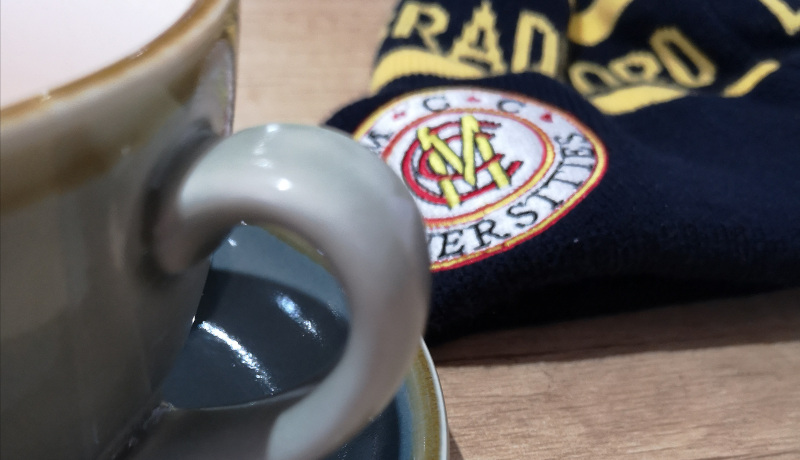 Having not played at that level for eighteen months, and knowing how poor I had been for at least three years previous, I took it upon myself
to put everything I could into it; wanting to give myself the best chance to prove to everyone that doubted me (even myself at times) that I was good enough to compete at first-class level.
I took it upon myself to put everything I could into it; wanting to give myself the best chance to prove to everyone that doubted me.
I searched out an old friend in Mark Lawson, a fellow ex-YCCC player, now a level 3 coach working for Pro-Coach Yorkshire, who I had a number of sessions with during the winter to improve the state of my game.
During the winter, the fixtures were released for the coming season and I was made aware that we would face Yorkshire in the first game; I remember the moment when I found out, the rush of emotions: excitement, nerves, apprehension, even worry of further embarrassment.
As the dust settled, I viewed it as a positive; a chance to prove to them that maybe they made a mistake, and a chance for me to rub shoulders with some of my best friends on a cricket field again, even if we were on opposing teams!
The morning of the 5th of April quickly came around, and I found myself stood at the end of my mark ready to bowl the first ball of the day; I remember my last thought before running in being 'I hope this goes straight!'
It luckily did and I was on my way.
The first ball of the second over, Lees edged to second slip and Reece took a great catch. In my third over, Gale was trapped LBW and Sayers edged to gully and all of a sudden, 15 minutes in, I was stood there with 3 for spit and I'd hardly even paused to take a breath.
At the start of my second spell, the score was 60 for 5. I started this spell poorly, however, a bit of luck for the wicket of Rafiq got me right back on track. Two balls later, I had Liam Plunkett trapped LBW for my fifth; I couldn't believe it. A five-for in First-Class cricket before lunch!
I didn't remember my celebration, but at lunch, I received a few texts from friends taking the mickey. After seeing it on Sky Sports News later, I must admit I seemed to do some sort of impersonation of a fish out of water.
During the middle session, we struggled and they rebuilt through Ballance and Sidebottom. The evening session came around and the second new ball came just after Sidebottom fell. I came back and managed to pick up the remaining two wickets without much bother.
Walking off the field with a seven-for (the first of my career in any cricket) was an amazing feeling and one that I will cherish for the rest of my life, and the fact that it was at Headingley was the icing on the cake.
It was a shame that we went on to lose the game after such a great start but personally, I was elated that I managed to go there and do well, and hopefully prove to people that I do have the ability to perform at that level, and dismissing Andrew Gale for a duck was particularly pleasing.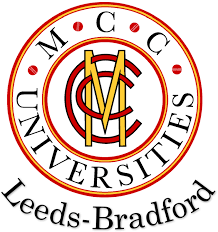 Thanks to James for those memories; I thought that given there's no 2020 fixture, I'd share this individual dash of brilliance; it was a career-best 7-45 against his former employers.
It's always a really tough first game for the MCCU students against Yorkshire and I remember watching that spell from the Long Room (bitterly cold day) and the murmur of disbelief that greeted James's comeback.
Thanks for reading and if you want to keep in touch with all things Cricket Yorkshire, join our newsletter community below!
Latest posts by John Fuller
(see all)