Ingleton Cricket Club is an outlier, as the only Yorkshire side in the Westmorland Cricket League that covers three counties.

A cricket club AND a cricket league new to me? Time for a road trip.

If you like caves and waterfalls, the village of Ingleton is a scenic hotspot; situated in the Craven district of North Yorkshire, off the A65, North of Settle.
---

Popular with climbers and walkers, Ingleborough looms in the distance, as one of Yorkshire's three peaks. If clambering over rock, going underground or marvelling at nature is your thing, it's in abundance here.

---


Names such as Yordas Cave, Gaping Gill and Thornton Force remind you how limestone has been shaped over millions of years in the Western fringes of the Yorkshire Dales National Park.

For train enthusiasts, the showstopper view of Ribblehead Viaduct isn't far from Ingleton, with the Settle-Carlisle Railway a must-do at least once in your life.

Tourism preamble over, let's turn our attention to the cricket.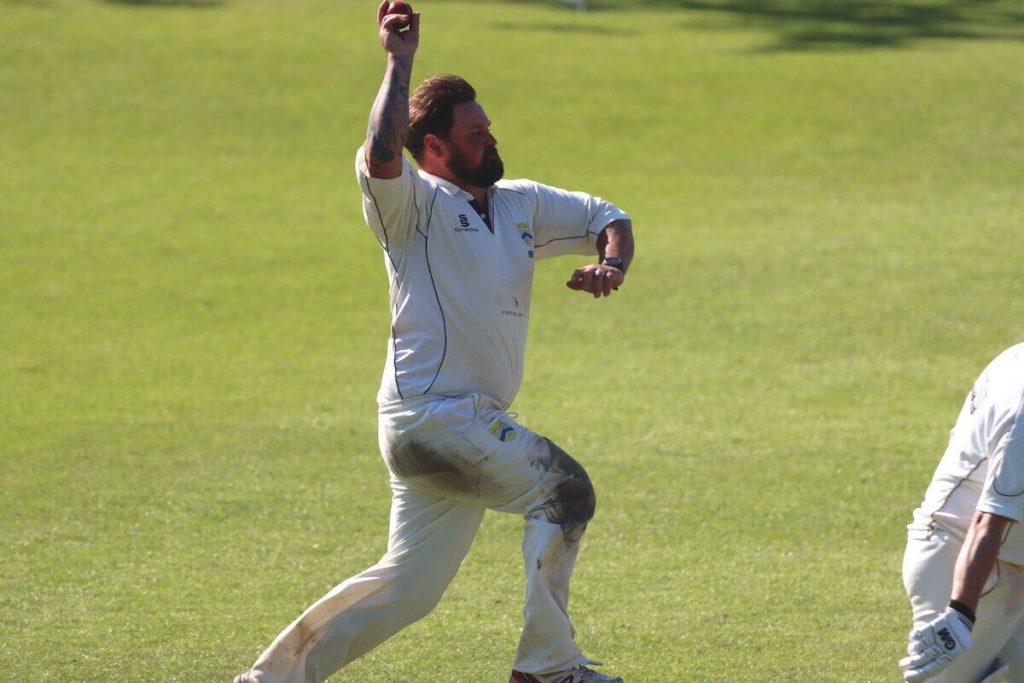 Without diving into the tricky business of ceremonial county boundary versus modern council postcodes, we are still definitely in Yorkshire here – it is proudly named on their Play-Cricket website, should you be in any doubt.

Yet, we're only 19 miles from Kendal and 17 miles from Lancaster which illustrates how clubs in the counties of Yorkshire, Cumbria to the North and Lancashire to the West find themselves competing in whites over summer.

Ingleton Cricket Club were founded in 1868, I learn from Mike Latham via the Cricket From the North blog. Mike reckons teams probably had a mining nucleus back then with mine shafts burrowed deep into the Yorkshire Dales.
---

They've had two spells in the Westmorland Cricket League, latterly from 1978 onwards. Ingleton are one of 52 teams over five divisions from 26 clubs based across North Lancashire, South and West Cumbria (and this corner of Yorkshire).

---


The drive over is sedate, with the A65 its usual consistent snake until we hit the outskirts of Gargrave where we queue for a while. I spot a sign announcing Gargrave Cricket Club, apparently founded in 1852.

Beyond a gate in a gap in the hedge on the right is the pavilion in the distance with its steep, central stone steps. I played there once and nearly got frostbite.
Dev Griffin is on Heart FM talking to a phone-in whose other half represents Great Britain as a butcher. At that very moment, a sign by the road advertises Gargrave's own cleaver-wielding talent.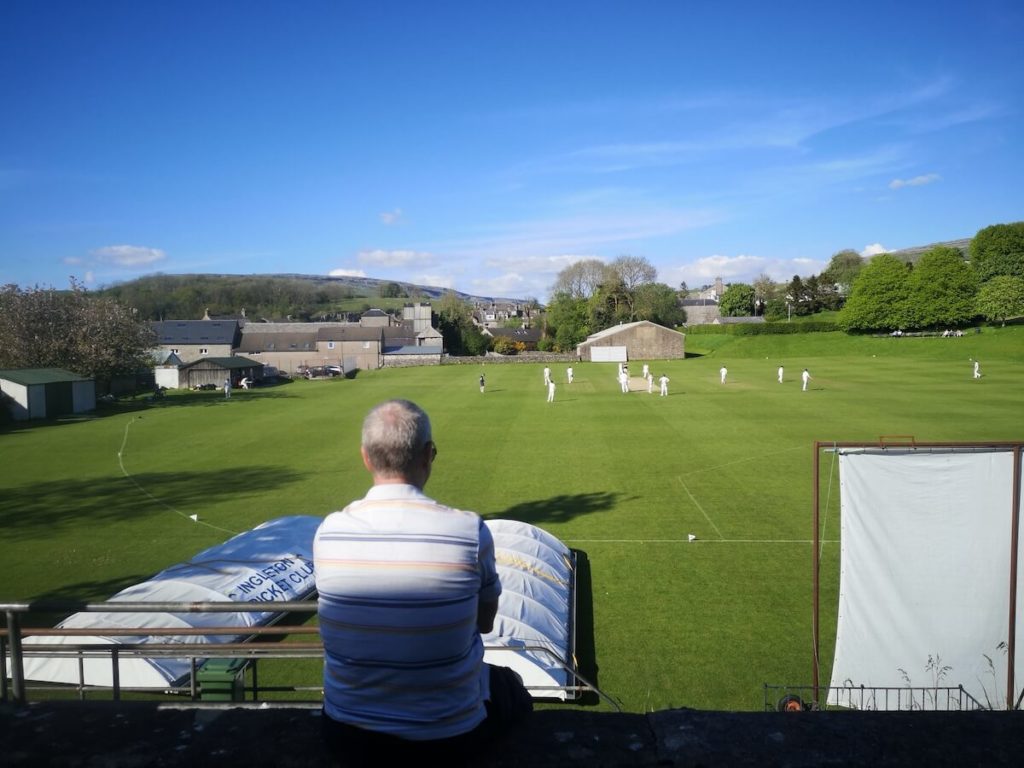 We scoot on past Settle and park up at the Ingleton Community Centre. Two things happen in quick succession.

On stepping out at the car park, there is the unmistakable sound of a meaty swing of willow as it connects with a cricket ball. Thwock.
I then glance up and see my first swallow of the year, its tawny undercarriage, forked tail and acrobatics are trademarks. A mental nudge to seek out a local walk where they do graceful, speedy laps through a farm's outbuildings.

We opt to meander down to the River Doe, one of three rivers in Ingleton. The Doe and the Twiss seem to become the Greta right where we are.
A path skirts round cottages, past residents outside in chairs and a cat the shade of slate. It takes us next to the beer-coloured River Doe on our left and peters out but not before spying Ingleton Swimming Pool.

This is a village with its own swimming pool; an open-air 20-metre heated swimming pool that was opened in 1934. I couldn't believe that.

We double back and head down the slope and under the viaduct to Ingleton Pottery.

It's a charming place with a small shop and before I know what I'm doing I have bought a bird feeder and a goblet.

Something about watching clay being skilfully moulded in the workshop next door, allied with the tactile and beautiful selection at really reasonable prices.
---

It blends the old with the new. A school handbell is how you get attention to pay and the surface is made up of old coins from decades past and a variety of countries.

---

Their YouTube channel has 150 million views with nearly half a million subscribers which is staggering when you think about it.
We climb the hill and arrive appropriately, a little glazed and fired by the persistent afternoon sun, at a garden centre.

I am taking a moment to collect my thoughts when I get a stamp on the foot.
Then another. Followed by a headbutt to the leg.

It is Nell, a black and white collie who has a stubby, poor excuse for a stick that I lob around for a few minutes to make friends.

If you're wondering when on earth I'll get to the cricket, well, now is that moment.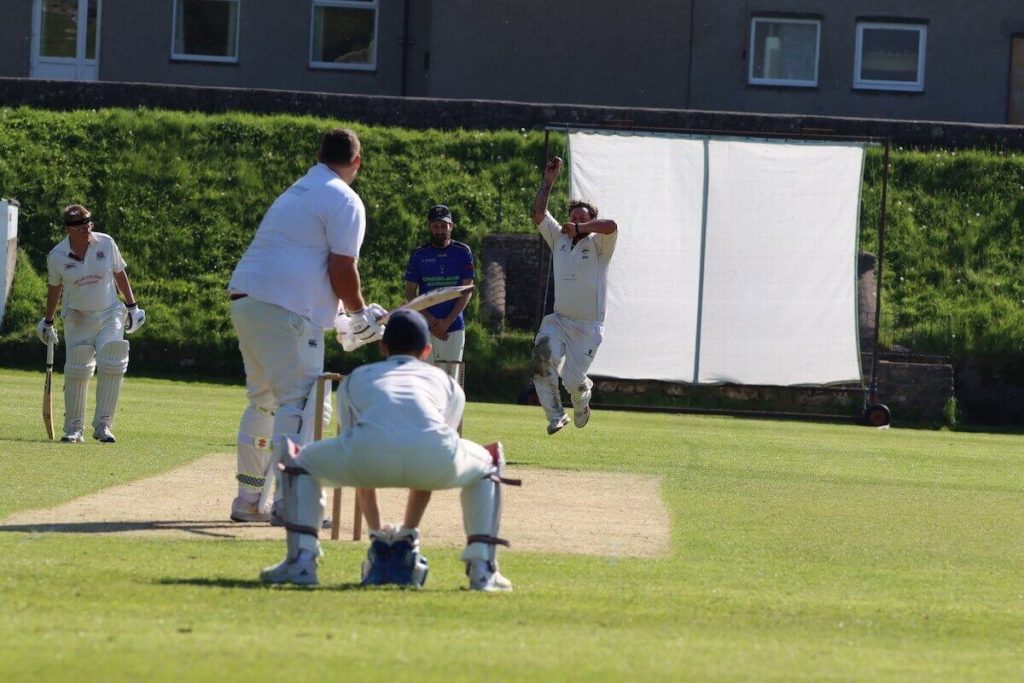 Ingleton Cricket Club's pavilion is really the village's community centre which is packing up after a jumble sale, as we arrive. It's still a bustling hub with plenty going on.

A loud voice booms out: "Bluuuuuuue, eleven, one, one! Blue, eleven, one, one." Those sat at tables in a side room glance at fistfuls of raffle tickets, surrounded by prizes such as books and Cadburys Roses chocs.

In another room, I catch sight of a queue of cricketers scooping up sandwiches and cakes onto plates. Once they filter out into the sunshine, I chat to Nick and his wife, who are on tea duty as their son (Huw) is the wicketkeeper.
---

Luke Gorst, Ingleton's first-team captain, comes over to fill me in on how the season is going. He is sporting a mullet and a passing resemblance to Australia's leg-spinner Adam Zampa (although Luke bowls seam-up).

---


As I get the lay of the land, everyone gives you the time of day. It's some of those off-field signs I look for on a first visit.

To step outside and survey the ground is to look down on a majestic scene. It's a large oblong playing surface, cut with precision and care, despite it bucketing down on Thursday.

There are steep concrete steps to the pitch but up here, you can sit on the wall and look down on the cricket. It shares sporting duties with Ingleton AFC and also a rounders team (which explains the markings that look as if Pythagoras has been doodling with a white pen).

The tree-lined, steep grassy bank on the right-hand side, beyond deep square-leg, is a fabulous place to watch from. Spectators are dotted around. A woman writes notes in a journal and glances up when a loud LBW shout echoes over to her.

From behind the bowler's arm, you can just see Ingleborough (one of Yorkshire's three Peaks) poking its flattened head through the trees. Other craggy hills, off to the left, frame the view.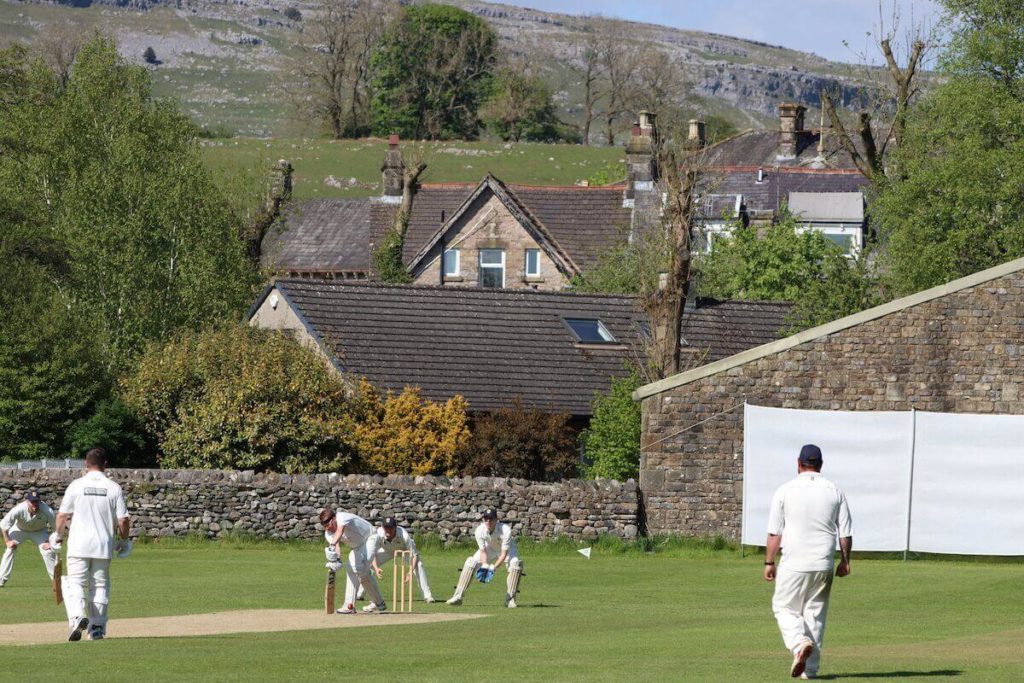 The scoreboard is a manual job and there is a wooden, single-storey building where, one day, they'd like to plumb in toilets so cricketers don't have to make an Olympic dash up that great wall of steps, slip off their spikes like Cinderella at midnight and seek out the loos in the community centre.
At the opposite end is the back wall of an outdoor activity business; it acts as a light grey, speckled, stony backdrop.

I do a few laps as I tend to at every ground I come to. With Ingleton, I can't resist climbing the steep bank to sit on a bench and gaze down on this Westmorland Cricket League match.

To my right, Nick and his wife are on another bench and I chat about their Kent County Cricket Club loyalties, they pause to cheer on their son who has hurled himself down leg but can't cut off four byes.

I make my way around to the other side of the cricket pitch which is very close to the action. It coincides with a top edge that soars high as a lone voice calls for it. Miiiiiiiiiiine!

It burst through fingers. A moment of silence before a team-mate politely enquires: "Are you sure about that?"

Leven Valley look like they are possibly in the middle of a timeless Test and show little inclination toward chasing Ingleton's score.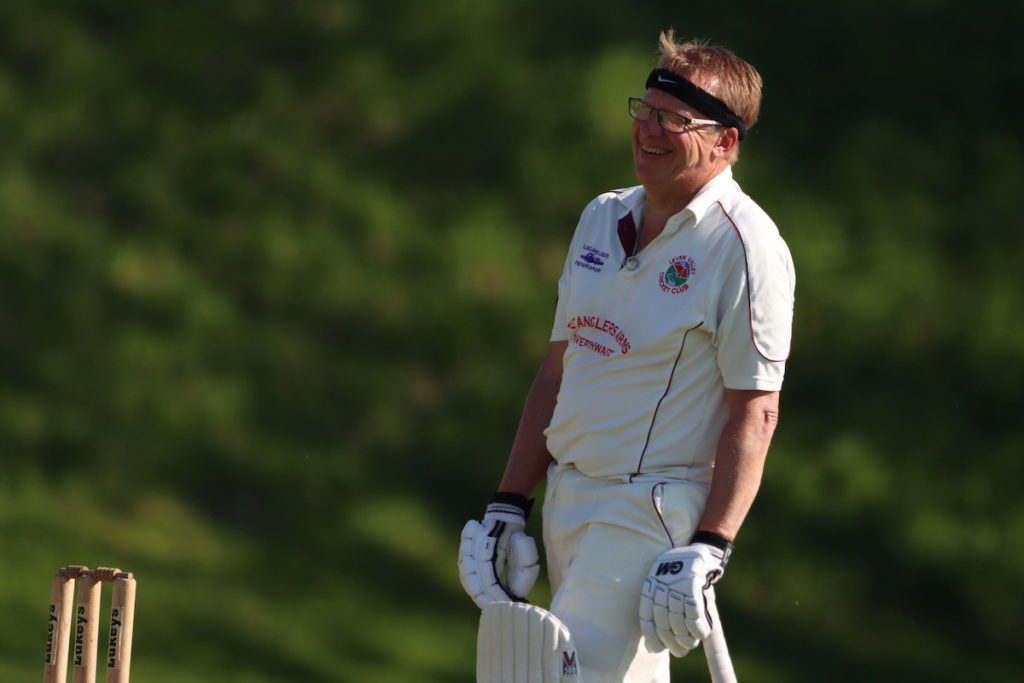 Home skipper Luke, a little frustrated, does some half-hearted sledging. That kind of works because suddenly the runs can't come quickly enough.

Leven Valley's George Needham biffs 33 runs as if he's left something in the oven and has to get home. This defiant counter-punch is punctuated by the drinks break.
---

As blackcurrant cordial is sunk, one of the Ingleton players next to me starts to take his trousers off. Is this a time-honoured tradition in these parts? Is he just too hot?

---

It turns out that father and son are swapping shirts and whites with Dad taking the final stint in the field.

I chat to Simon, Ingleton's chairman who tells me about a vital and well-appreciated collaboration with the Wheatsheaf, a hotel and country inn on the High Street where you can sup a pint, demolish a burger and sleep it off.
They sponsor the cricket club and also share the profits of the annual music festival called Sheafstock – three days of live bands with guest beers, pub grub and all-day BBQ each April.
A word is tugging at me as the warmth settles into the bones and another village cricket match enters its last few chapters.
Contentment.
Those I talk to about Ingleton Cricket Club seem content. They're not striving or seem particularly stressed. Maybe I've caught them when the sun's out or they know they're onto a good thing here.
I just know I'll be back before too long.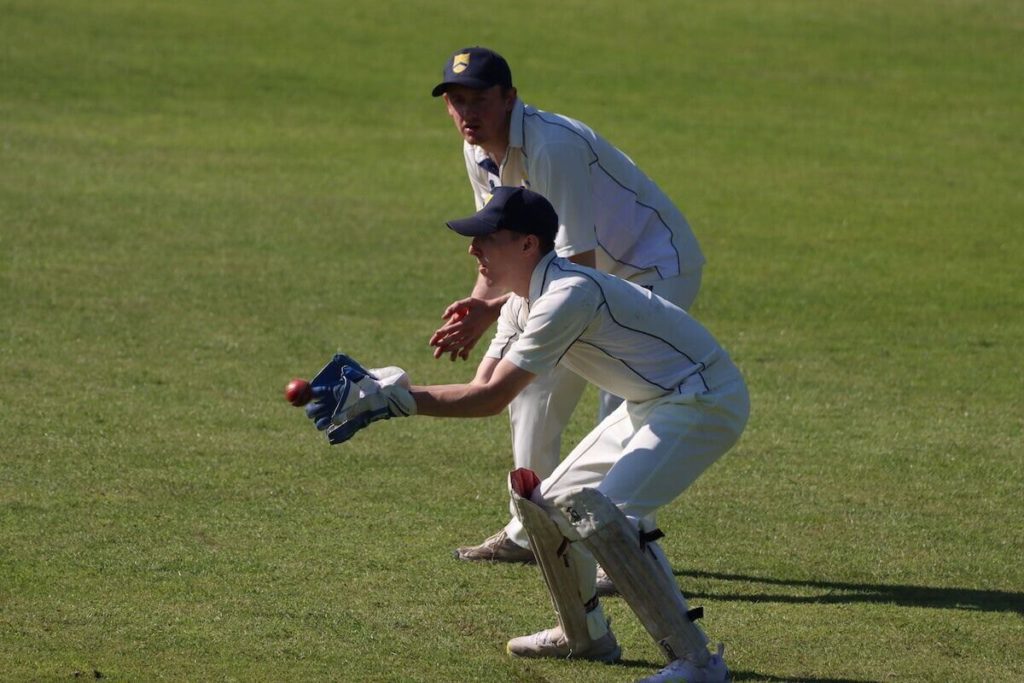 While we joined the snaking line of traffic back to Skipton, Ingleton were pushing hard for victory with a clatter of wickets falling.
Luke Gorst finished with 7-23 and is almost guaranteed a spot on the Play-Cricket leaderboard this week for best performances in Yorkshire.
Matthew France (2-24) and the other bowlers were all economical but they couldn't quite get over the line.
It leaves Ingleton in 3rd spot in Division 3 of the Westmorland Cricket League (53) and Leven Valley in seventh (30).
Ingleton (190-6) drew with Leven Valley (128-9)
Ingleton got 12pts, while Leven Valley headed home with 2pts.
Match Photos
Latest posts by John Fuller
(see all)