As Yorkshire County Cricket Club pushed for advantage against Lancashire in the Bob Willis Trophy, there was a notable voice missing.
Howard Ferguson has been the stadium announcer at Headingley (and sometimes Lord's) for a number of years now. With no spectators due to Covid-19, his dulcet tones wafting over the airwaves have been temporarily mothballed.
How do you get a job talking about county cricket, you might be curious to know?
A mature student at Leeds University, he gradually became part of the furniture at Yorkshire County Cricket Club with bar work, venue operations and then the plum job of matchday announcer.
When not noting the scores or unveiling the tea interval with suitable gravitas, he's also played plenty of club cricket and turned out for Thorpe Arch & Boston Spa Cricket Club (known as TABS).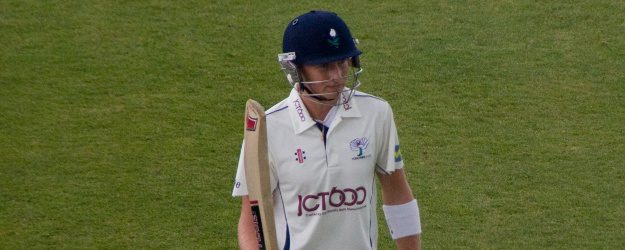 Ferguson has a few county cricket stories of his own and with a nudge or two, they start to tumble out.
One of Howard's early games behind the microphone was when Joe Root was progressing through the ranks.
'I hadn't really got to grips yet with the intercom. You had to press it and wait a few seconds but I just started speaking. All anyone heard was Oot getting his second-eleven cap!'
He has no particular horror stories but colleagues at other counties have had colourful lapses when they didn't realise they were broadcasting to an entire stadium. As he wisely notes: 'The microphone is always on!'
There was the time at Scarborough he was asked to read an obituary out and not unreasonably mistook the umpires leaving the field for the lunch break.
But, as Howard launched into this beautiful eulogy, the umpires realised they were a few overs early and returned to the middle.
Too late. A confused melee ensued with some spectators already spilling onto the outfield and the session yet to conclude.
Had there been any lessons learnt from his time up in the Gods at Headingley or Scarborough?
'Less is more. You're not there to commentate on the game. You're not the star! Just give them what they need to know.'
That said, there are a few Ferguson gems. He once labelled Gary Ballance the 'Ferrari from Harare' after another belligerent century.
When your batting records come to life…. https://t.co/jPV1VaWvbQ

— Howard Ferguson (@whferguson) July 26, 2019
His Twitter account is worth a look. Colourful in every sense. It might even represent all the thoughts he'd like to say on air.
Unsurprisingly, given he also works at Leeds Grand Theatre, wordplay features quite a bit.
Howard recalls the game when Dan Lawrence was batting against Duanne Olivier so the scoreboard was emblazoned with Lawrence Olivier for a satisfying moment.
Significant milestones are appreciated by cricket announcers too and Sangakkara's 100th century of his career is a fond memory; although not as much as the subsequent cigarette break with the player himself.
As you'd expect, oddities do crop up at the cricket. A racing pigeon once got itself in a tangle in the stands. Howard was dispatched to the Headingley pavilion to ask a colleague if they'd request pigeon expertise from the crowd.
An hour happily whistles by as the current voice of Headingley scoots round all manner of cricketing tales.
I thought I'd end with a world exclusive.
Did you ever wonder who effortlessly concocted cheerful silence as former Yorkshire CCC mascot Max Mynah? Clearly a man of many talents.
Apparently the county mascots were under strict instructions not to speak. In a deft career move, now everyone gets to listen to Howard. At least, when normal service resumes.
With any luck, we'll get Yorkshire supporters back at Headingley and Scarborough before too long but now you know a little of the bloke behind the microphone.
Latest posts by John Fuller
(see all)