Harriet Barber, winner of this year's Yorkshire Cricket Board Game Changer Award, is a prime example of the expansion of a volunteer's role.

She's been at Frecheville Community Cricket Club for nearly eight years now; beginning as a player with the U15s. With her move to the Sheffield suburbs, Harriet has juggled playing with scoring duties for various teams.
It's a continuation of the game that is now second nature because of her family:
"I grew up going to cricket! My dad played and my mum scored. Going to cricket on the weekends is all I knew, so naturally I started playing and that progressed into everything else."
All Stars to U13s

Junior cricket is an area of club life that Harriet has driven since she moved back home after university and began to help out with the All Stars programme as it launched at Frecheville.
"I knew we had been struggling with our junior section, so it was important to hit the ground running and make it a success. The All Stars moved into the under-nine team, which I took on the responsibility for with coaching and managing."
Seeing the development of young cricketers moving up the age ranges has understandably been very satisfying: "Some of those original players have stuck with me as I developed them all the way from All Stars to now U13s."
Her philosophy?
---

"I'm a big believer in fun first. It doesn't matter if we win or lose, as long as the kids are happy, I'm happy. Watching them thrive as not only a team, but a group of friends is why I do it.
It's important to be fun, inclusive, encouraging and fair; all things that will help them progress as players."

---
What comes across from our interview is that Harriet (above) must be an irrepressible force of nature, an expert juggler and integral to the future of Frecheville.
The YCB's Game Changer Award is for young volunteers (17-25-year-olds) making a difference in the game and Harriet really is a worthy winner.
The last few years have seen her manage and coach both under-nine and under-eleven teams, as well as running All Stars & Dynamos sessions at Frecheville.
When the previous Junior Coordinator left, there was an obvious candidate although that came with more of the admin and paperwork.
Frecheville's first women and girls team

It's probably at this point that I began to wonder what I do with my own time! I reckon Harriet must have a Tardis (Dr Who reference there if you're wondering).
Alongside all things juniors, she began Frecheville's first women's cricket team at the tail end of the 2022 season. It was a natural next step:
"I knew it was something as a club we needed to progress with, as we already have a few women (including me) who play cricket in our senior teams."
There is now a squad of 15 players at Frecheville, captained by Harriet. They are early into Division 3 of the South Yorkshire Women & Girls Cricket League's indoor season at the S20 The Boundary (indoor cricket facility that opened in 2023 in Sheffield).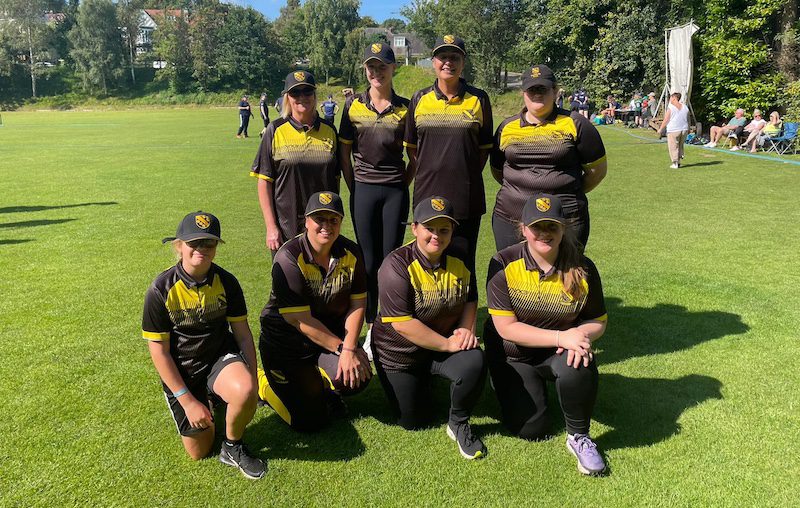 What does the future hold?

Frecheville's junior section will include an under-13 side for 2024 to continue the journey for players. It's a pathway towards senior cricket and also keeps them at Frecheville enjoying the game.

"It's great to see all of the players grow and progress through the age groups together. Over the winter, we will continue to look for new players to strengthen our teams, both junior and senior."
---

There are off-field plans too: "Club-wise, we are starting to look at progressing our facilities to be more inclusive, possibly building a new separate changing room for those women who play within our open age senior teams."

---


For Harriet, there's the prospect of a night off as guests assemble at Headingley in November to celebrate volunteers across Yorkshire cricket and toast the winners of the YCB Awards.
Since she moved to Frecheville, so much has happened and there's a comfort for club volunteers that comes with knowing how everything works.
That doubtless means you might get roped into things but the flipside is seeing the evolution in a relatively short time:
"Sometimes it feels like I'm a general dogsbody, as normally if anyone has a question, I generally know the answer! But it's great to see how the juniors and now the women are progressing and seeing something come of all the hard work."
Congratulations to Harriet and for more info on the YCB Cricket Collective Awards, visit their website for all the 2023 winners.
Latest posts by John Fuller
(see all)