Andrew Gallon reflects on his journeys across Yorkshire club cricket as an avid 'groundhopper.'
From the best views, finest cricket teas and strangest geography, dozens of clubs feature in his round-up:
The arcane practice of groundhopping – watching matches at as many different grounds as possible – is fairly well known in football. There are magazines devoted to the hobby.
In far smaller numbers, groundhoppers (or 'travellers') exist in several other sports, such as horse racing, ice hockey, rugby league, rugby union and speedway.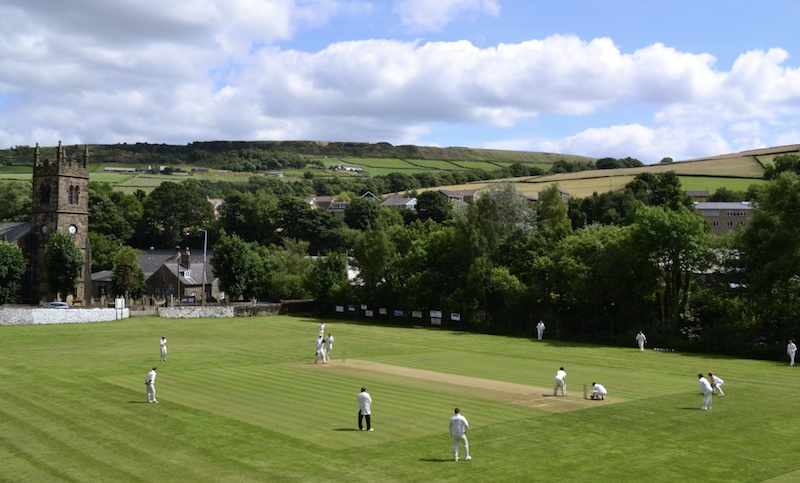 There are even a few club cricket groundhoppers. Generally, enthusiasts start out with the first-class grounds then get stuck into league cricket, initially in the vicinity of their home base before looking progressively further afield.
One Lichfield-based groundhopper of my acquaintance aims to see a game at every ECB Premier League ground.
Given the turnover of clubs – two up, two down every season – that's quite an ambition. He's watched cricket on more than 900 grounds.
The two most recent occasions I bumped into him were in Yorkshire, at New Farnley and Woodhouse Grange (his 900th!).
Having 'ticked' for decades football, rugby league, rugby union and speedway stadia, I came to cricket groundhopping fairly recently, 2015. For reasons I won't go into here, I fell out with cricket as a teenager.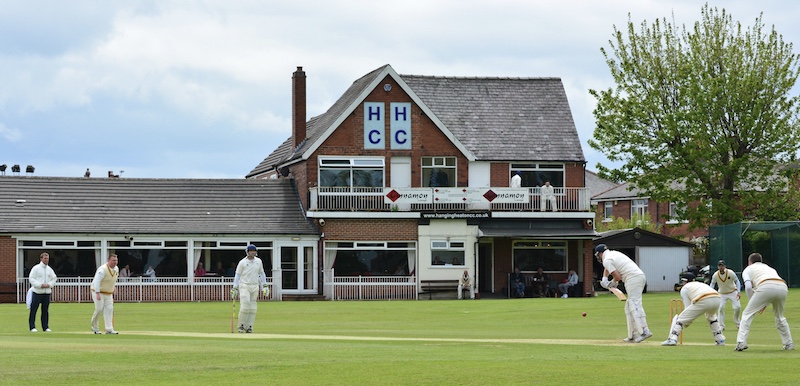 A fellow groundhopper, from Scunthorpe, rekindled my interest. He recommended starting with the Bradford League. At the time of writing, I have 12 of the league's present 48 member clubs to 'do'.
Within a few weeks, I was spreading out into the Halifax and Huddersfield leagues, which cover the area in which I spent most of my childhood.
Things have now got so out of hand, we (my wife, a former schoolgirl scorer, usually joins me) watch cricket in 15 leagues.
Most are in Yorkshire but I've developed soft spots for the Great Manchester, Lancashire and Northern Premier leagues.
I guess it won't be long before the pull of the Cheshire, Derbyshire and Lincolnshire ECB Premier leagues proves irresistible.
Most football people know what a groundhopper is. They may doubt your sanity but at least they've heard of the hobby.
Not so in league cricket, I've found, where the concept of the non-partisan travelling spectator appears almost completely alien.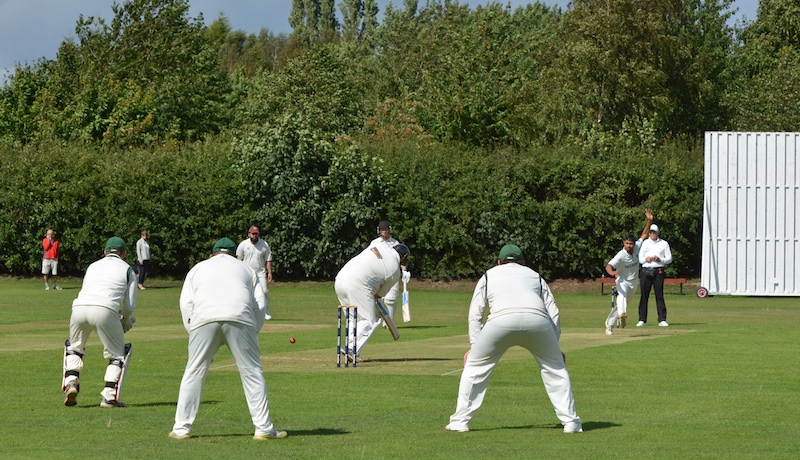 I doubt I've driven more than 90 minutes to watch a cricket match but admitting to any journey longer than 45 is generally met with incredulity.
The most recent example was at Houghton Main, whom I saw hammer 10-man Crossflatts in The Cricketer Magazine's 2020 National Village Cup first round.
I got talking to an old-timer on the boundary (the friendliness of cricket people is a constant delight).
He assumed (as all home supporters tend to) we'd travelled from Airedale, and was astonished to discover we'd come down from York, to watch a match in which we had no emotional investment.
So, what makes a good cricket ground? Well, I do like a traditional pavilion. The older, the better.
Think, in Yorkshire, Bradford & Bingley, Castleford, Honley, Friarmere (whose groundsman insisted Saddleworth is very much Yorkshire), Lightcliffe and Saltaire.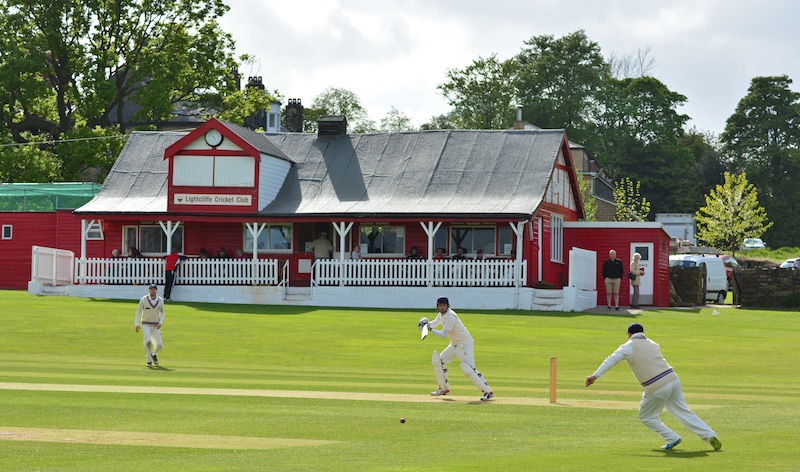 Being able to 'take tea' in a traditional pavilion is even better. Take a bow,
Lightcliffe! For quality of food, I'd single out Bowling Old Lane. Asian cuisine at its finest.
A scenic setting or backdrop is equally desirable. This, unfortunately, is where many cricket grounds in the pancake-flat Vale of York fall down.
Often, there's the pitch, the players, the sky – and very little else. At least at Sessay, the White Horse of Kilburn is visible.
Leagues in the hillier districts of Yorkshire boast numerous grounds either in glorious locations or offering fine views.
Particular favourites include Bolton Abbey, Delph & Dobcross, East Bierley, Londesborough Park, Ossett, Scholes (Huddersfield League), Settle, Thornton, Todmorden, Triangle and Whitley Hall.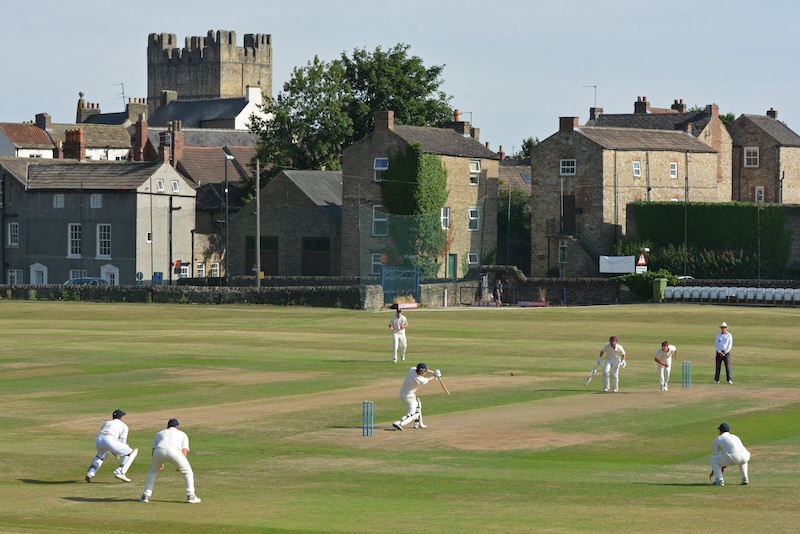 I love grounds with a strong sense of place. Things like the railway viaduct at Copley, the Chevin above Otley, the view of the castle at Richmondshire (above) or the cooling towers of Ferrybridge power station at Townville.
I must get around to watching Ferrybridge Power Station, of the Pontefract League. Their ground is right next to those cooling towers.
Anything quirky is a bonus. The Retreat (York) is in the grounds of a mental health hospital. You can read Cricket Yorkshire's feature on a T20 match.
Hoylandswaine and Idle (defunct, sadly) have the strangest pitches.
At the former, the wicket is about the only level bit. Parts of the latter are reminiscent of a ski jump. Mirfield Parish Cavaliers' ground is tiny, affording the spectator a superb close-up view of the wicket.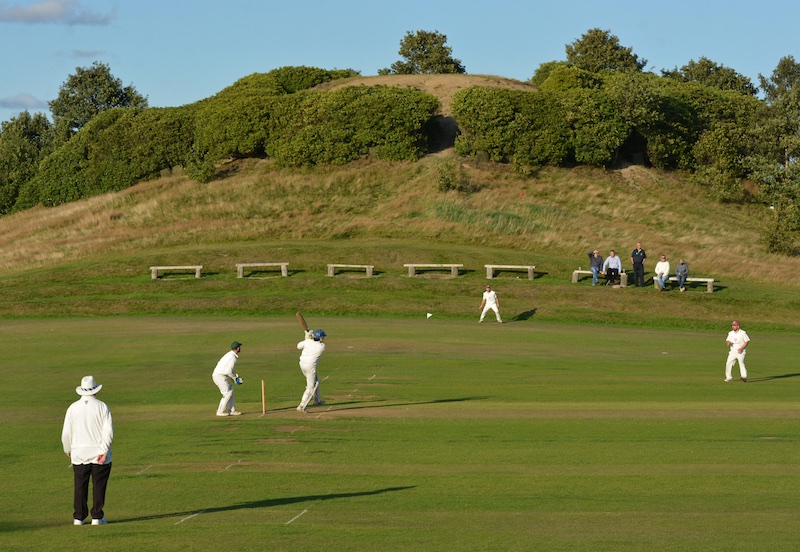 A peculiar little hill, rising steeply from the eastern boundary, dominates at Rastrick. Thorp Arch & Boston Spa, accessed via a gate to the rear of a pub car park, is hemmed in by back gardens.
Clearly, the club's neighbours are accustomed to fielders asking for the ball back.
You can't beat cricket enclosures that are tucked away, hard to find and havens of peace and tranquillity.
Hopton Mills, reached through the yard of a former mill, is a beauty. You'd
never imagine Crossbank Methodists, fringed with poplars, was so close to workaday Batley.
Something commonplace (though not unique) in Yorkshire is the side-by side layout of cricket and rugby (both codes)/football grounds.
As a boy, I was familiar with this at Bradford (Park Avenue), Halifax (Thrum Hall) and Huddersfield (Fartown).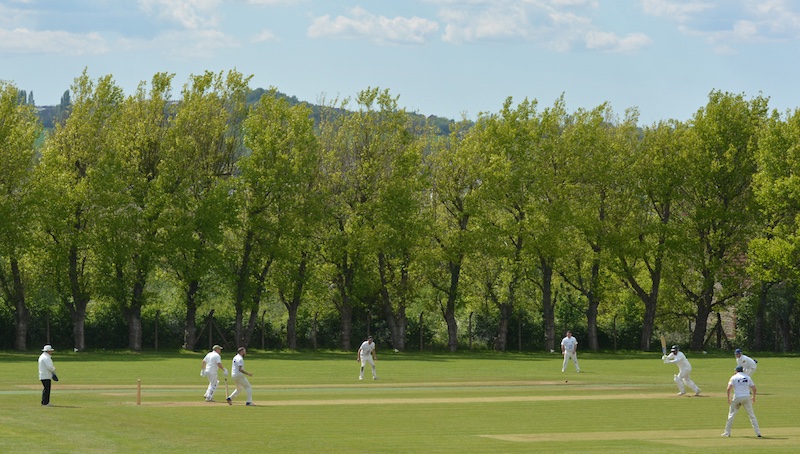 I've since discovered similar arrangements at Batley, Bradford & Bingley, Brighouse, Carlton, Copmanthorpe, Dringhouses, Heworth, Houghton Main, Middlesbrough, Morley, Pickering, Treeton (above) and York. Mirfield and Shelf even manage side-by-side cricket clubs!
One final desirable element is shade, preferably in the south or west. A dislike of spit-roasting in sun for several hours puts me in a minority. But, please, plant some trees!
Most cricket grounds, their pitches and other facilities, are maintained immaculately.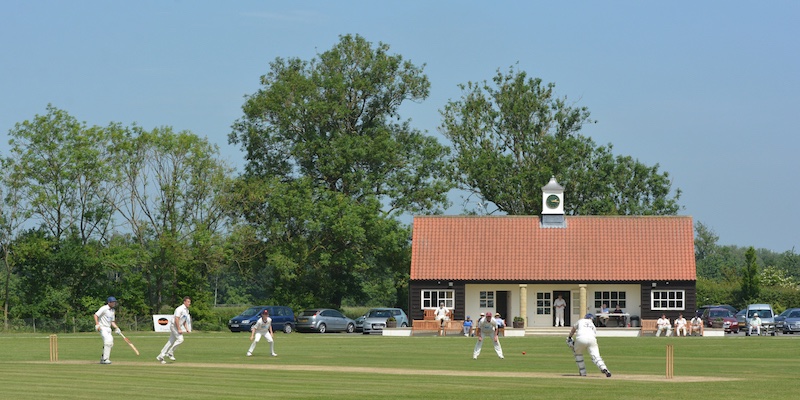 They're a tribute to the dedicated volunteers who work long and hard to keep them in such great shape. I hope players appreciate the graft.
Two particularly tidy grounds I'd single out are Driffield Town (whom I believe employ a full-time groundsman) and Walton Park.
Where to next? That, of course, is always the question. Part of the fun, each midweek, is going through the league tables and fixtures to spot a potentially exciting Saturday or Sunday match at a new venue.
Not that I neglect midweek cricket. I do enjoy a bit of Foss Evening League action.
The 2020 season might be shorter than expected but there's still time and opportunity, between now and the end of September, to garner a few more 'ticks'.
Latest posts by Cricket Yorkshire
(see all)