Cricket Yorkshire is delighted to announce a partnership with easyfundraising to help cricket clubs take advantage of an extraordinary time of year (and beyond).
Is your club set up for the biggest online shopping event of the year?
You could be adding a substantial amount to the fundraising pot while your supporters shop online during the peak shopping season with easyfundraising.
Turning online purchases into free donations for your club is a sure-fire way to make the most of this year's peak shopping season.

Just ensure your cricket club is set up with easyfundraising before the shopping frenzy commences – and encourage your members to buy via easyfundraising.
Clubs and supporters can shop with all the leading retailers (Amazon, John Lewis, Selfridges, Curry's PC World plus 5,900 others) and every time a supporter makes an online purchase, your club receives a free donation from the retailer.

Easyfundraising works!
£918,000 raised for cricket clubs
2,800 cricket clubs registered with easyfundraising
20,640 supporters signed up to support their clubs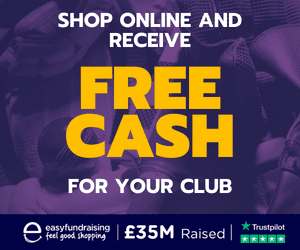 Black Friday Sales: £6 billion
It's estimated we will spend £6B as a nation on the Black Friday sales alone, let alone Christmas, so be sure to register your club in time.
The key to a successful peak shopping season is registering early and making sure your supporters are on board and engaged in helping your club reach its fundraising goals.
Why should I register my club?
It provides your club with a continuous stream of income all year round, not just during the peak shopping season

It's free and requires little management or maintenance so you can fundraise without even thinking about it

easyfundraising provides you with lots of pre-built messages, images, flyers, and toolkits to help engage your supporters

How to get started with easyfundraising:
Register your club – this is free and only takes a couple of minutes to complete

Book your free 1-2-1 coaching call with the easyfundraising team to understand how to get the most out of the platform for your club

Encourage your supporters to use the easyfundraising website or mobile app when shopping online for your club to start earning free donations 
Register your club now, and start earning!
If your cricket club registers on easyfundraising, we will earn an affiliate commission. It doesn't cost you anything – but you'll also be supporting this website and grassroots cricket journalism.
Make Money For Your Cricket Club

If you haven't already, download Cricket Yorkshire's free guide on How to Double Your Cricket Club Income with ideas any club of any size can put in play.
Latest posts by John Fuller
(see all)