Cricket club sponsorship can be a win-win solution for both business and clubs or organisations but it invariably takes perseverance, an understanding of how sponsorship works and a willingness to be flexible.
Here's our ultimate guide to cricket club sponsorship below…
Hopefully, it fires up the grey cells, inspires and motivates your cricket club in some small way. Whatever size of organisation you are, the possibilities are endless.
What is cricket club sponsorship?
Cricket club sponsorship is the act of providing support for an activity, event or individual (whether financial or by giving goods or services). A cricket club sponsor might pay to be on the front of a playing shirt, promoted on the website or provide food for an event.
Most people have an idea what cricket club sponsorship is but we will explain what's expected, what to steer clear of and our top tips to succeed.
Types of cricket club sponsorship: Cash or in-kind?
Not all sponsors will want to give financial assistance but could be happy to offer in-kind sponsorship: i.e.) goods or services instead. Your cricket team or club will need a blend of both ideally; your local community is a ready-made assortment of skills and expertise crying out to be tapped into.
It makes little sense to accept money with a view to spending that on say mending a pavilion roof if a roofing company in your town is willing to be a sponsor and offer their expertise at reduced cost or perhaps entirely free.
---

In-kind sponsorship often appeals more from a commercial aspect given assistance can be done 'at cost' – namely what the seller paid.

---
Remember, local is often best. That's not to say that sponsors from further afield have any less merit or value but supporting your local community and working with them should always be part of what grassroots cricket sponsorship is all about.
It's also a logical starting place but don't be afraid to think big, you never know where it might lead if you're ambitious and professional.
When to begin? Timing isn't just important out in the middle
Timing for cricket club sponsorship proposals do matter – but start whenever you can. Naturally, a cricket club's decisions are by committee including matters such as commercial considerations.
Just because a club might be quiet during the winter months and only perhaps start thinking about cricket in January or February (this is a general point; many will be active and plugged into their communities all year round), don't expect businesses to act the same way.
If you're hoping a company will part with their hard-earned money to support your grassroots endeavours – whether a new mower or a new pavilion – start the process early.
Companies have budgets sometimes planned many months or years in advance so get your planning kickstarted for the next season during and just after the current one.
If you're late, don't worry, start those conversations as soon as you can and put the time into building relationships and rapport. The rest will follow.
Before you get to writing a cricket club sponsorship proposal to send to companies, there's the vital research phase first.
Cricket club sponsorship packages
Deciding cricket club sponsorship packages begins with a review and a plan.
A canny starting point might be to find out the ten most expensive outlays for your cricket club and make a commitment to reduce those costs or gain monetary or in-kind sponsorship in the following year.
1. Start from scratch. Whether you have established sponsors on board or are just setting out on this particular journey; re-evaluating annually could throw up some questions or perhaps opportunities.
Don't just do what you did last year. Aim higher, brainstorm and come up with new ideas and just as importantly, pick apart existing sponsorships: what went well, is the sponsor happy, what would work better?
2. The worst thing a cricket club or grassroots organisation can do is to go to businesses, cap in hand, and ask for money with no plan on how that partnership will work. Some companies will give money with little or no expectation in return; this is patronage really rather than sponsorship.
---

How can your cricket club benefit a potential sponsor? Assess your own club's assets. Think like a business. What could you sell? How will this generate actual sales or clients?

---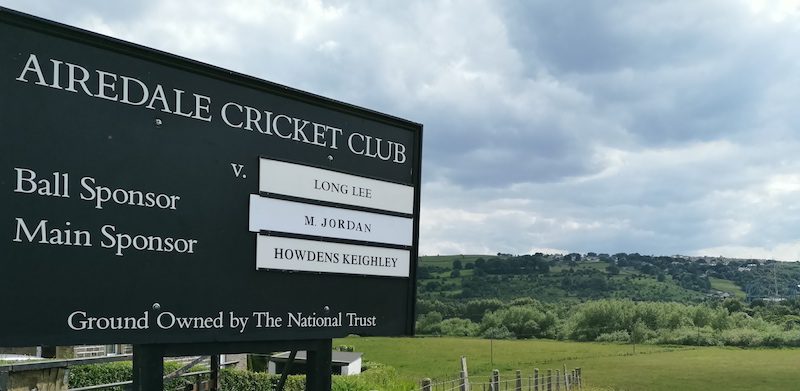 Cricket club sponsorship ideas – possible sponsors?
When thinking about a potential cricket sponsor, draw up an initial shortlist of 10-20 companies. Walk your local High Street (or get on Google!).
Assess businesses with a critical eye – are they a good fit with your cricket club and can you envisage being to offer something tangible in return?
Grassroots cricket sponsorship offers excellent benefits to companies. Being seen to support local sporting, community-based, initiatives, teams and projects is also superb PR.
With larger companies, they may well have a very specific corporate social responsibility policy; find out what that is currently. Think of it as a start of hopefully a long-term business relationship. Cricket clubs are run almost exclusively by unpaid volunteers with a passion for the game.
That means putting in extra legwork, often around existing work commitments and busy lives but it's worth it.
---

A cricket club has any number of assets; partly dependent (but not exclusively so) on its size, budget and facilities. The greatest asset any cricket club has is its people. If you thinking of attracting a sponsor like a gym or pub, there's an obvious benefit to them if all those club members use it socially.

---
4. Groundwork before even talking to a sponsor is essential. Whether it's a new company or an existing sponsor you're hoping will renew, take the time to find out what they're up to; look through social media, news online and their website. Forewarned is forearmed, after all.
Knowing what the company is up to in their own business shows the sponsor you've been pro-active and offers that initial conversation.
Assuming you have an idea of possible sponsors; drawing up a professional sponsorship proposal is next. Again, think like a business. The company may only scan this, given typical time pressure. That's no reason not to prepare it meticulously.
Cricket Club sponsorship proposals: How to sell
A cricket club sponsorship proposal is a sales document of a kind and should include:
Brief background on the club; its teams, facilities, location (think of how this will be read and interpreted; cast yourself as the sponsor – how impressed would you be?)

Sponsorship assets and costs (from team kit sponsor to ground sponsor and Club handbook)

Benefits: not the same as the asset. So, a shirt sponsorship is the 'asset' but the fact that your team plays ECB Yorkshire League cricket, has a ground attendance of 500 and features weekly in the Cricket Paper are the benefits for a sponsor.
Defining what your sponsor's expectations are both in terms of budget, time and cost means a cricket club can think about how best to achieve that.
Meet, talk, understand…
Sending a cricket club sponsorship letter by post and a summary by email isn't pushy; it's smart. Think of it as a job application. You wouldn't send a CV then wait for the job offers to come flooding in. The reality is you'll have to work harder for that end result and sponsorship is no different.
Offer to meet at the sponsor's offices or business premises. You're making the effort. This is easier said than done given most involved in recreational cricket work but that's how the cookie crumbles.
Don't try and fit a square pen in a round hole. Shoehorning a sponsor into something that works only for the club isn't a great start. Though while acknowledging that, there's always room for negotiation.
Discuss, compromise and again understand your sponsor's business needs.
Make Money For Your Cricket Club
If you haven't already, download Cricket Yorkshire's free guide on How to Double Your Cricket Club Income with ideas any club of any size can put in play.
If your club wants to grow financially over the next year and beyond, then my e-course called Make Money For Your Cricket Club is an enjoyable way to learn at your own pace.
It covers 4 modules with short video lessons:
Membership
Sponsorship
Events & Fundraising
Grants & Funding
Here are Cricket Yorkshire's Cricket Club Online Courses to unlock your club's potential.
You can buy individual Modules for your cricket club or the full e-course.
The Sponsorship Module covers:
Getting pricing for your sponsorship packages right
How to make your club irresistible to a sponsor
Understanding what else you can sell
How your members are your secret salesforce
The trick to finding new sponsors
Writing a killer sponsorship proposal
What to do to clinch the deal
How to keep a sponsor for years
Latest posts by John Fuller
(see all)