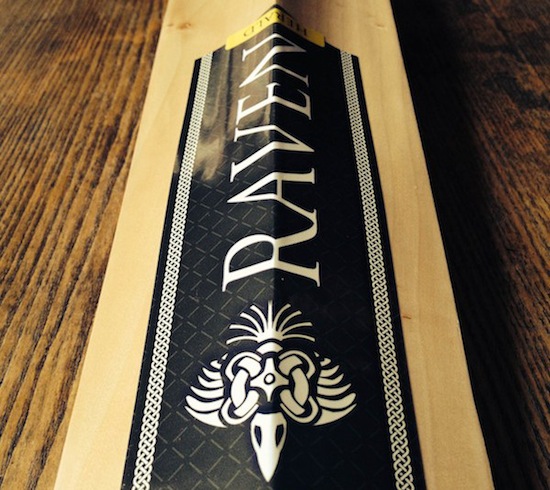 Welcome to our Yorkshire Cricket Bat Review 2014.
The idea was to profile two cricket bats here in Yorkshire, introducing them to a new audience and to rigorously put them through their paces. Cricket bat reviews are all over the internet in various guises but not like this.
Kippax Cricket and Raven Cricket
Kippax Cricket is the family business of Chris Kippax, run from a massive barn in Methley, West Yorkshire. Kippax willow trees has been grown and then made into bats for decades but 2014 signals a bold new frontier.
After several years of experimentation with drying and shaping processes, Kippax have designed super-sized clefts of wood; from which they have sculpted bats with the largest edges in the world (50mm).
Ladies and gentlemen, the Kippax Legend Colossus. Kippax have put their signature bats in the hands of some first-class and international players for this season including Richard Pyrah and Graham Onions. The Colossus is not a subtle bat but it's innovative and was bound to catch the eye.
Raven Cricket is a fledgling brand in its first year, created by Carl Marsden from Pocklington, near York.
There has been a noticeable explosion of niche cricket bat brands setting up in the last few years across the UK.

 Raven hopes to establish itself as the go-to bat company servicing the York area where there is a bountiful amount of cricket played.
What makes this a fascinating comparison is that the bats being reviewed are very, very different but both in their own way showcase that the cricket bat industry is alive and well in Yorkshire.
The bat chosen for testing is their flagship and most expensive bat, the Raven Talon with elite grade one willow. This is all about showing off the best of Yorkshire so both bats being scrutinised are the top-end models.


Bat Testing Criteria
This isn't Raven vs Kippax. There is no one bat that will ultimately triumph because they are so completely different and so too are the preferences and styles of anyone who picks them up to use.
But we will call a spade a spade. The testing was exhaustive, forensic and hopefully of significant interest to Cricket Yorkshire readers and the bat brands themselves.

 Here's what we did and didn't do.
We didn't pick a selection of county cricketers or even the cream of league cricketing talent to do the testing. The rationale? These are expensive bats but they aren't the preserve of someone with a career average nudging sixty. They're for anyone, of any standard, and as such should be tested by your average Saturday cricketer.
So, there were three cricket bat testers, Josh, Charlie and my good self (more on our cricketing CV's soon) and we took ourselves off to JMS in Keighley for several hours on the bowling machine.
Thanks have to go to Jonathan Smith at JMS who generously offered use of the facility. West Yorkshire alone has several fantastic indoor nets that spring to mind and JMS continues to evolve and improve.
On an innocuous industrial estate is an indoor cricket centre boasting three cricket lanes; each with a specialist surface that offers seam and spin.
One lane is an aggregate based wicket deliberately set up as the slow lane; another with Pitch Vision technology and the third was where we padded up to pepper each other.
Meet the Bat Reviewers…
Each of us filled out a detailed questionnaire about our own cricketing background and preferences as well as various questions on the performance of each bat.
JOSH
– style: attacking middle-order batsman
– top score: 109. Most runs came in two areas, very tiring…
– habits/superstitions: two taps of the bat as the bowler run in
– first bat: A County
– current bat: GM Icon
– favourite shot: on drive or cut
– favourite batsman: KP
– most important aspect of picking a bat: grade of the willow
CHARLIE
– style: top-order batsman: waits to strike outside off peg.
– top score: 111 not out. Didn't time a ball until into the seventies.
– habits: always wear lucky pink boxers and watch the ball
* Editor's note – Not sure if this is a fashion statement or there was an errant red sock in the wash*
– first bat: Slazenger V1200
– current bat: Gray Nicolls Xphos
– favourite shot: cover drive
– favourite batsman: Eoin Morgan
– most important aspects of picking a bat: Weight and pickup
JOHN/CRICKET YORKSHIRE
– style: flailing tailender
– top score: 35 not out
– habits: planting front foot
– first bat: Sondico
– current bat: Gray Nicolls E41
– favourite shot: straight drive
– favourite player: Virat Kohli
– most important aspect of picking a bat: Weight and feel in the hand
So, now you know us a little better, how did the bats fare?
Each bat had around ten overs faced by each reviewer, which allowed all of us to get ourselves settled, trying a variety of shots and have a T20 super over at the end.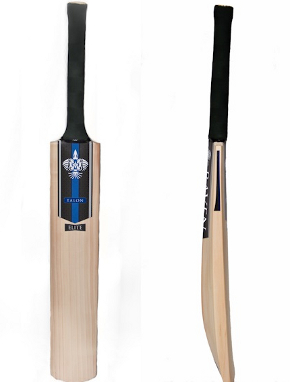 RAVEN TALON (£260)
This is a classical, English bat in design with striking Viking stickers. It boasts unbowed blade and minimal concaving with a middle to low sweet spot. Here's what the judges thought:
1. First impressions? What do you like and dislike about the design, colours and shaping? (mark out of 5)
Nice, classic bat, dark colours, grains are close together and very straight. (5/5 – Charlie)
Understated and a classic design, exactly the type of style I like in a bat. (4/5 – Josh)
CRICKET YORKSHIRE VERDICT: A gorgeous looking bat. The Viking branding is clever given it's distinctive and the brand's close links around York. Personally, the subtlety of the black Raven logos is a real winner.
Mrs Cricket Yorkshire thinks this is the kind of weapon Jon Snow in Game of Thrones would be comfortable wielding to fight the whitewalkers. (4/5)
2. Pickup? How does it feel when first picked up? Top-heavy? Weight in the toe? Try and describe what you like and dislike? Include the handle and grip. (marks out of 5)
Heavier than first appears, this for me is a positive thing. Weight seems to be held evenly through the bat with a relatively high pickup. (4/5 – Josh)
Light to pickup, well balanced weight, very good grip but the handle is too thin. (4/5 – Charlie).
CRICKET YORKSHIRE VERDICT: The actual weight was a two pound eight bat so very light anyway but it certainly felt its weight and evenly distributed and well balanced.
A standard looking grip but again comfortable. (4/5)
3. Performance? How did the bat perform in the nets, give as much detail as possible. Compare it with the other bat under review. Marks out of ten.
Brilliantly! Sweet spot felt huge, the bat seemed to perform excellently even when I did not. Quality of the wood seems really good; the bat seemed to help me with containing my aggression and planting more quality shots. (9/10 – Josh)
Has a very good middle, the ball feels very light when it comes off the sweet spot. When mistimed, the ball doesn't come off great but that's to be expected with every bat. (8/10 – Charlie)
CRICKET YORKSHIRE VERDICT: The bat clearly has a wonderful sweet spot but somewhat like a fumbling lover, I couldn't always locate it.
When it went, the ball disappeared with great aplomb but the odd toe-crushing yorker caused the bat to jar.
In a funny way, I actually felt like I wasn't good enough to take most advantage from this bat. It was a joy at times to bat with but not quite as good as I thought it would be.  (7/10)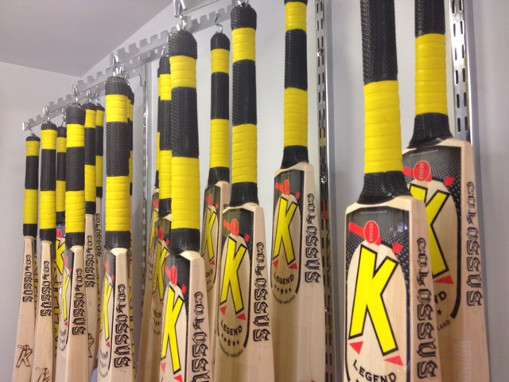 KIPPAX COLOSSUS (£300)


There's no getting away from it. This is a huge bat. The styling scream at you, the 50mm edges are like a tantalising block of cheddar but how did it perform?
1. First impressions? What do you like and dislike about the design, colours and shaping? (marks out of 5)
The design is not to my taste really; seems slightly too loud and brash. (2/5 – Josh)
Big chunk of wood; massive edges. Very stylish in terms of colouring which makes it stand out. Looks like it'll be very heavy to use. (5/5 – Charlie)
CRICKET YORKSHIRE VERDICT: Not remotely to my taste in terms of styling. The Kippax branding looks simplistic but you have to tip your hat because it's unmistakable; I bet that yellow 'K' can be seen from other solar systems and therefore perhaps by TV, if opportunity arises. (2/5)
2. Pickup? How does it feel when first picked up? Top-heavy? Weight in the toe? Try and describe what you like and dislike? Include the handle and grip. (marks out of 5)
Feels incredibly light in the hand; almost too light for me, causing me to come through the ball slightly too early at times. (3/5 – Josh)
Much lighter than expected with a perfect balance. Handle very comfortable and a nice grip. (5/5 – Charlie)
CRICKET YORKSHIRE VERDICT:
Better than expected. You see this hulking mass of wood and assume that it must feel like it weighs about the same as a family hatchback. It doesn't and that's down to the skill of the batmakers.
Feels light, weight perhaps lower down towards the toe and matches its intended weight of two pounds nine. (4/5)
3. Performance? How did the bat perform in the nets, give as much detail as possible. Compare it with the other bat under review. Marks out of ten.
Felt much easier to use because of the pickup; was able to be onto it much quicker and time it well; the middle was big and felt very nice. (9/10 – Charlie)
The bat performed brilliantly; again the sweet spot felt huge and the ball flew off the face even when not quite middled. May be suited to T20 and a more attacking mindset. (7/10 – Josh)
CRICKET YORKSHIRE VERDICT: A pleasant surprise. Took some getting used to as it still felt a bit odd compared to the usual profile of bats I'm used to wielding (to little effect out in the middle it has to be said) but the Colossus won me over.
Even horrid mishit shots went like a tracer bullet and on the rare occasion I actually hit the middle of the bat, it felt superb and the power of the shot was more than anything I've used before.
The negative comes with the optional Wavex handle (which is Kippax patented technology designed to dampen shockwaves as they travel up the bat).
Digging out several yorkers showed that it definitely worked, many other bats would have sent a painful jar up the bat but there was nothing felt. Unfortunately, I personally didn't like the nobbly feel of the handle and it distracted somewhat from the session.
A minor quibble, however, as this is optional and many prefer it. Overall, a bat I wanted to dislike because of its look but ended up liking a lot because of its power. (8/10)
Test summary – pride of Yorkshire
Both Kippax and Raven cricket bats tested, it was agreed by all three reviewers, were much better than our existing bats.
Overall, Charlie was delighted with the Kippax and if he doesn't win it in the future Cricket Yorkshire competition then it's been earmarked for a 21st birthday present. He wanted to take it home and sleep with it under his pillow. He must have a gigantic pillow.
Josh was smitten with the Raven Talon bat both in its look and how the bat did against the bowling machine. In summing up, he pretty much thought it was superb in every aspect.
Me? I was torn asunder.  The Raven Talon is a bat I would normally choose every time based on look and pickup. It was a cracking bat in testing but I preferred the Kippax.
League cricket – A final test on a Saturday
Both bats, as a final hurrah, were brought along to a Saturday league match for close inspection and use by one and all. As you'd expect, opinion was split down the middle on the design front proving batmakers will never get it right for everyone.
The response was positive with everyone keen to pick up both bats and have a meaty swing around the car park.
One ex-county pro in our ranks gave the Raven Talon a thumbs-up and if the prove is in the pudding, both bats were used in an emphatic eight-wicket victory over in Lancashire.
As it happens, our reviewer Charlie hit an unbeaten fifty with his new best friend, the Kippax Colossus, while the Raven Talon was used by one of our openers and a writer for Cricket Yorkshire in the past, Rik Andrews, who gave it his seal of approval.
A final word about the psychology of stickers. The Kippax Colossus looks like it would fit right in at the IPL and the Raven Talon has the appearance of a bat that would be used to craft a century before an afternoon cream tea. Or parkin, perhaps.
Both bats performed admirably and while the cost of upper echelon bats continue to soar, £265-£300 for these is far from the top price bracket anymore.
It was worth noting that the look of a bat can impact how a person plays, or thinks he or she will play. Our impromptu focus group of league cricketers (and both reviewers) came to the conclusion that the Kippax would be better for a slog in a T20 while the Raven would be better suited to a refined innings of fifty overs.
Clearly, this is nonsense – why should a bat's aesthetic dictate how you play – and yet it's the power of marketing.

 Hopefully this review has been a fresh look at two cricket bat brands you might not have known about. There's certainly plenty to recommend both.
To listen to an audio interview with Chris Kippax discussing the evolution of Kippax Cricket, click the orange arrow below:
To listen to my interview with Carl from Raven Cricket about setting up a cricket brand and his plans for the future in Yorkshire, click the orange arrow below: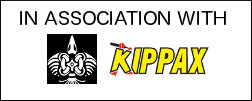 Latest posts by John Fuller
(see all)