Sat on a sofa in Huddersfield's Cafe Society a few streets from St. George's Square, the prospect of watching the earliest league cricket in Yorkshire, if not the country, was the reason I was grinning like a buffoon.
The theme to the Austin Powers film bounced off the walls ('Soul Bossa Nova' by Quincy Jones if you are more musically than movie-minded) as if to usher in the delights of club cricket; something I've not-so patiently waited for since covering my final game of 2017 at Arthington in October.
**
On Easter weekend, the Drakes Huddersfield Cricket League was cranking up after the long winter and I was heading to Cawthorne Cricket Club to watch their seconds take on Skelmanthorpe at Dark Lane.
It was an overcast and bitterly cold day with an upturned supermarket trolley in the town's Square by the railway station adding to the sense of forlorn but club cricket was back and nothing would dampen the enthusiasm.
I met Brian, friend, club cricket encyclopaedia and generous chauffeur, and we joined the traffic that weaved its way south along the A629 as slowly and stubbornly as any beer snake at a Headingley Test match.
At some point, a wrong turn led to a circuitous route up; tackling some seriously steep hills that made the car shudder.
While no expert in the local geography, it's tricky to avoid hills around Huddersfield but the views from up top are momentous as if you've arrived on the roof of the world.
We zipped past wind turbines aplenty and a horse rider trotting through a muddy field while behind her, way, way off on the horizon, the chimneys of a power station puffed away.
Arriving at Cawthorne Cricket Club was to discover a smart, upmarket village as we pootled past eighteenth-century gastropub and antiques centre before ducking down Dark Lane and bouncing along the gravel track to the entrance to the cricket club.
Cawthorne CC is a showstopper; its stylish wooden pavilion (unusually self-financed and self-built without central funding from ECB/Sport England) seamlessly blending into the tree-lined surroundings behind which are the waters of Dakin Brook; home to the white-clawed Crayfish and Southern Iron Blue Fly no less.
Just to be spiteful, the rain came as I began tussling with camera equipment and tripod fastening but while the players and umpires carried gamely on, that just meant I could explore the clubhouse with its little bar, separate area for teas with memorabilia dotted about including a framed and signed Dickie Bird World XI.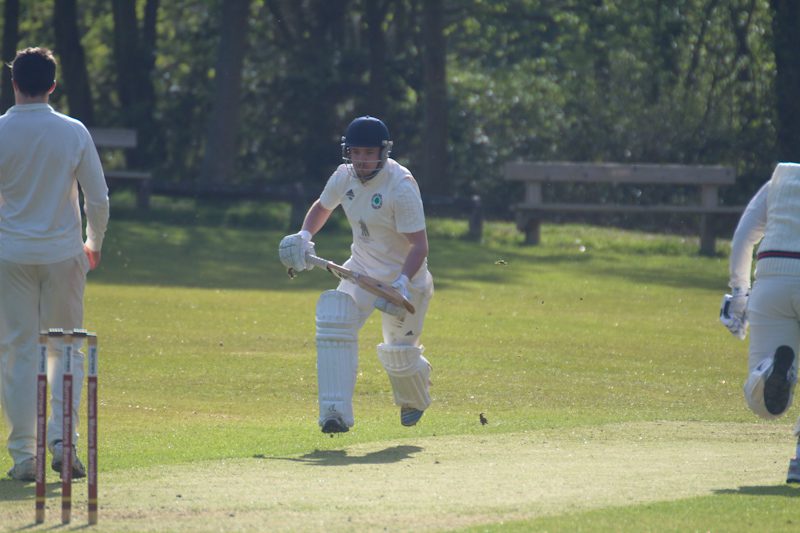 Right from the get-go, Cawthorne players, volunteers and committee members made me welcome, answered my weird and wonderful questions and patiently allowed me to photograph and video everything from their sightscreen with its antiquated wheels to the sumptuous array of cakes.
I hadn't announced I was tipping up, except for a couple of tweets, so I got to see Cawthorne Cricket Club as it would be on any week and it is a peaceful place to come to, whether in whites or to take a walk and relax with a mug of tea.
A persistent wind cut through layers of clothing but spectators sat on picnic tables or the benches under the overhang of the roof while dogs of every conceivable size from boisterous golden labrador to a microscopic woofer that could fit in a cricket helmet barked, snuffled and roamed.
Having rocked up around half past two in the afternoon, the Skelmanthorpe innings was in tatters, already five wickets down, and they hung on until being dismissed for 98 at which point the famed Cawthorne cricket tea was taken.
Sandra, whose husband Dale is the Chairman, has been doing the teas at Dark Lane for a number of years and home bakes all the goodies including gigantic scones groaning with jam and cream and a decadent chocolate cake.
Ably assisted by Sandra, Lisa and other volunteers, the teas lived up to their reputation.

I asked one of the Skelmanthorpe lads for his thoughts and he summed it up better than I could: "The best four quid I've ever spent!"
During the Cawthorne innings, there was a brief pause as a passing shower lashed down and the covers were rolled on but it refused to spoil the fun so out came the sun and play resumed promptly.
When I used to play league cricket in South-West London, rain breaks seemed to be only half the frustration as the rulebook always required a lengthy break but they crack on here in Yorkshire and there's much to applaud about that.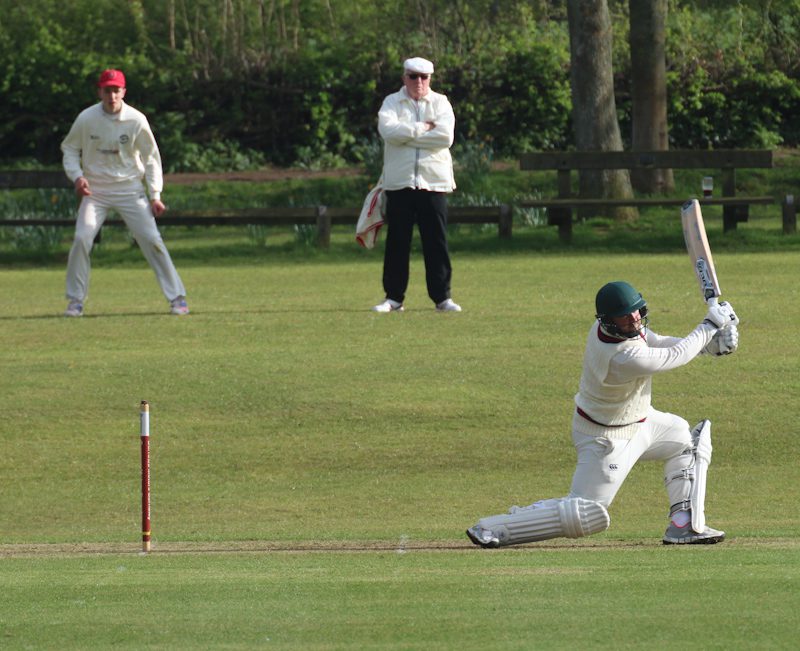 Cawthorne grabbed the six points in Drakes Premiership Two by hustling to 101-3 and a handsome seven-wicket win.
Thanks must go to President Roger Nicholson who was a kind host…
**Look out for a Cricket Yorkshire footage of the afternoon coming soon on this website, as Cricket Yorkshire branches out into video.**
If you get the chance, go and visit Cawthorne, it's a gem of a place, you'll be well looked after and reminded that club cricket, even on a chilly April afternoon, can be everything you want it to be.
Scores:
Skelmanthorpe 98 (C.Auty 44)
*Cawthorne 101-3 (P.Osborne 27, T.Macrow 27, W.Mott 31*)
Club websites: Cawthorne CC & Skelmanthorpe Cricket Club
**PLEASE SHARE** If you liked reading this, there's plenty more club visits coming up on the website.
If you can use the buttons just below to share the article on Twitter and Facebook – it really helps spread the word about Cricket Yorkshire and introduces new readers to the website.
Latest posts by John Fuller
(see all)