In the aftermath of the hypnotic conclusion to Yorkshire County Cricket Club's County Championship liftoff against Hampshire, the Friday heroics of Ben Coad felt like another lifetime.
The message from Director of Cricket Martyn Moxon and Head Coach Andrew Gale has been for the young pretenders to push harder for a first-team shirt.
Cue a gilt-edged chance because of whatever the collective noun is for a number of unfortunate injuries to frontline bowlers.
The 23-year-old from Harrogate had won selection off the back of being the standout bowler against Leeds Bradford MCCU with match analysis of 3-38 off 15 overs and the way he ripped through Hampshire en route to 6-37 illustrated there was to be no false dawn.
True, the second innings was more expensive (four-an-over and 2-96) as Yorkshire had to probe, huff and puff for their breakthroughs but that in itself will have demonstrated the vagaries of county cricket.
If he is fit, Coad is surely nailed on for the coach trip to Birmingham for Friday's encounter with Warwickshire; two sides licking their wounds after beginning 2017 with defeats.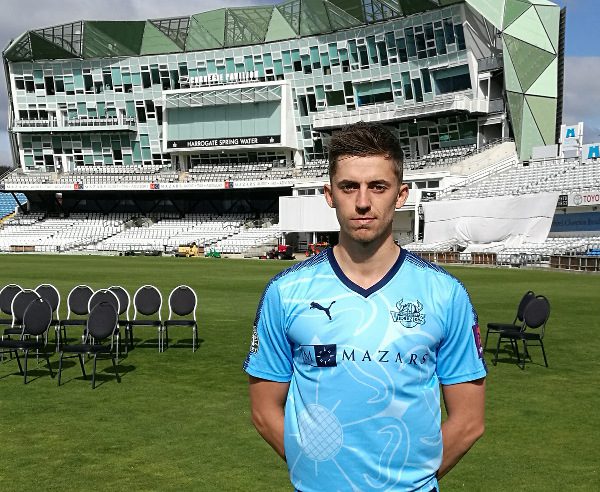 Back at the press day as the team photos came to an end and the squad no longer had to squint awkwardly into the sun that peeked its head above the East Stand, Ben Coad comes over to say hello.
His is the name on everyone's lips going into the Hampshire game; with Sidebottom, Brooks, Willey and Plunkett all injured, Yorkshire's famed bowling reserves are about to be tested.
His impact against the students had pleased and surprised more than a few and got the Yorkshire members murmuring in the Long Room.
But, I ask, had there been any alterations to his game over winter?
"I've tried to be more aggressive. Before, I was a swing bowler who holds up an end and doesn't really take too many wickets but now I've worked on really hitting the pitch hard."
He has what I might term a bustling approach to the crease and his delivery action is classical; there aren't errant arms, legs or elbows flailing and his head position is still.
We talk about the role league cricket has had in his rise after he moved to play for Harrogate in the ECB Yorkshire League North last season and Ben noticed the intensity and quality shift now teams have something to play for (with promotion and relegation) all season through.
He is full of praise for Harrogate Cricket Club; Coad played age-group cricket with their captain George Ross while another teammate is Jonny Tattersall who is back on Yorkshire's books with a short-term contract.
To re-watch his five-wicket haul is to realise Coad has the bag of tricks to succeed in county cricket.
He can move it back in as he did to trap Adams and Rossouw and get the ball to jag away and catch the edge as with Carberry, Vince, Ervine and Abbott.
A siege mentality when the batsman appears impenetrable; stacks of patience, a willingness to toil and miserly economy can also be added to the wishlist.
With the tang of defeat, the exploits of an emerging fast bowler could be overlooked but Coad's spell will be fondly remembered and we wait and see where his journey takes him next.
Photo credit: Jeremy Lonsdale
If you're into your Yorkshire cricketing history, check out Jeremy's new book 'A Game Taken Seriously.'
LISTEN TO THE FULL BEN COAD INTERVIEW (2:31):
Latest posts by John Fuller
(see all)