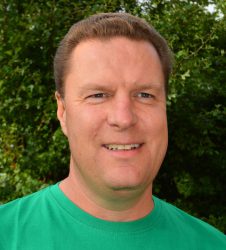 Latest posts by Andrew Gallon
(see all)
For which club did Dickie Bird OBE, Sir Geoffrey Boycott and Sir Michael Parkinson play?
Surely, everybody – even me – knows the answer. Barnsley Cricket Club.
After visiting Shaw Lane Sports Club, to watch a Viking Cup quarter-final against York, I know quite a bit more about the Barnsley club.
The eventful history of the cricket club, and of the Shaw Lane site, is told in the multi-sport complex's clubhouse through an outstanding 'timeline' of words and photographs, one of which features a blazered Boycott, apparently inspecting the Barnsley pitch.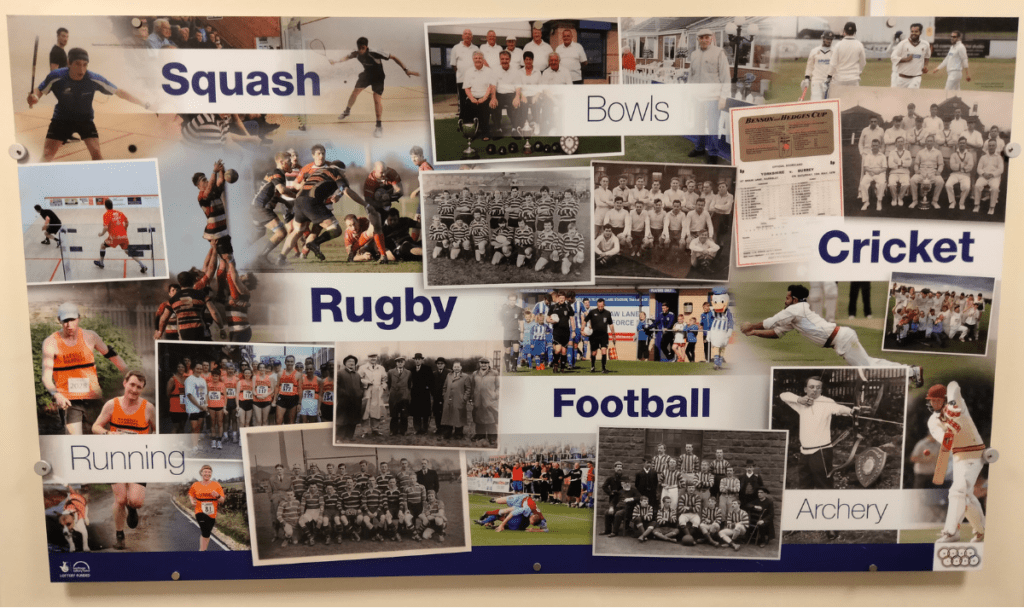 If you possess the ability to get through a cricket match without going either to the bar or to the loo, you might miss it. Otherwise, you simply cannot, because the display is spread across the walls of a corridor separating the two.
Through swing doors, beyond the timeline, is a collection of glass cabinets. Each houses memorabilia – including cricket items – relating to the sports played at Shaw Lane.
One development post-dating the timeline is the 2016 merger of the Barnsley and Woolley Miners cricket clubs.
The Woolley ground is still used. Indeed, on the day of the York fixture, Barnsley Woolley Miners Seconds were hosting, at Woolley, in a Crowther Cup quarter-final, their counterparts from the Bradford Premier League club, Woodlands.
Shaw Lane, in the Shawlands district of town (very handy for junction 37 of the M1!), began life as a farmer's field. A cricket ground was laid out between 1859 and 1864.
Barnsley Cricket Club – correctly, Barnsley Cricket & Athletic Club – were established in 1864, upon the amalgamation of three cricket clubs, Clarence, Locke and Barebones.
I assume 'Locke' refers to Locke Park, a 47-acre area of public open space, complete with an observation tower, a short distance southeast of Shaw Lane Sports Club.
The Clarence Club, set up by a few members of the local aristocracy, were resident already at Shaw Lane, a site held in the care and the custody of the Shaw Lands Trust.
To kick-start interest in the new Barnsley club, four visits to Shaw Lane were arranged for the All-England Cricket XI. According to reports, W.G. Grace played in three of the matches.
---
During the new club's early years, the cricket ground was described as "nothing more than a sloping meadow". In 1894, the pitch was levelled and increased to the size seen today.
---
When Yorkshire County Cricket Club were turfed out of Bramall Lane, in the mid-1970s, when ambitious Sheffield United Football Club could no longer contain their frustration over the limitations of a three-sided ground, they turned to Shaw Lane as an alternative venue.
Benson & Hedges (ah, the distant era of 'beer-and-fags' sponsorship) Cup games were staged at Barnsley. Temporary stands, bars and loos were provided to cope with the crowds, the first of which was an impressive 8,000-plus.
By the early 1980s, however, even Yorkshire Seconds had ceased playing at Shaw Lane, precipitating a marked decline in Barnsley Cricket Club. To add to the problems, the hockey section upped sticks (as it were) and left.
New legislation prevented use of the site for a peppercorn rent. The Shaw Lands Trust offered the freehold for £300,000. It was beyond Barnsley Cricket Club's means.
As luck would have it, however, Barnsley Rugby Union Club, having sold to a supermarket their ground at Stairfoot, were cash-rich and seeking a new home.
In 1996, the rugby union club purchased the Shaw Lane freehold and set in motion a series of improvements. These included the opening, in 2000, of the existing clubhouse.
As well as cricket and rugby union, the revitalised Shaw Lane, a superb facility, hosts archery, athletics, bowling, junior football (the defunct senior version of Shaw Lane Football Club used the rugby union ground between 2012 and 2017), martial arts and squash.
On the day of the York game, there was something else going on. An event for kids, by the looks. There is no shortage of parking, but there simply wasn't a space to be found.
I (and, I noted, one or two of the cricketers) gave up and turned round before heading back down Shaw Lane's long drive to locate a vacant spot on a neighbouring street.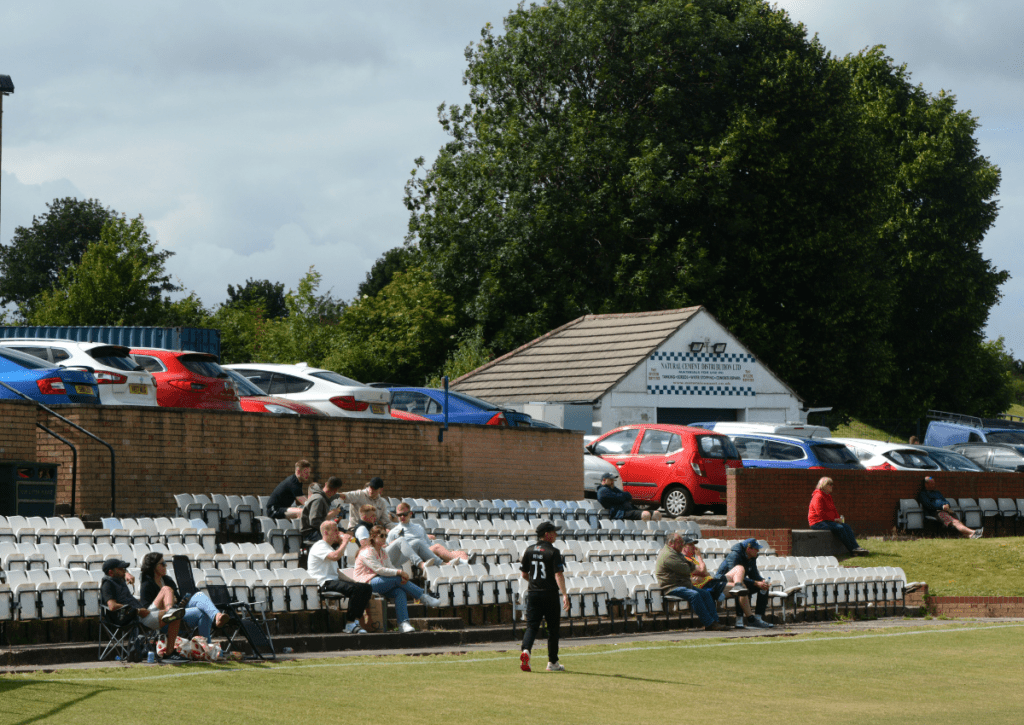 The cricket pitch, a good size, is the first part of the site visitors encounter. It is a shallow bowl. Spectating from the lip of the bowl offers a slightly elevated perspective.
A players' pavilion – a modern building – occupies the southwest corner. Alongside, a few rows of tip-up seats are available to spectators. How were 8,000 fans shoehorned in?
Shaw Lane is high above Barnsley's regenerated centre, futuristic bits of which, to the east, can be glimpsed.
The only visible structure of architectural note, on the southern skyline, is an early English-style, Grade II listed church, dedicated to St Edward the Confessor.
The Viking Cup, a 40-over, pink ball and pyjamas competition, brings together teams from two of Yorkshire's four ECB Premier Leagues: Yorkshire Premier League North and the Yorkshire Southern Premier League.
York, whose form is patchy, although they did beat Scarborough the previous day, are missing two key batters: Finlay Bean and Jonathan Tattersall.
A York follower tells me Yorkshire had "advised" the uncontracted Bean to rest after his epic and widely admired 441 for the county's Second XI at Lady Bay, Nottingham.
Bean was scheduled to play, again for Yorkshire Seconds, the following day, in a cup tie against Essex Seconds at Weetwood, Leeds.
No matter. I am looking forward to watching Barnsley's professional, Jake Weatherald.
---
Since the mid-May arrival of the South Australia and Adelaide Strikers batter, Barnsley's fortunes have been transformed.
---
The prolific Weatherald's scores in league matches have included 127, 93, 84, 67, 66 and 63.
The previous afternoon, at Shaw Lane, he had struck 93 (off 81 balls) as Barnsley edged by two wickets Scunthorpe-based Appleby-Frodingham, the Yorkshire Southern Premier League's reigning Premier Division champions and Viking Cup holders.
The left-handed Weatherald, hoping his stay at Barnsley will enhance his chances of playing for Australia, does not disappoint in the York game.
Barnsley elect to bat. Weatherald (74 from 62 balls) and useful all-rounder Beck Frostick (37 from 24), going hell for leather, put on a rapid 77 for the first wicket.
We've hardly got started before Weatherald smashes a straight six into a bumper-to-bumper car park. To everyone's astonishment, no vehicular damage is seen or heard. And the ball is located!
Joined by Oliver Bennett (38), after the tragi-comic run out of captain Frostick, Weatherald features in a stand of 75 for the second wicket.
Weatherald brings up his half-century with another eye-catching six, pulled to leg.
---
York's bowlers are having a torrid time, but young spinner Luke Kilby (2-45) is introduced and has Bennett caught ("we needed that", mutters a visiting supporter) before taking out Weatherald's middle stump. I bet Kilby enjoyed that.
---
Ali Jahangir (56), Stevie Walters (28) and Boeta Beukes (28) keep the scoreboard churning inexorably as Barnsley post a formidable 283-9 off their 40 overs.
Tom Forsdike picks up 2-39, Darcy O'Connor 2-42. York employ seven bowlers.
It is soon apparent that York, reduced first to 7-2 then 64-5, in part by medium pacer Frostick (3-20), will not make the runs.
Amid the flurry of departures, captain Ryan McKendry sticks around for 26. He is one of two caught-and-bowled victims.
York's middle order batters make a game of it. Or delay the inevitable.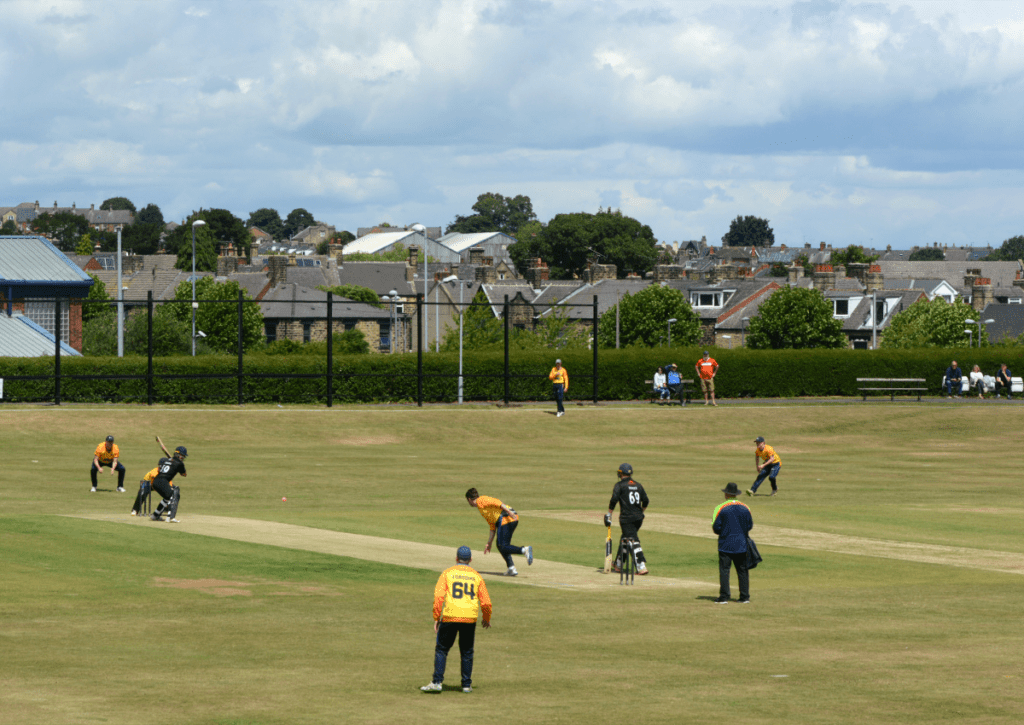 Elliot Watson (38), O'Connor (32) and Charlie Elliot (28) treat the crowd to some fine entertainment before the visitors are dismissed, for 181, in the 35th over.
Spinner Jahangir takes 2-34, Jay Smith 2-36 and Oliver Jackson 2-39.
Fellow neutrals, over to my right, are distraught at picking the 'wrong' Viking Cup match.
Tracking live scoring (what a boon for spectators), one of their number keeps all in earshot informed about the exciting events at Wakefield Thornes, who pip Driffield Town, by two runs, in a thriller that goes to the final delivery.
In the other quarter-finals, Yorkshire Premier League North holds sway: Clifton Alliance, York's neighbours, beat Sheffield Collegiate and Elsecar go down at Sheriff Hutton Bridge.
Thornes now host Woodhouse Grange, on July 17, provisionally, for the right to entertain Sheriff Hutton Bridge in an August 7 semi-final. Clifton Alliance will travel to Barnsley.
The final, on a date to be fixed, will be staged (as things stand) by Wakefield Thornes.
Many thanks to Andrew whose club cricket series, Miles per Gallon, is on cricketyorkshire.com throughout the summer.