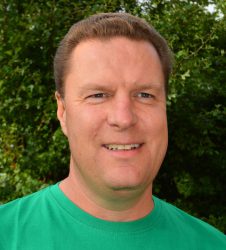 Latest posts by Andrew Gallon
(see all)
Editor's Note: I was looking forward to heading to the Arthington Cricket Festival in 2023, having not been for a few years. Pre-Covid, it was once a ritual of mine as the Festival extends until October. Hard to find cricket outdoors many places at that time of year…
Unfortunately, it's been curtailed as the waterlogged pitch won't be able to recover in time for the last few games.
Instead, I'm re-sharing this feature from Andrew Gallon on a 2022 fixture between Arthington Festival XI versus The Forty Club at East Keswick. Enjoy!
***
Like most people, I don't go in the loft very often. On Sunday morning, however, I climbed the ladder to retrieve my 'cricket chair', stowed away a month before, in a dark, cobwebby corner, with the thought I wouldn't be needing it again until next April.
I'd not so much forgotten about the annual Arthington Cricket Festival – on the go for more than 30 years – as feared I'd missed out once again.
---

The nine-fixture 2022 festival had been brought forward, and the opening weekend coincided with me heading off for a two-week holiday (Suffolk, so nowhere exotic). I assumed – never assume! – it would be over and done with by the time I got back.

---

Chance receipt of a 'tweet you might be interested in', despatched by Arthington Cricket Club, alerted me to what would be the festival's pre-penultimate fixture: Arthington Festival XI versus The Forty Club at East Keswick cricket ground. Plenty of sun forecast. Game on!
As it turned out, 21 other souls felt the same way. A pleasing symmetry: 22 players, 22 spectators (and, of course, two umpires and two scorers).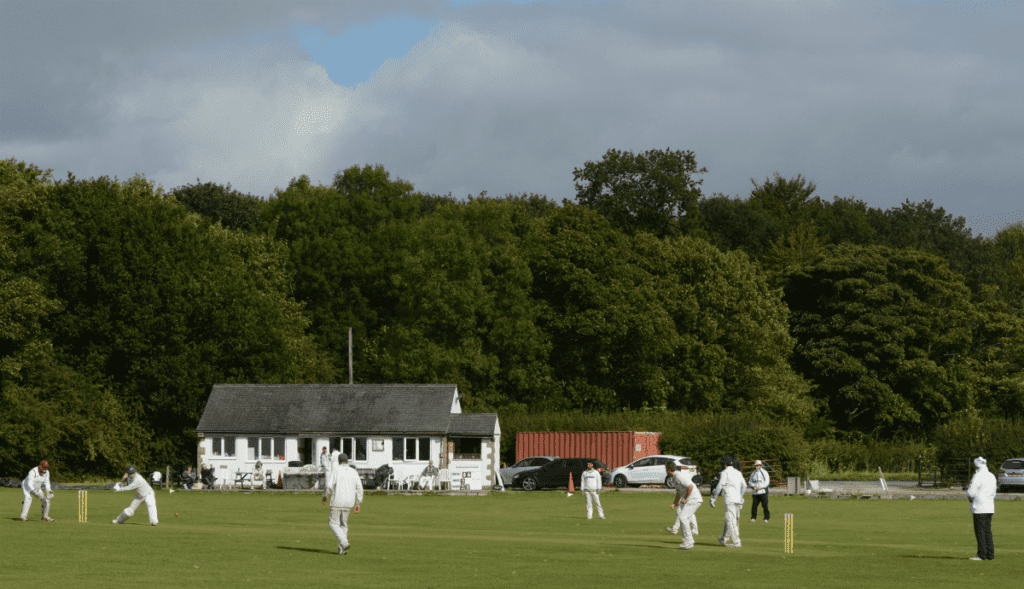 A check of the map revealed East Keswick (and, having lived in Cumbria, I knew it wasn't that one) isn't where I thought it was. Between Collingham and Harewood. Must have driven past the ground several times. Thanks to a bank of mature trees, without realising.
I wasn't the only first-time visitor. One chap, something of a cricket obsessive, had driven up from Bedfordshire. The previous day, he'd watched festival-style cricket in Kent!
Another bloke, from Kent, had dropped by during his annual three-week October holiday in Haworth. He told me he's pondering relocating to Yorkshire. A no-brainer, surely?
---

The afternoon – the match had a noon start – comprised a series of conversations, mostly with strangers, whilst a cricket match went on in the background. All very convivial.

---
Having had my 'football head' on for a month, I've rather taken my eye off the cricket ball.
I learned of Green Lane Cricket Club's end-of-season trials and tribulations with the Airedale & Wharfedale Senior Cricket League's disciplinary committee.
I discovered Bolton Cricket League clubs have voted in favour of merging with the Ribblesdale Cricket League, of which Settle Cricket Club are a leading light. The Ribblesdale clubs have recently agreed to the merger with more details to follow.
I was told promoted and apparently jet-propelled Jer Lane Cricket Club will play their 2023 Bradford Premier Cricket League, Premier Division home games at the historic Park Avenue ground in Bradford. And the team using Park Avenue will switch to Jer Lane.
Another chap gave me an insight into the demands on one's free time running a cricket club imposes. In his case, they had included fielding phone calls at half-eleven on Friday evenings. He'd been involved with a club in the Halifax Cricket League.
All interesting stuff!
The lady from Green Lane Cricket Club – who are domiciled at Yeadon – mentioned she'd been involved in organising the 2022 edition of the Airedale & Wharfedale Senior Cricket League's annual showpiece: the Waddilove Cup Final.
I'd attended the game, at Olicanian Cricket Club, and congratulated her on a job well done.
Deeper into the conversation, Liverpool University cropped up. I went to Liverpool, almost 40 years ago, to study medieval and modern history. Her granddaughter is there now … studying history and politics.
For reasons I couldn't fathom, 1983 Liverpool history freshers had to pick one unrelated course to complete a menu of four. I chose politics. Remember doing an essay: 'Must Labour Lose?' I concluded they must. Fast forward four decades, and students might be asked: 'Must the Conservatives Lose?' And conclude they must!
---

As we're talking history lessons: pre-match, one of the 'away' players gave me a thumbnail sketch of the Forty Club, reputed to be the biggest nomadic cricket club in the world.

---

Founded in 1936, the club's remit is to encourage youngsters to play cricket. A lot of their matches are against schools. Independent schools, I was told. No surprise there: cricket has all but disappeared from the state sector.

When money is required for textbooks, resisting a developer's desire to buy the school cricket pitch and build houses on it can't be easy.
As the name implies, the Forty Club was designed for players aged 40 and over. It's a bit more relaxed now. Anyone over 18 is eligible.
The club's cap, sported at East Keswick by at least one of their players, features the initials X.L. (the Roman numerals for 40).
According to the Forty Club: "They [the numerals] shout out the essence of the message that the club wishes to impart to young cricketers in the earlier seasons of their cricketing experience."
---
The Forty Club is divided into geographical districts. The team for the Arthington Cricket Festival fixture was drawn from 'Yorkshire and North East'.
---
I was told, by the Forty Club player, playing outside your district is allowed. "If you were on holiday on the Isle of Wight, you could get a game there."
Sadly, East Keswick Cricket Club are defunct. Formerly, they played – with distinction – in the Wetherby Cricket League. The Moor Lane ground, I learned, is used by a club from the Quaid e Azam Premier Cricket League, a Sunday competition.
Football is played at the site, too. Indeed, as I drove through the gates, concealed in a hedge on Moor Lane, a Collingham Juniors Football Club match was just finishing.
I'd no sooner parked than I spotted a red kite (one of the Harewood Estate's; the first of two I noticed), majestic as it glided effortlessly over the pavilion.
The game – and others in this year's festival – was played at East Keswick because the ground of Arthington Cricket Club (Nidderdale & District Amateur Cricket League members) is out of commission, temporarily. A new clubhouse is being constructed.
"It's been a nightmare," an Arthington club stalwart reflected.
I'll not go into the details (extra time, extra expense, extra inconvenience), as he outlined them. Suffice to say, what should have been an eight-week build, scheduled to start in April, finally began in July.
The Arthington chap seemed relieved the building's foundations have now been laid. "Will it be ready for next season?" I asked. Came the reply: "It had better be!"
---

The East Keswick ground, northwest of the eponymous village, is located on a breezy ridge, the southern flank of Wharfedale.

---

Decked in leaves now gaining autumn colours, tall trees fringe the north and south ends. Those at the former obscure the ground from the adjacent A659, Harewood Avenue.
A stone, single storey clubhouse – its whitewash dazzling when ignited by brilliant sunshine – occupies the northeast corner.
The flat pitch, sprinkled with fallen leaves, a sort of gold dust, is a good size. But for the football pitch immediately to the east, it could be even bigger.
The site's east side is of a more open nature, affording a tantalising glimpse of low hills. Pool Bank, I suppose.
On to the cricket.
The minute play began, the sky clouded over. Would you believe it?
A fellow spectator described the game, contested amid intermittent sunshine, as a "bit of a mismatch".
---

Arthington Festival XI, strengthened by one or two star guests, won the toss and opted to bowl. This may have been a pragmatic decision. I overheard somebody say the Forty Club were sweating on a couple of late arrivals.

---
From their 40 overs, the Forty Club scored 158-9. Imran Patel, who plays for Bradford Premier Cricket League club Hopton Mills, contributed 62. Kevin Owens made 30.
Javed Ahmed took 2-12 off three overs, South African James Van der Merwe 2-34 from eight. The latter spent 2022 playing in the Bradford Premier Cricket League with East Ardsley, after earlier spells at East Leeds and Ossett.
There was a flurry of wickets towards the end. The last four batters added only two runs.
It soon became apparent the Festival XI would knock off the runs.
Kasir Maroof, noted for his run-scoring exploits with Batley, another Bradford Premier Cricket League club, rattled up 65 before retiring.
Van der Merwe made 42 as the Festival XI hit 159-4 off 31.5 overs. Imran Patel picked up 3-15 from four overs.
Apologies to James if I've spelled his name incorrectly. The Net features more variations than Shane Warne had in his bowling arsenal!
---
Mimicking their opponents, the Festival XI suffered a wobble near the end of the innings. They slipped from 140-2 to 147-4 before drawing level with a down-the-ground six.
---

"Have you enjoyed it?" asked the Forty Club player to whom I'd spoken earlier. Seeing my nod, he added: "Well, there are two more games here next weekend."
The 2022 Arthington Cricket Festival concluded with Festival XI games against St George's and Sam's XI.
Many thanks to Andrew whose club cricket series, Miles per Gallon, is on cricketyorkshire.com throughout the summer.