Latest posts by John Fuller
(see all)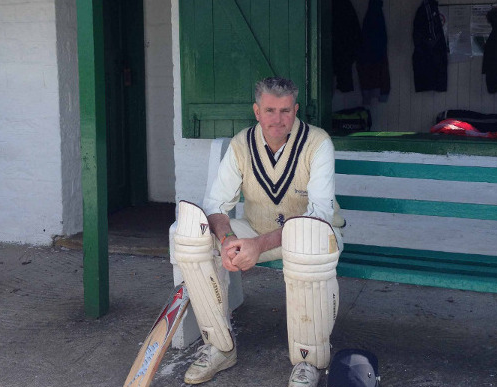 Former Kent & England bowler Alan Igglesden, affectionately known as Iggy, has a remarkable life story to share based around his battle with brain cancer. The original interview below came about through a combination of Twitter and the offer of ginger cake.
Note from John: This is an updated article to reflect Iggy's journey since we first met (which is where the article begins).
Now 22 years since he was diagnosed with an inoperable brain tumour, Iggy has also had two strokes and is fundraising for The Professional Cricketers Trust which has supported him. Please read and donate if you can:
—
Greeted at the door on a quiet Keighley side street by the man himself, it was hard not to be momentarily taken aback by how tall the big fella is.
Not a great surprise you might think being a fast bowler but there's tall then there's towering, giant redwood. Or Kent willow perhaps.
As Iggy gets a cuppa going, there's time to reflect on how he made his way into county cricket. He didn't come up the traditional route, which was usually through Kent Schools.
Instead, he was playing for Holmesdale in the Kent League where his bowling caught the eye.
That led to a 2nd XI Kent game and a couple of years later, he signed on the dotted line for the county of his birth.
A Yorkshire equivalent would be Iain Wardlaw being plucked from Bradford League cricket with Cleckheaton to represent his county.
Despite a catalogue of injuries along the way, what followed for Igglesden was a successful career spanning 1986 to 1998 during which he bagged 503 first-class wickets at 26.81 for Kent bowling fast-medium seam up.
The font of all knowledge that is Cricket Archive reliably informs us that's some 26,579 balls over 154 matches including four ten-wicket hauls.
A career that reached its peak with three Tests and four ODIs for England, with the wickets of Mark Taylor & Steve Waugh on debut at the Oval, was punctuated by an array of injuries from slipped discs to knackered knees.
When it was time to pack up county cricket, he slipped into retirement with a "warm-down", as he puts it, of several seasons in minor counties cricket with Berkshire, unaware that his greatest challenge was just around the corner.
In June 1999, an epileptic fit one night, completely out of the blue, led to a routine MRI scan which trumped even his initial fears about epilepsy, at the age of 34.
Instead, a cricket ball-sized brain tumour showed up:
"It was horrendous. You get told you've got cancer and cancer of the brain, you think how long have I got to live?"
This devastating chain of events played out over months led to further tests and the discovery that the tumour was inoperable, due to its positioning in the brain.
It was a seminal moment; one which Iggy understandably referred to as "the worst moment of my life."
What followed was a swift immersion into learning about brain cancer and initial radiotherapy treatment.
Whether fate or chance, it was when he needed it most that Iggy's cricket career arguably came to his rescue.
Approached by a cancer specialist with a particular love of cricket who had heard about Alan, Professor Geoff Pilkington who heads up brain tumour research at the University of Portsmouth, began prescribing Iggy the drug, chloripramine, normally used to treat depression but which has been successful with tackling brain tumours.
Whilst the drug reduced the size of the tumour and brought respite to the extent that he was able to teach sport at Sutton Valence School in Kent, Iggy reserves special praise for the man whose pioneering research has been such a lift over the years:
"He's an amazing man. He's such a positive man that you can only be positive. He got in touch with me because he's a cricket fan. It was fantastic that he came knocking at my door."
You'd be forgiven for assuming therein lay the positive end to this former county cricketer's battle with brain cancer.
Over the next decade, Iggy indeed successfully managed his illness, continuing to play cricket and moving up to Yorkshire when his partner Liz started a new teaching role at Woodhouse Grove School in Apperley Bridge.
Iggy also found a role coaching cricket and rugby at the school, which counts a number of sporting stars amongst its alumni including ex-Yorkshire & England bowler Ajmal Shahzad.
But in June 2009, the brain tumour suddenly began to grow at an alarming rate, which ultimately led to a major brain operation and ongoing treatment at the Sheffield Hallamshire Hospital.
Though successful, it left Iggy temporarily paralysed down his left side as well as having lost his memory from the last few years.
Over what must have been a traumatic next twelve months, the couple had each conquered their own private Everest.
Liz had run her first London Marathon, raising over £6,000 for Brain Tumour UK, while Iggy recovered sufficiently to bowl the first over in a charity game against The Bunburys in Essex.
Since then, there's also been the arrival of their daughter Beth to celebrate during which time Iggy's brain function continued to improve and he got his driving licence back.
However, in January 2015, the brain tumour showed signs of activity resulting in another bout of chemotherapy for six months – which meant the driving licence was rescinded.
I missed my trips in his company hurtling around the Yorkshire Dales in his nippy sports car to matches in the Craven League.
Consequently, he joined a drug trial with Care Oncology Clinic in London who are repurposing drugs for cancer patients.
There was stability to be thankful for in the following 18 months but the tail-end of 2016 saw renewed growth of Iggy's tumour.
Since then, Iggy has had two debilitating strokes in 2018 and 2020, which left him increasingly unable to communicate or walk.
If you've ever met him, Iggy can charm the birds from the trees. When I went to visit him in Bradford Royal Infirmary, he was getting ready to leave after progress from his first stroke.
The staff were buzzing around him, doctors, nurses, cleaners and patients all sharing laughs and calling him Iggy, as if he were their best friend. He has that effect on so many people.
Appropriately enough, over the years, cricket has brought us together with Iggy a frequent spectator at Bingley Congs CC; in fact, it was his recommendation that I join when I was looking for a change of scene.
💚 Former @KentCricket and @englandcricket bowler Alan Igglesden is facing his toughest test yet.

'Iggy', along with his wife Liz, sat down with the players' charity and shared their remarkable journey.

📰 Story – https://t.co/Qsn5FBhZJg
🤝 Donate – https://t.co/WKGm0X0uQx pic.twitter.com/oEBHlJR7hx

— Professional Cricketers' Trust (@CricketersTrust) May 5, 2021
Fast forward to May 2021 and the outlook is incredibly difficult.
If you can spare a minute, please watch this video of Iggy and his wife Liz, filmed recently in Yorkshire. They are wonderful, resilient and incredibly brave friends, along with their daughter Beth, who have had to face enormous adversity over the years.

You can donate to the Professional Cricketers Trust here: http://bit.ly/IggyDonate