As I walked through the St Ives Estate on this latest Aire-Wharfe cricket pilgrimage, an LBW shout echoed through the trees.
It was otherwise eerily quiet for a dry but chilly Yorkshire Day.

At Harden Cricket Club, play was underway in this Aire-Wharfe Cricket League Division 4 encounter.
After a dousing of hand sanitiser at the entrance, we sat on the bench square of the wicket, with the steep field behind us.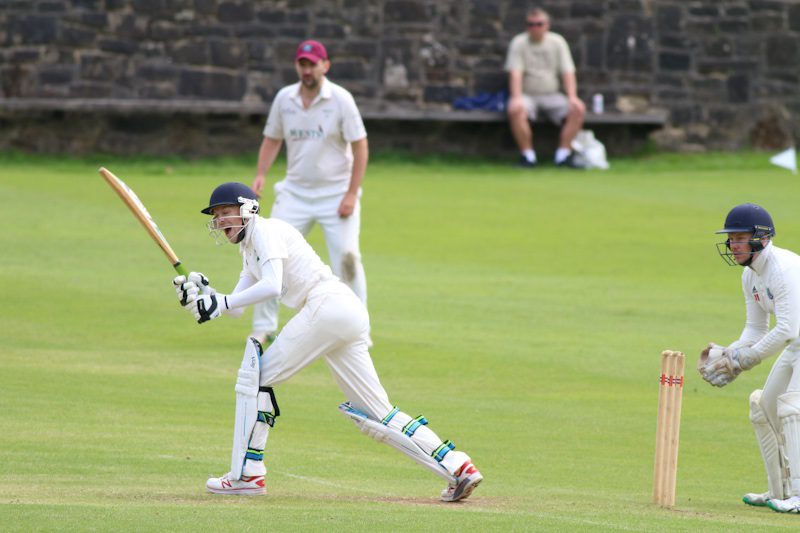 Otley 2nd XI were losing wickets at regular intervals, punctuated by some crisply timed straight drives.
It was another indecisive day of weather with a heady blend of biting wind and overcast, leaden skies mixed in with radiant sunshine.
Some wickets and a caramel slice later, we skirted round the other side to take up position on the benches that lie alongside the wall.
A gentleman was sat in a deckchair in the adjacent field, a towering straight six away, and we had nodded our hello as he kept an eye on the cricket.
Otley 2nd XI mustered 121 with Andy Wear (4-18) mopping up. It shouldn't have been enough but I neither knew the visitors' bowling depth or Harden's batting foibles.
At the tea interval, the groundsman came on, complete with black face mask, to run repairs on the wicket. The lines were repainted, the heavy roller dampened down any demons and we were soon back up and running.
As the Otley bowlers began to wreak havoc of their own, an elderly couple made their way slowly up the incline of the hill in the distance.
Each time an appeal went up, the man would pause, turn round, savour it for a minute and then keep climbing.
Samuel Boyden (3-34) and Jake Toulson (5-16) were the architects of a resounding away win and 16 gratefully received Aire-Wharfe Cricket League points.
By the time that Otley's winning margin of 32 runs was in the bag, we had long since packed up and began our return leg.
Snippets of excited yelps from fielders again drifted through the chestnut and larch trees. I can only think of Upper Wharfedale CC in Grassington where this also happens but there will surely be others.
Harden Cricket Club is an idyllic spot to take in a game of cricket. As someone who's watched every conceivable level of cricket in Yorkshire, Division 4 of the Aire-Wharfe Cricket League was a pleasant surprise, despite the low scores.
Here's your full scorecard for the match from Play-Cricket.
Latest posts by John Fuller
(see all)