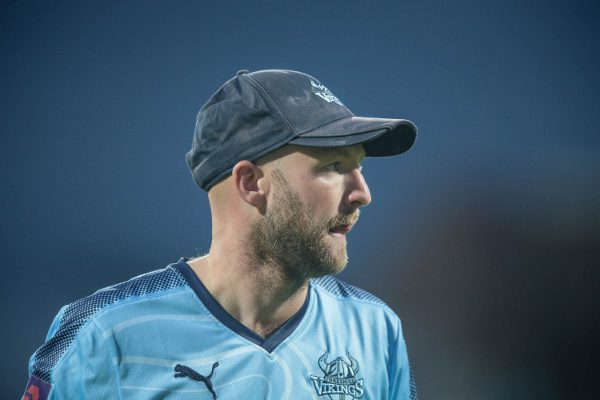 Yorkshire County Cricket Club batsman Adam Lyth is at home and about to feed his baby daughter, Ruby, but finds time to reflect on a winter packed with new experiences.
The thirty-year-old from Whitby made the headlines last summer with a sensational 161 off 73 balls against Northamptonshire in a televised NatWest T20 Blast game.
While Yorkshire narrowly missed out on qualification for the quarter-finals, there was a fringe benefit for Lyth in putting himself in the shop window:
"About 12 to 14 hours after that knock, there was a deal on the table with Rangpur Riders."
BANGLADESH PREMIER LEAGUE
The Bangladesh Premier League (BPL) might be worlds apart from the county circuit but it offered Adam Lyth the chance to rub shoulders with some of the best international T20 cricketers.
There was actually quite a few English cricketers involved; Adam had David Willey and Ravi Bopara as team-mates, Adil Rashid was snapped up by Dhaka Dynamites while Liam Plunkett joined the Sylhet Sixers and the likes of Sam Hain, Luke Wright and Samit Patel were also there.
As Adam puts it: "It was something I couldn't really turn down. A fantastic opportunity to play in a T20 league abroad and I thoroughly enjoyed my time there. Unfortunately, it didn't go quite as well as I would have liked but I guess that's cricket."
He went on to add:
"The experiences I gained out there: the pitches, culture and sharing a changing room with world-class players will stand me in good stead going forward."
Lyth's record reads starkly: a first-ball duck against the Kings in Sylhet before subsequent scores of 4 and 3 is an obvious disappointment and he wouldn't be one to offer excuses though there is a bit of context.
Rangpur Riders had a massive 26-man squad and who was he competing with for the opener's berth?
Just the best T20 batsman in history in Chris Gayle, New Zealand's explosive, pocket-rocket Brendon McCullum and West Indian Johnson Charles whose 105 not out took the Riders into the Final.
Lyth would discuss batting with Gayle and McCullum over an evening beer and his observations of their mentality and approach to opening will have been duly noted.
Calling Gayle a "freak" (in admiration it ought to be said) for an ability to top-edge ninety-metre sixes, Adam was struck by how the Jamaican maestro never panicked, even if stuck on nought off fifteen balls.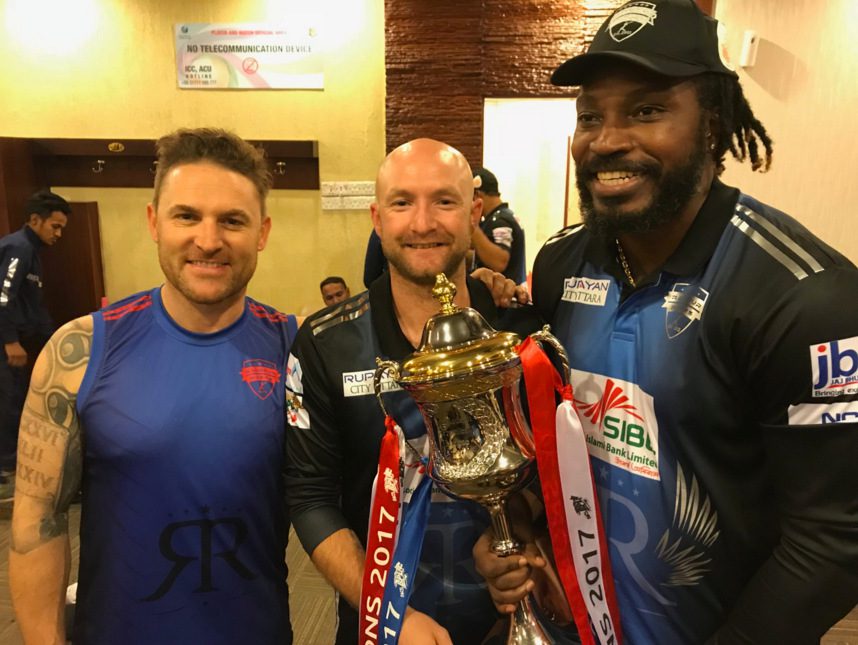 Of course, not everyone can hit a world-record 18 sixes in an innings, as Gayle did in the BPL Final en route to 146 not out off 69 balls.
Lyth's observations of both characters away from the TV cameras were revealing:
"They were different characters as well. Chris Gayle's a bit more quieter than Brendon but Brendon will do anything for anyone whether you've played no Twenty20 matches or you've played 500."
So, how much can someone learn in six weeks or so in a helter-skelter environment of a T20 league?
For Adam Lyth, playing in Bangladesh won't replicate conditions facing Leeds Bradford MCCU at Headingley in April but it has certainly broadened his batting education:
"By knowing which bowlers you can target on certain surfaces, taking a bit more time on slower, lower pitches and I worked on facing spin."
He reckons he's come back a significantly improved player, particularly batting against quality spinners, despite not having the scores to back that up.
Just a stint of squad nets facing cricketers with all the tricks of the trade like Lasith Malinga's slower balls or Samuel Badree's legbreaks is new ground and Lyth returned before Christmas with a spring in the step.
Attention turns to the 2018 county season and Yorkshire County Cricket Club are earmarked for time in the UAE and South Africa to get mileage in the legs and game-time outdoors:
"The mood in the camp is brilliant and everyone can't wait to get going. I think we've got an eight-day block in Abu Dhabi, if that's confirmed, and then we go pre-season to Potchefstroom. The lads are looking fit, strong and are in good shape."
We did touch upon the Ashes in the interview though Adam wasn't up all night burning the midnight oil watching England get a pummelling in Australia.
Lyth was dropped by England after a poor Ashes summer in 2015 that yielded 115 runs in five Tests but still has aspirations to represent his country again, if he can recapture the form that saw him bag 1,489 championship runs four years ago.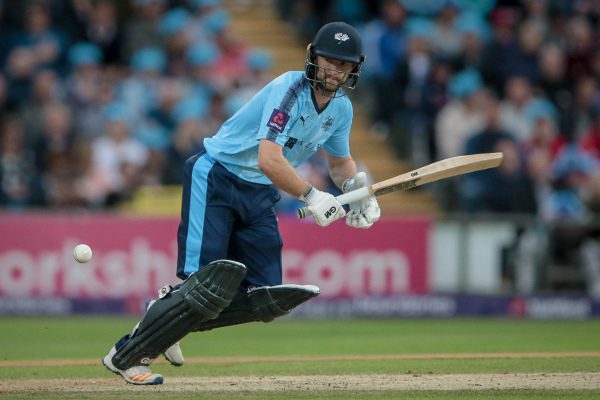 Consistency will be Yorkshire's watchword for 2018, having flattered to deceive in shorter formats and been off the boil in the County Championship:
"Unfortunately, we didn't play the cricket that we would have liked to…we weren't quite consistent enough. We know the cricket we can play, we know what works and hopefully we can do that."
As we wrap up the conversation, thoughts turn to parenthood and how that can affect a professional sportsman.
I recall Adil Rashid referencing fatherhood as a turning point in his career when it lent more maturity with increased responsibility off the field.
He also partially credited this change in mindset for a bumper crop of 68 wickets for Yorkshire in 2014 that thrust him back into the limelight for international selection.
The same philosophy can be said for Adam Lyth whose focus remains on success with Yorkshire County Cricket Club but having a family has had an impact on how he thinks as a cricketer:
"Well, I've got this bundle of fun to go home to every single night! I've got bigger things to worry about. In cricket, obviously my desire's still there, I want to do extremely well but you've got a baby at home and that's a dream come true."
There are those cricketers for whom the game is an obsession every waking hour. But, you may well see a different Adam Lyth on the field in 2018 and someone able to compartmentalise the bubble of a county cricketer:
"You can relax a bit more playing cricket, that's the way I look at it. Last year, I came back into the team after my wife gave birth to Ruby, it was like cricket is a job and I love it but I've got a family at home and it changes the way I look about things."
**PLEASE SHARE THIS ARTICLE!**
If you have enjoyed reading about Adam Lyth then please help by sharing the article using the Facebook and Twitter buttons below.
Many more articles coming your way in January – starting with the must-read Appletreewick vs Malhamdale match report and photos on Friday!
Latest posts by John Fuller
(see all)