When you park up at Hull Zingari, there's a wall of conifers beyond which you can tantalisingly see flecks of white – on this occasion, the fixture between the home side's firsts and York & District Senior Cricket League leaders Easingwold.
As you walk round the corner, there's an open expanse with the distinctive and very stylish clubhouse that brings to mind an exclusive yacht club with its curved, red brick frontage.
Hull Zingari – whose first eleven find themselves at the wrong end of the Premier Division – faced Easingwold who have a bit of a lead at the top over Clifton Alliance.
Zingari were batting and very happy to chat about the club and their season so thanks to them for that.
I get all sorts of reactions from clubs when strangers turn up at their ground from poker-faced to five-star treatment and it just made me squirrel a mental note to return when I'm next in the area.
Watching passages of play was to realise that this particular contest – top versus second-bottom – was a superb advert for the York & District Senior Cricket League.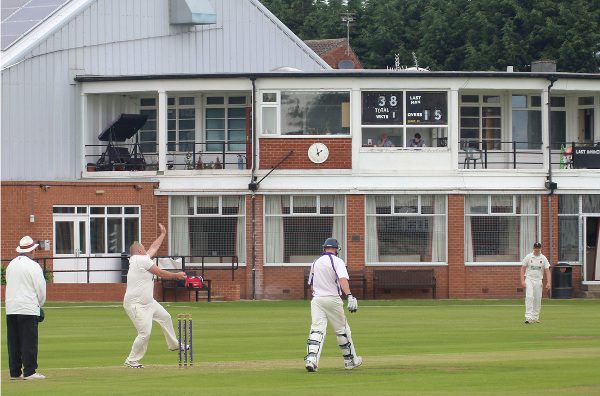 What do I mean by that? Well, it was good, honest cricket with fast bowlers ripping into bowl and batsmen unfurling some elegant drives and cuts.
There was no quarter given and little by way of wides, half-trackers or false shots.
A walk around the edge of the boundary was to appreciate its footballing heritage too with the home and away dugouts visible beyond the sightscreens.
There were splashes of purple amongst the predictable palette of greens and whites you'd expect at a cricket match with that shade of Hull Zingari's signature colour reminding me of the nobility of a Roman emperor's toga; reflected too in their batch of covers at either end.
A banner for a local fish and chips shop sponsor stood out against the white fence and, as if I needed a nudge, prompted an investigation into the options inside for a delayed lunch.
The resulting steak pie was brought out and the poor lass (called Joy, a tweet later confirmed) nearly had a fright and tipped pie, peas and gravy over herself as a muscular six thudded into the bench, missing her by a whisker.
We didn't stay longer than an hour or so as the prospect of going to Hessle CC – a ground by the Humber Bridge I've wanted to visit for some time – required a departure to avoid rugby league traffic.
But, Hull Zingari Cricket Club certainly made a good impression. Their facilities including some very impressive nets means they've got a ground that is set up for years to come.
I also spotted they use their Play Cricket website as the main point of information rather than having two or three websites and there is the current news on the homepage – which is not how most clubs use Play Cricket but is a sensible idea.
Since I read it on their site, a shoutout too for Sam Elstone who has been one of Hull Zingari's youngest-ever senior debutants and has already scored 722 across a number of teams this season.
Sadly, Sam broke his arm recently and will miss the rest of the season which must be gutting but hopefully he rests up and comes back strong.
My journey did move on to Hessle Cricket Club and incredibly, we arrived at 3.30pm to see the home players packing up.
It was just our luck but the scoreboard still told the stunning tale of the opposition all out for 22 and Hessle securing the win in just six overs.
Hessle was a lovely spot with its clubhouse that they share with the rugby (Hessle RUFC) an unexpected delight.
From the outside, this single-storey unit looks unremarkable except for the solar panels on the roof that illustrate sustainable thinking.
Inside, there are wooden honours boards for both cricket and rugby union as well as squad photos from centuries back.
This was a place that cares about its journey to today and of course, the location in the shadow of the Humber Bridge is a delight.
Moving on in search of cricket, we made our way to Welton & Brough Cricket Club with one eye on the gruesome grey clouds that suggested rain was imminent.
On Stanley Jackson Way in Welton, we ducked in just in time to see the last rites of the 45 overs innings with Welton & Brough firsts batting and nudging the total along to 133-9 against Beverley Town thirds in the Y&DSCL Division Two Holderness.
Local sages reckoned that often weather fronts would scoot by and miraculously miss the cricket club but the sooty cumulus (ok, so I just googled cloud names) look like they're in no mood to be kind.
I knew nothing about Welton but apparently, its claim to fame is that the highwayman Dick Turpin came from this particular village. As opposed to the other Weltons dotted around the globe from Cumbria to Lincolnshire to Iowa.
But there is a county cricket connection and we decided to take the short walk over to the graveyard site of a Yorkshire County Cricket Club player FS Jackson who racked up 15,901 first-class runs between 1890 and 1907 and who captained England against Australia.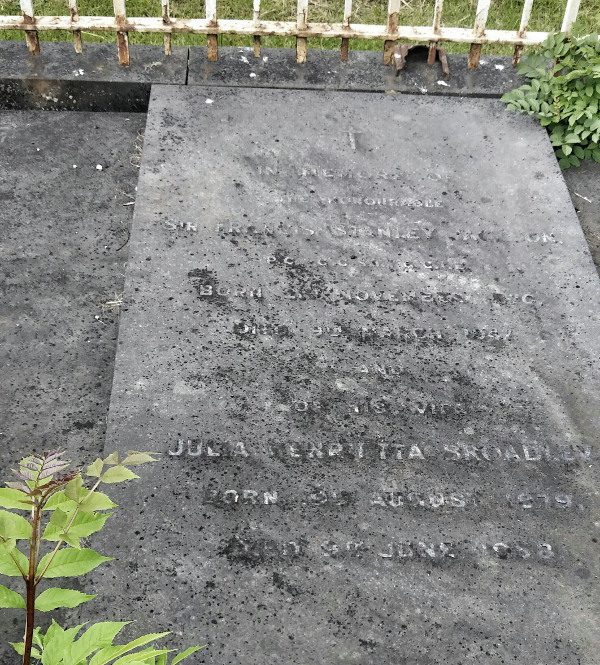 Frank Stanley Jackson, to give him his full name, was President of both Yorkshire County Cricket Club and the MCC and his grave is in a bit of a mess which seems a sad state of affairs.
I don't know who, if anyone, claims responsibility for such upkeep beyond the family but given his importance in English cricket, you'd like to think someone would.
After a poignant moment, we returned to the cricket club and popped in for a cuppa.
The cricket tea disappeared in record time and looked like someone had pushed the boat out, there were canny flavour combinations, greens, fruit and on reflection, I rather wish I'd ignored my willpower and bellyflopped into the middle of the table. What an impression that would have made…
It was a shame not to linger but by now, rain had settled in and sure enough, the match was called off later by which time we were hotfooting it back down the motorway with an incredible rainstorm the force of a car wash testing the vehicle's windshield.
So, a worthwhile day spent in East Yorkshire including a visit to Hull Cricket Club and a dip into a few other clubs in the area.
There's a few photos from Hull Zingari's match with Easingwold, if you're interested below…
So regular readers will know the drill…this is where you can click round Cricket Yorkshire's album from the Hull Zingari cricket match described above.
For photos you won't get anywhere else except on this website, just click the link above. Or HERE IF YOU PREFER!
** You'll need to type in your email address to access the images but joining Cricket Yorkshire's mailing list is the tiniest price (actually a benefit) for the premier club cricket photography anywhere in the solar system.
Besides, you'll get a brilliant fortnightly read and exclusive offers too. And if you decide to, you can unsubscribe at any time…so enjoy the photos!
Latest posts by John Fuller
(see all)