Finding Hull Cricket Club's ground on Chanterlands Avenue North proved our first test for this Saturday morning.
Brian, who some of you will know if you've read All Wickets Great and Small, is nothing if not old school.
So no maps, not paper nor one filled with computer pixels, just Brian's usually Encyclopaedic memory of roads that interconnect cricket clubs.
Besides, the 4G on my 'smart' phone was now showing the dreaded 'E' – standing for "Eee, tha's more chance of swimming to Denmark than getting signal, lad."
No matter, as we sat plotting our next move, it afforded the chance to see some of Hull and soak up its character.
At one point, we zipped past a Baptist church sign at a roundabout that offered this gem:
'Success in dealing with others is like making rhubarb pie: use all the sweetner you can then double it!'
Now, I'm no Michelin star chef but what on earth are you doing putting sweetner in a pie? I was also a little sceptical as to how much rhubarb pie is consumed in Hull. We weren't in Wakefield, after all.
The ground, when we located it, was bathed in sunlight and Hull's and Woodhouse Grange's first elevens were being put through fielding drills ahead of the midday start.
Hull Cricket Club's evolution is a fascinating one. They were previously based at The Circle – a Yorkshire County Cricket Club outground whose last-ever game was 9 September 2000 before demolition.
With the spirit of county cricket now lingering somewhere under Hull FC's KC Stadium, Hull Cricket Club merged with YPI (Young People's Institute) and relocated to Ferens Recreational Ground on Chanterlands Avenue.
First impressions were that the ground was very well maintained with all the facilities you'd expect at an ECB Premier League club.
Consensus amongst the Hull lads was that it was a square of extremes: either a batsman's paradise or a wicket a bowler would like to roll up and take with him everywhere.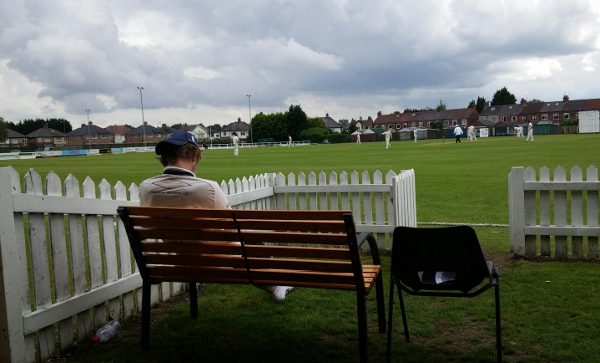 Everything seemed present and correct and yet, something nagged at me. Cricketers? Uh-huh. Umpires?
They were smartly turned out, one with the new ECB Yorkshire Premier League North branded attire.
Scorers? They looked up and smiled from their wooden home where they were happily hunched over their scorebooks.
So what was it? Well, where was the cricket clubhouse? It took several trips past the funky table tennis tables and towards the rugby pitches, looking increasingly gormless, until I realised they don't have one.
Ok, they do but like everything else, it is shared with all the other sports. Today, there was a birthday party in Mandy's café (happy birthday Ella Rose, I hope those cupcakes went down a treat).
I don't mind admitting this momentarily freaked me out. Where was the nod to the cricket club? What about Hull's proud history?
It may have been in another part of this modern, smart complex but I couldn't escape this lack of identity as if I was walking down a hospital corridor, all anaesthetised.
I know, sounds harsh. But it's the people rather than the bricks and mortar that make a place and on that front, Hull Cricket Club passed with flying colours. Most crucially, it was a welcoming place writing as someone who has never visited Hull CC before and that's the litmus test.
Hull CC's secretary Dave Willson was on hand to answer questions and give me some background on what must be one of the highest-profile signings the club have made.
Thanks to a former Hull player and a cricket exchange scheme involving Indian cricketers that the club has benefitted from in recent years, Shivil Kaushik – the legspinner with the curious bowling action – who played this season in the Indian Premier League (IPL) for Gujarat Lions had been snapped up for the rest of the season.
I had a chat to Shivil – look out for that in The Cricket Paper – and noticeably, there was no superstar flouncing which will go down well in Yorkshire.
He went through the fielding exercises like everyone else and then sat and talked to his new team mates.
Not so long ago, Shivil was being captained by India's Suresh Raina but now the twenty-year-old left-armer is being led by Chris Grey in one of Yorkshire's Premier Leagues and he is gradually acclimatising to the startling cold that have probably numbed his spinner's fingers.
When we got underway, Hull were asked to bat having lost the toss and Woodhouse Grange made the most of things with a workmanlike opening attack of Andrew Horner and Steve Burdett (pictured below).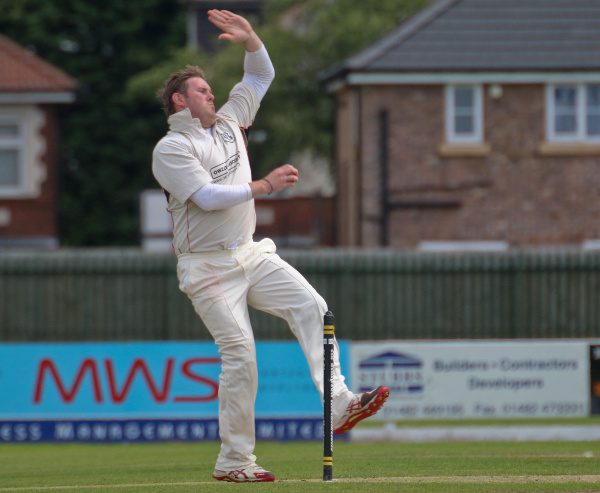 Shouts of 'C'mon 'The Bear' echoed over the outfield – I didn't see any bear although the guy from the top end (not Steve above) for some reason brought to mind the Russian Zangief from the Street Fighter arcade game, for those of you who are gamers from the Eighties.
Each bowled to the conditions and got their rewards as wickets began to fall. Andrew Simpson, the former Scarborough captain who has moved to Hull, was the first to go as the home side slid to 38-6, a calmaity largely of their own making.
This was not in the script, even Woodhouse Grange looked a little surprised, but there was no arguing that it was compelling for the neutral.
To give them their due credit, there were moments of class from the visitors including a legside stumping by Mike Burdett to account for Tom Appleyard for a duck.
At the top end of the ground with the backs of terraced housing, two small yappy dogs, one the colour of butterscotch, the other as if it had rolled around in soot, were being hailed by their elderly owner: RUBY! SHADOW!
Ruby and Shadow patently ignored him and scampered up and down the alleyway, doubtless overwhelmed by the action on the pitch.
Meanwhile, someone was spending their Saturday doing DIY and a drill with the persistent drone of a gigantic hornet buzzed away loud enough that we sought refuge elsewhere as Hull tried to stem the flow of dismissals.
With clouds gathering and rain forecast, we decided to head across the road to watch Hull Zingari in the York & District Senior Cricket League against league leaders Easingwold.
But it just goes to show that you're never truly down and out. From 38-6, Hull looked like they might scrape 50 and be down the pub by 4pm morosely replaying moments from the match or watching the rugby league.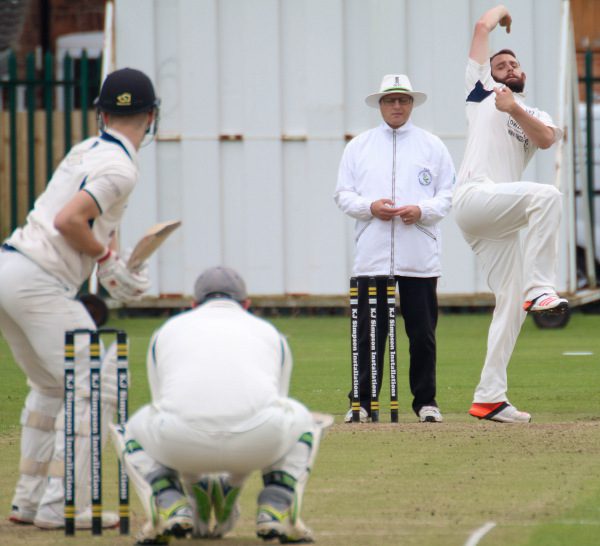 As it was, Charlie Hodgson's late-order innings of 75 underpinned Hull's great escape as they clawed their way to 171 all out with tall slow left-armer Josh Jackson's 4-45 snapping up the remaining wickets. Shivil's 17 off 34 balls was a handy cameo.
I was probably in the car driving towards Hessle CC when Kaushik was bowling his eight overs, he managed 1-38 but a revised total of 103 off 26 overs proved too much for Woodhouse Grange who reached 91-4.
So, a win (strictly speaking a winning draw) broke Hull's five match losing trot in an odd season which they started with relish and they briefly led the Premier Division before coming back to earth with a bump.
Well there you go, wonders never cease..
A Cricket Yorkshire travel article without mention of a cricket tea (if you must know, I had a steak pie across at Hull Zingari and was nearly beheaded by a six that crashed into the bench a foot away).
As for Hull CC, I don't know if Mandy serves 'breadcakes' (different to teacakes over here in West Yorkshire and essentially bread rolls to anyone further south) to the blokes in whites after the first innings but the regional connoisseur in me liked to think so.
Join the Cricket Yorkshire Newsletter
To keep in touch with all things Cricket Yorkshire, join 1,500 cricket fans who are part of our newsletter community.
Like exclusives, partner offers, competitions and the latest from CYHQ? Sign up for bite-sized cricket updates every now and then to your inbox. 
Latest posts by John Fuller
(see all)