Hull has been a proud cricketing hub since as far back as 1875 when North and South XIs played each other on Argyle Street at the Town Cricket Club ground. But it's been a history littered with upheaval.
Soon after, Hull Cricket Club relocated to Anlaby Road in Kingston upon Hull and The Circle went on to host 89 first-classes matches from 1899 to 1974.
Fans of county cricket still talk fondly of The Circle as an intimate, intimidating ground but Yorkshire's decision not to play there anymore back in 1974 was a body blow that ultimately led to the final cricket match on 9 September 2000 before the site was demolished.
Hull have this photo on Facebook of a game held in 1986 at The Circle between Hull Cricket Club and a Fred Trueman England XI. Heady days indeed with some star names on show.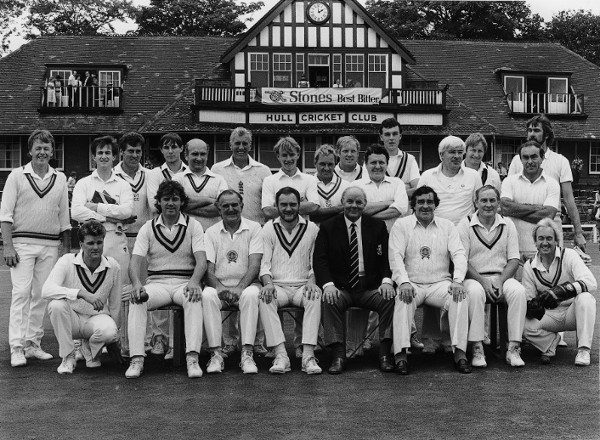 In its place came the KC Stadium; home of Hull Football Club and as football booted off cricket, a new chapter was written as Hull CC merged with Young People's Institute (YPI) in 2004 and relocated to Ferens Recreational Ground on Chanterlands Avenue.
Many a cricket club has found itself displaced down the years but for Hull CC (as the club continued to be known), even today there remains a question mark over its future with the YPI Sports Ground put up for sale in 2013 as the charity could no longer afford its running costs.
Having said that, whoever ends up being the owner, the sporting and recreational purpose of the complex has to be maintained which you would hope grounds those sports clubs and lends them some permanence.
Hull and the surrounding area remains passionate about its cricket with clubs like Hull Zingari, Hessle, Humbleton, Cottingham and Beverley Town to name a few.
But for Hull Cricket Club, whose first eleven was playing in the Solly Sports Yorkshire County ECB Premier League as recently as last season, the decision to withdraw for 2014 was a tough knock to take.
It was felt that as Hull Cricket Club continued to lose some of its most talented players to other clubs in the area – who could offer financial incentives – the strength of the squad had been compromised.
There's no obvious benefit to playing in a tough League with a group of players who perhaps aren't (yet) always up to the standard while the cost of participating in a County League is not to be denied.
With costs to a club of up to several hundred pounds each game once umpires, balls, scorers, teas and the like are considered, an economic reality presents itself (putting aside the clear pride at wanting to play at that prestigious ECB level).
While there's no question that cricket will always be played in Hull, yet as with other towns and cities across Yorkshire where rugby league and football dominate, the game of cricket continues to feel the pressure.
At the time of writing, we are starting to draw the curtains on September; Hull Kingston Rovers are bouncing around the Super League while Hull City's manager, Steve Bruce, is hotly tipped to end Alan Pardew's long reign at Newcastle.
Meanwhile, Hull Cricket Club have had to get accustomed to life lower down the leagues this season after their seconds entered Division Two of the York & District Senior Cricket League and their thirds compete in Eastern Conference Division Four.
They are, in essence, a club without a first XI.
There are discussions around whether to re-apply for the ECB Yorkshire Premier League for 2015 and I understand Hull CC are keen. They feel that the season in the Yorkshire Senior League has given their players experience and their club finances are back on an even keel.
The Hull CC coffers were boosted to the tune of £600 at a race night in late July and they feel stability has somewhat returned on that front; a state of affairs that many a club would welcome.
There are other options open to them potentially such as having a first eleven in the York & District Senior League for 2015; itself a very well organised and respected league in the county.
Change is afoot, that's for sure. The Yorkshire League is likely to have changes to its roster of teams for next season with Scarborough possibly leaving to join the Hunters Yorkshire & District Senior League.
There's a broader discussion around creating a pyramid system in Yorkshire league cricket but with understandable vested interests across a number of strong, Yorkshire leagues, progress – in whatever shape – will take time.
Talking to Hull's secretary, David Willson, there's been unheaval, consolidation and also cause for renewed optimism.
Competition remains fierce in attracting and retaining players in an area of East Yorkshire that loves its cricket and boasts a number of well-run clubs for cricketers to pick from.
The feather in the cap of a return to the ECB Yorkshire League (if it goes ahead) should enable Hull to recruit additional players, alongside the existing squad, looking to play at a tough amateur standard.
Having the vision to take a backward (or sideways) step in pursuit of a future forward move is a rare sight and certainly one to be applauded.
Latest posts by John Fuller
(see all)