What would you prepared to pay for a cricket bat? The answer to that is as broad as the edges of bats that now dominate the market.
Your ability as a cricketer, economic circumstances, your sense of value and whether you are a grain-obsessed badger or don't much care what lightsaber you wield at a weekend.
One thing is hard to ignore…the price of bats is going aerial with all the subtlety of Chris Gayle. Why is this and what are the consequences for cricket?
To strip it back to its most basic, we're talking about essential equipment to play a game and the very real issue of it being an elitist pastime because not everyone can fork out hundreds of pounds for a cricket bat.
A relentless Google of cricket bat pricing – you'll have to take my word that I searched until my eyes whimpered and the pixels converged into digital fudge – illustrated that if, as an adult, you have £150 in your pocket to buy a new blade made from English willow then you have slim pickings.
@cricketyorks Price of bats is a major disincentive to people of all economic groups in UK playing the game. Good luck with it. Like to see

— David Hopps (@DavidKHopps) 14 June 2016
Why are some of the cricket bat prices so crazy? Is it greed? Is it justifiable?
Imagine you are a very average club cricketer living in West Yorkshire with a batting average that has remained entrenched in single figures for decades.
You decide a new bat will bring with it a change of fortune and those elusive triple hundreds. Whatever your final choice, the journey your bat has made to get to you is one of the more remarkable, costly and daft going.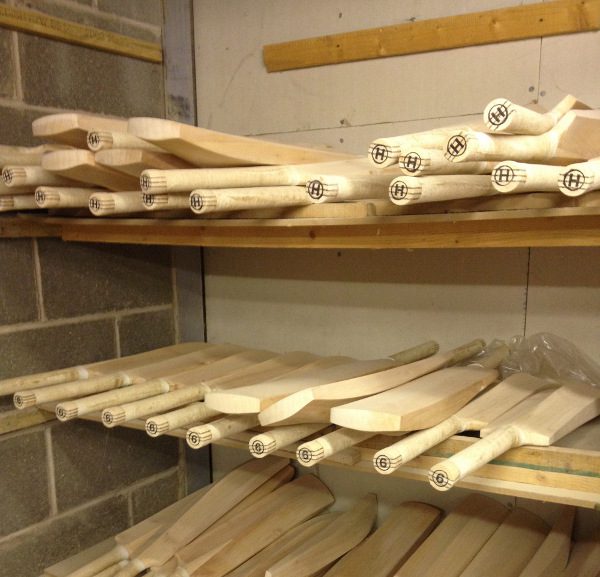 Your Turbo-Blaster Super-Ultra Reflex Bow Plus began life as part of a willow tree, grown in England whether that's Essex, Sussex or Yorkshire, before being shipped off in clefts to India or Pakistan.
It's then sculpted into a sizzling concave beauty with glow-in-the-dark stickers and fat edges you can eat your dinner off and sent all the way back to England.
I understand the fact that the labour cost tied up with making cricket bats in huge quantities in the UK is prohibitive but who pays for this round the world excursion? Well, you and I do, it's factored into the price of the bat…
JS Wright & Sons Ltd, the willow specialists based outside the village of Great Leighs, north of Chelmsford, have been around since 1894 and are the largest English cricket bat willow company in the world.
They dominate the world's supply of raw materials for English willow bats and produce 420,000 clefts a year of which about 80% goes to India and Pakistan.
Director Oliver Wright was kind enough to answer a few rambling questions one morning not so long ago around sustainability, supply and the unavoidable fact that JS Wright has a near monopoly on the world's supply of English cricket bat willow.
Is there a shortage of English willow – which would naturally drive up prices? Well, their planting season is from December to March and they planted 25,500 trees, a figure that's at its highest yet as they aim to plant three trees for every one they pull out of the ground.
Yet, they're always advertising for more trees and admit they can't take on new customers at the moment because they couldn't get on the land earlier in the year to whip the trees out and processed.
The top bats that command the highest prices are tight grain from slow growing willow trees; a rarity that command a premium price for the clefts. Does the ball ping off the bat better if it's originated from a tree with wide grains?
Some would argue that though Oliver plays devil's advocate on that one:
"When Ian Botham was in his heyday, we used to dry his bats separately because he had a heavy bat. He had about seven or eight grains in his bat and he smashed it further than anybody!"
Oliver goes on to say: "Geoffrey Boycott has pointed out numerous times on the radio that a bat which has a slight defect in it will probably play just as well as any other bat, it's really down to who uses it."
As for grading of willow, Oliver's cousin does this assessment out in the yard with a number of factors such as straightness and number of grains, colour, knots and presence of butterfly stains.
However, that grading can be and is sometimes changed once the willow makes it way to the cricket brands who will be selling the bats.
As guardians of the cricket bat industry, what are the challenges for JS Wrights? We tend to forget with all the shaping, polishing and finishing that it's a natural resource when all said and done:
"Mother nature, various bugs and things that affect the willow" comes the answer. They have issues with spraying and with certain chemicals being banned – which leads to the hunt for an alternative to round off any lasting damage to stock.
When looking at the pricing of a cricket bat, it's about assessing literally from the ground up. JS Wright argue that they are the only company investing what Oliver terms "a massive amount of money" in the straight, young trees that will, over their lifetime of fifteen to twenty years, develop into the best willow for cricket bats.
I'll be honest – major alarm bells are ringing that one company holds that much sway in the supply of cricket bats though it's not exactly a new development.
What's to stop the price per cleft creeping or skyrocketing – which has major ramifications for the brands, retailers and the cricket-buying public?
For the purpose of clarity, I ought to point out I've visited batmakers, bat brands and willow merchants all over the place since Cricket Yorkshire began as well as talking to cricketers all over the country.
I'm not claiming to be a world expert but have been around long enough to listen to opinion, digest some of the facts, suss out the fiction and form a view.
I should note that there are others like Chris Kippax, Gray-Nicolls and Newbery who grow their own stock but the vast majority of willow for English willow bats originate with JS Wright.
Since Chris has headed up the Kippax empire, the emphasis has been on planting with a portfolio now around the 4,000-tree mark, much of which goes to the Indian subcontinent.
When I was there last a couple of years ago, the geographical span was from Worksop up to Bedale with the bulk of the willow stock in a ten-mile radius of their headquarters at Melwood House Farm outside Methley.
Look, this isn't about bashing everyone in the cricket bat industry. I have happily sat in a freezing barn in Malton, North Yorkshire and watched Nick Nixon make a cricket bat from scratch with serious drawknife skills – so I appreciate the effort and dedication that goes into growing the willow and then making a bat.
It must be frustrating too for retailers who are on the frontline with customers but whom don't have the control they'd like over pricing.
If any of the cricket brands are reading this, can I offer my own pearls of wisdom for your future collections of bats? Please keep it simple. Less can be so much more.
If, as a cricket journalist whose job it is to immerse myself in everything to do with recreational cricket, I cannot fathom the difference between the ZX Thunderbug with teflon, reinforced, aeronautical trim and the ZX Browbeater with the distilled breath of a thousand angry Vikings, the chances are your customers can't either.
As it happens, I have been bottling a few blunt views on the subject of cricket bats and their marketing so let me take you on a journey and debunk a few myths.
It is disingenuous that brands sign up the leading cricketers in the world to endorse their products knowing full well cricketers (particularly juniors) will crave the same bat as their heroes.
So far so run-of-the-mill marketing. Now here's the thing…the bat you get and the bat the pro gets are galaxies apart.
I'd like to see international cricketers hit it off the square with a grade 5 piece of willow. Grade 5! I didn't know that existed but a cursory scoot round the t'interweb reveals there is a lot of absolute garbage being sold that only tenuously passes as a cricket bat.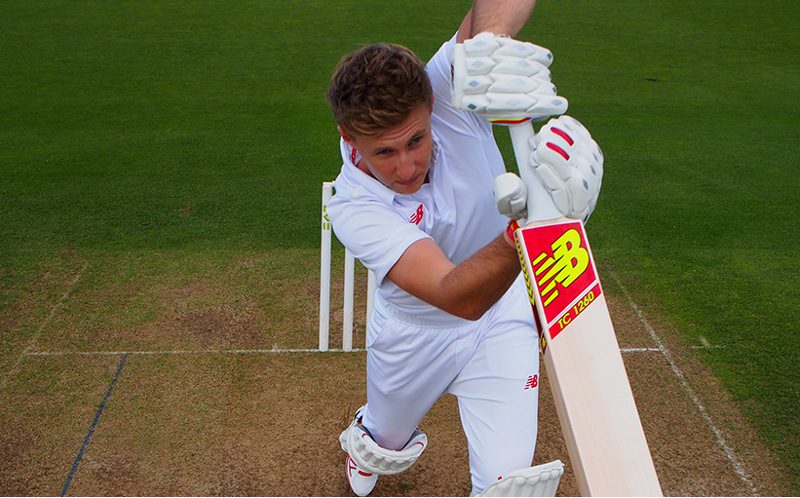 The entrance of athletics brands into the cricket market is another development that nags at me. New Balance snapped up Joe Root as ambassador because it is a cheaper form of marketing with his blade on Sky Sports for hours rather than an ad spot.
Does it matter if their prime goal is to use cricket to sell more shoes? I guess that depends on if the likes of Nike, Adidas and New Balance are brands you're loyal to or if you question their motives in an industry that is a fraction of their global business.
Of course, alongside the establishment and the sporting behemoths, there are also the boutique cricket brands popping up all over the UK and batmakers – we have Nixon, Kippax, Jedi, Viking, Excel, Redwood and many more here in Yorkshire – tapping into their local clubs and leagues.
Everyone is out to make a crust – or a killing – and far be it for me to knock that entrepreneurial spirit but somewhere along the line, cricket bats have become too expensive.
This matters because everyone who wants to play cricket should be able to. It can't be down to how deep your pockets are. So, how about a quiet revolution and a challenge?
Can anyone out there make a profit and a bold statement with a short-handle, adult English willow bat for £50?
Latest posts by John Fuller
(see all)