Getting off at New Pudsey railway station for the Bank Holiday derby between Congs and St Lawrence was to realise you should never go anywhere in Yorkshire without a coat.
The clouds were meant to burn off later but for now, a flotilla of sooty ships forged a ghostly path across the skies and a chill lingered.
This West Yorkshire market town – where Sir Len Hutton, Herbert Sutcliffe, Ray Illingworth and Matthew Hoggard all played – was eerily empty of people (not cars, plenty of those); nothing open given the Bank Holiday.
Here for an assignment for The Cricket Paper to capture the essence of the cricketing rivalry in Pudsey, I passed a shoe repair shop on Lowtown where you could mend your cricket spikes but also pick up the end of season cricket trophies for the presentation evening.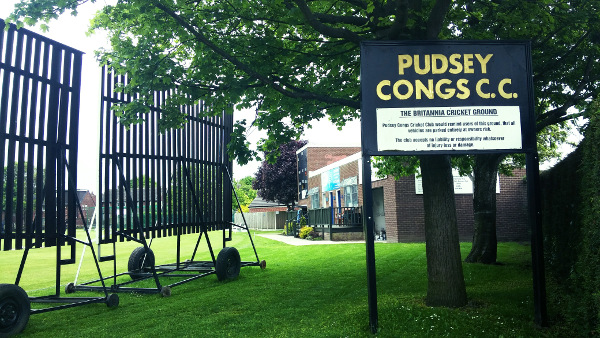 Intake Road, where Pudsey Congs call home, is a residential oasis, the noise levels from the traffic racing round Pudsey fading, as if turning down the dial on a set of speakers.
Their black sign with club name in bold, golden caps is nestled under a tree by the entrance while two fine, wooden sightscreens form an impressive shield.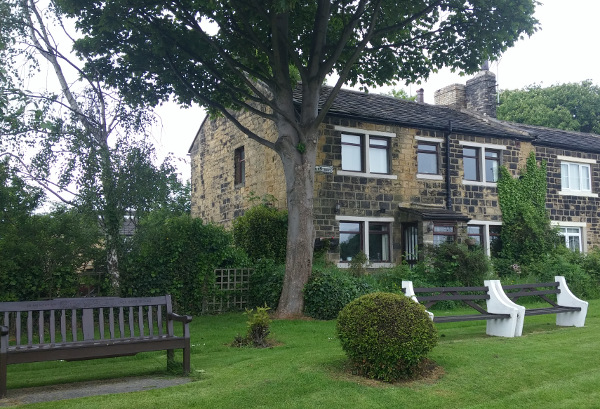 At some point in life I can see myself living in a cottage with a view of some cricket outside – don't tell Mrs Cricket Yorkshire – and Playfair Street inside this attractive cricket ground with its grassy bank and round, trimmed feature hedge may just have set the grey cells whirring.
So, how much does it matter to these two Pudsey teams that they beat the other? From all I spoke to on both sides as well as the sets of supporters, it matters. Like alot (though they don't make a fuss in Pudsey) and it can certainly make or break the week.
Over the years, dominance has oscillated with Pudsey Congs relishing an unprecedented purple patch when they won the Bradford League five times in a row between 2000 and 2004 under the leadership of Matthew Doidge.
However, it is Pudsey St Lawrence who find themselves in the ascendency as defending Bradford Cricket League champions and who were leading the new Bradford Premier League going into this derby, despite losing for the first time this season a couple of days previously.
It has been a source of pride that there was a cricketer from Pudsey in every Yorkshire County Cricket Club side for an entire century. This nuggety little town has long produced outstanding league cricketers as well as those who have gone on to represent their county and country.
Of course, Pudsey St Lawrence have Yorkshire and England legends Herbert Sutcliffe and Sir Len Hutton who graced their club while Pudsey Congs can point to their own rich history with names you'll recognise from Richard Kettleborough to Mohammad Yousuf to Matthew Hoggard.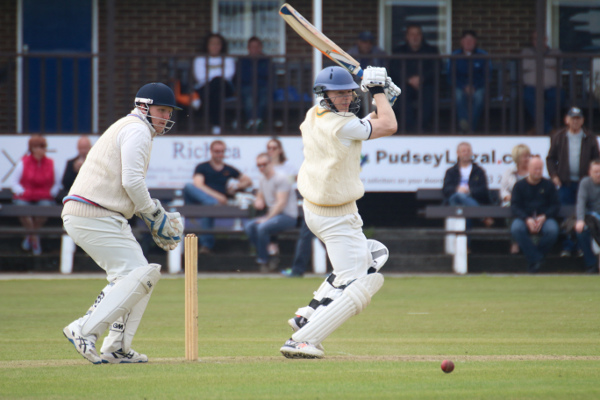 Today though, there's a new generation who need to roll their sleeves up and get out and do the business. The visitors bat first and the ever-increasing number of spectators during a chilly first hour are treated to an Adam Waite masterclass. (**Match photos).
The opener struck 128 not out with 15 fours and two maximums, one of which was a cheeky but wonderfully executed paddle scoop (think Jos Buttler) that ended up out of the ground.
Having 'caught the sun' (read hideously sunburnt) on Saturday playing cricket, I was hiding away as the temperature rose and Pudsey Congs is one of those cricket grounds where there are pockets of respite to sit in the shade under trees and take in the action.
To be fair, it's a ground I would happily return to again and again and that's without giving due credit to Ralph Middlebrook who I could talk about cricket with until the cows come home.
Now, this wouldn't be a Cricket Yorkshire article without some passing or blatant reference to food at the cricket so without further ado…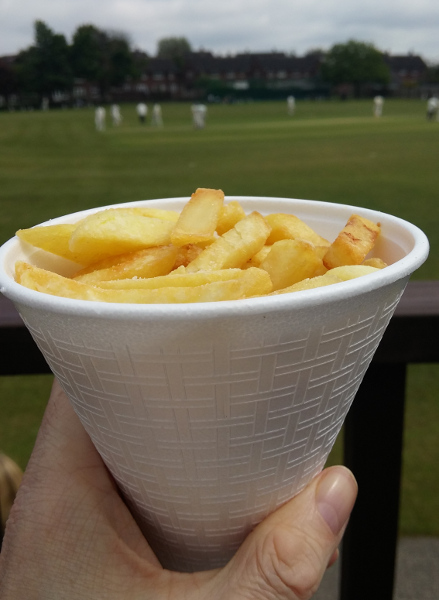 A shoutout goes to 'Princess Zara' and Jane in the Pudsey Congs kitchen who were churning out cones of chips like they were going out of fashion.
For the record, I can't testify if the lady in the pink uniform with black embroidered name was in fact of royal birth but who are we to argue and they were keeping the supporters happily sustained throughout the day.
I returned later and was rewarded for my patience in a long queue by snaffling the last scone which was well worth the wait and kept me going for a final circumference of this very agreeable ground.
At some point, the soulful tunes of Greensleeves wafted over to us as the ice cream van made its way round the houses and eventually parked up on the path – cue a tidal waves of kids with fistfuls of change.
Despite all that was riding on events out in the middle, off the field there was a satisfying hum of conversation, pints being supped and an appreciation for good, honest cricket.
I met a lovely couple who parked themselves at the end of the row of cottages beyond the square leg boundary, cracked open the sandwiches and were full of stories, being that they travel around Yorkshire, like me, watching club cricket.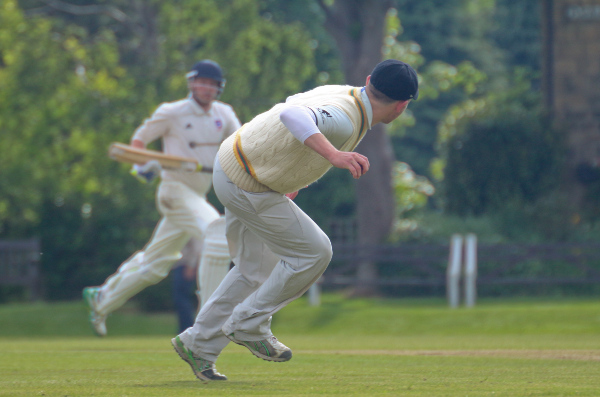 After Pudsey St Lawrence had racked up 247-3 and tea was taken where children played on the outfield and the wicket had a good brush and a roll, Pudsey Congs had a challenging run chase to knuckle down to.
As I packed up the camera and began the downhill stroll to Bramley, they were well set and ended up taking it down to the wire. Gareth Phillips (48), Callum Geldart (46) and Josh Wheatley (35) all contributed for Congs but the home side fell short by 18 runs.
Charlie Parker, a left-arm swing bowler who had a stint on Durham County Cricket Club's Academy and latterly with Menston CC, enjoyed his Pudsey derby debut with a telling 3-31.
So, the Saints go marching on and Pudsey Congs drop into the bottom two of the Bradford Premier League but these are still early days and fortunes will twist and turn, of that I have no doubt.
As a neutral observer, one thing stood out loud and clear. The cricket in Pudsey was a fitting advert for the game and both clubs should be proud of themselves.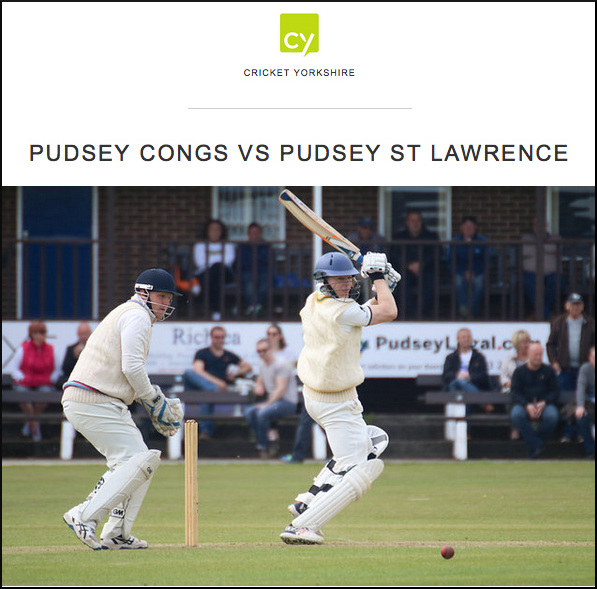 **CLICK FOR PUDSEY CONGS VS PUDSEY ST LAWRENCE PHOTOS**
So regular readers will know the drill, this is where you can click round Cricket Yorkshire's album from the Bradford Premier League.
For photos capturing the cricket action and drama of this historic fixture, just click the link above. Or THIS ONE!
** You'll need to type in your email address to access the images but joining Cricket Yorkshire's mailing list is the tiniest price for the premier club cricket photography anywhere on planet earth. Besides, you'll get a cracking fortnightly read and exclusive offers too. Enjoy!
Latest posts by John Fuller
(see all)