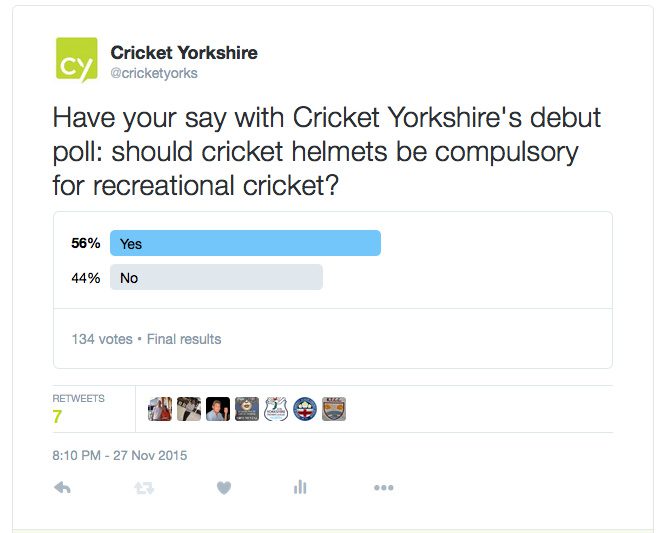 In a Twitter poll for Cricket Yorkshire, opinion was split down the middle on whether forcing amateur players of all ages to wear cricket helmets would be the right thing to do.
Opponents of this stance tend not to argue on safety grounds but that it will repel cricketers who currently don't wear helmets; that it adds a layer of cost to an already expensive pastime and removes the freedom of choice.
It's an oddity that something we see on TV, read in the newspaper or scroll with a pinkie on social media from a Test match or the Big Bash League carries more gravitas than our own experiences – which, for those who play cricket, reveal that head injuries happen all the time in recreational cricket.
How about a bit of context, or lack of it, on the numbers? We don't know how many amateur cricketers sustain head injuries because it's tricky to collate the data.
That requires dialogue with the hundreds of thousands who play cricket each year, allied with medical records and wading through the administration like whether the cricketing connection to the injury was ever noted.
Assuming injured cricketers ever decide to go and sit in an Accident and Emergency waiting room for hours in the first place.
But how many injuries is ok and how many warrants a rethink in policy? Should the decision rest with the individual, if they're classed as an adult, or should it be the governing body?
We could chase the arguments round and round but here's a couple, with a subtle counter-point to each:
• Wearing a helmet can be clammy and claustrophobic VS… it's preferable to being thudded in the cranium by a leathery orb with a cork composite.

•    Wearing a lid may encourage a foolhardy rashness when taking on the short ball VS… but that's not the helmet's fault, it's the decision-making of the batsman – which they need to fix.

•    Enforcing cricket helmets for all ages will put off a legion of players and dent participation figures yet further VS… those who choose to play it will be safer.

•    I've never been hit by a cricket ball yet VS… congratulations you have so far, quite by chance, avoided injury but why risk it?
Hands up…who spotted which side of this particular fence I'm straddling – though I understand, if not agree with, the reluctance to dictate from on high. I wish they would but accept that this is a tricky one, in the climate of wanting to nurture involvement in the game.
My personal viewpoint comes from many years of seeing quite avoidable head injuries on the cricket field as well being clonked rather hard by an erratic throw from a bowler when I wasn't wearing a lid and had ventured out of my crease.
Look, I don't like wearing a helmet. However many hi-tech vents you include, it feels like you're walking around with a microwave oven stuck over your bonce, set to grill your facial features like a cheese and ham toastie.
Design of cricket helmets has leapt forward in the last decade but anything that limits my field of vision is taking an already inept batsman and asking him to squint at the bowler through a pair of specs and the bars of a self-imposed prison.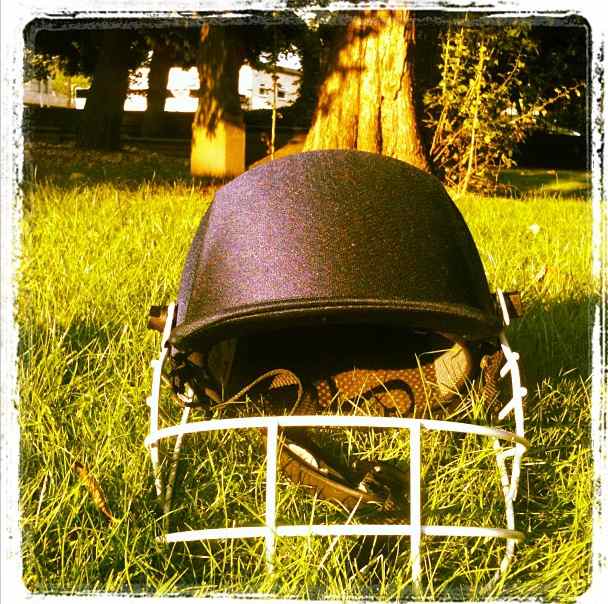 But this season, after a hiatus of a couple of years out, I'll be smudging, glancing and deflecting on council pitches that spin, bounce, reverse swing and otherwise wickedly deviate (sometimes all at the same time), safe and snug in my lid, whose reflective blue lustre glistens in both rain and sunshine.
To return to the debate, a compelling reason to enforce a blanket ruling across all ages and abilities in hard-ball cricket is the decision by the ECB to force professional cricketers to wear helmets for batting or close fielding and wicket keeping from 2016.
It makes no sense to me that a perceived danger relating to head injuries for professionals is any less so for those further down the ladder who are potentially less skilful at the game.
No-one can seriously argue: 'Ah, but in Division 92 of the Upper Dinglewharfe Conference, we never face anyone quicker than an ageing tortoise.'
How fast does a cricket ball need to be travelling in order to break your nose, shatter an eye socket and put you off work for weeks? It's not 90mph. Or 80mph. Or…well, you get the jist.
The professionals vs amateurs angle – and the relative, perceived associated risk – isn't really the crux. 'Should' helmets be compulsory and 'can there be a system to facilitate that' is to tease apart separate threads.
Even if the ECB was to decide on a blanket directive on wearing helmets for recreational cricketers, they would be waiting nervously for the first challenge: 'You have contravened my human rights to express my individuality on the field of play without protective headwear.'
Then, there's the practicality of how this is realistically enforced across thousands of affiliated clubs and formats.
As it stands, the ECB recommends that all recreational cricketers wear helmets which meet the latest British safety standard. The use of protective headgear is already mandatory for all Under 18s.
I'd like to see them invest in a video campaign to share before the new season reminding players what's at stake from not choosing to protect themselves.
Incidentally, my cricket helmet is made by Bristol-based firm, Ayrtek and was purchased years back before they linked up with Adidas and began using empowering hashtags like #Adipower and #Adi-tude (I made that last one up). It doesn't adhere to the new standard but most players won't know if theirs does or doesn't.
Given cricketers tend to change their cricket helmets about as often as they buy new socks, i.e.) once a lifetime, it's not just that many don't wear a lid – but that those that do are using out of date or damaged kit.
As of November 2015, there are more than 20 helmets from seven different manufacturers that meet the new standard. For due diligence, the full list of helmets meeting this standard (BS7928:2013), can be found at www.ecb.co.uk/helmets. You might also wish to read the ECB's new helmet safety measures governing their use.
I know, I know – it's another cost and I don't expect thousands to rush out instantly and buy new gear but given this expenditure may one day save your life then perhaps it warrants priority over a new bat (at a fraction of the cost too)?
Headway, the UK's leading brain injury charity, were kind enough to put together a press release for Cricket Yorkshire on the subject of head injuries in cricket just for this article. Here's their perspective in full:
Cricket helmet law a positive step forward

Headway – the brain injury association has welcomed the introduction of a new law making the wearing of helmets mandatory for professional cricketers.

The rule requires all batsmen, wicketkeepers standing up to the wicket, and fielders closer than eight yards from the batsman's middle stump to wear protective headgear that meets the British Safety Standard.

The England and Wales Cricket Board (ECB) is also recommending that all recreational cricketers wear helmets, while it is already mandatory for all under 18s to do so.

"Over the past few years, we have seen a number of tragic incidents in cricket," said Peter McCabe, Chief Executive of Headway. "The sad loss of Australia's Test batsman Phil Hughes shocked the cricketing world, while there have been several other recent examples of cricketers receiving serious head injuries.

"Cricket is not an intrinsically dangerous sport but there are some risks associated with playing it. It is right, therefore, that the game's law makers take appropriate steps to protect participants without detriment to the sport itself.

"We therefore welcome this development, which we hope will reduce the number of people sustaining head injuries while playing the sport."

Commenting on the ECB's decision to not make helmets compulsory for recreational cricketers, Peter said: "There is a balance to be achieved between protecting people without discouraging them from participation.

"Amateur players are entitled to the same level of protection as professional players – particularly as professionals will have better access to medical expertise should an accident occur.

"Even a minor blow to the head can have a major impact, so players at all levels need to ensure they are properly protected. We hope that amateur players will choose to wear helmets, but this needs strong encouragement via an educational programme led by the ECB and delivered to all clubs across the country."
The timing for this article is partly led by cricket clubs beginning to shake off their winter hibernation to return to January and February indoor cricket nets.
Nets can be interpreted as a bit of a lark – but hey, if you want to try to get used to wearing a cricket lid then now's the time, long before competitive cricket returns.
Be safe…
WHAT DO YOU THINK? Should it be the same for professionals and amateurs? What impact would this have on the game?
Please do share your views on social media with Cricket Yorkshire – @cricketyorks on Twitter or the Cricket Yorkshire Facebook page.
Latest posts by John Fuller
(see all)