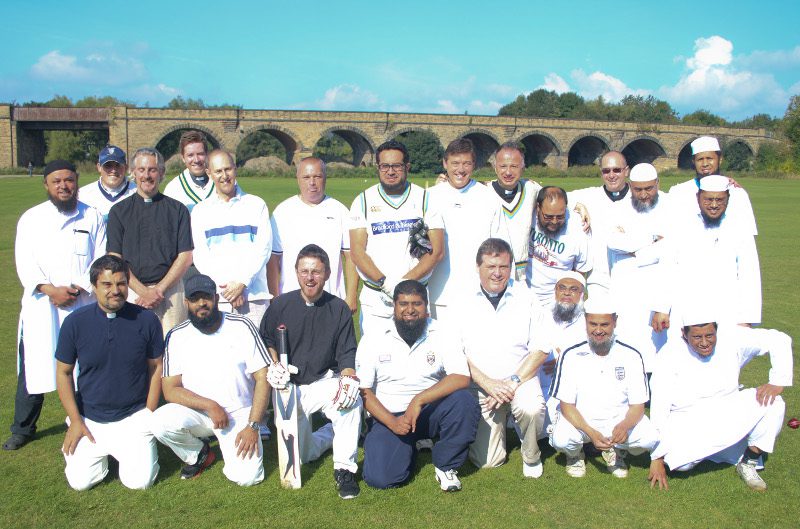 Back in September 2015, John Fuller travelled to Dewsbury to watch an unusual cricket match.
Minutes from the hustle and bustle of central Dewsbury, down a path that melds to the contour of the river Calder, lies a gem of a cricket ground.
With the striking backdrop of the aquaduct, Sands Lane playing fields was the venue for a cricket match over the weekend between vicars and imams, organised by local community group Kumon Y'All.
Outdoor league cricket across Yorkshire might be done and dusted for another season but social cricket continues unabated right up until the Arthington cricket festival in October.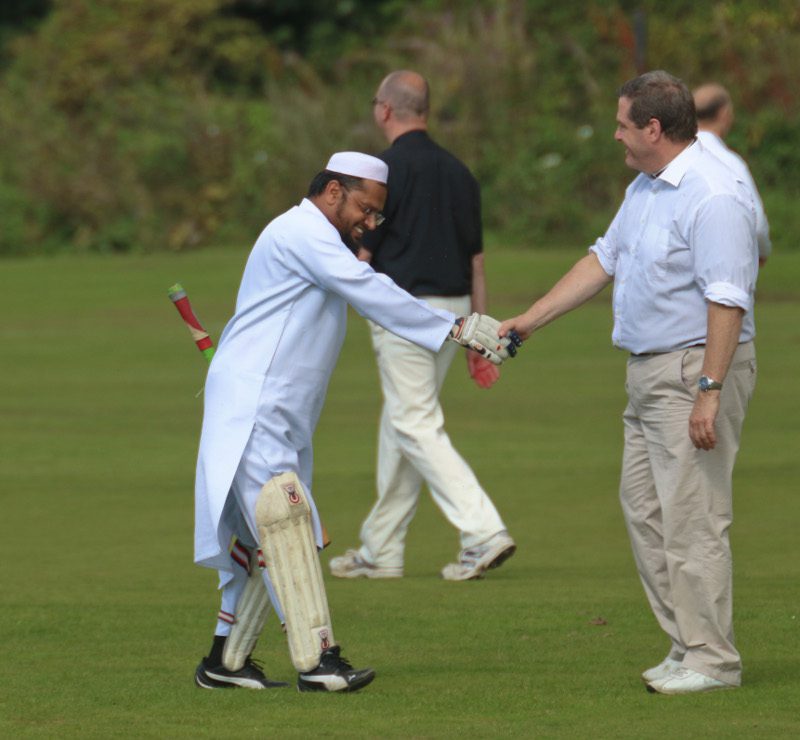 Saturday's inter-faith fixture was laid on to illustrate how those of different religions can socialise, share common ground and build friendships.
This is a refreshing hybrid of tweaked formats between T22 and pairs cricket with each player on both sides getting to bat and bowl for two overs.
Dewsbury has had more than its fair share of lurid national headlines and casual labels thrown at the entire town and while this match between Christian and muslim communities doesn't magically solve the world's problems, it was the friendliest of reminders that there are those in Batley and Dewsbury fighting lazy stereotypes.
The batting partnerships were pulled from a hat and the vicars were the first to test their batting resolve on a wicket that offered pea-rollers and tennis-ball bounce in equal measure.
I recall bowling here once for Shipley Providence against Saville Stars and while facilities are limited to a concrete block with toilets and showers shared by football and other sports, being dwarfed by the arches of the railway bridge on an outfield that felt vast was one of the better grounds to play at.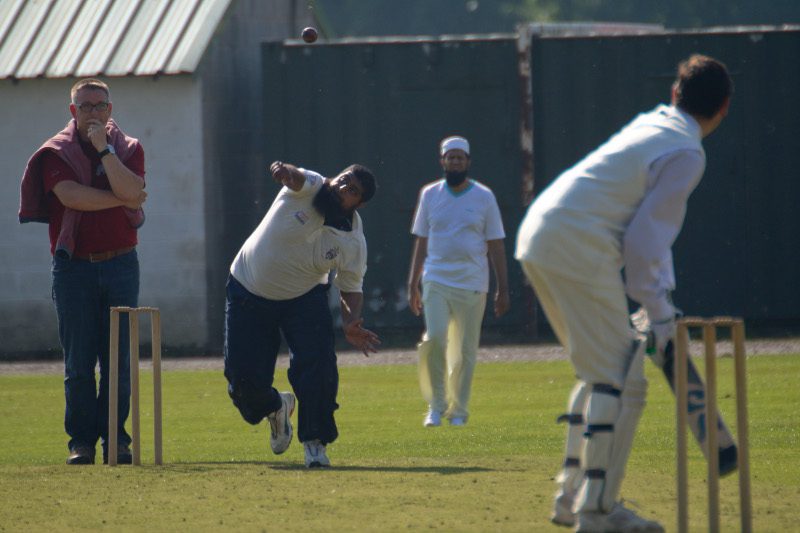 The vicars lose wickets (both sides having five runs deducted rather than having to go off), crash sixes into the bushes and more and more people park up and take an interest.
It may not come as a terrific surprise to some of you who read this website regularly, that I made a beeline in between innings to the food tables which neatly divided my twin loves in life other than my wife…tea and biscuits and Indian food.
Some readers may well now visit Cricket Yorkshire expecting food recommendations rather than stories of cricketing travels such is the volume of cake-related tales and bumper cricket teas and so just for you…
I wouldn't have eaten for days had I known the meat samosas would be THAT good; so much so that it was inevitable I went over to the group of women cooking the chips, onion bhajis and samosas in giant woks over gas fires to seek out who made them and thank her personally.
The camaraderie of cricketers of all abilities including those who haven't picked up a bat for decades will live long in the memory.
The volunteers with bright green 'Kumon Y'All' bibs wasted no time in a brief game out in the middle while the two teams took a breather and powered through the food.
Thanks ought to go to Kumon Y'All for the way they ran the event and to all those who played their part, on and off the field, including Kirklees Council for their contribution and the Yorkshire Cricket Foundation who turned up with a trophy.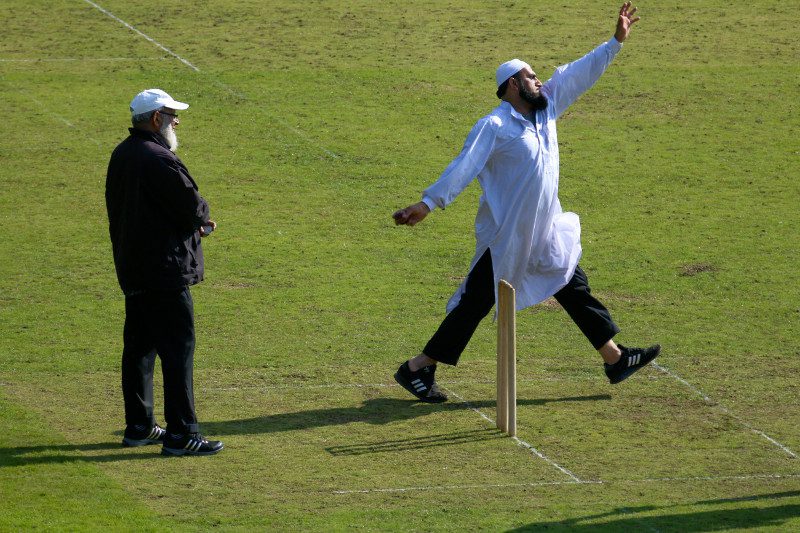 **SHARE THIS ARTICLE FAR AND WIDE**
Time to clamber on the soapbox…hope you can all see me from up here? Please, please share this article and encourage others to read it. Why? Not for any vain reason. No, it's because successful community events like these can pass under the radar of the media, and therefore many of us, if we're not careful.
But this was such a positive collaboration, it deserves to reach an audience far beyond those that were there on the day.
**It's easy to Share the article on Twitter and Facebook with the buttons at the bottom of this article and meanwhile, here's some photos for you below.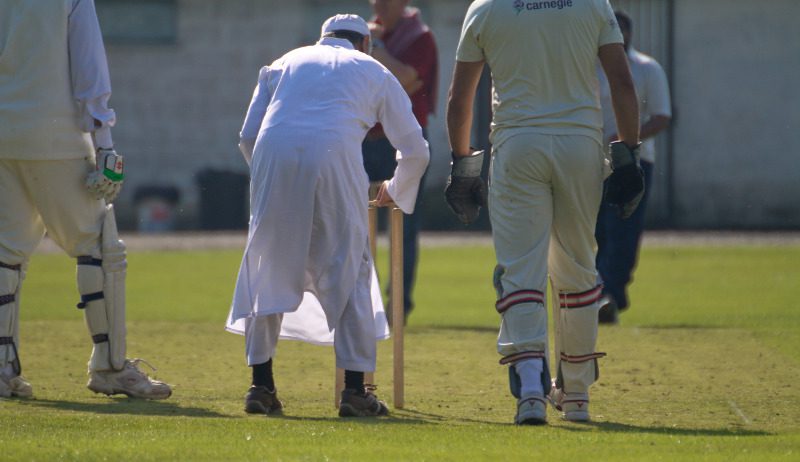 **CLICK FOR THESE MATCH PHOTOS**
There are a range of action photos you'll not want to miss. Just click on the VICARS VS IMAMS link for dozens of pictures from the day. You'll need to put in your email address to see Cricket Yorkshire's photography but hopefully that's a small act for access to cricket photos I'd say are something you don't see every day and worth your time…
Until next time then, during which I'll be writing a cricket book based on the journeys around amateur cricket this summer and planning new adventures for Cricket Yorkshire.
Latest posts by John Fuller
(see all)