A few weekends back, Brian from the Cricket Heritage blog, offered his set of wheels and a pottering journey around Yorkshire league cricket grounds North of Leeds.
The opportunity to ditch the camera in favour of just a smartphone (photos below) and the bus and rail timetables is a real blessing.
Not to mention the fact Brian knows cricket in Yorkshire like the back of his hand having spent years traversing its cities and dales watching the amateur and county game.
First stop is Rawdon, who are warming up for their Aire-Wharfe game, and we do a lap of the ground with its significantly sloping outfield which must be a challenge for anyone on the boundary.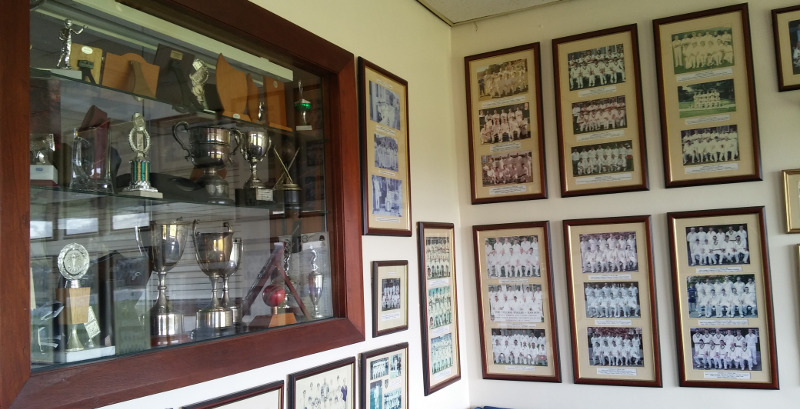 Inside the clubhouse, you get the sense that Rawdon are immensely proud of their heritage (Yorkshire CCC's Hedley Verity and Brian Close played here after all) with trophies, team photos and memorabilia aplenty.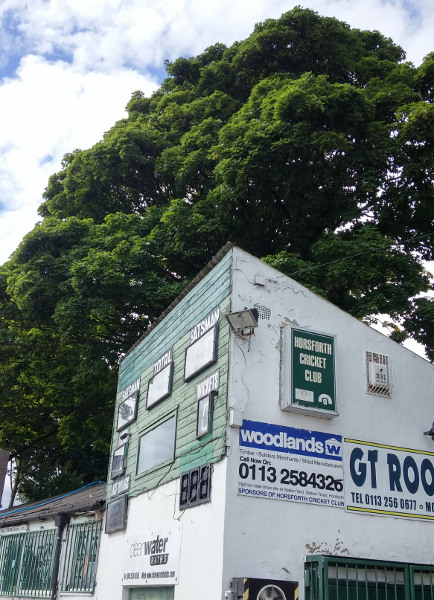 No rest for the wicked so it's a pitstop at Horsforth CC who are at home to Colton. They look to have had a burglary issue judging by the entire frontage of their clubhouse and tea bar which is covered in green metal grills; sad but presumably effective.
Squads are going through drills and to the right, there's the foundations of a future pavilion; Brian natters to the umpires then it's back in car….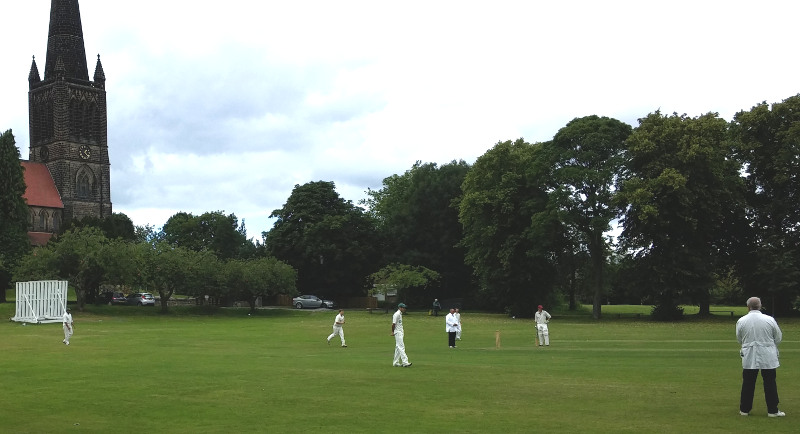 We scoot off to St Chads; I have played a few Last Man Stands games here in a Leeds social league and it's always grand catching up with Paul, who is driving their club forwards with more teams forming at the same time as many others elsewhere are having to concede fixtures or fold.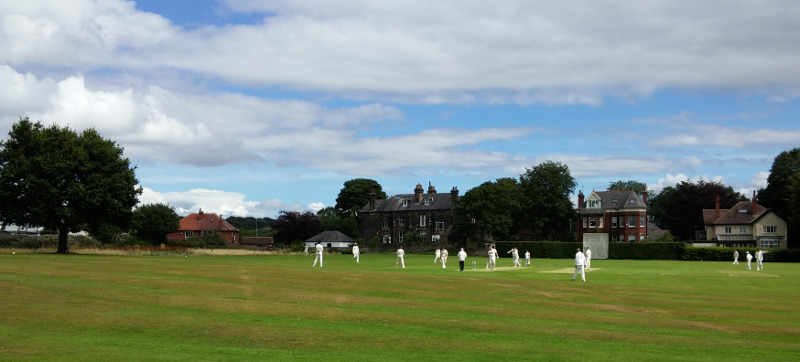 Down the road is their other ground at Richmond House School on Glen Road where St Chad's are taking on Headingley Bramhope CC. It's notable for a petanque gravel pit (that's those steel boules aimed at a wooden coche popular in France and for any dogs looking for a convenient loo break.)

New Rover CC was the next ground to dip into; a triumph in sculpting a cricket ground from nothing thanks to financial backing from the Richmond family and the groundmanship of Keith Boyce who still lives in a house behind the ground.
Another massive ground with no shortage of facilities and a short, white fence that catches the eye but the nearby ring road makes a right racket. The clubhouse has a hint of the alpine ski chalet about it (that's a compliment by the way).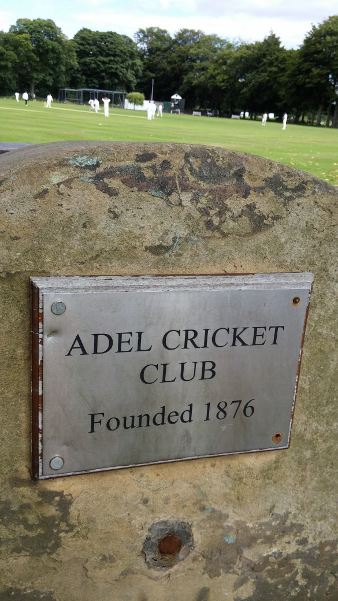 En route to Adel CC, a fox bounced down the footpath in broad daylight, you see them at night, bold as brass, in the suburbs of London but the first time here in Yorkshire looking relatively fussed to be out and about during the day.
Adel was a crackerjack of a ground; could very contentedly sit there all day watching the game. From its tree-lined position to the stylish black and white scorebox on the far side to the lemon cake in the clubhouse, this was a close contender for the ground of the day.
Ben Rhydding were the visitors and Christmas had arrived early in the form of a bustling fast bowler called Kervan Christmas who was proving a handful.
Out the back, the Adel thirds were taking on Crompark in the Dales Council league and while the standard wasn't anything like as strong, it was a competitive battle on a ground that sits next to a hockey astro-turf pitch and football field.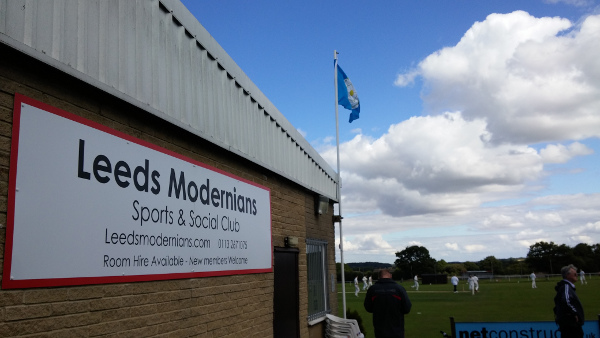 Leeds Modernians cater for rugby, football and cricket with the latter teams in Division Three of the Aire-Wharfe Senior Cricket League. We rocked up with the football on and screaming from the sidelines while there was leather on willow next door.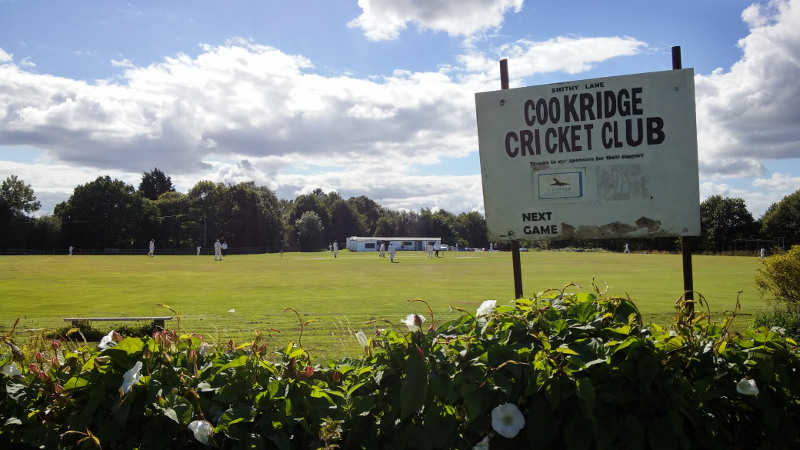 A few streets away but with an entirely different feel is the village cricket setting of Cookridge Cricket Club; a no-frills set-up who were playing Woodhouse in the Dales Council League.
The ECB recently emailed to remind me of my 3-11 against Cookridge back in 2011 in an effort to get me playing again. Can't have been at this ground, I'd remember it, on a day as it was, very civilised way to spend an afternoon…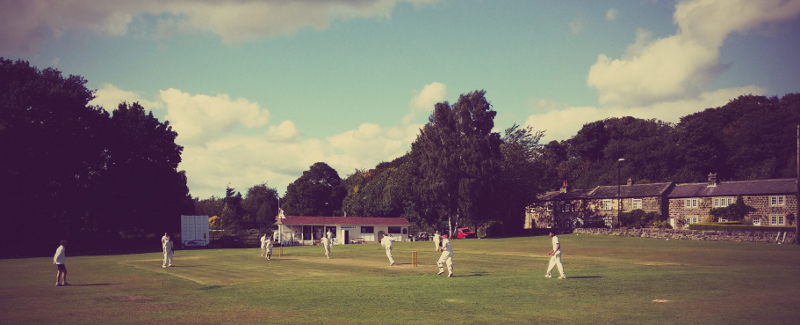 We had places to be, however, so it was off to Meanwood Cricket Club and arguably the find of the day. Another picture-postcard ground with pretty stone houses across the road and a real sense that Meanwood are proud of their club and has real personality.
Their green and yellow logo is all over the ground like an all-year-round easter egg hunt and in the kitchen where the remnants of the really, really good teas were eagerly accepted, it had all manner of treasures from a bespoke trophy with broken pane and smiling bails to red tables painted to look like cricket balls.
We tried dropping into Caribbean CC with its fine views down into the centre of Leeds but the lads were packing up and as it was only 4.30pm, someone had been royally thumped.
Alwoodley were taking on New Rover 1st XI so we took a walk round their ground before cutting through to another match going on, Old Leodiensian Cricket Club at home against Hillam & Monk Fryston.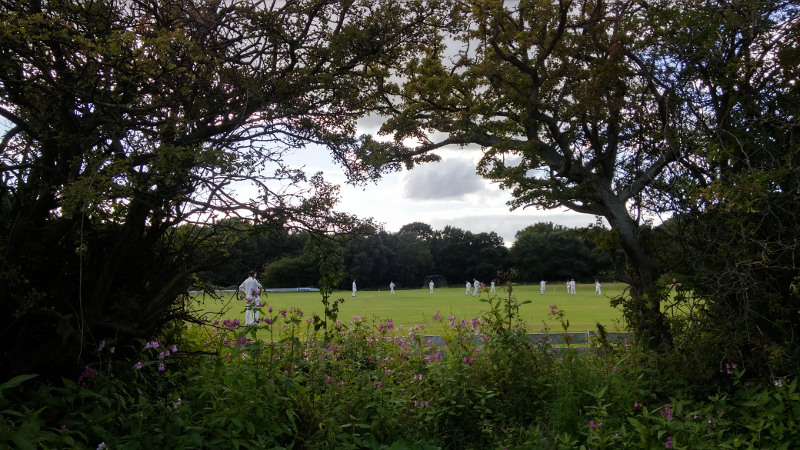 Old Leo's, with their short white fencing round part of the ground, reminded me a bit of Old Rover CC and it was to be the second last ground of the day as we hopped back into the car and wound our way through countryside before pulling into Pool Cricket Club.
Pool were at home to Tong Park Esholt and the Arthington Road ground was a popular place to be in the early evening sun as the home side's first eleven closed in on twenty invaluable league points for victory.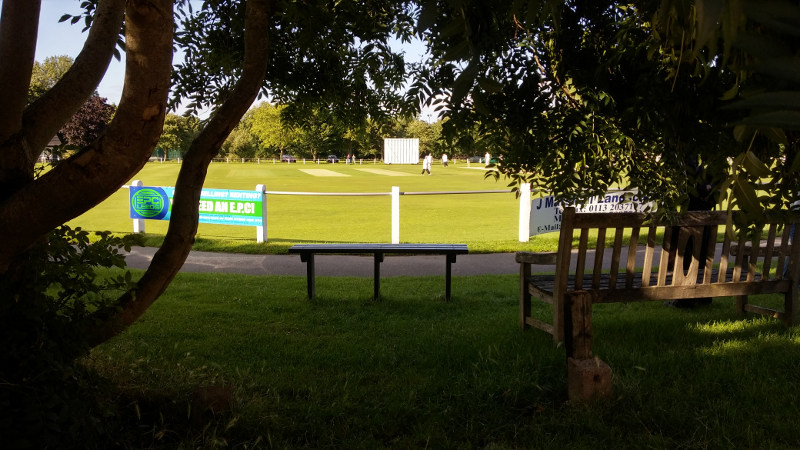 I make that thirteen grounds where we caught some cricket action across a number of leagues and most of them just a few miles from Leeds to demonstrate how compact cricketing communities can be in parts of Yorkshire.
It wasn't about notching up grounds but getting a flavour for the breadth of clubs, their playing standards, facilities, undulating geography and sure, since you asked, their hospitality, teas included. Adel and Meanwood struck a particular chord on another terrific day of exploring grassroots cricket in the county.
Latest posts by John Fuller
(see all)