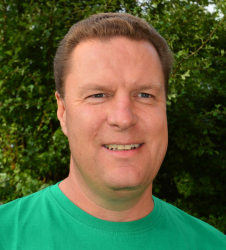 Latest posts by Andrew Gallon
(see all)
Cricket has many unsung heroes, without whom games couldn't happen.
Groundstaff – pitch makers, they like to be called now – are right up there.
I made a long overdue first visit to Scarborough Cricket Club's North Marine Road, to watch the Yorkshire Premier Cricket League North's T20 Finals Day.
The previous two days were so wet, Friday and Saturday fixtures at the ground had been postponed and abandoned, respectively.
It was drizzling as I drove away from York but Scarborough's weather forecast predicted 40 miles per hour winds to ease and, after lunch, sunshine to replace cloud cover.
Credit, then, to the hard-pressed Scarborough pitch makers, who have also been preparing a pitch for Yorkshire's July 25-28 County Championship fixture at North Marine Road with Division Two leaders Durham.
They put some serious-looking equipment to effective use, and ensured play began promptly, at 10 o'clock.
The rest of the proceedings, amid improving conditions, went off without a hitch.
Such a shame an entertaining day's cricket, which as you'd hope built steadily to an exciting climax, was witnessed by so few.
When Harrogate and Driffield Town began the final, late in the afternoon, I counted barely a hundred onlookers, rattling around a ground capable of holding 11,500.
North Marine Road's record attendance – 22,946 – was established in 1947, during a Yorkshire-Derbyshire fixture.
I'd sent my wife, unable to attend because of preparations for a week working in Liverpool, snatches of video taken on my mobile. "Are you the only spectator?!" she asked.
Some of those who had made the effort to attend questioned – as, indeed, did I – the wisdom of having this showpiece occasion at Scarborough.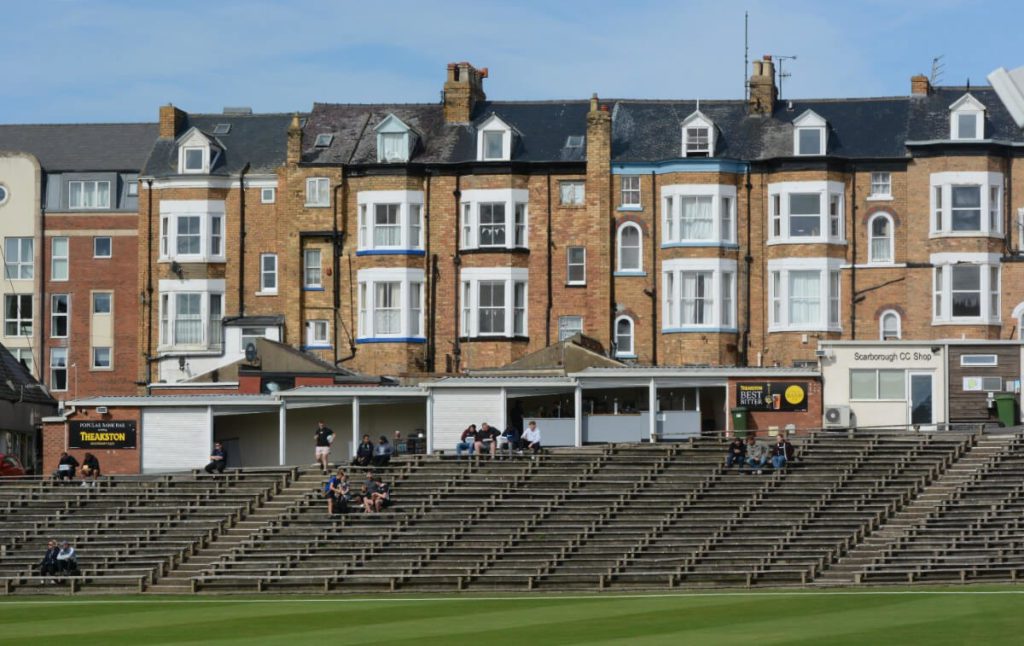 Impressive though North Marine Road's facilities undoubtedly are, Scarborough is not an easy place to reach, even by car, which is much more flexible than bus or train.
Let's face it: the A64 and the A170, punctuated by long stretches of 30, 40 and 50mph restrictions, are awful.
At least, a little after eight on a miserable Sunday morning, the roads were quiet! It allowed time, en route, to admire the grounds of the Ebberston and Snainton cricket clubs, members of the Scarborough Beckett Cricket League.
I dread to think what getting to North Marine Road, for a noon start, must be like on a scorching summer Saturday, when the world, his wife and their kids are Scarborough-bound, vehicles nose to tail, occupants steaming with frustration over the jams.
Unfortunately, the North Marine Road ground is on the wrong side of town for anybody incoming via the A64 and the A170, and there isn't any on-site parking to speak of.
I hate – hate! – paying to park, therefore opted to leave the car on a street on the fringe of Scarborough's extensive disc zone (noon-5pm restrictions apply on Sundays). From there, it was a 15-minute walk to the cricket.
Fellow spectators told me the 2022 YPLN's T20 Finals Day had been at Woodhouse Grange Cricket Club – and attracted a very good crowd.
One informed me York Cricket Club had declined an invitation to host the 2023 version. Clifton Park, of course, would have been much handier than Scarborough for three of the competing clubs: Castleford, Harrogate and Woodhouse Grange.
Support, as a suitable final venue, was voiced for Sheriff Hutton Bridge Cricket Club.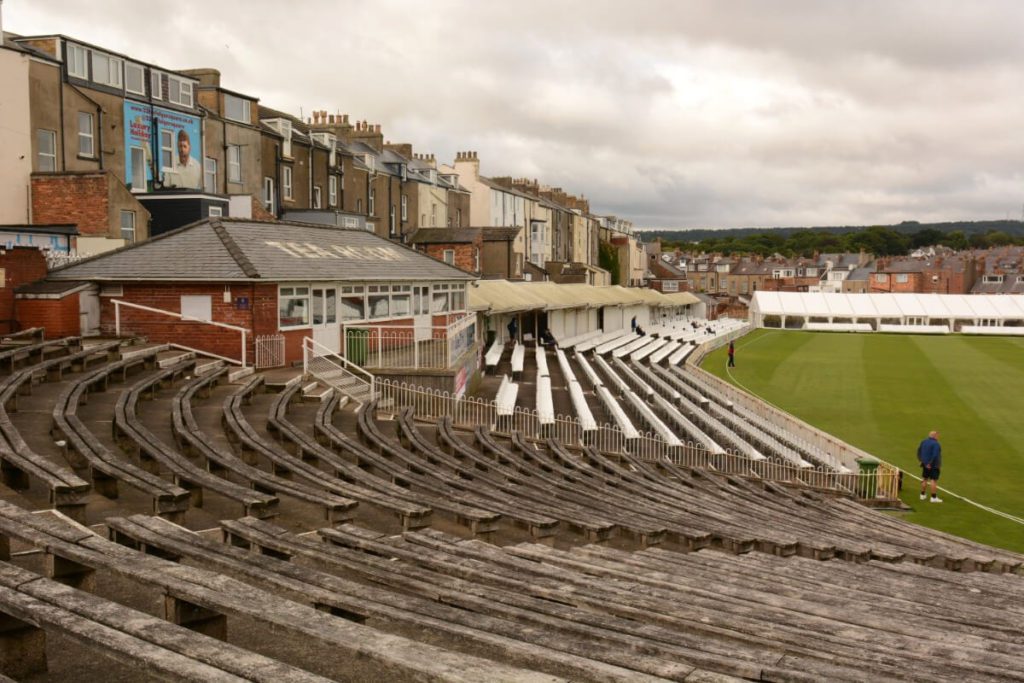 Given the welcome opportunity to visit a new ground, I wasn't bothered. But I did feel sorry for the players. A red-letter day in their summer yet so few present to share and enjoy it.
To say North Marine Road, opened in 1863, is a 'storied' cricket venue is an understatement. At one time or other, most of the game's star players have performed there.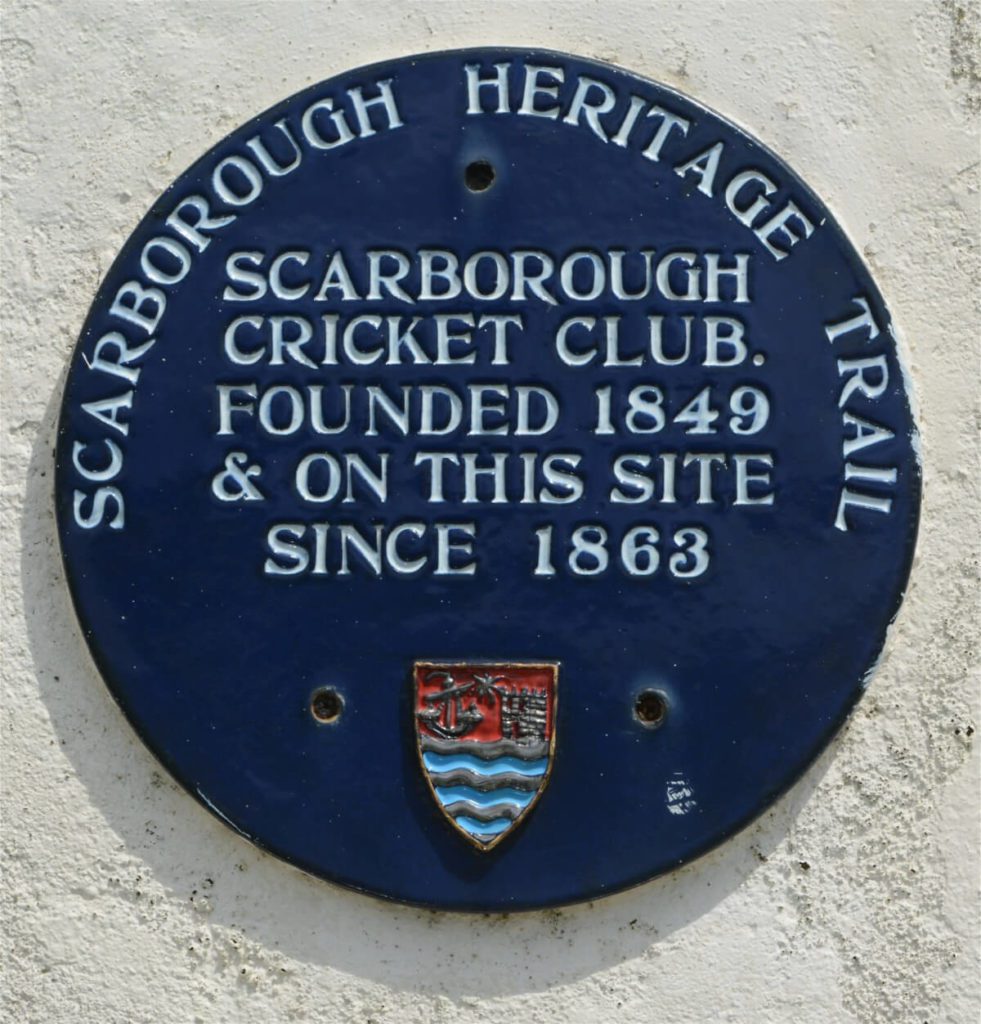 Defunct Scarborough FC, established in 1879 by members of Scarborough Cricket Club, played their earliest games at the ground.
The first 'football' match, between Hull and York, was under rugby (union) rules. The association variant, a Scarborough fixture against Bridlington, made its debut in 1880.
A tale familiar across Yorkshire: the cricketers, whose club had been founded in 1849, simply sought a sporting activity to fill the empty autumn and winter months.
I'd describe North Marine Road as a ground of two halves: the north (Peasholm Park) end and west side, with their hulking stands, containing row upon row of dazzling white, tip-up seats, are like any other County Championship ground.
Much quirkier – to me, far more interesting – are the east side and the south (Trafalgar Square) end.
The entry off seedy-in-parts North Marine Road is through a narrow gap between the four-story tenement-style houses that tower over the east side and the south end.
As a shoehorn between homes, it is not unlike the entry arrangements for Arsenal FC's west stand (upper tier) punters, when the Gunners played at Highbury.
At North Marine Road, the Scarborough Cricket Club offices, alongside the entrance, are housed in a triangular, three-floor building with the appearance of a yacht club HQ.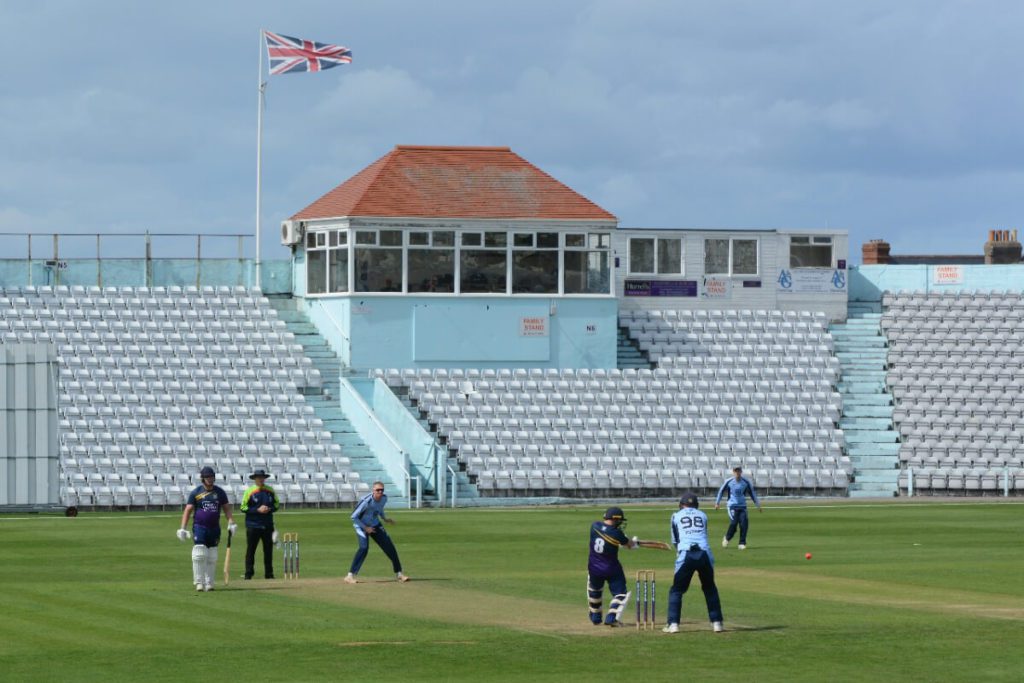 In front are numerous rows of wooden bench seats, the sort that disappeared years ago from most venues permitted to host senior sport. The seats fan out, in a wedge, towards the southeast corner, where there is a substantial tea room.
Once commonplace in cricket (Headingley's renowned Western Terrace?), the benches reminded me of the cut-price route defunct Clydebank FC took, in the late Seventies, to transform their 'lost' New Kilbowie Park ground into one of Britain's first all-seat stadia.
The south end of North Marine Road has conventional, tip-up seats – laid out in a slender wedge, following the line, behind, of Trafalgar Square's tall residences.
The rearmost seats boast a rudimentary cover, albeit supported by ornate, cast-iron column brackets; of the type favoured by the builders of Victorian railway station roofs.
The amount of rust peeping through the white paint betrays a salt-laden atmosphere. The never particularly inviting North Sea is just a couple of hundred yards away.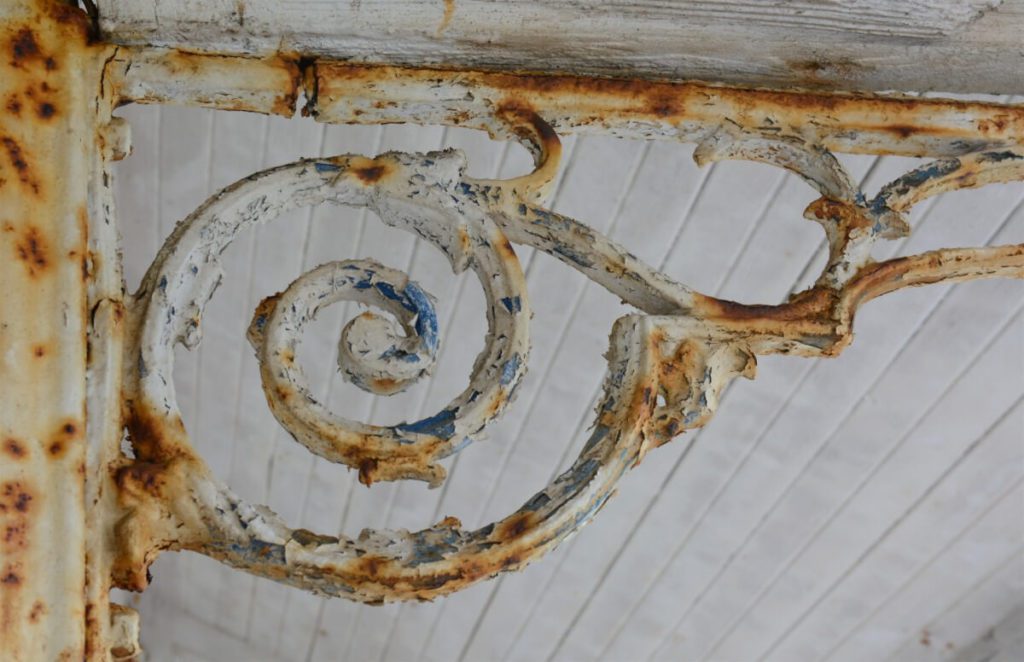 A substantial, red-brick, two-storey pavilion, in the northeast corner, is North Marine Road's pride and joy.
Of traditional layout, it has dressing rooms on the ground floor, above a seated paddock and either side of central steps leading to the pitch. The second floor features a spacious bar, a balcony (for the prawn sandwich brigade) and several hospitality rooms.
---

A real bonus of attending lesser events at big cricket grounds is the ability to wander at will. No stewards asking: "Do you have a ticket for the pavilion, sir?"

---
Taking advantage, I had a good look around. The view from the balcony is everything you'd expect. On the stairs, an entire wall is given over to a black-and-white aerial view of a packed North Marine Road. Taken in the Forties or Fifties, I would think.
Bits of history are highlighted, including the purchase of the ground, for £7,000, in 1878, from John Woodall. What must the land be worth today?
On only three occasions, the mural advises, has a ball been belted over the south end houses and into Trafalgar Square.
The so-called Big Hitters are C.I. Thornton (1875), G.F. Wells-Cole (1901) and C.G. Pepper (1945).
The pitch, which to my surprise has a slight slope, is a decent size. They say Scarborough is receptive to spin and has a fast outfield.
Good to note the absence of incongruous floodlights, whose giant pylons have scarred many county grounds and their environs.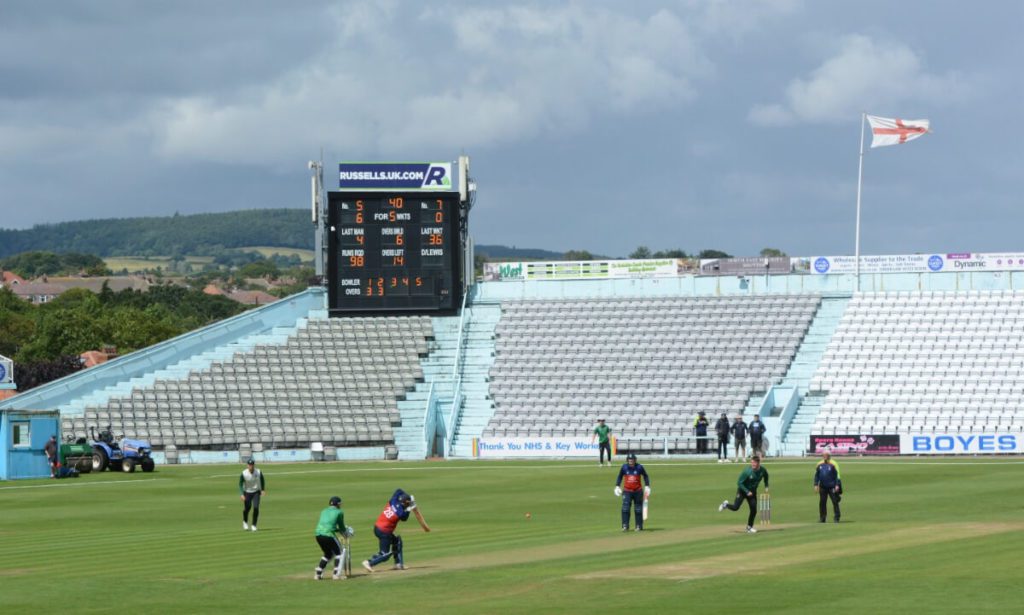 The salty air isn't the only hint you're by the sea. Overhead, gulls swoop and dive, screaming constantly. Has one ever been downed by a well-struck ball?
North Marine Road's public address was used to provide bursts of T20-appropriate music. But, disappointingly, no information about any of the three games was relayed. Thank goodness for live scoring on playcricket.com!
Posters advertising the event referenced a £1 match programme. Queries about it drew a succession of blank looks. Maybe the league booted the idea into touch.
The first semi-final, contested in a howling wind, was between Harrogate and Woodhouse Grange. The latter won the toss and elected to bowl.
Harrogate, wearing a mix-and-match variety of green and black kit (and chill-defying white sleeveless jumpers), recovered from 30-3 to post 137-9 off their 20 overs.
Opener Arjun Ramkumar hit 52 off 37 balls and captain Will Bates, in at five, 31 off 32. Tom Neal's four overs garnered 2-13.
Woodhouse Grange paid dearly for seemingly going too fast, too soon. At 46-6, they were in serious trouble. Recovering to 121-8 off 20 overs, they fell 16 runs short.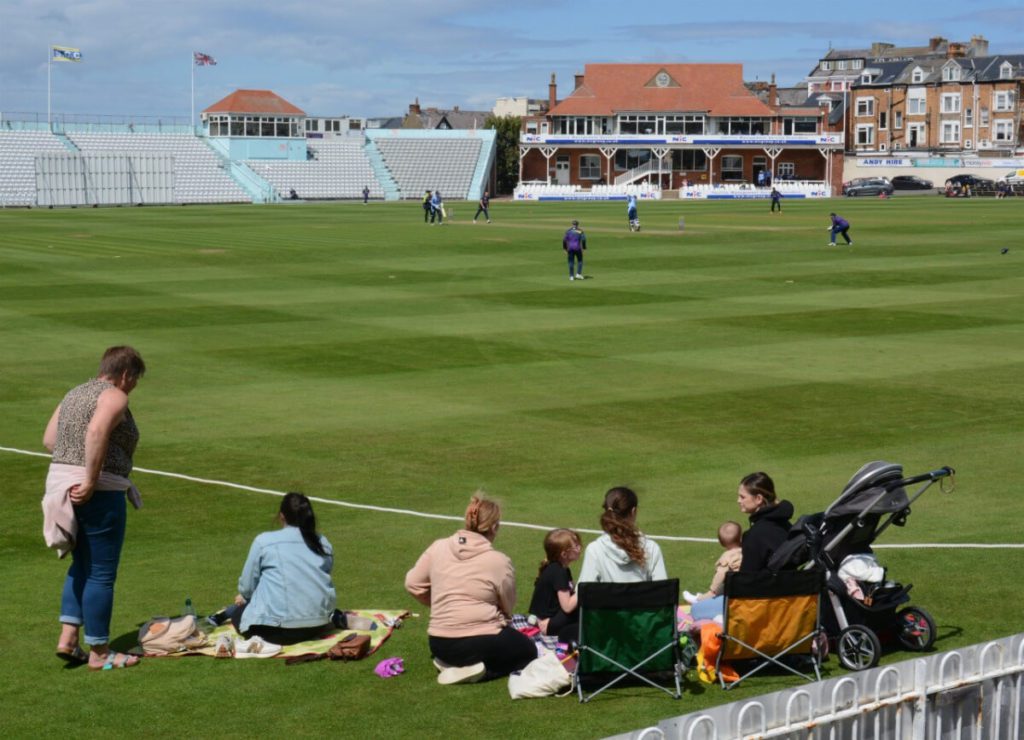 South African Mat Pillans's fast-medium bowling resulted in figures of 5-17 from his four overs while Tom Young, in at five, clubbed an unbeaten 60 off 51 balls.
Having won the toss ahead of the second semi-final, light and dark blue-clad Castleford opted to bat against Driffield Town.
Opener Liam Hyde's 45 off 56 helped Cas to 126-6 from their 20. Skipper Calum Rowe took 23 balls to reach 28. Alec Drury and James Anson each finished with 2-20.
Driffield Town sent out a warning by cruising to 127-0 in 14.2 overs. Castleford cannot have been happy with some of their fielding. One or two avoidable boundaries!
Owen Goldsworthy, whom I gather has struggled for a big score this season, piled up 85 not out off 48. His knock featured six sixes and seven fours. Alec Drury made 37 not out off 39.
So, to the final. By now, it was positively balmy.
Driffield Town won the toss and elected to bowl. Perhaps captain Sam Drury felt Drury and Goldsworthy would benefit from a break.
Harrogate lost Sanjay Mani (3) during the second over and, by the 12th, had subsided to 85-5. Three wickets went down for the addition of just one run.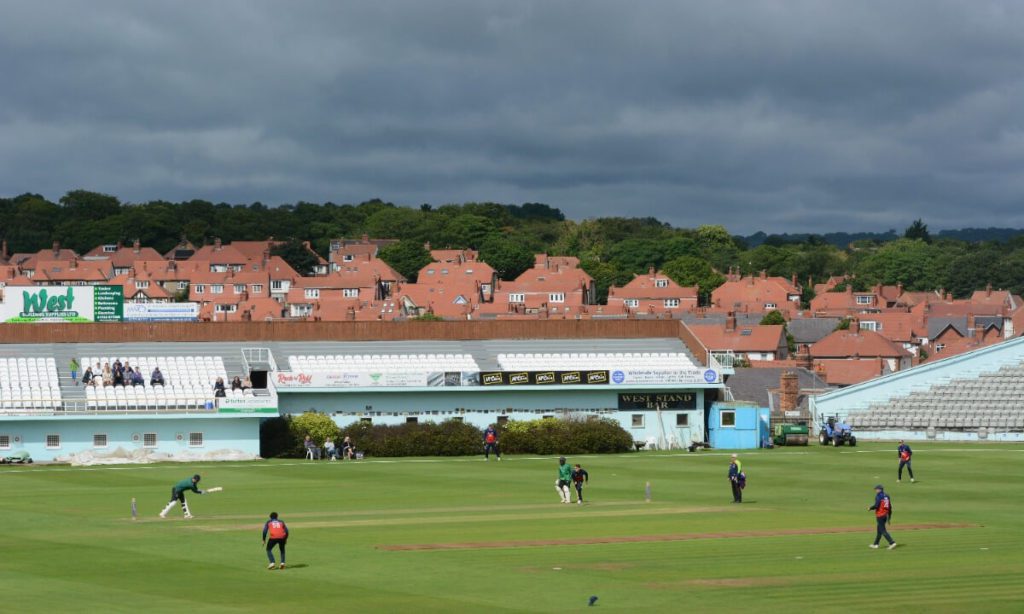 There followed an unbeaten sixth wicket stand worth 58. Ex-Hanging Heaton all-rounder David Stiff (33 not out off 28) and skipper Bates (33 not out off 35) advanced Harrogate to 143-5 from 20. Harry Allinson chipped in with 37 off 31 and Ramkumar 29 off 18.
Sam Drury picked up 2-26 from his four overs. His wickets came in consecutive deliveries.
Clearly, 143 was a defendable total. Driffield Town certainly had to work much harder than they did against Castleford.
At halfway, with Goldsworthy gone for 19 to a well-pouched catch by Matthew Stewart, the comparable scores were 75-2 (Harrogate) against 72-1 (Driffield Town). Nothing in it.
Alec Drury, who scored 66 not out off 62, again proved an immovable object. George Drury, Alec's brother, in at three, contributed a useful 32 off 29.
The Woldsmen, sporting colours appropriate to their kit sponsor, Purplebricks, required 31 off the last four overs then five from the final six balls.
With Drury off strike, I wondered if Harrogate might snatch victory. But, off the second ball of the final over, confident Tom Welch, in at six, bashed a huge six into the Trafalgar Square End seats, taking his team to 146-4 and a six-wicket win.
As Yorkshire Premier Cricket League North champions, Driffield Town go forward to their Regional Finals Day of the ECB National Club T20 Championship. It is at New Farnley Cricket Club on Sunday, August 6. Also taking part will be Burnmoor (North East Premier Cricket League), Richmondshire (North Yorkshire & South Durham Premier Cricket League) and Woodlands (Bradford Premier Cricket League).
Meanwhile, Barnsley Woolley Miners won the Yorkshire Cricket Southern Premier League title and now head to Sandiacre Town Cricket Club on Sunday 6 August, in a group that also has the Derbyshire, Lincolnshire and Nottinghamshire T20 winners. In the Vitality T20 Plate, Cawthorne will host the winners of the Bassetlaw League competition in the area final on that same Sunday.