As Sara Begg reports, a new West Yorkshire women's softball league is up and running.

New for 2022, the softball league has 20 teams taking part, regionalised into groups: Leeds, Calderdale, Huddersfield, Aire Valley and Bradford.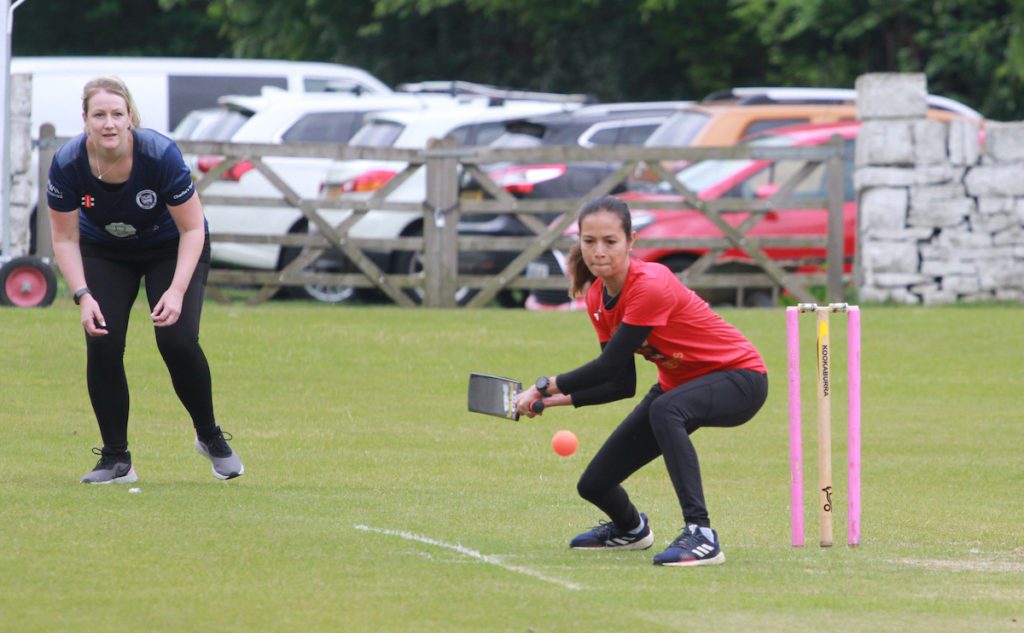 Sunday 15 May 2022 marked a historic occasion as four Huddersfield clubs went head-to-head in the inaugural round of the West Yorkshire Women and Girls Cricket League (Huddersfield group).
While Thongsbridge hosted Thurstonland, Denby Dale played host to Lascelles Hall, in the 8-a-side introductory format competition.
---
Played with a soft ball and batting in pairs, the league aims to provide a fun and friendly way to bring more women into cricket, while giving girls who have come through age-group cricket an opportunity to shine.
---
At the clash between Denby Dale "Jedi" and Lascelles Hall, Lascelles Hall won the toss and put Denby Dale into bat.
The Dale started brightly with some strong hitting from the off. Consistency was the name of the game, with three batters scoring 11 runs (Zara Firth, Millie Burns, and Jenny Drage) as part of three 20 run partnerships.
The mother/daughter duo of Erin Wood and Sarah Wood pushed the score along at the end, posting 23 runs in their final 4 overs (with Erin scoring 22 off just 15 deliveries).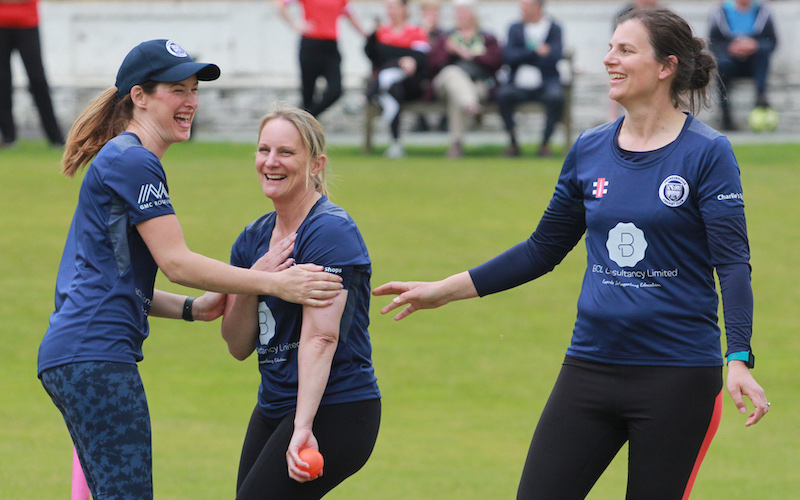 Ultimately, having scored 122 with the loss of 7 wickets, Denby Dale finished on a net score of 187.
Lascelles Hall were aggressive in the chase, with some hard-hitting, particularly by Zillah Doyle who put on 36 runs off 29 balls at the top of the innings, and a run-a-ball 17 from Kirsty Roden.
Consistent contributions throughout meant that despite losing more wickets, Lascelles Hall finished on 146/11, for a net score of 191 and a 4-run win for Lascelles Hall.
Down at Thongbridge, Thurstonland "Thundercats" won the toss and inserted the hosts, who batted steadily but were the victim of some excellent catching, particularly a fine effort diving forward as wicketkeeper by Maisy Carr.
Economical bowling by the under 18 contingent – Ruby Swift and Carys Coldwell – ultimately restricted Thongsbridge to 105/8, with a net score of 165.
Thurstonland were positive in their response with both the first and second pairs setting the tone targeting the square leg boundary and Kathryn Smith finding the straight boundary over the bowler's head.
Thongsbridge's opening bowler Sarah Bassett bowled excellently and pouched two very good catches at midwicket to trigger a wobble towards the end of the innings.
In the end, Thurstonland's boundary hitting in the latter stages proved the difference between the two sides as Maisy Carr struck 23 and Sophine Jedrzejczak 19, with Thurstonland finishing on 156/5 for a net score of 231, and a win by 66 runs.
Throughout both games, the supportive attitude both within and between teams was apparent – warm encouragement by the batter at the non-strikers end when bowlers "lost" their action (having only just taken up cricket a couple of weeks before), or the cheerful comment of "nice shot!" by the wicket-keeper as the ball raced away to the boundary – were the true highlights as this development-focused league takes its first steps.
The remaining scheduled fixtures are all available on play-cricket – good luck to all teams for the rest of the season!
Want to start a women's cricket team?
If any other cricket clubs within the Huddersfield Cricket League are interested in starting a women's cricket team, please do get in touch with Katie Stewart (Yorkshire Cricket Board)
[email protected] for advice and support.
There is a small start-up grant available for clubs to kickstart a women's team, and plenty of opportunities to plan friendly games this summer to help motivate new players.
With clubs including Denby, Shepley, and Holmfirth also running activities for women or girls, and a new session supported by YCB starting on Saturdays in Fartown, now is an exciting time to get involved in the women and girls game!
Thanks to Sara for this round-up and all the best to teams in the West Yorkshire Women's Softball League for future games.
There's a lot happening in the region (and more broadly in Yorkshire) including a women's hardball league for West Yorkshire too. More to follow on that…
Latest posts by Cricket Yorkshire
(see all)