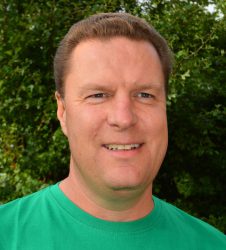 Latest posts by Andrew Gallon
(see all)
The sports ground 'collector' is always on the lookout for something different.
Playing inside a racecourse circuit – as do Thirsk Cricket Club – counts as unusual.
Not unique, though, in my experience. Two decades ago, I watched Racing Club Warwick in a Southern Football League match at a ground enclosed by the town's racecourse.
I should say, at this point, I have no interest in betting therefore none in horse racing.
A certain irony here because, for eight years, my pre-retiree mum worked as PA to the chairman and the managing director of a racing publications firm. In that role, she attended several UK racecourses.
On numerous occasions, her boss offered complimentary tickets to watch a meeting at any racecourse I fancied. Sorry. Just not my thing.
My then-colleagues, some of whom would bet happily on raindrops rolling down a windowpane, were appalled. They'd have been in like Flynn.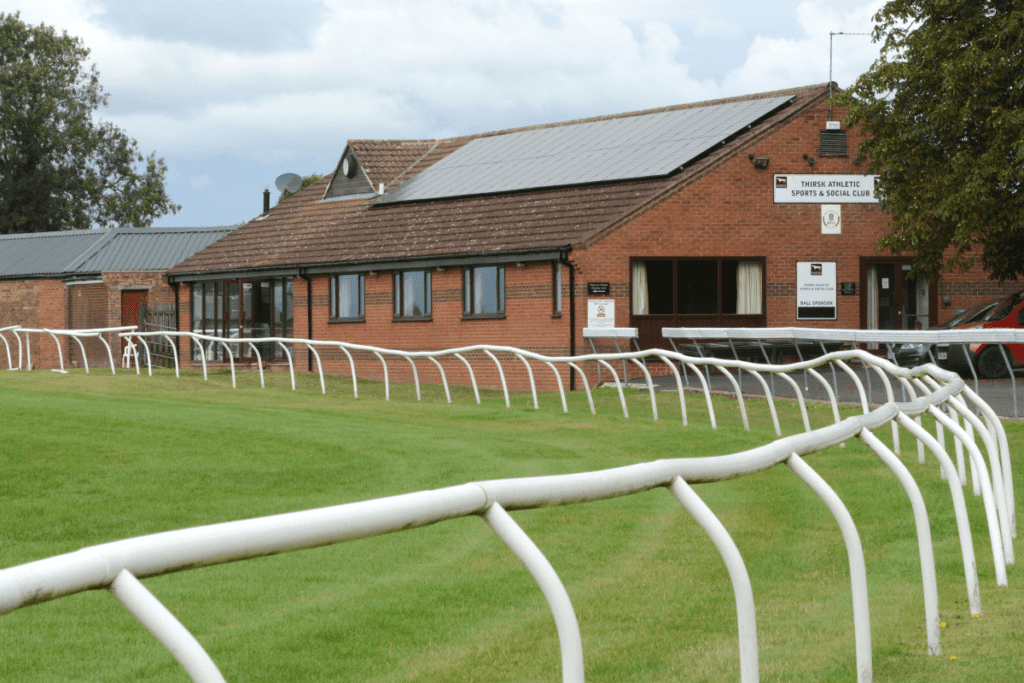 If you do go to Thirsk Cricket Club, made sure you watch from the near (northeast) end.
Looming large, beyond the wicket, the racecourse's stands provide an impressive, tantalising backdrop.
The main grandstand, the Hambleton Stand – more trimmings than a Christmas turkey – dates from 1924, when the present course opened after a 10-year wartime shutdown.
With very little imagination, one can feel a Yorkshire Premier Cricket League North match is being played at Lord's.
---
Lord's? Another Thirsk connection. Thomas Lord, driving force behind the creation of the world-famous Marylebone Cricket Club ground, hailed from Thirsk.
---
Thirsk Museum – on Kirkgate, the same street as its better-known World of James Herriot counterpart – is the house in which Lord was born, in 1755. A room is dedicated to Lord.
The bar in Thirsk Cricket Club's clubhouse has an ornate memorial plaque to Lord. Worth seeking out. From the entrance, turn right then left. It's on the wall to your right.
Thick cloud, a stiffish breeze and a one-in-five threat of rain notwithstanding (it bucketed down near Easingwold on my drive up the A19), the final summer Bank Holiday of 2022 seemed like the perfect time to visit Thirsk Cricket Club.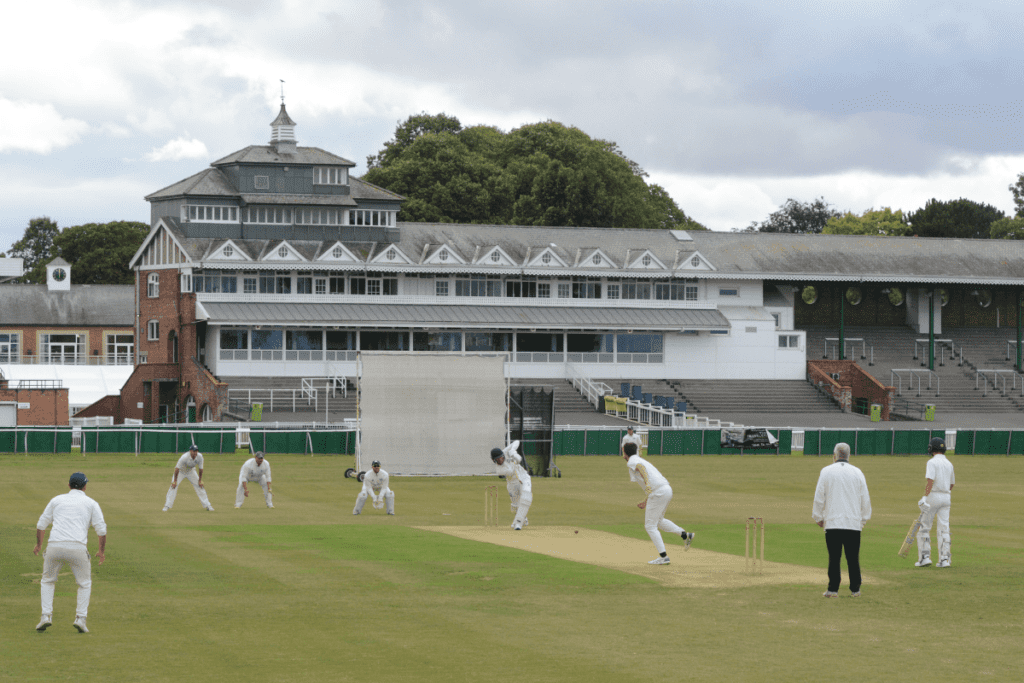 Thirsk were hosting Knaresborough, a first-versus-second showdown in Division One West (i.e. tier three) of Yorkshire Premier Cricket League North.
Knaresborough trailed by a single point, with three matches (including the Bank Holiday fixture) to be completed.
Defeat for either wouldn't be a disaster. Well clear of the division's knee-pumping peloton, both are assured of promotion. But it's particularly gratifying to go up as champions.
As a neutral, I was looking forward to a close contest. I didn't witness one. Knaresborough, who played like champions, won by 166 runs. A landslide. 
---

Ten match points to nil enabled the visitors to leapfrog Thirsk into top spot and secure promotion to the league's Championship division.

---
The afternoon began well for Thirsk, who won the toss, elected to field, took the wicket of captain Greg Pickles with the innings' second ball then reduced Knaresborough to 23-2.
Unfortunately, that was about as good as it got for the home team.
Tashmial Henry (82 off 66 balls), in at four, and opener Harry Dawson (52 off 65) put on 103 for the third wicket.
"C'mon, lads. Bang, bang," was the forlorn rallying cry from the Thirsk ranks.
Henry, a UK passport-holder from the Caribbean, was superb to watch. Despite apparently minimal backlift, his shots frequently sped away to the boundary. Thirteen fours and a six.
Two of Henry's team-mates, allocated to moving-the-sight-screen duty for the left-hand, right-hand combo, were full of admiration. And they see him in action every week!
Once Dawson and Henry were out, Knaresborough's momentum faltered momentarily, only for Dave Girling (67 not out off 52) to guarantee a spirited gallop down the home straight.
The visitors rattled up 270-8 from their 50 overs. Thirsk captain Ben Crewe took 4-43 from 13 overs, Tom Spence 2-59 from 11.
---

Four dropped catches – none of them straightforward, certainly on an afternoon chillier than we've become used to – didn't help Thirsk's cause.

---
A local, part of a group adding layers as the game wore on, described the racecourse as the "coldest place on planet Earth". And here's me thinking that's Wigton Cricket Club!
One disappointment. I didn't get to see bat the visitors' celebrity No 11, former England, Bristol Rovers, Crystal Palace, Leeds United and Everton goalkeeper Nigel Martyn.
Martyn, who doubtless has one of club cricket's safer pairs of hands, was behind the stumps in the second innings.
Earlier this season, on a visit to Eppleton Cricket Club, I saw Newcastle United midfielder Sean Longstaff playing for Tynemouth in a North East Premier Cricket League match.
A couple of Longstaff's Tynemouth team-mates told me he prefers cricket to football. The wages differential? Maybe not so much.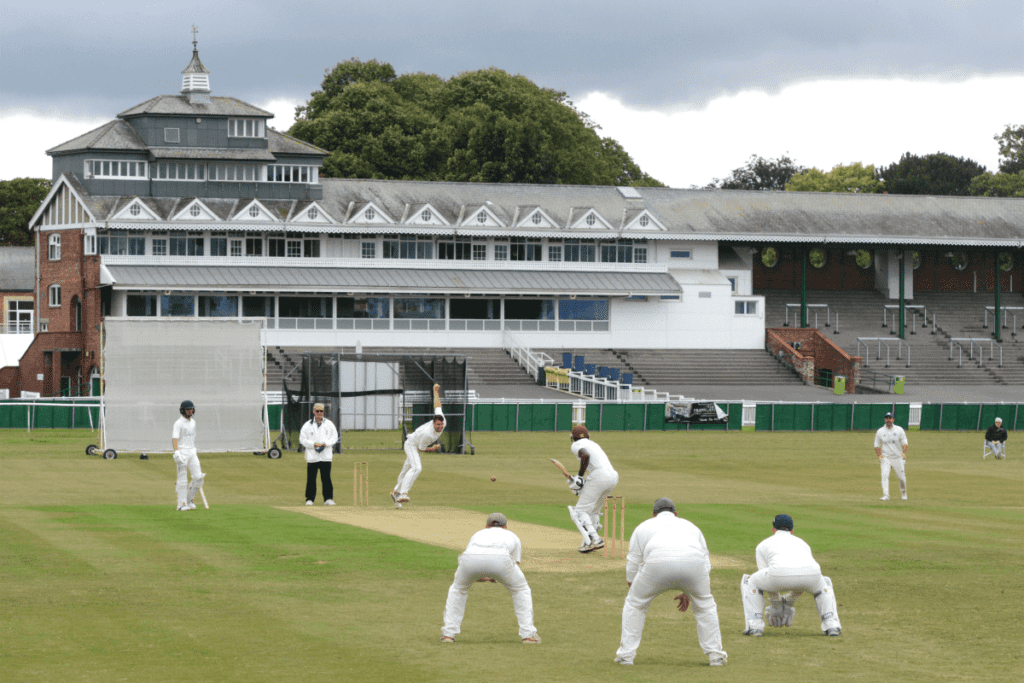 Only captain Crewe (41 from 44 balls) shone with the bat for Thirsk. Two of his team-mates managed double figures. A sharp shower – no, really – indicated cricket's Gods were weeping for the home team.
Toby Giddings (5-45 from 10) and Henry (2-4 from two) bowled tidily as Thirsk, 41-2 at one stage, were dismissed for 104 in 24 overs.
Henry's spin was introduced towards the end. Proving he can bowl as well as he can bat, he mopped up the tail with the alacrity of a mop-wielding janitor.
---
As if to prove he's human, Henry put down a sharp catch close to the wicket. That said, the ball did rather hurtle into his sternum.
---
Some tough lads out there, mind. A Thirsk batter sustained a clearly painful hand injury.
After his dismissal, a delivery or two later, he explained to spectators that "it [the ball] just turned my nail over". When asked if he wanted any ice on it, he responded: "Nah."
Heading back to my car, I encountered a couple, supporting Knaresborough, returning to the ground via a gap in a hedge. I think they'd popped into town for a while.
"Has rain stopped play?" the woman asked, seeing the players gathered at the edge of the pitch. "No," I advised. "The game's finished!"
Despite what must have been a bitter blow, Thirsk's players retained their good humour.
As unbeaten tailender Sam Howes cracked a one-bounce, down-the-ground four, a team-mate yelled: "Not bad for a walking wicket!"
The racecourse makes good use of the easternmost section of its infield, which in addition to cricket hosts athletics, bowling, junior football, hockey, rugby union, squash and tennis.
The clubhouse of Thirsk Athletic Sports & Social Club, the umbrella body, is in the site's northeast corner, outside the course and next to the Newsham Road entrance.
You can park alongside the clubhouse, next to the rails, but then must cross the course to reach the cricket pitch.
At this near end, there is just enough room, between the rails (surprisingly flimsy; a safety thing, maybe) and the boundary rope, for players and spectators to put out or erect chairs.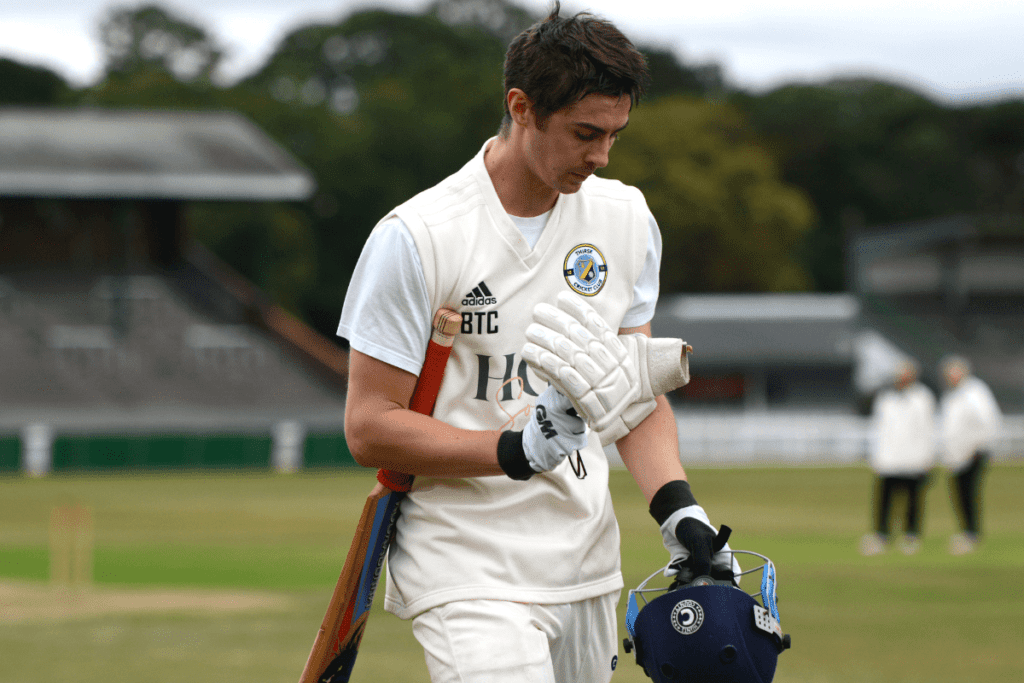 The scorers watch the game from the clubhouse. Viewing across the course, vision blocked partly by rails and spectators, is clearly tricky. There were several calls of "How was he out?"
During the tea interval, I went for a nosy – and was taken aback by how big the course is.
---
From the vicinity of the winning post, the farther, 'country' end of what is a stretched oval must be a half-a-mile away. Thoroughbreds eat up ground at an astonishing rate of knots.
---
By the cricket scorebox, I got chatting to a couple who, it turned out, are involved behind the scenes with Emley Football Club, of the Northern Counties East Football League. The bloke said he is the club's physiotherapist. His partner prepares the players' food.
They'd driven north, for a Bank Holiday outing, and found themselves drawn to the cricket.
During schooldays, now and again, I watched Emley, whose ground is shared with the Huddersfield Cricket League's Emley Clarence Cricket Club. It was good to trade memories.
The scorebox, a plaque informs, is dedicated to George Turner, who died, aged 17, in 2018.
Tragically, George, a back seat passenger, was killed in a car crash near Thirsk. He had graduated, with distinction, through Thirsk's junior ranks to play in the club's First XI, for whom he also scored.
I believe Thirsk Cricket Club stage an annual match in his memory. A lovely gesture.
Some so-called groundhoppers 'tick' racecourses. As with, say, aiming to visit all the County Championship cricket grounds, it is a do-able ambition. Not too many!
Best I don't get involved, I'm thinking. As it is, enough of my spare time is consumed with watching live sport, not to mention the getting there and the getting back.
What, though, are the odds on me giving a racecourse a whirl?
Many thanks to Andrew whose club cricket series, Miles per Gallon, is on cricketyorkshire.com throughout the summer.