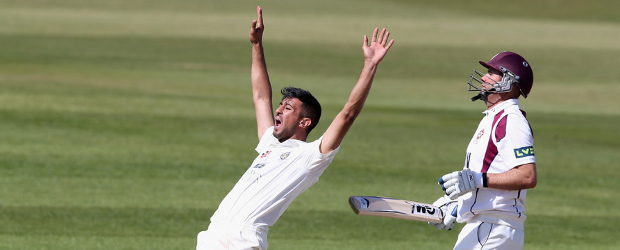 Usman Arshad is the Bradford-born twenty-one year old allrounder who is making a real impact with the four-day county Champions, Durham.
Picking over the bones of his fledgling stats reveal that this professional cricketer is only just starting out – with 11 first-class games and six twenty20 appearances to his name.
He bats at nine and can be quietly pleased with an average of 24 and already having chalked off his debut first-class fifty. But it's medium-fast bowling which has caught the attention for all the right reasons.
Arshad already opens the bowling at Durham with Chris Rushworth and his 31 wickets at an average of 20.25 show he's a genuine impact bowler who has a happy knack of dismissing batsmen.
Whenever I come across county cricketers who have a link with Yorkshire, it sparks my curiosity as to their own journey and how they ended up elsewhere.
Usman and I catch up by phone in late June after a month of him whizzing round the country having become an integral part of Durham's NatWest T20 Blast squad.
We kick off with a spot of reminiscing of his Yorkshire club cricket days.
In Usman Arshad's case, his cricketing CV has an added layer of intrigue given he began playing junior cricket at my own club, Bingley Congs CC, in the humble Craven & District League.
In fact, his brother Tuseif used to also play at Congs and as I wander down to Beckfoot Lane one evening to take in a Bradford Evening League fixture, he's there bowling for the home side once again. Getting Usman back in Congs colours might be pushing things…
He used to go down and watch his uncle play at Bingley and turned out himself for a few years before moving on to Great Horton Church CC, Manningham Mills and Saltaire.
Clearly an adaptable cricketer, at around twelve years old whilst at Great Horton Church Cricket Club in Bradford, he was cajoled into wicketkeeping for a time to help out.
Realising that it wasn't for him, he reverted to bowling fast and it's while at Great Horton Church that he was to get a slice of good fortune that would ultimately move him towards the path of professional cricket.
On a club tour to Dubai, paths crossed and planets aligned for young Arshad:
"It happened to be that the Durham First Team Coach, (Geoff Cook at the time), was staying in the same hotel as us and we got talking and he managed to hook us up with a trial."
The three-month trial led to a contract with the Durham Academy the following winter. Fortune favours the brave and while Usman acknowledges 'everyone needs a bit of luck and that was my bit of luck,' he is clearly a talented cricketer who's had to work his way up through the Academy and Durham 2nd XI.
It's a question I often ask those I interview who've flown the Yorkshire nest but didn't he get an opportunity within the Yorkshire county setup at any time?
"I played for the Yorkshire U14 'B' team for a season and obviously playing for Yorkshire, I was obviously proud being from Yorkshire and I trialled the following season and didn't get in."
He questioned whether he wanted to be playing cricket at that time and in his words, 'sat back a bit.' Who knows what might have been but at sixteen, the chance to tour with Dubai led to the Durham meeting and the rest is history.
Three years in the Durham Academy followed but it's not been without its trials and tribulations, not least his injury in the last year of his Academy where he didn't bowl all season:
"I managed to get a development contract and that was through the coaches having a bit of belief in me because obviously I didn't bowl the previous year."
He had to fight his way back to form and fitness from a stress fracture and rather incredibly, only started bowling properly around May 2013. His trajectory since then frankly is verging on the ridiculous and shows no sign of abating.
To my knowledge, he's the only one from Bingley Congs to go on to play county cricket (the Craven & District Cricket League is a friendly grassroots league but it's a little way, ahem, off ECB County League standard).
Nonetheless, it's great to see a young professional cricketer doing so well who began in the same League where I now happily bowl some remarkably slow pies of a Saturday.
In the case of Arshad, stand-out performances in the Durham seconds and a few bowlers getting injured shoved him into the limelight and a stint with Durham as they powered to the County Championship.
He didn't end up playing against his home county of Yorkshire in what was the turning point of Division One when Andrew Gale's side lost at Scarborough in the annual Festival fixture.
However, Arshad bowled a few overs and claimed the wicket of Andre Adams in the crucial match at Nottinghamshire in September where Durham secured the title.
It's only after poring over the stats from that landmark game post-interview that I note something odd. He seems to have got 1-16 as Notts were shot out for 78 in their first innings, but Arshad didn't bat or seemingly play any further part. Presumably injury but a quirk on first glance…
A look down the respective team sheets and sure enough, Durham had twelve against Nottinghamshire's eleven – the curmudgeonly part of me wants to mutter that's why they won the Championship but the truth is Durham were the form side fair and square over the distance. They just know how to win. A daft notion but no less true.
In the NatWest T20 Blast, Arshad has been largely miserly with the ball in 2014 since making his debut against Worcestershire in May bagging 2-21 – including Moeen Ali. His swashbuckling batting has yet to have a proper outing in the shortest format given he has only had the one innings but he captained the seconds recently and his county clearly rate him.
During our interview, he's quiet but the accent is distinctive – Northumbrian perhaps, very similar to Paul Collingwood – and perhaps we shouldn't be surprised as Arshad has played Minor Counties for them in 2011-12.
Mentioning his old club Bingley Congs prompts a rummage into the memory bank before digging out a number of names still playing. He bats away the notion of being a role model but his exploits with bat and ball have been duly noted no doubt at all the clubs for which he has turned out along the way.
Durham County Cricket Club are a club evolving as some of the old guard like Collingwood and Onions wind toward the end of remarkable county careers. In Usman Arshad, they may well have unearthed a pace spearhead for years to come.
Photo: Usman Arshad of Durham celebrates after trapping Andrew Hall LBW. Copyright (and thanks for its use): Durham Cricket
Latest posts by John Fuller
(see all)