The blackboard at the entrance to Todmorden Cricket Club hints at the traditional heartland beyond and to one of the finest cricket grounds in Yorkshire.
Their emblem of both red and white roses adorn each corner; for the record, 'Tod' (as locals affectionately, or with a sense of pragmatism, call it) is in Yorkshire though it has competed for donkey's years in the Lancashire League.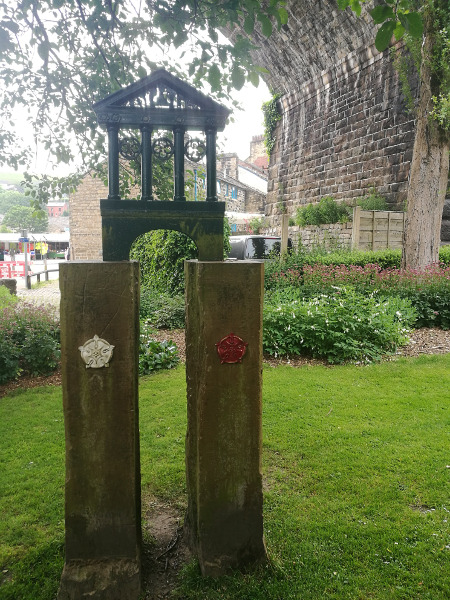 A short walk away, down Burnley Road by the railway arch, are the Yorkshire and Lancashire boundary stones; moss-tinged lumps and houses of York and Lancaster marked with a rose and a curious gap in between.
Either a portal to another dimension or symbolism for the way Todmorden has straddled both allegiances over time, I can't be sure.
It's overcast for the visit of Haslingden and this mid-table contest yet pleasingly, the threat of rain appears to be dissipating. It's a £4 entrance fee that fleetingly catches my breath (my wallet is typically welded shut unless there's the prospect of enticing food).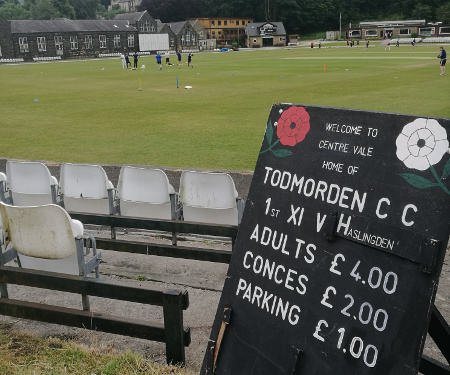 You don't tend to see cricket clubs charge admission these days but running one remains a costly business and it's a small price to pay for this idyllic location that feels as if it happily resists the winds of change.
We park up in front of a motorhome that's been borrowed from a Scooby Doo cartoon then navigate round, past the plastic seating in front of the clubhouse, St George flag fluttering in the breeze, to take up position at the primary-school end.
I often get quizzed of which my favourite cricket ground in Yorkshire is and it's an impossible ask. How do you begin to compare the craggy aery of a Halifax League ground like Queensbury to the vast cathedral of Bradford Park Avenue in mid-modernisation?
You can't. Though, all I'll say is that if you've not been to Todmorden Cricket Club yet, you're missing out. The cricket can be as frenetic and full-throttle as you like, the atmosphere retains an air of calm.
I like the way you can walk all the way round with the playing surface sunken down; I like the reverence to cricket with the polite reminder in caps to 'PLEASE WAIT WHEN BOWLING FROM THIS END.'
Language can be delicious. You can imagine the line of bowlers queuing.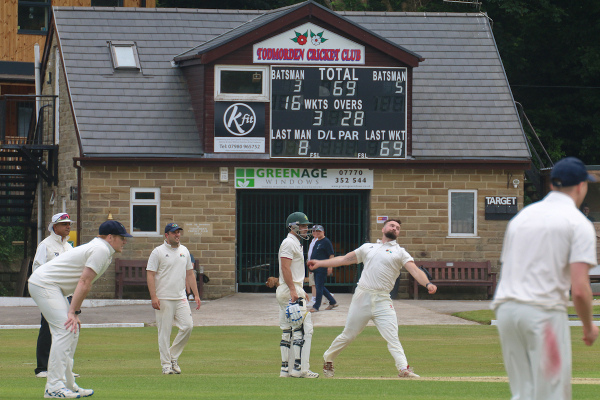 The cricket itself was a low-scoring affair with Todmorden restricting Haslingden (a town in Rossendale between Blackburn and Rochdale) to 135-9. While no particular expert on soil strata, it didn't look like a sub-150 wicket.
Todmorden's skipper, Andrew, had told me with a smile in his voice that the ground offers something for everyone, whether devious finger spinner, medium-pace magician or high-velocity Billy Whizz.
His dad Nevile as groundsman and President would likely as not be happy with that but it is hard to fault the logic from the overs I caught sight of.
Haslingden hit the self-destruct button, in part by the cloying way Todmorden bowled and fielded, but also by chasing their run rate belatedly and falling to a series of rash shots.
Says the perennial number eleven who couldn't hit a beach ball with a barn door.
At the mid-innings break, it was time to conduct some thorough market research of the Red Brick Tea rooms. As I stood there gormlessly eyeing the selection of cakes, there was a feeble attempt to choose a light lunch.
Right on cue, a gentlemen came up with his plate licked clean and a look across his face, as if he'd died and gone to gravy heaven. No word of a lie, he fixed me with a steely look and half advised, half demanded: "You've GOT to have the steak pie!"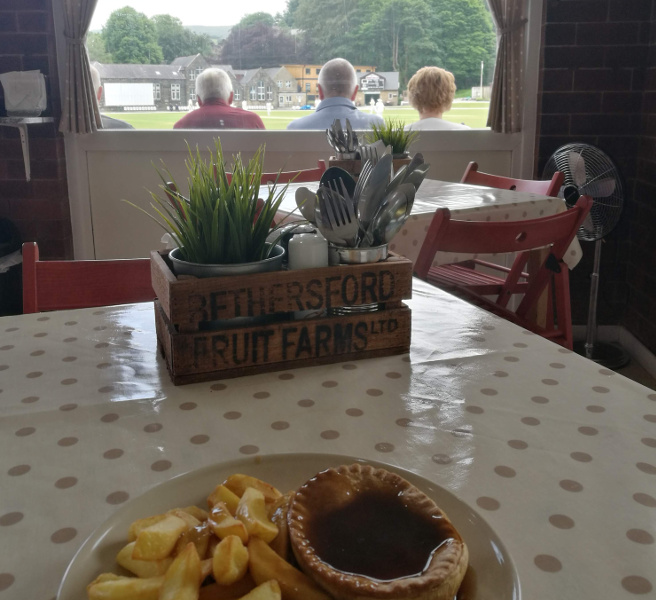 With an independent mind capable of my own decisions, I had the steak pie.
With its tributaries of cascading gravy, this was a pie fit for a king. Comfortably the best decision all day. Except when I returned later to plant my face into a Bakewell tart the size of a double-decker bus.
When it got underway, Todmorden's batting reply failed to follow the script. Chris Schofield, whom I had interviewed for The Cricket Paper and had a fine batting average I felt sure would be further inflated to become the centrepiece of my feature, edged behind for 7, after not getting a bowl earlier.
Such are the vagaries of cricket. I actually caught his dismissal on camera though, between you and me, the two kilograms of pie consumed mid-afternoon had made me a little more sluggish with my trigger finger than I anticipated.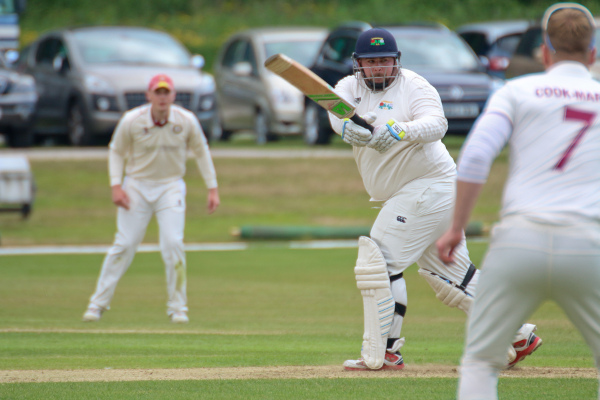 It was left to captain Andrew Sutcliffe's first half-century (above) in the Lancashire League in 2018 to usher Todmorden to victory by four wickets though he offered a chance in the slip corden that was shelled.
You make your own luck, as they say.
This particular fixture was a few weeks back and time will tell if Todmorden are in the right half of the table come September.
Though they have loftier ambitions, the name of the game is to be in the top 12 for 2019 when the Lancashire League splits into two divisions.
So, Todmorden Cricket Club had delivered and then some; this amphitheatre is a treasure – guarded on one flank by a swathe of trees, nearly swallowing the church that peeks out.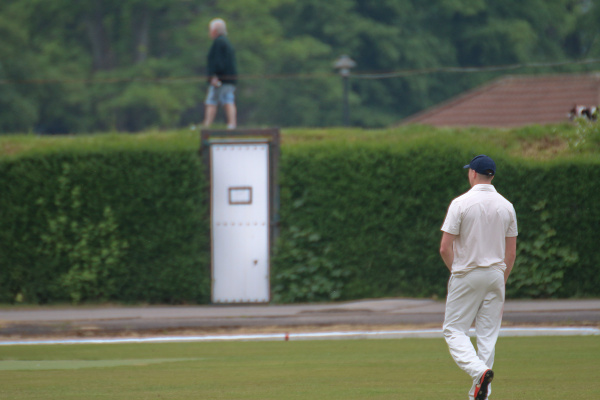 It is a place that is visually arresting. The hedge that marks the start of Centre Vale Park hides an elevated section so it was possible to savour the sight of walkers improbably and casually surfing the tops of the shrubbery.
Halfway along the hedge is a white door that doesn't, to my untrained eye, open but it stood out as incongruous in an otherwise unblemished wall of green.
Who knows, maybe you walk through there and end up at the boundary stones near Todmorden market. Stranger things have happened.
Yet, beyond the allure of the ground itself is the down-to-earth, how-can-I-help approach of everyone at the club.
From the players giving up time for interviews to the committee members offering advice; to Lisa cheering punters in the tearoom and John collecting the fares on the door like a gregarious bouncer, Todmorden Cricket Club feels like it has an old soul and is in very safe hands.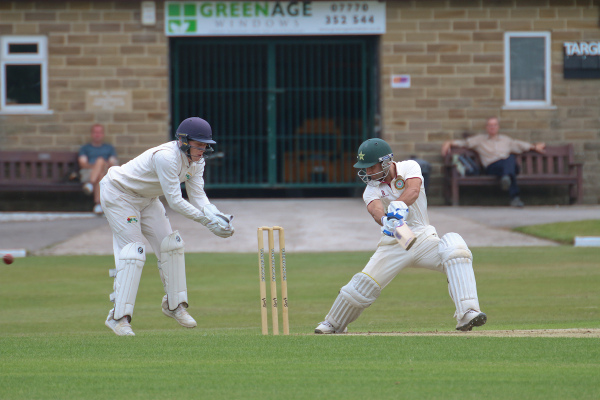 Get the Cricket Yorkshire Newsletter below!
If you enjoyed this travelogue and are interested in exclusives, competitions, partner offers and the inside track from CYHQ, join 1,500 cricket fans by signing up here.
Latest posts by John Fuller
(see all)