Super 1s cricket is a disability cricket programme, funded by the Lord's Taverners, with hubs in towns and cities offering free coaching and activities.

Over an absorbing hour on Zoom with the organisers of the Dewsbury Super 1s Hub, I get an insight into the work that's done, the challenges faced and the mindset to overcome them.

Early in the call, it becomes apparent that Richard Szostak and Louis Speight know their stuff. Richard has 20 years in the disability sector including with MENCAP, RNIB and the Downs Syndrome Society.

Louis Speight is a Paralympian wheelchair sprinter who held the European T33 record for the 100, 200 and 400 meters.
Away from the track, he has worked extensively in the health and social care sector and across the NHS.

The way Super 1s works is that they're free sessions for those aged 12-25 with disabilities to regularly play cricket – and receive coaching from the Yorkshire Cricket Board (YCB).

They began in 2018 (see Cricket Yorkshire article) and over time, hubs have been created in Barnsley, Bradford, Dewsbury, Halifax, Huddersfield, Leeds, Rotherham, Sheffield and York.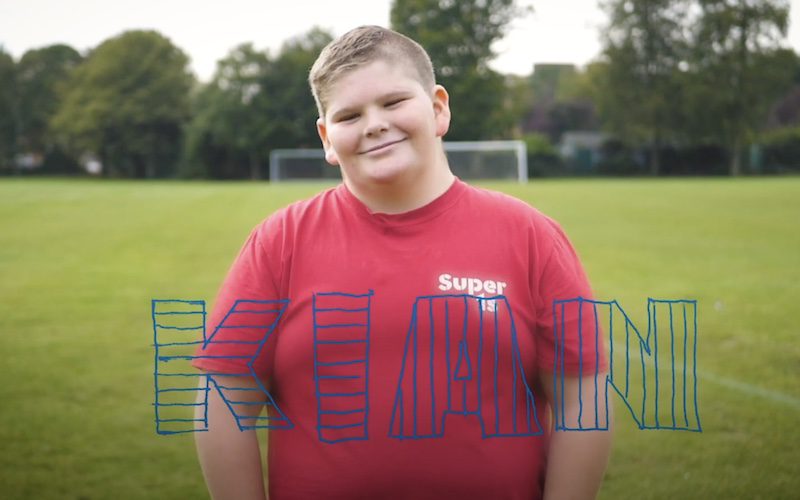 Back in 2020, I interviewed Kian (above) and his grandma Pauline who are attendees at the York Hub to see why the programme matters and who it reaches.

In Dewsbury, Rohan Randhawa, the YCB's previous Disability Development Manager, approached Richard and Louis who run Omnis Circumvado CiC.
It's a specialist sports coaching company dedicated to providing inclusive and adapted sporting opportunities to people of all ages with complex needs.

Everyone has the chance to get involved with games a regular and popular part of the sessions that are held at the Westmoor Junior School sports hall on Church Lane.

There is overarm bowling, batters taking guard and plenty of action.
There's no running between the wickets, just 4s and 6s; though some children could do it, they might have low aerobic fitness and would fatigue quickly.
If these adaptations are necessary, there is still room for old-school coaching methods, as Louis explains:
'For the last few Saturdays, I've been taking off my shoe…
"Why are you taking off your shoe they ask? Never mind, just brace your front leg over the shoe"…that's the old Mark Wood trick.'
---


It's never-say-never here at Dewsbury Super 1s. Patience is rewarded week after week: 'We had kids who'd come in, smash the wickets to smithereens and run off but now they're playing cricket!' says Richard.


---

Their philosophy on coaching is all about what you CAN do rather than what you can't. Being told a person can't do something seems to be a personal challenge they both approach with glee.

Super 1s does an extraordinary thing. It is not about numbers here but the individual. It's specialised cricket coaching sessions for those families facing incredible challenges.
To give context, Louis explains: 'Most can't read or write. Alot can't use a knife and fork. We're trying to improve every participant – and they do improve!'

At Dewsbury, empowering everyone is commonplace; disabled coaches and volunteers have been identified and supported over time.

One Saturday volunteer is a girl who was first coached at school and had never done cricket before but is now helping Louis and Richard out.

How accessible and inclusive mainstream sports are will always be a hot topic but with funding and know-how on the ground, a solution can usually be found.

Richard explains that the feeling is autistic children won't stand still and field for any length of time. Yet, the Dewsbury sessions with everyone moving to a new position after 6 balls works really well.
Equally, for those in wheelchairs, batting front-on French cricket-style means better contact with a beach ball and no risk of bats getting snagged.
Although one batter in an electric wheelchair would bat side-on and wallop it miles one-handed!
Sessions are also open to able-bodied siblings and half a dozen girls get to run around and get introduced to cricket for the first time too.
I recently went to Petsathome for the first time. Who knew goofy gerbils that make me sneeze were so appealing?
A £4 indestructible mouse toy stuffed with catnip has proved a popular addition to the Fuller household for our resident tiger.
As it happens, we get talking about the value of a pet store during this Super 1s interview.

With the range of attendees who do Dewsbury Super 1s, equipment needs to be for specific disabilities so size of ball, texture, colour and whether it has a rattle inside for the visually impaired all matter.
Apparently, a trip to petsathome helpfully tops up Dewsbury's special needs coaching supplies so everyone can get the most out of sessions.

The cost of equipment and travel time involved can both be major barriers in disability sport but Richard and Louis see the popularity of Super 1s cricket as integral to their future plans.
Tom Hudson is the disability cricket lead at the Yorkshire Cricket Board, he can be reached via [email protected] if you want to know more about Super 1s in Yorkshire.
If you are interested specifically in the Dewsbury Super 1s Hub, contact Richard & Louis via their coaching website Omni CIC.
This is a sponsored article for Yorkshire Cricket Board – if the mood takes you, click to read Cricket Yorkshire's policy on sponsored content*
Latest posts by John Fuller
(see all)