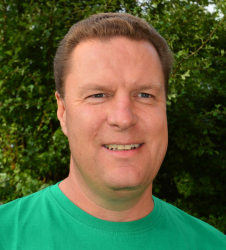 Latest posts by Andrew Gallon
(see all)
Maybe – just maybe – the players, officials and supporters of Saltburn Cricket Club are beginning to wonder if an eighth North Yorkshire & South Durham Premier Cricket League championship triumph is coming their way.
Two home wins, at the expense of Great Ayton then Stockton, across the June 10-11 weekend, saw unbeaten Saltburn establish a 20-point lead over second-placed Middlesbrough, who have played a game more. Traditional powerhouses Barnard Castle, third, are 44 points in arrears. Saltburn have a game in hand on them, too.
---

By any measure, the Saltburn club, who in 2025 will celebrate their 150th anniversary, are having a fine season, as they seek a first NYSD title since 2005.

---
In addition to league successes, Saltburn have won through to the semi-finals of the NYSD's MacMillan Cup (midweek, T20) and the last eight of the Kerridge Cup (Sunday, 40 overs). In the latter tie, Middlesbrough visit Saltburn, on June 25.
I liked the look of the Saltburn-Stockton Sunday fixture; a meeting of top-four teams. Also, I very much liked the sound of the cooler, breeze-affected temperature predicted for the northeast Yorkshire coast.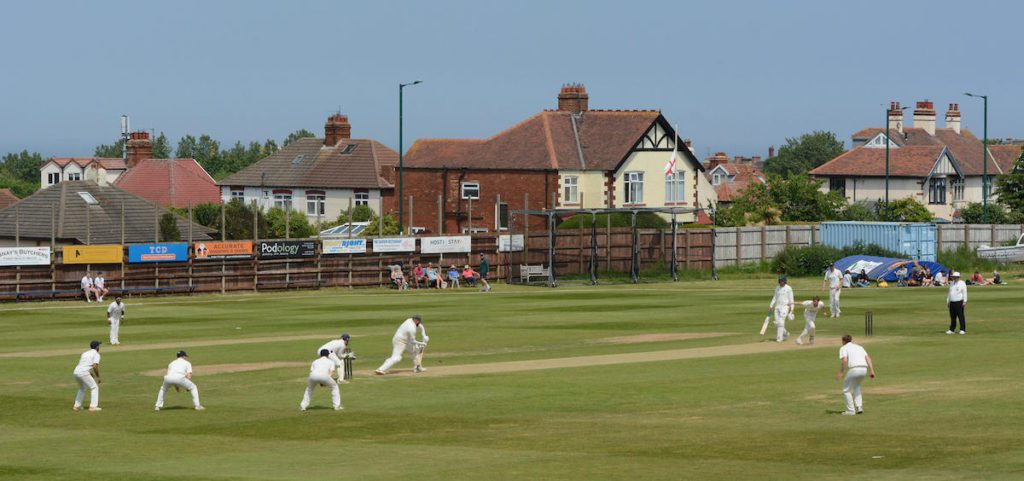 Had I gone to Adwalton Cricket Club, near Morley, for a second-round tie in the Bradford Premier Cricket League's Jack Hampshire Cup, it would have been 10 degrees warmer!
Cricket ground enthusiasts relish quirky or interesting features – and the Saltburn ground, bounded by Marske Road and Marske Mill Lane, has plenty of each.
Lovely to see, in wrought iron splendour, Saltburn Cricket Club spelled out on the substantial entrance gate in the ground's southwest corner.
As a first-time visitor, I was surprised by the pitch which, being a few hundred yards from the North Sea, I had expected to be level. Not so.
---
It reminded me of the pitch at Idle Cricket Club, former members of the Bradford Premier Cricket League. From the clubhouse, perched atop a bank, Saltburn's pitch slopes downhill; initially steeply then at a shallower angle once the square is reached.

---
Appearances are deceptive. From the clubhouse – west – side of the ground, the pitch seems to flatten out the nearer to the Marske Road perimeter fence it gets. Go to either end, however, and the slope's continuation is obvious.
Anybody watching a game at Saltburn simply must climb the bank at the north end, where elevated, permanent outdoor nets are located. From the summit of the bank, in June dotted liberally with colourful wildflowers, one sees the ground in its entire setting.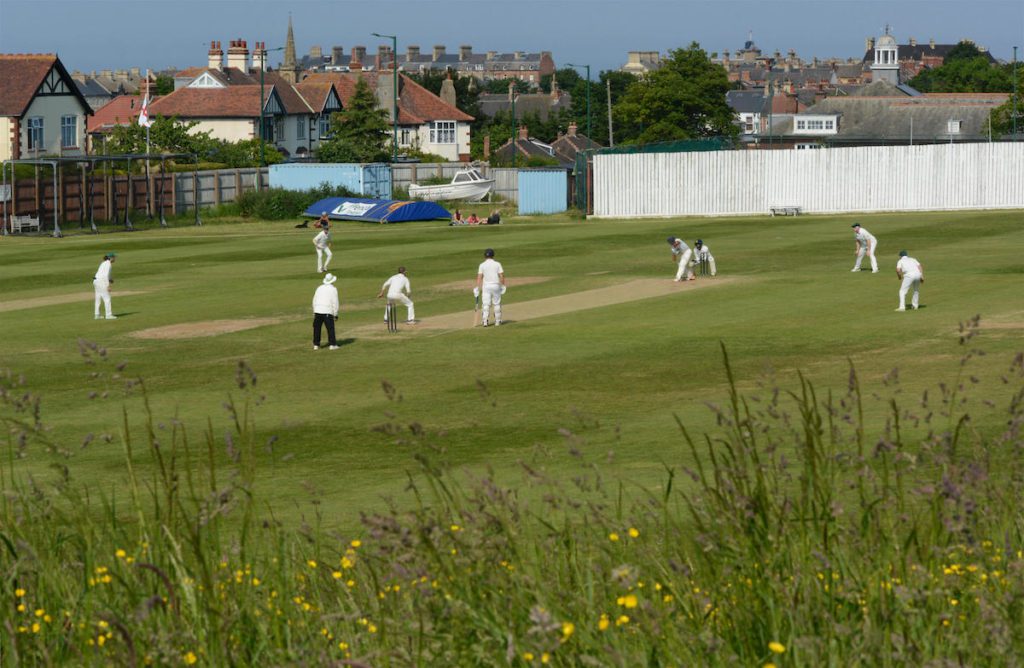 Over to the left – the east – the North Sea, more blue than grey as it reflected strong sunshine, is visible above the rooftops of a time capsule Victorian resort. Huge vessels, bound either to or from berths on the tidal Tees, doggy paddle along the horizon.
Looking down onto and across the wicket, the ground is backed by the ornate tower – constructed in 1898 – of the Church of Emmanuel, a Grade II listed structure, the bulk of which dates from 1867-69. Periodically, its bell (or bells) chimed.
Further south, on the skyline, running west to east, is the whale-like bulk of Warsett Hill, precursor to the awesome Hunt Cliff, the highest cliffs on England's east coast.
To the right – the west – is the austere presence of Saltburn Leisure Centre and, nearest the pitch, the blank, brick wall of an indoor cricket training facility, dedicated to Arthur Heslop, noted for his work over many years with the club's young players (Saltburn are renowned for their strong junior section).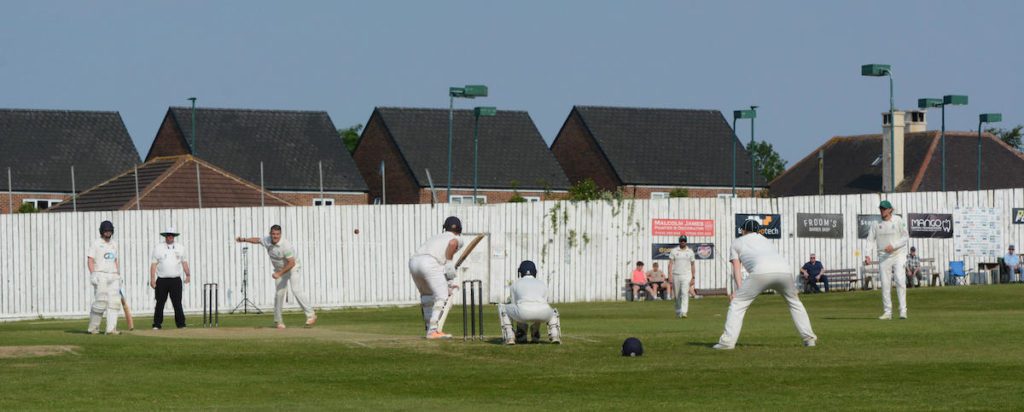 The clubhouse, a long, low structure, with an astonishing number of windows, fills in the other half of the west side. Owing to the sloping nature of the terrain, the farther end has a balcony, with seats, added to its frontage. With a 'cold one' in hand, perched high above the square, either here or on adjacent picnic tables, it's just the place from which to spectate.
Probably worth mentioning, at this point, that to secure free parking in the club/leisure centre car park visitors need to register their vehicle at the clubhouse bar. Don't forget because the charges are punitive (presumably, to prevent selfish tourists leaving the car there for free then doing a surf-bound vanishing act).
The multi-sport site, a superb asset for a town Saltburn's size, is shared with the club's bowling (northeast corner) and tennis (southwest corner) sections.
A number of improvements and upgrades (including the replacement of a time-served, 80-plus-year-old pavilion) have been made since 2001, when the club secured a £500,000 grant, awarded jointly by the Sport England National Lottery Fund and the defunct Foundation for Sport and the Arts.
The work cost the thick end of £600,000. Donations, club funds, fundraising and loans covered the balance. Now, Saltburn has sporting facilities of which to be proud.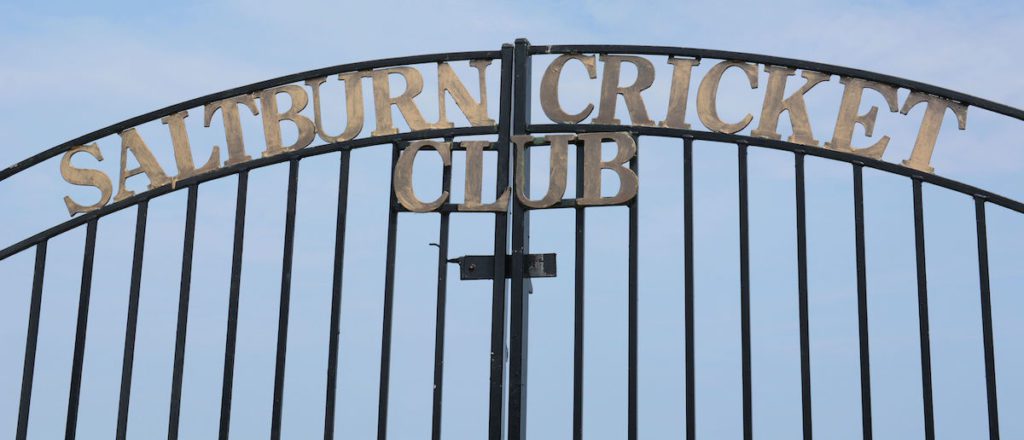 Saltburn Cricket Club's badge features a seagull, hovering above stumps. Strangely, I can't recall hearing one all afternoon.
I daresay they were down by the promenade, or combing the beach, scavenging for the fish and chips, and other goodies, being consumed or discarded by day-trippers.
---
During Saltburn's heyday, thousands of holidaymakers arrived at the resort by rail. Pleasing, therefore, that trains can be heard from the cricket ground.

---
Passenger trains from Middlesbrough and Redcar clatter across a junction and into the station – between Marske Road and the seafront – while much noisier freights bend right, on the far side of Marske Mill Lane, as they rumble, wheels squealing around a sharp curve, along the scenic former Whitby line, truncated since 1958 at Boulby Mine.
If the cricket ground took me by surprise then so did the game, a low-scoring affair.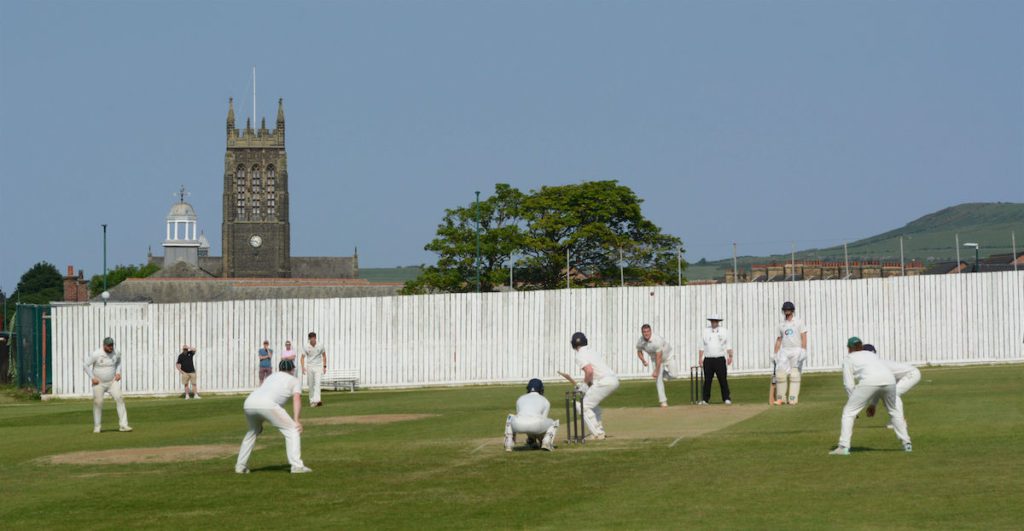 Stockton, who I was told had a couple of regulars missing, won the toss and elected to bat.
In what felt like no time at all (in reality, the 19th over), the visitors were 50-8. How soon, I pondered, would I be driving back down Bilsdale towards home?
One of the Stockton batters, understandably frustrated by the turn of events, was not pleased with a decision to give him out, leg before, before he'd scored a run.
There was a pregnant pause and a hard stare before he left the crease then, when he reached the clubhouse steps, he struck something hard with his bat. Even after removing his pads, and coming back outside into the sunshine, he was waving his arms about and moaning to anybody who would listen.
Who'd be an umpire?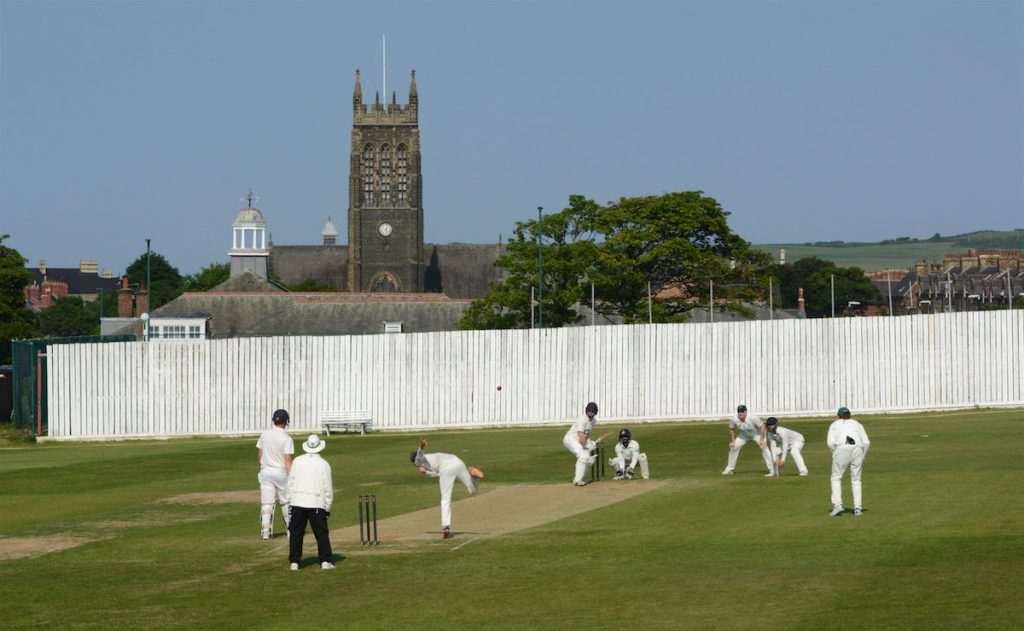 Saltburn, of course, were cock-a-hoop. They were desperate to ram home their advantage. Come the end of each over, the cry went up: "And round, boys!"
Jack Almond (5-31 from 13) and Liam Crooks (3-31 from 10) had the proverbial field day.
Appreciative team-mates, admiring from the covers, called out: "Unbelievable stuff, here, Jack" and "Crooksy, that's class".
Amid west side shade, in shorts and T-shirt, I wasn't by any means overheating.
Two kids, hot, sticky and bothered after an energetic net session, walked past, foreheads glistening, straight into the breeze. "Ooh," one remarked. "That is lovely."
Fortunately for Stockton, their tale had a wag in it. No 8 Andy Shepherd (39 off 31), bowled eventually by Shahid Khan, led the better-late-than-never resistance, as the visitors reached 95 from 33 overs. It could have been a lot worse.
Naturally, much of the interval gossip revolved around the wicket, the same one, I learned, on which Saltburn (142) had beaten Great Ayton (120) the previous day.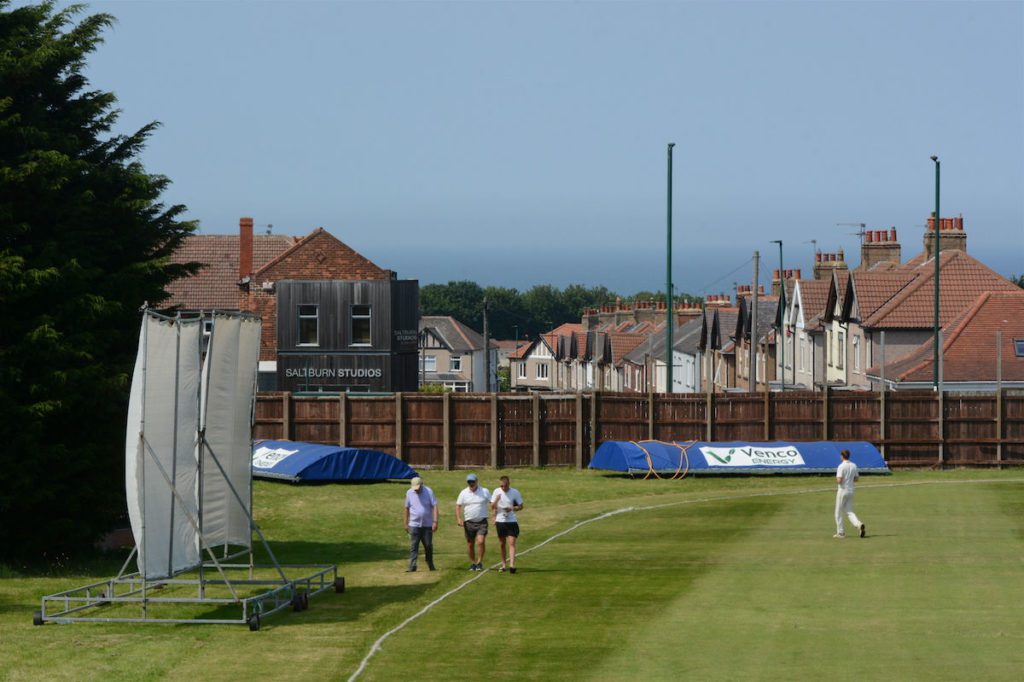 An elderly gentleman, who, over many years, had clearly seen it all on this ground, observed that on the previous Thursday evening Saltburn had scored 220 from 20 overs in their MacMillan Cup quarter-final against Thornaby. Can't be that bad, was the inevitable verdict!
Nevertheless, "How will Saltburn fare?" was the question on everyone's lips. Certainly, the home team's reply was not plain sailing.
Veteran left-arm spinner Leigh Beaumont, 54 (he plays also for England Over-50s), in the Stockton side together with sons, Adam and Lewis, caused no end of anxiety.
The wily Beaumont finished with 3-21 from his full allocation of 15 overs. Six maidens in that lot. But for two dropped catches at slip (absolutely agonising!), those figures would have looked even better.
Opener Ben Ainsley, Saltburn's Mr Reliable, compiled a patient 41 from 82 balls. Exactly what the situation required – an unflappable mindset.
Ainsley's dismissal came too late to affect the outcome, with Saltburn advancing to 96-5 in the 31st over. Lucas Parry (18 not out) and Josh Chisholm (7 not out) steered them home.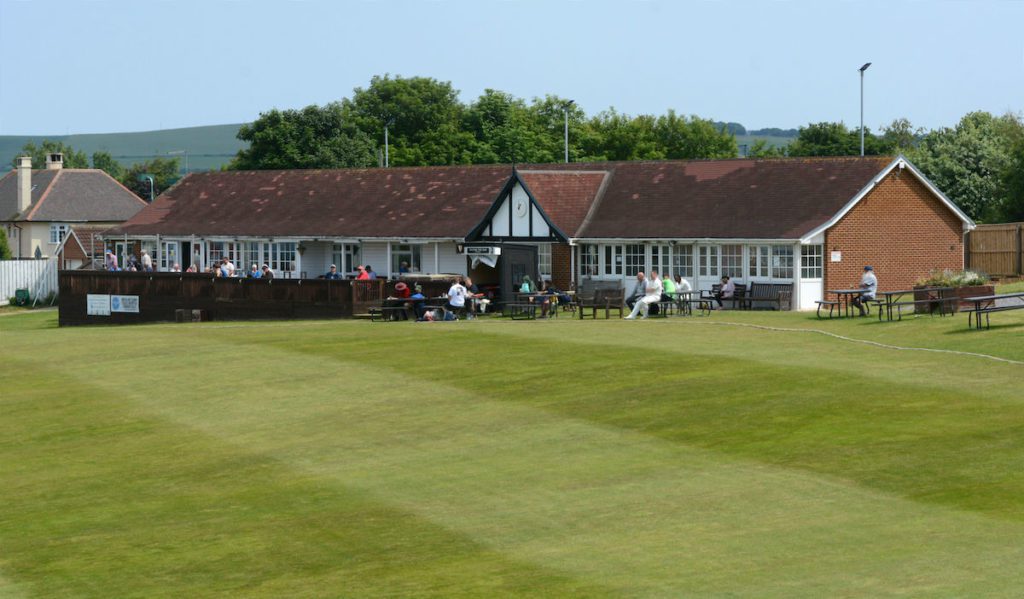 Good to bump into a player I met, two seasons ago, at Staithes Athletic Cricket Club. "You get around," he smiled. He's now switched to Mulgrave Cricket Club, Staithes's Scarborough Beckett Cricket League rivals, who play on a lofty pitch at Lythe. Can be decidedly chilly, he reported, particularly in April and September.
A new acquaintance was a non-driving chap who (I could scarcely believe it) had travelled by bus from one of County Durham's western former pit villages. I'm sure he said four different services in a journey taking more than five hours.
Uncertain about his chances of being able to get home on a Sunday, and keen to sample a local chip shop, he was staying over at a Redcar B&B. That is dedication! Made me feel something of a lightweight.
Having retired from playing recently, he told me on Saturdays he watches his old team (he gets a lift to away games), and on Sundays goes wherever he fancies (or can reach by public transport). He had an absolute treasure trove of stories, memories and knowledge.
It's always useful to receive recommendations. He promised Shotley Bridge Cricket Club is a County Durham ground not to be missed. Let's have a look at their fixtures…