Garfield might like Mondays, I prefer this Tuesday.
If, like me you have waited patiently (at first) for winter to jog on so the county season could come round again, well, IT IS FINALLY HERE.
Sorry for shouty capitals but it's only when you miss something; yearn for it, perhaps even quietly grieve; that its enormously welcome return sparks surprising levels of joy.
Can being outdoors in April in Yorkshire be a little like re-enacting Scott's famous Antarctic expedition?
Perhaps. You might be the kind to tog up for a day outdoors; hunkering down in the East Stand at Headingley watching the traditional MCCU game, whilst coaxing the remnants of heat from a cup of tea.
The best news is that the weather is set to be freakishly warm this coming week, assuming Yorkshire does the decent thing and participates.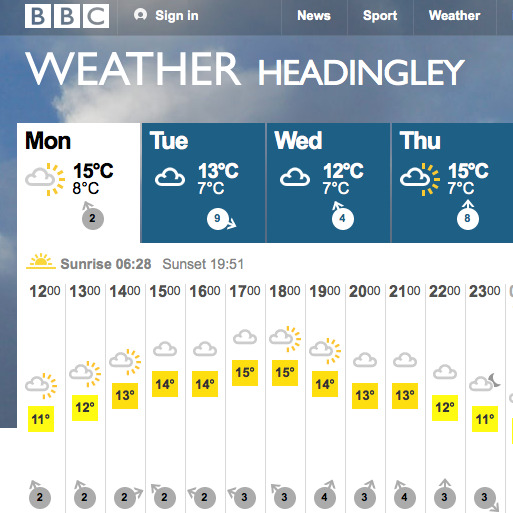 I'll be in the press box for the first day's play. There is a MCCU programme Open Day even planned for tomorrow in the Carnegie Pavilion (Tues 7 April) so I guess we won't be in the main lecture hall.
But before you think I just sit on high looking down on the rest of you mere mortals while necking the free tea like it's going out of fashion (that last bit is true)….
I will be cropping up all over the place (a bit like where's Wally) sitting outdoors too so if you see a guy with glasses, light beardage and a long black coat (or grey puffer) then say hello. I don't bite. I might even buy you a brew.
YORKSHIRE'S PERFECT PRE-SEASON
Make no mistake, Yorkshire head into this season in tip-top condition. Sure, they're missing six quality cricketers who are with England in the West Indies but the talent pool is larger than Hornsea Mere.
Their pre-season absolutely went according to plan. Win Emirates T20; an ornate man-sized silver jug with a spout like a heron's beak.
Next, absolutely stuff the MCC in the not-remotely-traditional county opener – who had the England Test captain, a blend of experienced county pros (Compton, Hildreth, Carberry) and newsworthy overseas star (Yuvraj Singh).
WHAT ISSUES DO THEY NEED TO SOLVE?
Who will open with Alex Lees? Gillespie is keeping that particular card close to his chest but he has talked up Will Rhodes who acquitted himself well in the UAE and has done the job for England U19s.
** Yorkshire squad vs Leeds Bradford MCCU:
Jack Brooks, Tim Bresnan, Karl Carver, Matthew Fisher, Andrew Gale (captain), Andrew Hodd (wicketkeeper), Dan Hodgson, Jack Leaning, Alex Lees, Steve Patterson, Cheteshwar Pujara, Richard Pyrah, Will Rhodes.
Other opening options that transpire could be Andrew Hodd or Jack Leaning, if the county want to go those routes instead.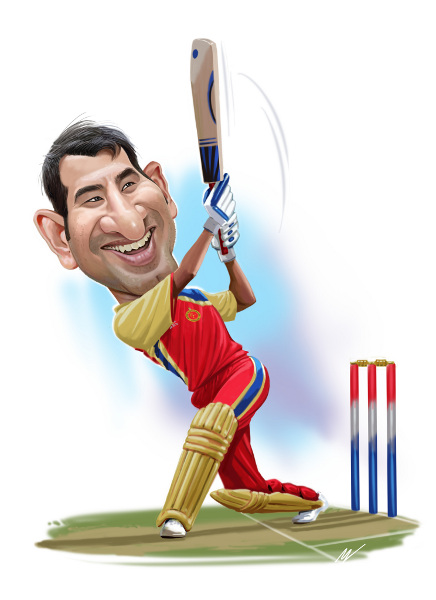 WILL PUJARA PLAY?
That depends on if he arrives in time (obvious but no less true; we all remember Starc's global deportation) but just as crucially, whether Pujara's work permit gets the seal of approval in time.
Given it's an Easter bank holiday and the game starts the next morning, who knows….feels doubtful but would be great to see him from the very first fixture.
* Credit for that cartoon image goes to Royal Challengers Bangalore (whom he's not playing for in this next IPL otherwise he'd not be with Yorkshire.**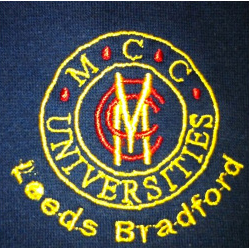 LEEDS BRADFORD MCCU FORM
On paper, where cricket is never played out unless you're into pencil cricket – then Yorkshire should win this comfortably over four days but it's a three-day game which is pushing things.
The form book is in Yorkshire's favour versus Leeds Bradford MCCU and reads: Played: 3, Won: 1, Drawn: 2, Lost: 0; but on a wicket likely to offer plenty of assistance, this will be a world away from the UAE.
For the students, a lack of a pre-season tour due to funding constraints could be an issue; a shame as they have got clear benefit from previous camps in South Africa and India.
In reality, seven of their squad still travelled to Abu Dhabi with the Combined MCC Universities team and two more cricketers were there with their counties.
In fact, Leeds Bradford MCCU have already played two counties outdoors in English conditions so perhaps actually, they are equally prepped for what promises to be the toughest fixture of their summer.
Leeds Bradford MCCU's two-day trip to Leicester in late March yielded both mileage in the legs and positive results each time.
The twin 45-over contests were won by the visitors; with eight of the twelve players who headed down to Grace Road for the pre-season friendlies against Leicestershire CCC newcomers to the MCCU squad.
Their drawn first-class fixture against Sussex was ruined by losing a day to rain down at Hove on 2-4 April.
Sussex scored 283-6 dec. with Doug Pratt (2-64) claiming his debut first-class wicket when Chris Nash was bowled the first morning.
In reply, Leeds Bradford recovered from 44-6 to 176-9 with a vital 59 from captain Christian Davis who stand of 93 for the seven-wicket with Liam Watkinson stopped the rot.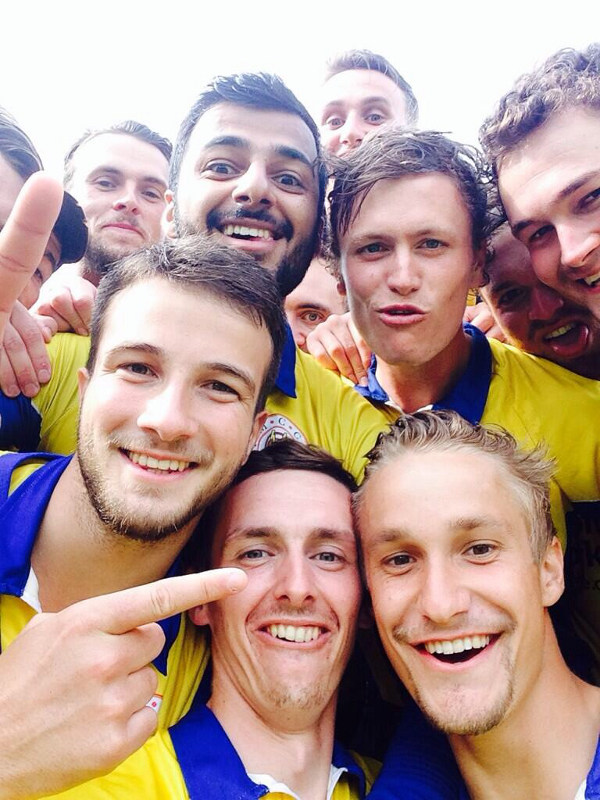 SAY HELLO TO THE STUDENTS
Cricket Yorkshire is a shirt sponsor of Leeds Bradford MCCU for the 2015 season but will remain impartial, naturally, though it'll be a novelty to see our green CY logo on the shirt sleeves at Headingley.
As with previous seasons, Leeds Bradford MCCU are packed with talented cricketers; many of whom are associated with a county already, whether that's a formal contract like Nic Gubbins at Middlesex or something yet to be formally ironed out.
Joe Root's brother Will batted at three for the students against Sussex and is hoping to impress his county, Nottinghamshire with early-season form while Liam Watkinson is an allrounder who has moved through Lancashire's system, like his dad, the Lancashire and England allrounder, Mike.
To be honest, the MCCU squad looks to have a depth to it that should stand them in good stead but this Yorkshire fixture will be a serious test of their ambitions and credentials.
They'll be aiming to add Yorkshire to their growing list of county scalps but in contrast, losing in three days is no disgrace if that's what transpires.
The much-vaunted MCC XI suffered exactly that over in the UAE desert after all.
But Yorkshire won't be taking the challenge of their neighbours anything less than seriously for risk of a bloody nose.
As mentioned earlier, if you believe BBC weather then it is set to be three balmy days of sunshine (between twelve and fifteen degrees) but batting will be tough for both squads at times.
I'd expect Yorkshire to not pick their spinner Karl Carver and probably also jettison either Rich Pyrah or Matthew Fisher as they decide on their Yorkshire XI on the first morning.
As a fast bowler (once upon a time), watching the development of Matthew Fisher will be particularly exciting.
Matthew Fisher is my tip to make a major splash this season if he stays fit. Clocked already around 86mph and not yet eighteen years old, this lad could become the real deal.
As part of Cricket Yorkshire's partnership with Leeds Bradford MCCU, I rustled up a WordPress website for them so take a look on there for news, squad details and other bits and pieces.
FINALLY, HOW TO KEEP IN TOUCH WITH THE CRICKET AT WORK?
Glad you asked that. Here's a few resources to be recommended:
Well, I would say that. The website might not do news coverage or match reporting but you'll get a refreshing matchday perspective with images via social media; particularly on Twitter.
Their matchday zone is excellent with the pavilion-designed stats and definitely something to keep open in a tab on your computer then toggle out of sight in a slight frenzy when your boss wanders by.
BBC Radio Leeds' Dave Callaghan; supremo of the airwaves when it comes to county cricket' is back for more ball-by-ball coverage from his own glass-fronted eerie at Yorkshire CCC HQ.
Links not yet up for this Monday preview but by Tuesday, you'll see where to tune in via BBC Radio Leeds or Yorkshire section of the BBC sports website.
Enjoy your cricket season however you connect with it and do keep checking back on the Cricket Yorkshire website (bookmark it, add it to your favourites; make it nice and convenient) as we'll be covering both professional and amateur cricket in Yorkshire in a way that you won't get anywhere else.
Latest posts by John Fuller
(see all)