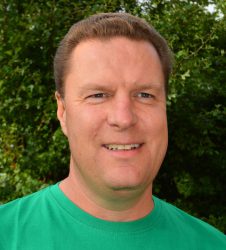 Latest posts by Andrew Gallon
(see all)
I'm having almost as much success getting my 2023 cricket-watching season off the ground as rocket man Elon Musk attempting to jettison himself into space.
Nobody needs reminding what a wet, windy, cold spring it's been.
Away in Kent for Easter, I caught the final, decisive day of a County Championship match between Division One rivals Kent and Northamptonshire. First visit to the now lime-less St Lawrence Ground, Canterbury. After early mist cleared, it was a day of unbroken sunshine and brilliant blue sky. Smashing ground, good cricket and a reasonable temperature.
A flying start! But since then, cricket-wise, nothing. The dismal weather has forced me to extend my football season and get cracking with a bit more rugby league.
However, the middle day of the Coronation Bank Holiday Weekend suggested sun – finally – would be shoehorned between incessant rain on the Saturday and the Monday.
---
A fixture check revealed the Airedale & Wharfedale Senior Cricket League had a programme of top-flight games. Choice of New Rover, Pool or Rawdon. Plumped for third-placed Pool, who had won their first two league matches and were hosting Bilton, sixth.
---
Only on arrival at Pool Sports & Social Club did I learn the village had been subjected to a circa 4am thunderstorm of such intensity residents spoke of houses shaken and nervous, pre-dawn wakefulness. "It whacked it down," remarked a fellow attendee.
An hour before the scheduled 1pm start, we entered via the car park, adjacent to Arthington Lane (the A659), to find Pool players forking the square. Oh, dear. Apparently, mopping up had begun at 8am.
"How's it looking?" I asked one of the home lads. "Not good," he replied. Repeating the question, a few minutes later (more in hope than expectation), to an umpire, after his second thorough inspection, I received a grimace and: "It's not changed. Wet through."
Drawing on our reserves of Bank Holiday stoicism (learned behaviour at which we Brits are actual world-beaters), my wife and I set up our seats, sighed and opened the picnic.
Barely a breath of drying wind, but at least the sun was out – and noticeably warm. The mopping up went on … and on … and on. The umpires emerged, periodically, to examine.
And, thus, time passed. To the accompaniment of unfettered birdsong and, here, there and everywhere, those 'to play, or not to play' discussions.
Whilst watching the comical devices being wheeled about, we looked up, on the Net, 'cricket pitch roller drum water collector'. The thick end of £900!
Some of the players felt the umpires were being too cautious. I can appreciate each side of the reasoning. Inevitably, early in the season, players are desperate to play, not sit around in the dressing room. But umpires have a duty of care. Much as I wanted to enjoy some cricket, I didn't want to witness anybody wreck a knee or a shoulder or an elbow after taking a head-over-heels slip or slide on the wet turf.
At length, with the sun now a permanent presence, word came back the pitch was fit to squeeze in a 20-over match, starting at 4pm – the cut-off, in this league, before an abandonment had to be declared.
---
A home player said only a "fair bit of persuasion" from the two captains led to any play at all.
---
Ahead of the news a T20 was planned, I spent an enjoyable half-hour chatting to Pool's 17-year-old scorer Ollie Horvath, a pupil at Prince Henry's Grammar School, Otley, with an eye on a civil engineering degree course at Oxbridge.
It turns out the father of one of Ollie's fellow pupils is a Pool-based former Press Association colleague, Martyn Ziegler. The reporter, no less, who broke the European Super League football story of the decade. Martyn is chief sports reporter at The Times.
Ollie, to pocket a welcome £35 for his scorebox labours that afternoon, has an old head on young shoulders. Not sure, at his age, I was as clear-sighted!
He told of a scorer crisis in Yorkshire cricket. It has reached the stage, he said, where the girlfriends, partners and parents of players are being pressed into service to plug the gaps. Got to be a concern. Without scorers, we don't have a game!
I chatted also to an elderly chap (58 last week, I'm aware 'elderly' is coming my way) sitting on a bench positioned in memory of a fella, Geoff Duncan, he said he'd known. According to the 2019 plaque, Geoff 'loved to sit here and watch the cricket'.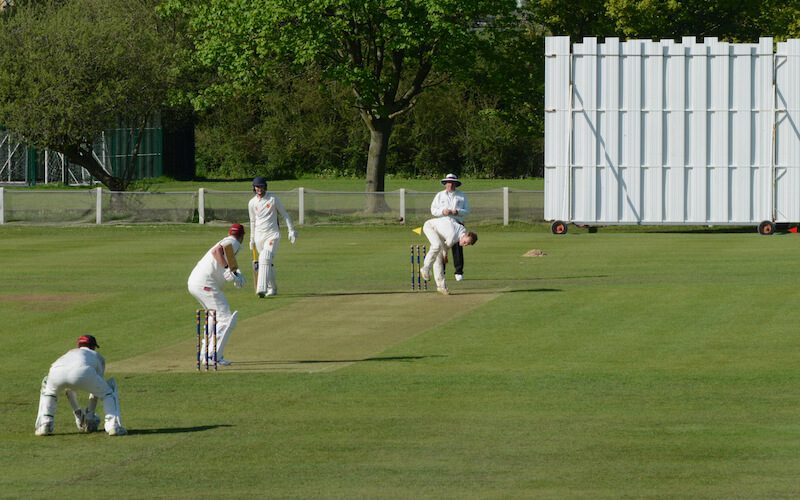 "They're saying another inspection in half-an-hour," I told him. Patience exhausted, he rose to his feet and snorted: "I'm off."
A couple of Bilton players were knocking about a soft ball on the tarmac footpath, route to the river, near the southwest corner. Circumnavigating, I scooped up the ball and threw it back. "It might be the closest we get to cricket this afternoon," remarked the recipient.
Given the pregnant pause between arrival and action, I had a good opportunity to explore the Pool ground.
Pool Sports & Social Club is the umbrella organisation for Pool Cricket Club, Pool Football Club and Pool Tennis Club. The site is known also as Pool Riverside Park. The river, of course, is the Wharfe, which flows immediately to the north.
What looks very much like a cricket pavilion, in the northwest corner, next to the scorebox, is in fact the football club's dressing rooms. Complete with central clock gable, it was opened in July 2012 by former Leeds United and Scotland winger Eddie Gray MBE.
I was told the plan had been to add a second storey, with cricket dressing rooms and a scoreboard where the clock gable is. "The money ran out," a local informed.
Apparently, the clock has been 10 minutes fast since the day it was installed! "How much longer are you playing, ref?"
---
The cricket dressing rooms are at the opposite end, sandwiched between the Village Hall and a super-smart clubhouse, refurbished internally at a cost of £60,000 shortly after the COVID lockdowns ended.
---
A Mouseman of Kilburn-crafted plaque next to the bar commemorates two Pool Cricket Club members killed, on RAF duty, during the Second World War: Bertram Kaye (1941) and David Pickard (1944).
Outside, a balcony affords a lovely view over the heads of picnic table occupants and the square towards the rugged north flank of Wharfedale, just visible above the treetops.
To the right are the two synthetic courts of the tennis club. Flat-roofed Pool Primary School occupies the southeast corner. This used to be the football pitch, which is now immediately east of the square. The two pitches, each surrounded by a post-and-rail barrier, do not overlap. An arrangement that must spare the groundstaff some grief.
Beyond the north end boundary, there is just enough space for state-of-the-art practice nets and a patch of grass used by the footballers for training and warm-ups.
Shade seekers should head for the southwest corner or the west side, where overhanging trees keep the sun at bay. No shortage of bugs and beetles, mind! Beyond the trees, a stream trickles along the west side. In vain, I searched for 'tiddlers'. Took me back, that.
Arranged around a slab of concrete hardstanding, three benches beneath trees hereabouts celebrate the lives of three members of the Wardman family: Brian (died 2001), Harry (2014) and Rose (2020). A mascot is attached to each bench.
Riverside Park is an undeniably pleasant cricket ground. Its sole drawback is that open, exposed east side, which removes an always pleasing sensation of enclosure.
Delving into the dim and distant past, I discovered cricket was played regularly in Pool from the early 1900s. Having played on a pitch beyond Pool Bridge, on the Leathley side of the A658 road to Harrogate, then behind the White Hart Hotel, Pool Cricket Club moved to Riverside Park in 1939.
The Whiteley family, generous backers, bought the site for £1,200. A further £444 was spent smoothing out a "rough field" and £500 paid to lay the pitch and install a boundary fence.
---
Unlike many clubs, Pool arranged fixtures during the Second World War. Despite rationing, tea and sandwiches (for sixpence) were provided at every home game.
---
Hitherto committed to non-league cricket, Pool joined the Leeds & District Cricket League for the 1984 season. Having made a bundle of memories, the club realised a long-held ambition by applying successfully, in 2000, to join the Airedale & Wharfedale Senior Cricket League.
The Whiteley family, bless them, gave Riverside Park, in trust, to the people of Pool and district. An interpretation panel reveals the site is looked after by the Pool Recreation Ground Management Committee.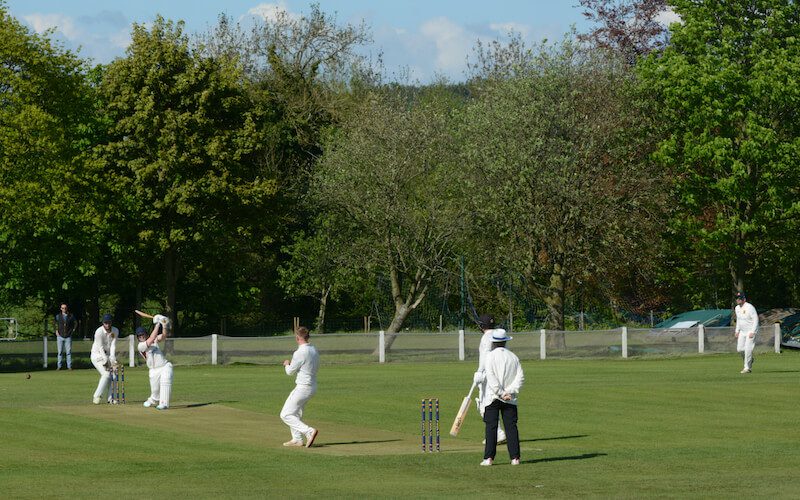 Back to Sunday: chomping at the bit, Pool won the toss and elected to field. I imagine they hoped the sun would dry out the pitch that little bit more before their turn to bat.
With about 150 spectators watching, a claret-capped Bilton scored 130-5 from their 20 overs. Not, I felt, as many runs as it appeared they might amass once they got going.
Run-scoring wasn't easy, certainly when any sort of ball-grass interaction took place. Opener Tim Goodman hit 29 off 32 and No 7 Russell Robshaw an unbeaten 20 featuring two sixes. Olly Boggie took 2-31 from six and Indian 'overseas' Abhishek Pandya 2-34 from four.
---
Their timing askew, navy and red-capped Pool paid for a slow, hesitant start, which left them 25-1 after five overs then 33-3. "Great stuff, lads, great stuff," encouraged a buoyant Bilton boundary fielder.
---
Too late, all-rounder Pandya (28 off 30), in at four, and wicketkeeper Freddie Read (26 off 36), in at five, injected a little urgency.
Nicholas Walker shone for Bilton, finishing with 3-27 from six and taking three catches. Walker almost had a fourth catch. Reaching forward, he stumbled and tumbled into an untidy heap, leaving work to do on the laundry front. Still, the knees of his whites were possibly the only casualty of the conditions. David Cummings had 2-20 from three.
After their 20 overs, the hosts closed on 114-6. Sixteen runs short! Two points to 14. I'm sure there were a few 'what-might-have-been' conversations in the bar afterwards.
"Would the result have been different if they'd played 50 overs?" my wife asked, as we returned to the car. Well, there's a question. One I couldn't answer.
My fingers are crossed for improved weather and more cricket in the weeks to come.