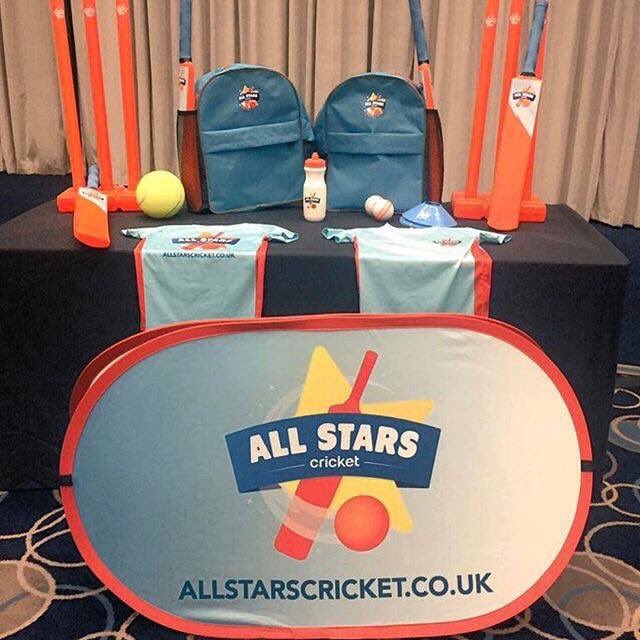 The launch of the 'All Stars' programme in Yorkshire was at Elland Road on Sunday.
This new nationwide ECB initiative is aimed at attracting tens of thousands of five to eight year-olds to play cricket and encouraging a groundswell of popularity and young fans.
Time will tell whether this latest attempt to make cricket relevant to a pre-teen demographic catches fire and the imagination but it got me thinking how my own connection to cricket began.
**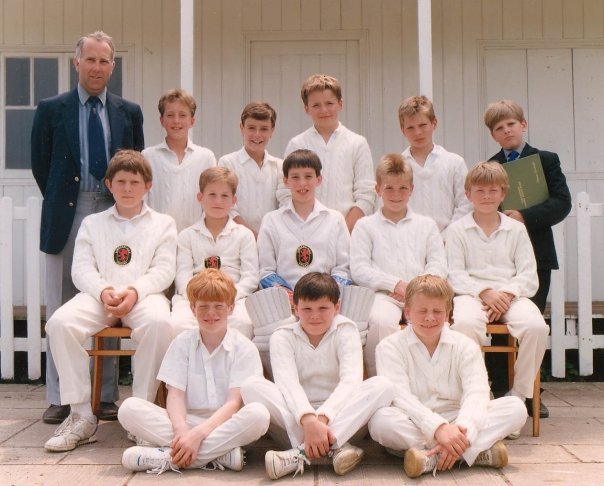 I was a nine-year-old schoolboy, with dubious cricket ability, drafted into the under-tens because we were short of numbers.
I couldn't bat to save my life, I bowled left-arm spin that didn't actually spin and was terrified of a cricket ball.
It was an inauspicious start to my cricket career and I remember being stationed in the slips, not because I had a safe pair of hands (nothing could have been further from the truth) but because no-one else wanted to field there.
We had a county age group fast bowler called Stuart who was twice the size of the rest of us, with a wild flop of hair that bounced hypnotically as he launched into his gigantic run-up.
If, by some miracle, the opposition got bat to ball, typically edged through the slips, I was waiting to see the cherry-red, leather-clad orb whistle by me about a minute before I had even contemplated reacting.
Between you and me, I was silently egging on the batsman to middle each delivery.

It was a slight traumatic start to a life in cricket whites but despite being properly rubbish at every facet of the game, I somehow still fell in love with it.
The summer term was the favourite by a country mile as that meant months of playing, talking about, reading about and watching cricket.
I still see it as a badge of honour even now that one of my school reports read that 'if John spent half as much time on revision as he did in the nets, he would make an exceptional student.'
I would devote of all my spare time bowling for hours and hours at anyone I could grab and persuade to stick on a pair of pads.
From memory, there was a black, plastic dustbin with communal pads with rarely a matching set and a dishevelled batting glove that had green rubber spikes.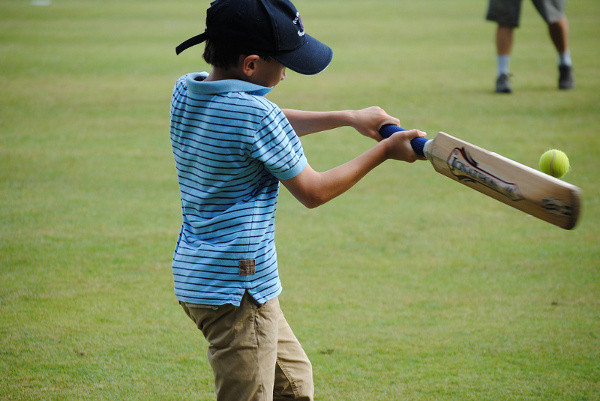 Cricket equipment has cantered forwards in design and consideration in the ensuing decades but the memories of those early summers learning my limitations with a ball and bat are as crystal clear as yesterday.
I recall a teammate at junior school unwisely going out to bat without wearing a box (they call those abdominal guards or protectors now…whatever next…crown jewels cages?)
Sure enough, he edges one into his proverbials and promptly collapses to the ground, writhing around for some minutes while the rest of us took a sympathetic tone and fell about laughing.
As he was helped off the field with a skin pallor the colour of slate, word got round that he wasn't wearing adequate insurance and all laughter evaporated as we imagined the horror and instinctively crossed legs.
A less painful memory is that of match day preparation for junior school first-eleven cricket that involved digging out some paintbrushes and whitewashing our grubby batting pads.
It's those cheery little jobs that signify cricket is ticking ever closer like pegging out the flags.
The first cricket coach I remember was Mr Kennedy who had a brief career with Lancashire County Cricket Club; he appeared in shellsuit and huge glasses to put us juniors through our paces, cracking gentle jokes at my feeble attempts to pass muster in the field.
Our cricket nets at the time did not replicate the seaming conundrum of an English April afternoon; instead a microscopically thin coconut matting hid a concrete base that made the ball leap off a length.
We had those bullet-hard, plastic-coated practice balls with kryponite for a centre, coloured half red and half-white, complete with totally knackered seam.
Still I couldn't spin the ball, mind…and would frequently watch disheartened as my pies were greedily sent fizzing out of the nets, scattering other bowlers like pins in a bowling alley.
It took a friend bowling left-arm fast grabbing nine wickets for one run in a school match to catch my eye (thanks James Harvey) and persuaded me to abandon spin bowling.
Batsmen no longer took quite as much relish as I chugged into bowl as my beanpole physique, allied with enthusiastic coaching, honed a nagging length from left-arm over the wicket, zeroing in at the ribs.
Away from school, club cricket was an altogether more sedate experience but merely served to confirm the fact that cricket had my full attention and was never letting go.
I was the youngest cricketer in a village team playing league cricket on a Saturday and was given a chance to angrily tear into bowl a few overs and would try and impress the adults; cue bouncers halfway down the wicket and the ball sent, with barely contained amusement, into the hedgerows.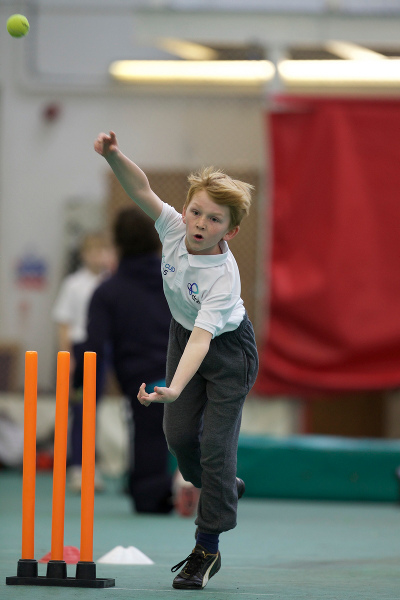 The AllStars programme will encourage host clubs to recruit 'activators' rather than needing ECB-qualified coaches and should be a welcome addition to existing frameworks such as the Drax Cup (above) – the under-nine schools competition across Yorkshire.
The AllStars method delivery through cricket helpers, alongside recognised coaches, reminds me of my first paid job during university.
One of the cricket clubs near where I was doing a BA in history offered a jug of beer and a few quid to coach/babysit children up to the age of nine for a few hours on a Sunday morning.
Some weeks, we could have thirty energetic kids per adult supervisor – games were riotous, fun and occasionally cause for alarm.
A watchful parent would be cheering their son from the sideline just as he'd choose to smack his teammate around the head with a blue, plastic bat. Cue tears and some epic diplomacy needed.
There was some fairly relaxed fielding positions for my sessions with batsmen in pairs cricket looking around to see six cover fielders, three silly points, seven square legs and a clump of friends at mid off pulling daisies apart and discussing what they ate for breakfast.
It'd like to think that at least some of those kids had so much fun in those summer days that they joined their cricket club and thus began a glittering career that led to county cricket and many England caps.
Unlikely I know…well, I hope they had fun which at that age is entirely the point.
I certainly had a blast – though the elusive promise of beer was all too hastily retracted after the opening week.
That I continued to coach during university before beginning decades of bowling in club cricket across the country can be traced back to my first positive connection with cricket before the age of ten.
Coaches, clubs and schools play such a vital role in making cricket accessible, bags of fun and encouraging those of all standards to join in on their own terms.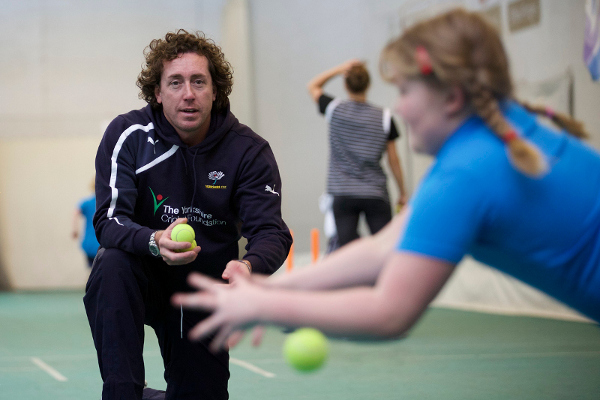 WHAT WERE YOUR FIRST EXPERIENCES OF PLAYING CRICKET?
So…over to you….when did you first play an organised form of cricket? Was it at school, a cricket club or some other way?
Tweet in your memories to @cricketyorks or leave a comment on Cricket Yorkshire's Facebook page.
**If you liked reading this article: please share it on Facebook/Twitter using the buttons at the top or bottom of this page. Thanks!
Latest posts by John Fuller
(see all)