The bank holiday is already a fading memory and reality, tinged with a five-or seven-day week, is gently mocking you.
What can you do about it? Focus on your next break, that's what…
If you're here at Cricket Yorkshire, in search of cricket-related distraction then look no further than our curated hat trick of ultimate places to stay for the cricket fan.
We have unearthed three Yorkshire cricket gems that range in price and have a cricket theme to them in one way or another…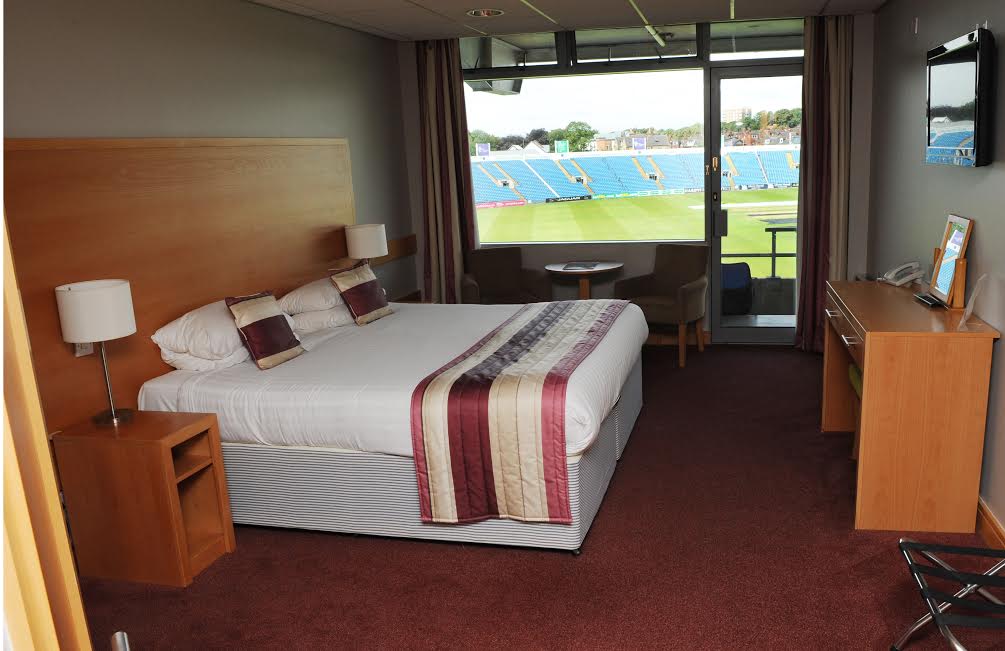 If you want to watch Yorkshire County Cricket Club play at home – or take in an ODI or Test match – and are tempted by the supreme convenience of watching from your room then check out the Headingley Lodge.
This is four-star, affordable accommodation (from £70 per twin or double room per night including breakfast) and they have 36 rooms – all of which look onto the cricket ground along with free parking and wifi.
There's no restaurant or bar on-site but Headingley is but a short walk and did we mention you can watch the cricket from your bedroom?!
2. The Craven Heifer, Addingham
This pub, restaurant and inn boasts seven rooms, each individually themed to celebrate Yorkshire names like Hockney and Bronte.
The 'chuffin eck' room is a nod to Fred Trueman and the double-en-suite is sure to be a quirky stay while Tripadvisor seems to suggest eating there is a gastronomic six.
Cricket is infused into the design from its bespoke 'stumps and bails' bed to cricket bat desk, custom made cricket jumper cushions and a cricket ball personally signed by the great man himself.
Prices range from £80 for single occupancy to around £100 for two of you for a night (depending on season and offers) and with the Heifer situated between Skipton and Ilkley, there's the Yorkshire Dales on your doorstep.
Do you like the idea of a 17th-century castle nestled in a 200-acre estate in the Yorkshire Dales?  Thought you might.
If the mood takes you, Swinton Park also has a spa and cookery school and is situated a couple of miles from the market town of Masham.
Its 'Headingley' room costs £250 a night and the bedroom is themed on the home of Yorkshire County Cricket Club.
From here, you can enjoy views over the hotel's pitch where Swinton Park hosts a handful of games each summer – the hotel's wicket is on the lawn below the turret, overlooking the gatehouse and drive.
It looks a spectacular place to stay as well as to watch or play the game and the proprietor Mark Cunliffe-Lister (Lord Masham) arranges several amateur fixtures against local teams throughout the summer.
If you're curious, dates for 2015 when matches will be played are: 7th June (2pm), 21st June (2pm), 9th July (6pm) and 6th September (2pm).
OVER TO YOU…
So, that's the accommodation gold for you to ponder over…all three are well reviewed on Tripadvisor and well, let's face it, you deserve another holiday….
Latest posts by John Fuller
(see all)