Andrew Gallon savours midweek cricket from the Pilmoor Evening Cricket League at Crayke with hail, Super Over drama and a 9pm finish.
Let's face it, the cricket season is too short. If, as a spectator, you're not keen on shivering through the April and September bits, there are four full months when sitting next to the boundary is an unalloyed pleasure. That's really not many Saturdays.
Which is why I regard midweek cricket as a complete boon. Many Yorkshire leagues now offer a Tuesday or Wednesday evening T20 competition. I see, for 2021, at least one has adopted The Hundred format. Must get to one of those games.
In what is now my neck of the woods, I've always found the Pilmoor Evening Cricket League strangely elusive. Obtaining fixture information has been decidedly tricky. Until recently.
Luckily, I managed to touch base with Keith Houlston, the league's long-serving secretary, and he very kindly sent me a complete list of the 2021 fixtures. Opportunity knocks!
The Pilmoor competition, contested on Wednesday evenings, is a good 60 years old. Why its founders named it 'Pilmoor' is a mystery. Those who know aren't around to ask!
As far as I'm aware, Pilmoor is little more than a row of former railway workers' cottages next to the main east coast line, on the 'racing stretch' between York and Darlington.
Back in the day, 'Pilmoor' was a busy junction station from which branch lines peeled off to serve Boroughbridge and Knaresborough, and Helmsley, Malton and Pickering.
This summer, the Pilmoor Evening League's 11 existing members have been gathered into a single division. With the exception of Dringhouses, the league's clubs are contained within a relatively small geographical area north of York.
The 2021 line-up features Alne, Clifton Alliance, Crayke, Dringhouses, Easingwold, Helperby, Newburgh Park, Raskelf, Sessay (Keith's club), Sheriff Hutton Bridge and Thirsk. Fixtures are seeded, to avoid morale-sapping blowouts.
With the unpredictable (that is, wet) spring weather forecast to improve as the first Wednesday evening that presented itself wore on, I took myself – and an optimistic frame of mind – off to watch Crayke entertain Raskelf.
Sadly, Crayke Cricket Club now play only midweek games. Owing to a dearth of players, in 2009 they resigned from the York & District Senior Cricket League. I was told Crayke, in the Seventies and Eighties, counted amongst the league's leading lights.
The impressive facilities at Crayke Sports Club, shared with York League Crayke United FC, are a conspicuous indication of the cricket club's former status.
Crayke is a tiny, picturesque village, huddled on and around a small, steep-sided hill or crag that leaps out of the pancake-flat Vale of York like a cherry on a Bakewell tart.
Yet the cricket ground, overlooked by fifteenth-century Crayke Castle, is large and spacious. There is room to 'let out' the boundary, if an even bigger playing area were needed.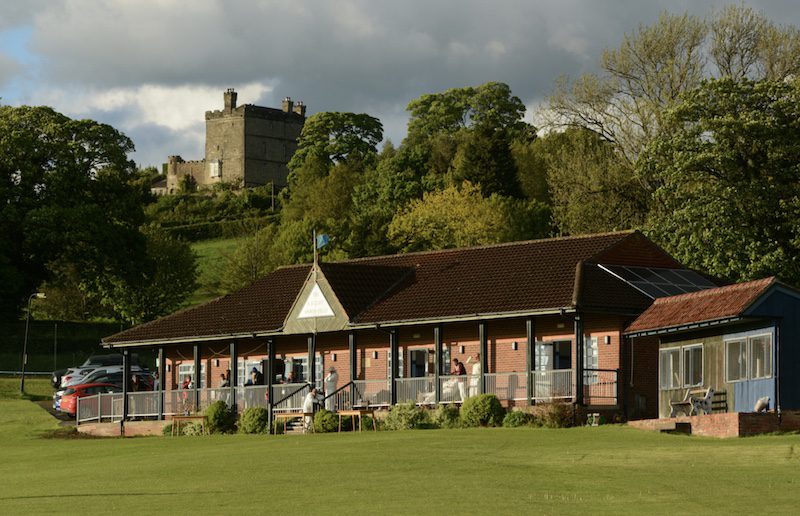 The clubhouse, size commensurate with the sloping pitch, is something to be proud of. Adjacent stands a smaller, wooden structure. An elderly gentleman told me this used to serve as the cricket pavilion.
It came, he said, from a defunct mental health care facility at nearby Easingwold. "Before that," he smiled, "we used an old railway carriage."
Crayke Sports Club is laid out near the foot of the hill. It is sufficiently elevated to provide fine views, south and west, across the seemingly endless plain. You can pick out the cooling towers of Drax Power Station. Distant Pennine hills occupy the western horizon.
Full marks, by the way, to midweek cricketers. It cannot be easy, after a day's work, to summon the energy and enthusiasm (or, given commitments to WAGS, friends and family, have the time) to pull on whites and get stuck into a gloaming game.
I often find, at midweek matches, certainly those involving players of modest ability, an initial feeling that not everybody is taking it terribly seriously.
As games progress, however, that invariably changes. If a close finish is on the cards, all the players want to be on the winning side.
The age range of players is a pleasing aspect of midweek cricket. Young teens (often a girl or two) will line up alongside twenty and thirtysomethings, and a smattering of silver foxes.
All these facets were on show at Crayke. We had some spectacular weather, too. With Raskelf, who elected to bat, nearing their 16th and final over, the vast, black cloud hovering above the ground finally dumped its contents. Hail.
In mid-May!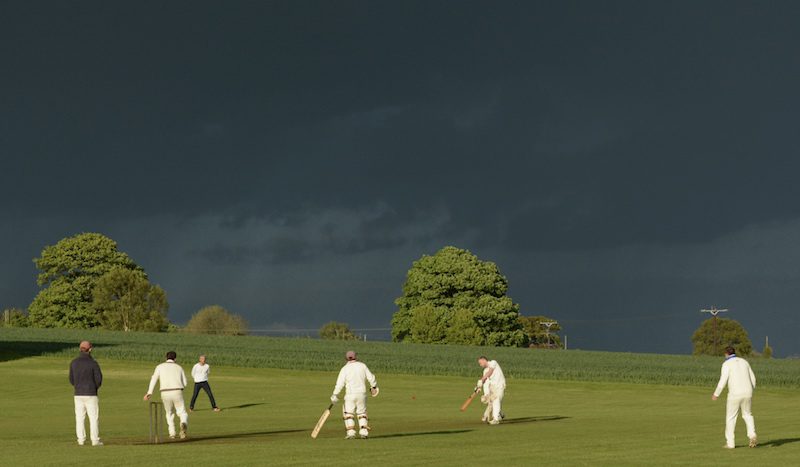 Everybody sought shelter for half-an-hour. At length, the tempest gave way to brilliant sunshine. Patience rewarded. The players, stretching stiff joints and massaging aching limbs, returned to a wicket bathed in light. Over to the east, behind the clubhouse, the storm's retreating blackness formed a dramatic backdrop.
Rob Galtrey (45) and Richard Brown (20) helped Raskelf to 77-4 from their 16 overs.
Crayke's reply began so slowly, I feared the home team wouldn't have a sniff of victory. Yet, ball by ball, the Crayke total advanced. Eleven runs – including a six – off the penultimate over left them needing three from six balls.
They ran three singles to squeeze home, at 78-5, with three balls to spare. Hugh Shedden scored 22, Ian Pears 21.
I was particularly taken by a mid-teen girl who was bowling spinners for Raskelf. Her mum, the visiting team's scorer, looked on approvingly as the youngster threw caution to the wind and gave the ball plenty of air. Nice variation, too. Batters kept guessing. Great to see.
Raskelf did have the consolation of winning the mid-match 'Super Over', a Pilmoor Evening League innovation for the 2021 season. Six runs to two secured a bonus point.
Two Pilmoor Evening League grounds I'm looking forward to visiting are Newburgh Park and Thirsk. Both appear to be quirky.
Newburgh Park (another midweek-only team, I believe) play within the landscaped grounds of Newburgh Priory, the country pile near Coxwold that has been home since 1802 to the Wombwell family.
Thirsk's pitch is inside the town's racecourse circuit and overlooked by sizeable grandstands. The season will end with rugby league-style play-offs and a Grand Final.
All I need is a few sunny Wednesday evenings. Bring on summer.
Many thanks to Andrew whose excellent club cricket series, Miles per Gallon, is on cricketyorkshire.com throughout the summer. Click the link above to explore past club visits!
Do you / your cricket club want to find sponsors, fundraise successfully and grow your membership?
Learn simple, step-by-step methods to create incredible value for members, sponsors and funders.
Our Make Money For Your Cricket Club e-course is an enjoyable way to learn at your own pace.
It covers 4 modules with short video lessons:
Membership
Events & Fundraising
Sponsorship
Grants & Funding
Latest posts by Cricket Yorkshire
(see all)