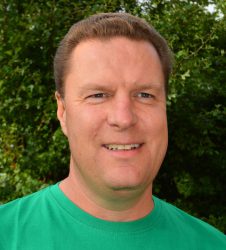 Latest posts by Andrew Gallon
(see all)
Andrew Gallon visits Helperby who welcomed Newburgh Park in the last round of the Pilmoor Evening Cricket League's regular season.
Turn right or left off the busy, high-speed A19, anywhere between York and Thirsk, and you'll find yourself driving through some of Yorkshire's sleepiest countryside.
On a sunny summer's evening, beneath the Vale of York's characteristically vast skies, there's a special kind of pleasure in tootling along the hedgerow-lined country lanes that link a host of pretty villages dotted about a patchwork quilt of serene crop fields.
Back in the day, old timers will tell you, all these communities boasted a thriving cricket club. Many of those clubs have gone, for good, it would seem, as time marches on and men of all ages find other things to do with their leisure hours.
---
Helperby, marooned contentedly in the fertile landscape between Easingwold and Boroughbridge, is one of the vale's most attractive villages. Some lovely Georgian architecture to admire.
---
Happily, its cricket club survives. The Ispahan Wood cricket ground, as charming as it sounds, is a mere hundred yards or so beyond the York end of Main Street.
Helperby Cricket Club's first team are a leading light of the Nidderdale & District Amateur Cricket League. Their Pilmoor Evening Cricket League midweek XI are no slouches either.
On an increasingly humid day, the Jet Stream doing its stuff, I've come to watch a clash of the top two. Coxwold-based Newburgh Park are the visitors for a fixture in the final round of games in the Pilmoor Evening Cricket League's regular season.
The league's 11 member clubs are jockeying for position in the qualifying table ahead of the opening fixtures in a four-round play-off series culminating in an August 11 final.
As my wife, the designated driver, parks in the welcome shade cast by a mighty oak, one of the Helperby players is trundling a trolley around the boundary, refreshing the white line.
As you'd expect (this is Britain, after all), the unusually warm weather makes the perfect conversational icebreaker (as it were).
"Too hot to play," observes the trolley guy, nearing the end of his solitary lap. "It'll be even worse at the weekend – 27 degrees."
We agree it's all a bit much. There's comfort in the knowledge it won't last. As the saying goes: "If you don't like the weather in Britain, wait an hour."
Sure enough, during the 45 minutes that elapse before the game starts, cloud mushrooming above the western horizon engulfs the sun and takes the edge off the temperature.
---
The sun must be a cricket fan, mind, because it returns, in the nick of time, to greet the first delivery.
---
Before that first ball could be bowled, a great many tasks had to be undertaken. Almost every Helperby player was allocated a job.
In addition to restoring the white line, three covers required removal from the wicket and benches, chairs and a table (for the scorers) had to be lugged out of the clubhouse and positioned beneath or near its verandah.
White marker flags needed implanting around the boundary. The lad doing this was extremely methodical.
As he walked, he counted paces to ensure even distribution. The digital scoreboard, like the benches locked safely in the clubhouse at this isolated ground, had to be lifted onto its stone mounting.
All this took place against a backdrop of bellowing bullocks. Grazing blissfully in the field between ground and road, they didn't take kindly to their peace being disturbed!
There was just time, after all these preparations, for the players to have a quick warm-up in the nets behind the clubhouse.
By any standards, Helperby Cricket Club's ground is delightful. Mature trees fringe the west end and the south side. To the north is a tall hedgerow.
A corner kissing gate allows access to a path crossing a paddock to Back Lane. A wooden fence denotes the east end perimeter. Beyond fields, there is a fine view of low hills, the westernmost Hambleton and Howardian.
Try as I might, I couldn't spot the White Horse of Kilburn, signature landmark hereabouts.
Helperby's clubhouse occupies the southwest corner of the ground. This low, wooden structure, adorned with a central clock gable, is of a design and a scale wholly in keeping with its surroundings. It's fairly new, I gather. Erected in 2008, according to Wiki.
Completing a sublime village cricket scene, birdsong rings out from the neighbouring trees whilst, over in the village, a doleful church bell chimes the hour.
---
I found myself sitting (to me, fold-up camping chairs are essential for a comfortable club cricket spectating experience) next to Pilmoor Evening Cricket League president Brian Powell, a former Raskelf Cricket Club chairman, who had a fund of stories from a lifelong involvement in the sport. He played his last game at 76!
---
Of Brian's tales, my favourite was one of travelling to cricket on the Isle of Bute. The small boat ferrying everybody across the Firth of Clyde from the mainland was seriously overloaded. So low in the water, recalled Brian, barely a foot of hull was visible.
Brian knew everyone and everyone knew Brian. "How are you?" he asked a boundary fielder. "Not bad," came the reply. "A bit too hot for cricket, though."
This wasn't a bowlers' match.
Electing to bat, Newburgh Park scored 132-3 off their 18 overs. Rob Nicholson (60) and James Banks (35) put on 83 for the first wicket. Helperby skipper Dan Marston took 2-12. One or two catches – none of them straightforward – were put down.
Banks and younger brother Tommy, who also was turning out for Newburgh Park, are renowned for their skills in the catering/hospitality industry. How do they manage to get time off to play midweek evening cricket?! Brian told me the siblings, formerly key members of Easingwold's Saturday first team, now play only midweek stuff for Newburgh Park.
The innovative mid-game Super Over has been enlivening Pilmoor Evening Cricket League matches throughout the 2021 season.
Newburgh Park scored seven runs off five balls. Having lost a second wicket, to a smart run out, they were not permitted a sixth. Helperby took four balls to make eight and secure a bonus point. Each team managed a single four.
---
Having served notice of their intentions by smashing a down-the-ground six off the first delivery, the home team went on to collect four more points by winning the game.
---
From a potentially parlous 13-1, Marston (77 not out) and Dan Spink (42 not out) featured in an unbroken partnership for the second wicket worth 123. The unshakable pair steered Helperby to 136-1 – and victory – with 11 balls to spare. The win was clinched with a four.
Left to rue several near-misses in the field, Newburgh Park didn't have much luck.
Interesting to hear a visiting player speak out in favour of the Pilmoor Evening Cricket League's Super Over. "It's a really good addition. I was a bit sceptical but it's a bit of fun."
The evening's events mean Helperby top the final, qualifying table with 37.5 points from 10 games. Newburgh Park (32.5) finish second, with Easingwold (32.5) third, Alne (32) fourth and Clifton Alliance (25) fifth.
The top five sit out the first round of the play-offs.
All that remained was to bid farewell to Brian (and his wife) and, with twilight imminent, return to those country roads and home.
Many thanks to Andrew and you can read his club cricket series, Miles per Gallon, on the website throughout the summer.