Payntr cricket shoes are popular for a reason and it's not just the intriguing Bodyline story behind them.

A seismic launch and eye-catching design unlike any other cricket shoe, led to endorsements from professional cricketers.

If we fast-forward to the present day, Payntr are now mainstream, trusted and supply footwear for Yorkshire County Cricket Club and the Northern Diamonds.

Cricket Yorkshire approached Payntr about a partnership because many of our readers play cricket and need comfortable cricket spikes or trainers.
I thought I'd do a Payntr cricket shoes review and to remind you of our exclusive offer…
Get 20% off if you use YORKSHIRE20 at checkout over on payntr.com. (Excludes any Payntr cricket shoes sale and golf items).

Payntr Cricket Shoes review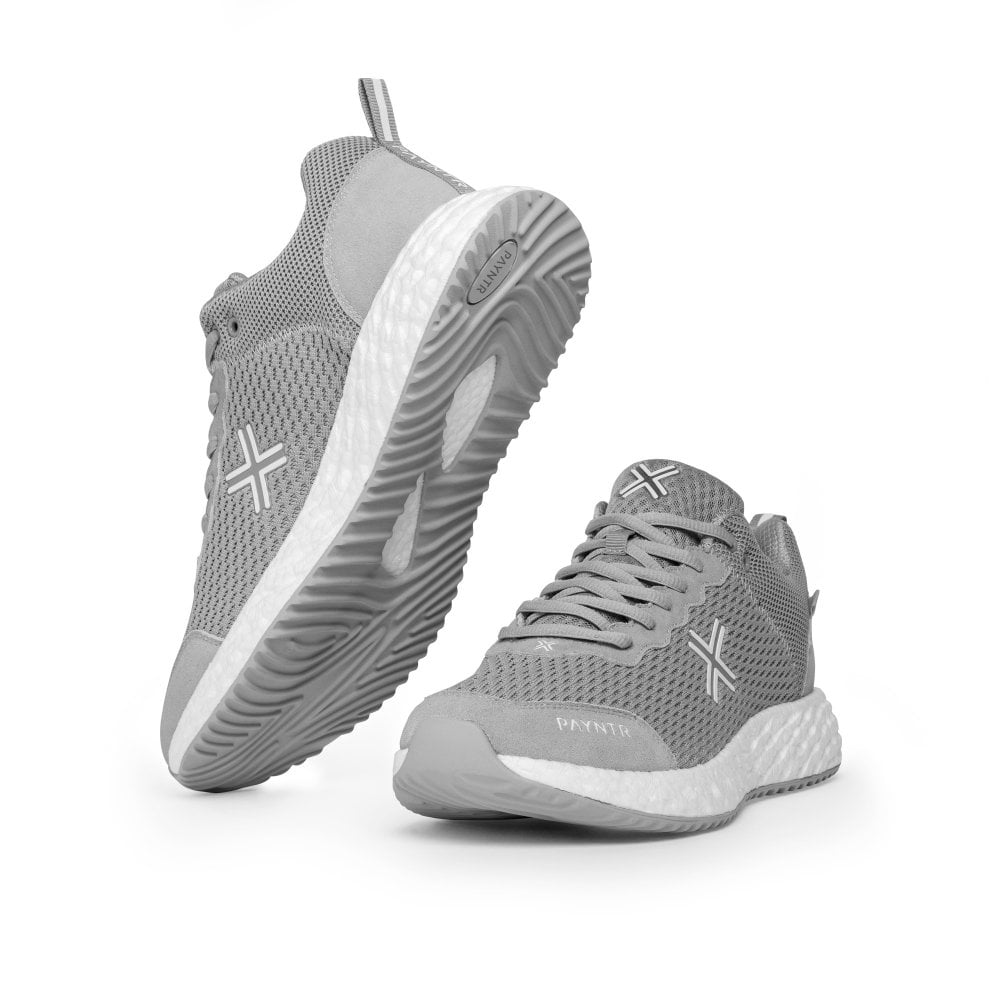 Payntr Bodyline 412 Trainer (Grey)

I bought a pair of these Payntr Bodyline 412 trainers myself and they've been incredibly comfy in 2021/22. If you like a wider shoe then these fit the bill and there's loads of cushioning around the ankle and side of the foot.
Initially, the underfoot padding as you walk felt (to me at least) like you're on a spongy surface. It was almost as if I was bouncing along the surface of the moon.
---
These are one of the most comfortable pairs of trainers I've ever worn (and I've bought dozens).
---
Without meaning to, I've kept them immaculate and there's a strange pleasure in the newness of a shoe, if that makes sense. They're easy to clean which is a bonus.
Anyway, Payntr don't just do cricket shoes for switch-hitting sixes into the crowd or sending stumps cartwheeling, they have their Active range.

These trainers are in mind for the players to look the part in the clubhouse after a game, basking in the glory of that eight-wicket haul or daddy hundred.
Or perhaps you're an umpire, fresh from a series of fiendishly difficult but correct LBW decisions, and taking the weight off with a pint of Theakstons at the bar.
During the off-season, they're ideal for indoor cricket, net sessions or general use as a popular trainer.

These Payntr trainers come in black or grey as well as the white pair with red trim that runs through their cricket shoes range.

Pleasingly, they are flipping light, you can quote me on that, that's a very technical cricket footwear term. I also give a thumbs-up to the padding around the ankle which is like being cuddled by a friendly pillow.

So, a Payntr cricket shoes hat-trick for you. Check them out and make sure you use the YORKSHIRE20 20% off discount at checkout. There's also hoodies, caps and gear to click round too.

If you want more advice about buying cricket shoes then check out my Best Cricket Shoes: 2021 Cricketers Guide – it is the most popular article on the website.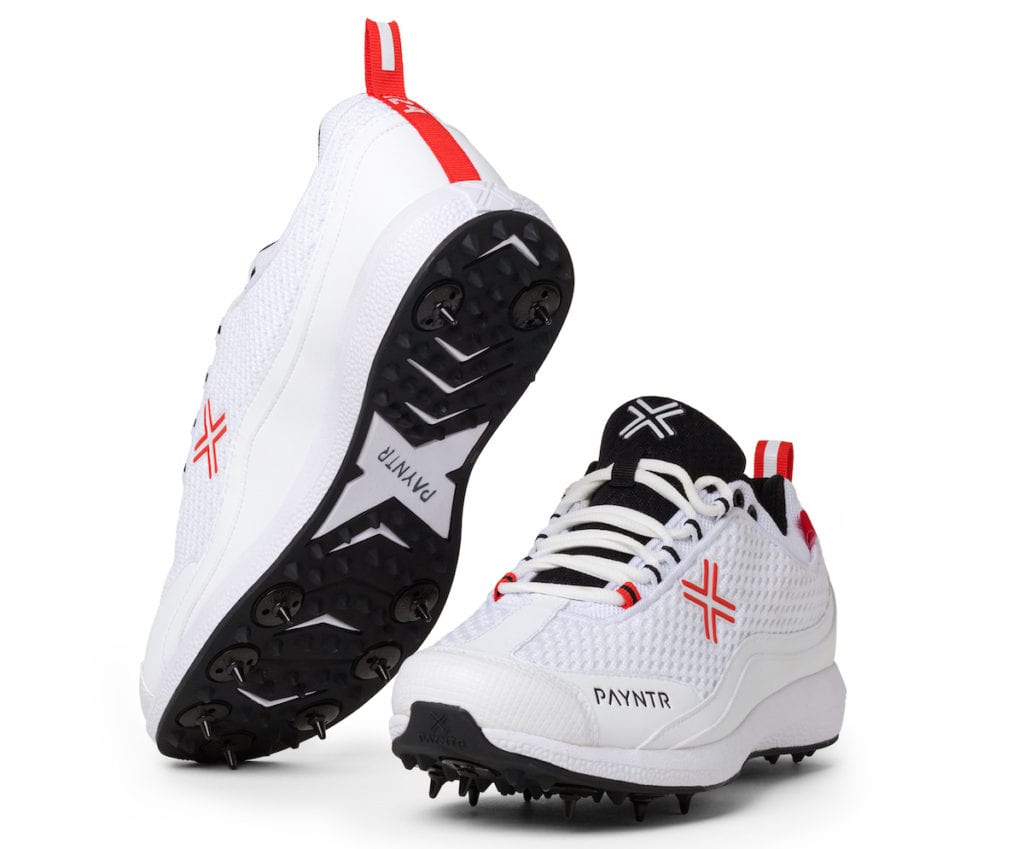 Payntr Bodyline 124 Batting/Keeping Spikes

I was sent a pair of these and it was like Christmas Day when they arrived for this fumbling number 11 with a career-average of 7.5.

The Bodyline postcard is a nice touch and first impressions are that even though I'm probably not Payntr's prime target market, they won me over.

I've worn bowling boots, trainers and everything else in between for hurtling down a cricket ball. Personally, they've got to be sparkling white and feel light as a feather – which these do.

I could give you the spiel about cushioning and reinforced toe but you can read that on their site, if the mood takes you.
All I can say is they have the appearance of a stylish trainer, were comfortable to clatter round Cricket Yorkshire HQ and were my kind of shoe.

Just like picking up a cricket bat, it's a personal thing with footwear but it helps when the design is led by an ex-pro cricketer and Payntr are well worth consideration.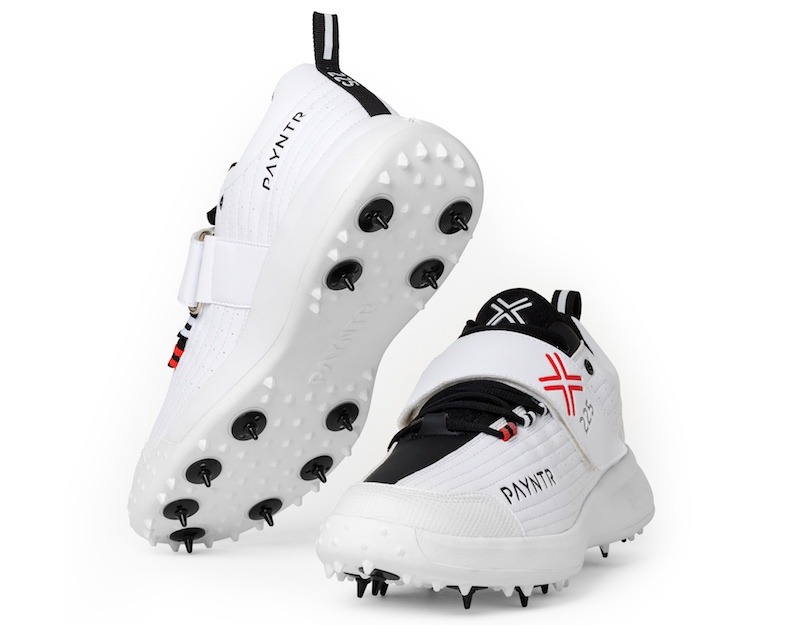 Payntr Bodyline 225 Bowling Spike

Notice they call them a bowling shoe or spike, rather than a boot – and that's deliberate I'm sure.
When I interviewed Dave Paynter, he discussed the construction of the bowling shoe which is a balance between protecting the feet from the hammering they take with shedding as much weight as possible.
Payntr have their velcro strap strategically positioned to lock down the foot and my eye was caught by the reinforced toe box with rubber bumper to protect from dragging.

As an opening bowler, I used to drag my back leg like a weird, flailing anchor. Not in any ECB coaching manual I can tell you.

Not to stress a point but these have been designed by someone who played county cricket as a bowler and that's at the heart of these Payntr cricket shoes.

A quick mention on price too – I mention in my Cricket Shoes Guide that investing in footwear will mean fewer replacements – but also you can't play cricket if you've injured your feet!

Invest in quality as much as you can afford, whatever the brand ultimately, and you'll see the benefit on the pitch.
Thanks for reading and if you think anyone else you know would like a read then hit those Facebook and Twitter share buttons.
Payntr Cricket Discount Code
Get 20% off if you use YORKSHIRE20 at checkout over on payntr.com. (Excludes sale and golf items).
When you buy Payntr products on payntr.com using the YORKSHIRE20 code, we will earn an affiliate commission. It doesn't cost you anything (there's a 20% discount actually) – but you'll also be supporting grassroots cricket journalism.
Latest posts by John Fuller
(see all)