Payntr cricket shoes are popular for a reason and it's not just that they are endorsed by the superstar T20 bowler, Rashid Khan.
Worn by grassroots players and professionals around the world, they've been designed by cricketers for cricketers.
Their new XPF range, out for the 2023 season, is a stylish show-stopper.
XPERIENCE PAYNTR FUSION ❌

The all new PAYNTR XPF Range is now available to buy online and in stores – https://t.co/EYqzk2tlGq#GREENWITHENVY 💚#payntr #payntrcricket #payntrxpf #xpf #poweredbypayntr #cricket #cricketshoes #CricketTwitter #cricketspikes #cricketer pic.twitter.com/bQyKByZ1P4

— PAYNTR™ Cricket (@PayntrCricket) March 24, 2023

Cricket Yorkshire have partnered Payntr for a few years now because many of our readers play cricket and need comfortable cricket spikes or trainers.
I thought I'd do a Payntr cricket shoes review and to remind you of our exclusive offer…
Get 20% off if you use YORKSHIRE20 at checkout over on payntr.com.

Payntr Cricket Shoes review
Payntr Cricket Spikes – XPF-AR
Payntr cricket spikes have had an upgrade for 2023 with this new XPF range. The XPF-AR is their all-rounder spike, packed with all of the engineering and specialist know-how that former pro cricketer Dave Paynter brings to the party.
They have been designed with a running shoe in mind for that lightweight feel, allied with plenty of cushioning for comfort as you dive for that match-winning catch.

Details such as the anti-slip resistant lined insole to grip your foot in the shoe and the mid-height collar for extra ankle support without restricting your movements show why this is a popular choice.
---

You want cricket spikes that feel light but still protect your feet – the Payntr XPF-AR offers increased stability as you stop, turn and dive.

---

Payntr cricket shoes are known for their cushioned, foamed support that cuddles your feet as you go about your business.
To decipher that, a huge amount of thought has gone into making these Payntr cricket spikes comfortable, light and also durable. It helps that they look stylish too.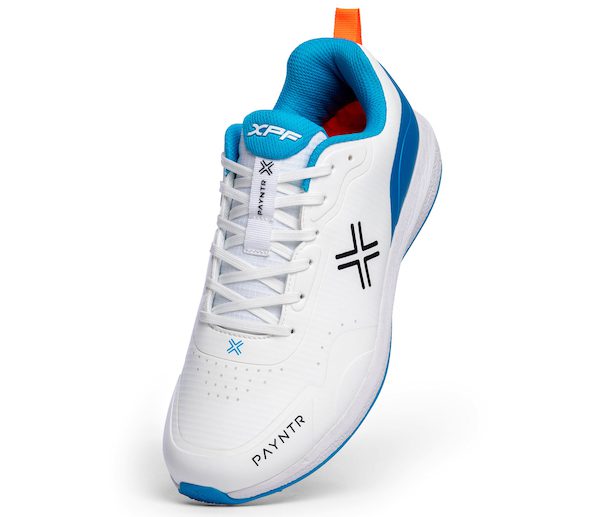 Payntr XPF-19 Cricket Spike (White/Blue)

There is plenty to like about this impressive Payntr XPF-19 cricket spike. it is the lightest cricket shoe that Payntr make.
I probably prefer its powder-blue colour to the bolder XPF green but then I'm mid-40s and probably not the target audience.
Worn in the Indian Premier League (IPL) and other global competitions by ICC Men's T20I Player of the Decade, Rashid Khan, it has the foamed support to look after those feet while wicking away moisture to keep them dry.
Payntr Cricket Discount Code
Get 20% off if you use YORKSHIRE20 at checkout over on payntr.com.
Payntr Bodyline 412 Trainer (Grey or Black)

I bought a pair of these Payntr Bodyline 412 trainers myself and they've been incredibly comfy for 2 years now. If you like a wider shoe then these fit the bill and there's loads of cushioning around the ankle and side of the foot.
Initially, the underfoot padding as you walk felt (to me at least) like you're on a spongy surface. It was almost as if I was bouncing along the surface of the moon.
Note: They are down to the smaller adult foot sizes for 2023 (UK 7-9) but are also very affordable at less than £40.

---

These are one of the most comfortable pairs of trainers I've ever worn (and I've bought dozens).

---

Without meaning to, I've kept them immaculate and there's a strange pleasure in the newness of a shoe, if that makes sense. They're easy to clean which is a bonus.
Anyway, Payntr don't just do cricket shoes for switch-hitting sixes into the crowd or sending stumps cartwheeling, they have their Active range.

These trainers are in mind for the players to look the part in the clubhouse after a game, basking in the glory of that eight-wicket haul or big hundred.
Or perhaps you're an umpire, fresh from a series of fiendishly difficult but correct LBW decisions, and taking the weight off with a pint of Theakstons at the bar.
During the off-season, they're ideal for indoor cricket, net sessions or general use as a popular trainer.

These Payntr trainers come in black or grey as well as the white pair with red trim that runs through their cricket shoes range.

Pleasingly, they are flipping light, you can quote me on that, that's a very technical cricket footwear term. I also give a thumbs-up to the padding around the ankle which is like being befriended by a friendly pillow.
Thanks for reading and if you think anyone else you know would like a read then hit those Facebook and Twitter share buttons.
MORE CRICKET GUIDES
If you want more advice about buying cricket shoes then check out my Best Cricket Shoes: Cricketers Guide – it is the most popular article on the website!
We also have:

Best Cricket Bats Guide

Best Cricket Helmets Guide
Payntr Cricket Discount Code
Get 20% off if you use YORKSHIRE20 at checkout over on payntr.com.
When you buy Payntr products on payntr.com using the YORKSHIRE20 code, we will earn an affiliate commission. It doesn't cost you anything (there's a 20% discount actually) – but you'll also be supporting grassroots cricket journalism.
Latest posts by John Fuller
(see all)