A few weeks back, my Sunday was given over to Old Sharlston Cricket Club vs Great Preston in the opening round of the National Village Cup.
The day began as days always should with a highly nutritious, low-calorie (very) premature lunch…a Greggs sausage roll on the concourse of Wakefield Westgate railway station.
The friendliness of host club Old Sharlston CC became apparent with the offer of a lift to the ground from Shaun Craig, media officer and willing mine of information on the journey that Old Sharlston have been on.
This is a club where the umpires used to get changed in a dark green wooden hut, especially brought in to meet the minimum stipulations from the Pontefract & District Cricket League; the old, tired pavilion dated back to 1959 and was finally pulled down and made for the centrepiece of their bonfire night festivities.
Cricketers used a white portakabin to get into their whites and with no hot water on-site, the cricket teas were prepared in the local church.
If that sounds quaint, it loses some of its novel charm soon enough. I've been in my fair share of cargo containers masquerading as modern changing rooms and so I can appreciate how Old Sharlston were desperate for change.
Funding took over a decade to lock down with setbacks along the way; it required a patient and dedicated committee, backed by members who had to believe it would all happen some day.
Money was sourced from a Sport England Inspired Facilities grant to the tune of £69,207 and a further £49,927 from Wren Waste Recycling Environmental Ltd and FCC Environment through the Landfill Communities Fund.
Companies gave their expertise, time and materials for free during the build such as the donation of the carpets from a Wakefield firm, Rawson Carpets, and players and supporters donated funds in a buy-a-brick scheme as the daunting sum to raise was gradually knocked down.
When a cricket club is awarded a grant, it typically needs to be spent in a certain timeframe and that lends its own weird sense of pressure.
The completion needs to come in on time and with Old Sharlston, that could have been kicked into the long grass when the proposed site for the clubhouse needed investigatory boreholes drilling to explore the threat of subsistence in an area known for its mining past.
Well, with the dawn of the 2017 season that day they thought may never have happened came to pass as Yorkshire County Cricket Club Head Coach Andrew Gale officially opened Old Sharlston's impressive clubhouse that now rivals anyone else in the league.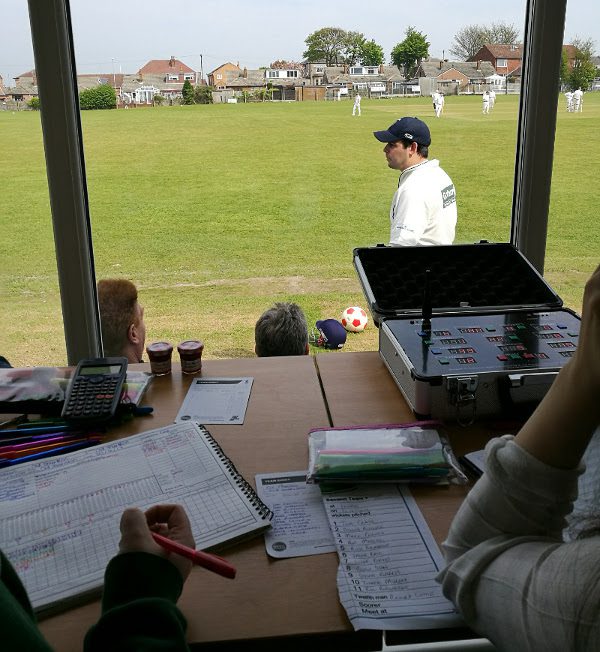 Being shown round by Shaun and Vice Chairman Chris Weaver made an impression for a few reasons. You'd think once you've seen lots of cricket clubhouses you've seen them all but there was detail to nod appreciatively at.
It's a small architectural point but the tea bar hatch faces out with a view of the cricket outside rather than in many kitchens that sees those doing teas squirrelled away out of sight.
More commonly at clubs in Yorkshire but no less important are large glass panels that allowed those who didn't fancy braving the blustery elements to get a premier view of the National Village Cup action with no obstructions.
The allure of the National Village Cup felt like a fitting showpiece to entertain the visiting team and be given a tour of the place to see how this proud cricket club outside Wakefield are gearing up for their next chapter.
It didn't take a mind-reader to pick up from everyone that they were pleased as punch as what had been built for current and future generations; it had been a real community drive and local clubs such as Streethouse CC down the road had put aside local rivalries and chipped in with fundraising and donations of their own.
The game itself didn't happen quite how I would have expected.
Old Sharlston were being cautiously optimistic beforehand with the expectation of a tough tie against Great Preston from the Conference of the Bradford Premier League.
As it transpired, Old Sharlston romped to a fine victory to set up a Group 5 second round game on Sunday 14 May away at Carlton; the winners of which will face either Ackworth or East Ardsey.
Thanks to everyone at Old Sharlston Cricket Club for their hospitality; they're a club on the up and are pioneering in their own way; not least because of a visually impaired villager whose enquiry about blind cricket led to Old Sharlston hosting Yorkshire Visually Impaired squad for years.
Great Preston CC were equally accommodating for interviews and questions about their club and season so best wishes to both teams.
Old Sharlston 140, 37 overs (Tom Craig 33, Byron Dean 23, James Marston 5-31) defeated Great Preston 75, 24.4 overs (Tom Murray 6-25) by 65 runs.
**Check out the photos below…*
CLICK TO LOOK AT EXCLUSIVE MATCH PHOTOS
You can view a selection of match photos by Cricket Yorkshire of Old Sharlston vs Great Preston – we ask for your email as way of a payment in kind – some websites hide content behind a paywall and others ask you to do a Google survey…
Joining the Cricket Yorkshire newsletter to keep up-to-speed on competitions and the very latest at CYHQ doesn't sound so bad, eh?!
**If you think this article and photos added to your day's enjoyment, any and all article shares on Facebook and Twitter by the buttons below are always appreciated. Helps spread the word about Cricket Yorkshire far and wide…
Latest posts by John Fuller
(see all)