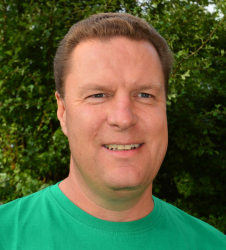 Latest posts by Andrew Gallon
(see all)
Dodging this summer's disappointing, triple-pronged cloud, wind and rain assault, I've been squeezing in cricket fixes wherever and whenever I can.
Often, it has been a case of finding a game – any day of the week – with sun forecast. Recently, time and again, that has meant heading north from our York HQ.
---

Starting to feel as if the car might object if it's pointed anywhere but the A1 or the A19. Not for want of trying. A few weeks ago, I was all set to take in a match at Wath-upon-Dearne Cricket Club. Only for the weather to intervene.

---
Similarly, July 14, and Sowerby Bridge Cricket Club's staging of an all-star T20 charity match in aid of the Cricket Asylum Foundation. It was postponed because of predicted downpours.
This season, cricket clubs I've visited, north of the Tees (therefore outside Yorkshire), include Ashington, Castle Eden, Darlington Railway Athletic, Tynemouth and Willington. Along with Guisborough and Saltburn, neither of them far from the river's White Rose bank.
With a 24-hour window of dry, latterly sunny weather predicted for July 13, a Thursday, I took advantage of the North Yorkshire & South Durham Premier Cricket League's (NYSD) Division One Hundred competition.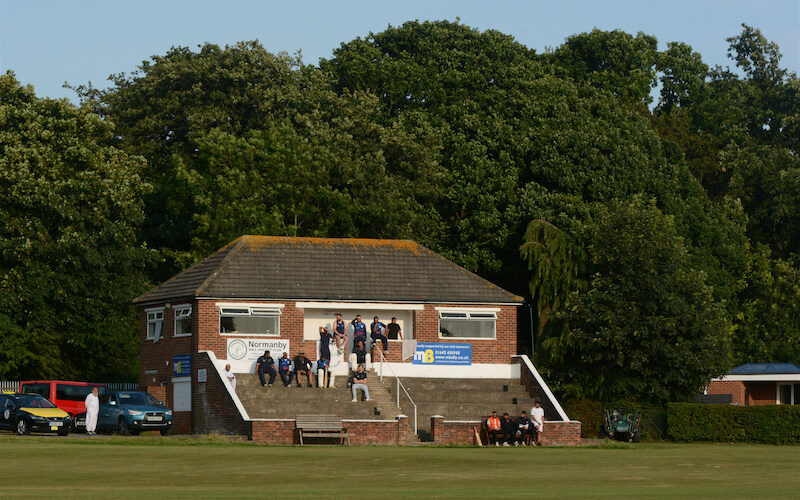 Normanby Hall Cricket Club were at home. Their visitors, for a south Middlesbrough derby, were local rivals Marton. The two grounds are barely three miles apart.
Victory would secure qualification for the competition's knockout phase. Both teams are going well in the league this season. Marton, relegated in 2022 from the Premier Division, are joint top, level on 239 points with Norton, on whom they have a game in hand. Normanby Hall lie fourth, 43 points off the promotion positions.
---

The NYSD certainly shoehorns plenty of cricket – various formats – into its all too fleeting season. As he parked outside the Normanby Hall ground, a Marton player remarked: "It's the fifth time I've been here this season, and I still haven't played a league match!"

---
According to the informative history section of their website, Normanby Hall Cricket Club, founded in 1892, take their name from the eponymous stately pile, in whose grounds they first played. The club had a lease with the Ward Jackson family.
Hall and estate were sold in 1948. Cricket continued only because the generous Ward-Jacksons gifted the field to the club and four trustees.
Until the late 1950s, the ground, approached originally via a farm track through woods, was a rural oasis, surrounded by open fields. Hard to believe, now.
The first changes came during 1957, when two brick buildings – happily, in use, to this day – were erected. Each has the utilitarian appearance characteristic of that decade.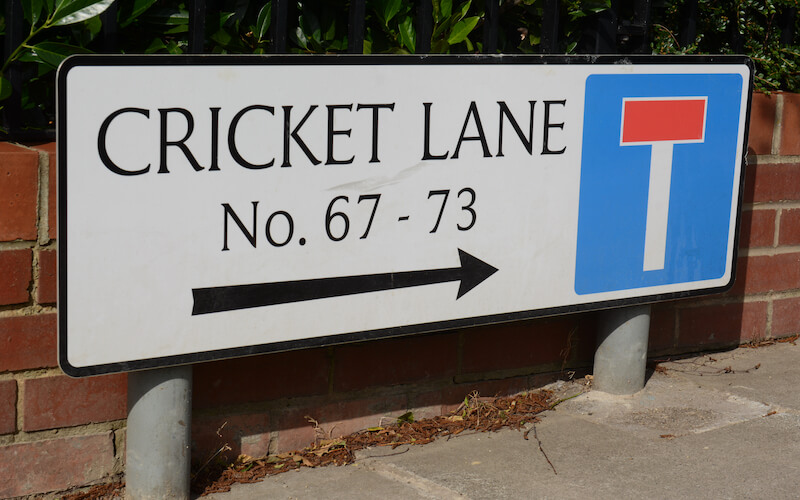 What was a 'tea pavilion' occupies the northeast corner, where Cricket Lane, the bungalow-lined modern access from Ormesby Road (the B1380), meets Boundary Road, which runs along the ground's north end.
Inside, along with numerous cricket-themed prints, a plaque reveals the building was opened, on May 4, 1957, by club chairman W.A. Metcalfe.
Listed are the 'mesdames' and 'misses' of the ladies' committee, whose fundraising paid for the tea pavilion's "equipping and furnishing". In 1972, when the club became a limited company, the tea pavilion was converted into a
licensed clubhouse and bar.
The players' pavilion, the other 1957 arrival, is in the southeast corner. An austere structure, its traditional layout has elevated dressing rooms positioned either side of a central stairway, above a paddock of backside-testing concrete bench seats.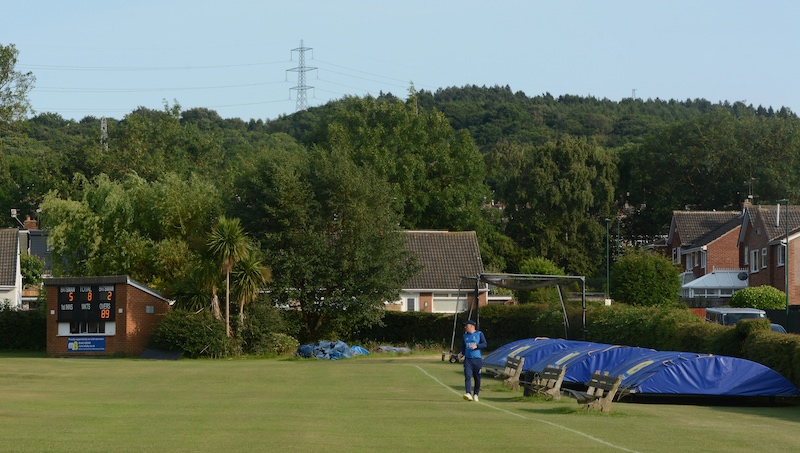 In the southwest corner is a modern, digital scoreboard. This evening, with a touch of drama, it counted down the deliveries from 100. Surprising how quickly the 'sand' dribbles away! Little margin for either error or for hanging about.
Houses – many of them bungalows, built I'd guess in the Sixties and Seventies – and their back gardens now hem in the ground on all four sides. That's progress.
Several of Boundary Road's dormer bungalows, set back maybe 30 yards from the neatly clipped privet hedge forming much of the ground's perimeter, have wire mesh protecting ground floor windows.
Least tight for space is the west side, where a few yards of spare turf allow storage of pitch covers and portable practice nets.
Spectator benches are most prevalent along the cramped east side, a popular sun trap on the evening I dropped by. I was told Cricket Lane is a ground that seems to suck in heat.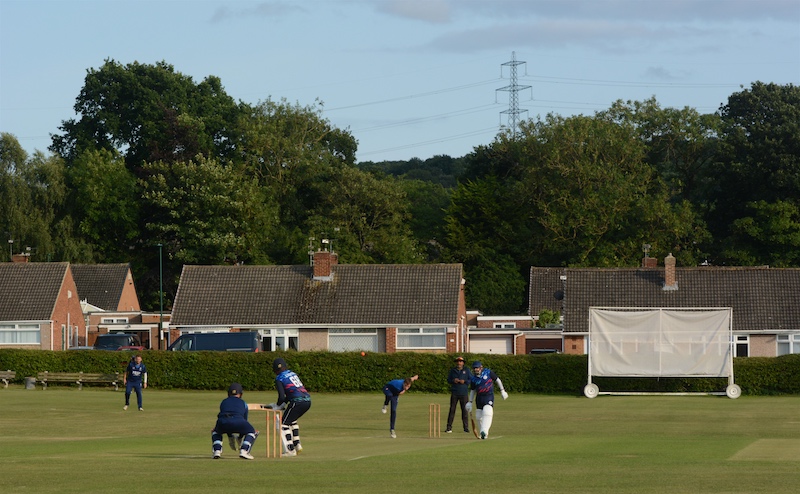 The pitch is mostly flat although, beyond the square, it falls away slightly, towards the west side boundary. A nice detail is the thick, pudgy tyres attached to the bases of the sight screens. On the sides facing the pitch, the tyres are painted white. White wall tyres, indeed!
To the south, there is a reminder of how things used to be here: the wooded Eston Hills escarpment rears impressively beyond ground and rooftops. Their uppermost visible point is high enough to warrant the presence of a telecommunications mast.
It is an aspect of Middlesbrough I found appealing during the five years, in the early 1990s, I worked in the town: sleeves-rolled-up industry cheek by jowl with attractive scenery.
As the prospective boss, hoping to tempt me to relocate from Cumbria, said as he offered a job: "It's not all chemical works, you know."
Normanby Hall Cricket Club joined the NYSD in 1920. Post-war crowds, in particular, were very good as the population sought entertainment. Attendances pushing 3,000 were recorded for two memorable late Forties occasions.
In 1947, a Normanby Hall XI hosted a team led by England captain Norman Yardley; in 1949, the ground staged a benefit match for England and Yorkshire's Len Hutton, Pudsey's finest.

The Normanby Hall team in the 1947 game was skippered by 'Gentleman' George Hardwick, the England football captain. Saltburn-born defender Hardwick, a Middlesbrough Football Club legend, played regularly for Normanby Hall.
---

A statue of Hardwick stands outside the Boro's present home, the Riverside Stadium. A stellar season for Normanby Hall was 1963, when they won the league and went unbeaten. The NYSD championship trophy has found its way to Cricket Lane on five occasions, the Kerridge Cup six times.

---


Normanby Hall last played NYSD top-flight cricket in 2021, when they finished 11th (14 points from safety) and were relegated alongside Marske.
One of the club's most notable former players is J.W. (Wilf) Atkinson, whose contribution is remembered in a sign tribute at the Boundary Road entrance.

In 30 years playing for Normanby Hall, Atkinson, a left-handed bat and a right-arm bowler, scored over 15,000 runs and took more than 1,700 wickets. He began as a quick before, later in his career, switching to leg spin. The aforementioned 1963 season saw Atkinson – then 56 – win the league bowling award.

He was groundsman at Cricket Lane for over 35 years – and fulfilled the same role at Middlesbrough's former Ayresome Park stadium.

In Middlesbrough, you simply cannot escape the Boro. On Teesside, football is king. Good to spot, at Cricket Lane, a young lad sporting the 2023-24 version of Boro's all-red strip – shirt, shorts and socks. I dread to think how much that set back his parents!
During the off season, Normanby Hall's cricketers enter a football team in the Langbaurgh Sunday League. The Cricket Lane clubhouse also has a women's darts team.

Despite the football obsession, Middlesbrough's sport enthusiasts do like their cricket. I remember vividly the reaction, during my time working in the town, when Yorkshire County Cricket Club announced they would play no longer at Acklam Park.

For weeks, the letters page of the Evening Gazette's summer Sports pink was filled with outrage from correspondents across Teesside.

Normanby Hall's roll call of former professionals includes Guyanese-American Clayton Lambert, who represented with distinction West Indies and the USA.

I was at a NYSD match, a few weeks ago, and overheard a couple of spectators discussing Lambert's exploits in the league.
Geoff Cook, who played for England and Northamptonshire, whom he captained, and later become Durham's director of cricket, started out as a Normanby Hall junior.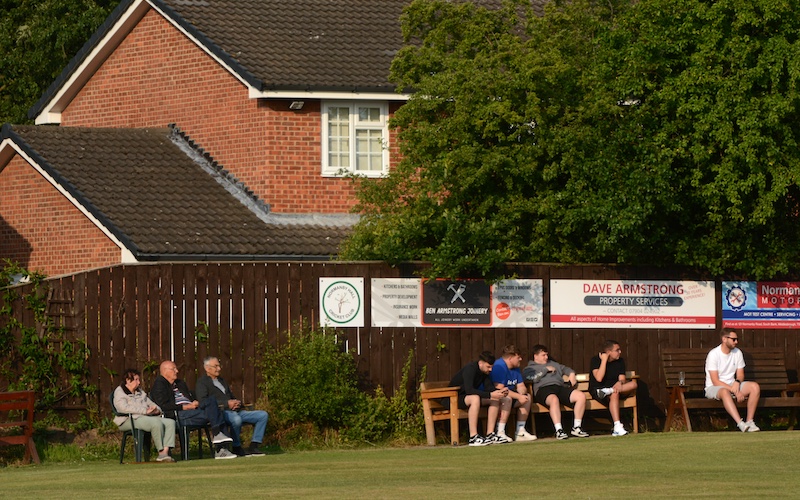 A crowd of about 70 had gathered by the time the Marton derby got going. As forecast, earlier cloud had melted away. The sun wasn't particularly intense – but it was there!
Normanby Hall, who thrashed Wolviston, by 129 runs, in the July 3 final of the Haith Cup, won the toss and elected to bat. I settled back to enjoy what proved to be a masterclass from opener Asim Akhtar.
---

Akhtar's assured 81 not out, off 49 balls, included seven fours and five sixes. The most picturesque six cleared the clubhouse roof and landed on Cricket Lane, which, paralleling Spencer Beck, slopes gently down to Ormesby Road. I wonder how far the ball rolled?

---

A Marton fielder, helpless at the Boundary Road end, tracking the ball's impressive trajectory, remarked: "He hits it well."

Chris Blackwell took 2-21 from 20 balls as Normanby Hall posted a decent looking 140-5 off their 100 balls.

Akhtar then showed he can bowl, too. His clever seamers, hard to get away, produced figures of 1-12 from 20 balls.
In a pleasing echo of his illustrious predecessor, J.W. Atkinson, Akhtar (unless my eyes deceived me) batted left-handed then bowled right-handed.
Marton lost a wicket – run out – to the third ball. It set the tone for their response. The home fielders had the bit between their teeth. "Every ball," was the exhortation.
Despite Akhtar's admirable efforts, it was Normanby Hall's spinners who really caught the eye. Their penetrating, questioning deliveries prevented Marton mounting a serious charge towards that 141 target.
---

Praise for Faizan Hussain (3-14 from 20), Amr Karim (2-3 from six) and Nadeem Asif (2-10 from 15). A joy to watch, all three.

---
Credit, also, to Normanby Hall for quality fielding. After all, catches win matches.
Michael Croft, who struck 25 off 22 balls after coming in at number four, was the only batter to offer sustained resistance as Marton, dismissed with four deliveries remaining, replied with 87, 53 runs short.

A Marton supporter commented: "We haven't been in it. They've bowled well."
Coincidentally, each played in navy and royal blue, and each took a wicket in consecutive balls: Marton when Normanby Hall were 74; Normanby Hall when Marton were 65.
Right, back to those weather forecasts.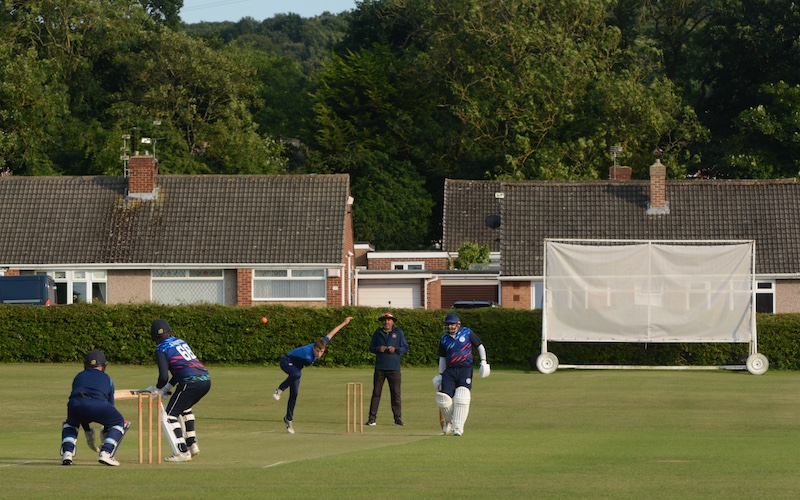 Want to read more?
You can read more of Andrew's articles from his Miles Per Gallon column here on Cricket Yorkshire.
There's also our club cricket section of the website with lots of club visits, interviews and photography.